So yes, I slacked off again for a couple of days and missed writing about the
Adrian Belew Power Trio
shows in Asheville and Carrboro, North Carolina, but the mail bag has been full of praise and absolutely fantastic photos such as these, taken in Nashville on May 28, 2008 by
Ross Smith
, who also wrote
"Your kids ROCK!!! As a fellow bass player, Julie is indeed quite an inspiration, to say the least."
Thanks Ross - I feel the same away about your photography. If you click on the aboove link to Ross' MySpace page, there's a lot more where these came from: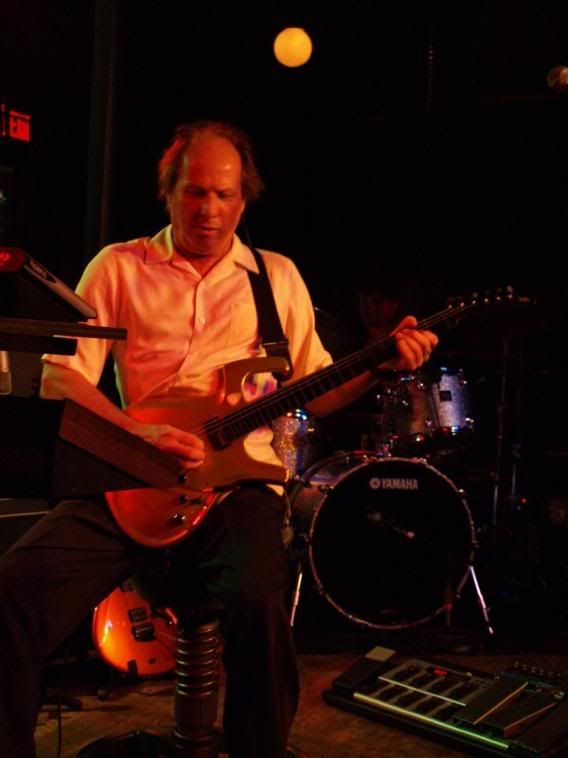 There's also some wonderful photos on my pal
Cleek's site
, and he has this to say about last night's show:

"It was an excellent show, as is expected. And everything I said about his August show could be said about this one. Adrian was mesmerizing, Eric Slick remains a fantastic drummer, and Julie Slick makes most other bass players look timid and clumsy.

It was pretty much the same show as the previous, though they had one new song, and they pulled out a couple I'd never heard him do before: "Future Vision" and "I Remember How to Forget".
*****
And then there's this from Jeff Bond of Adrian Belew's "Tribe":
"Adrian and the Slicks were in fine form last night. The first half of the show featured a bit more of the 'experimental' side of Adrian than I remember from the previous time he was here, but after the break they really hit their stride. Things I noted: I think Adrian has even more effects boxes panels and switches (is that possible), Julie the barefoot bass player is getting better and was definitely part of the 'experimental' half of the show, and Eric doesn't smile as much while he plays - but he sure does play. After the show Eric was smiling, talking, and laughing with crew and audience while he broke down his drum kit."

And a reply to that from Famous Jonny Mambo:
"Hey Jeff and Other Friends,

They were great!!!!!!! !!!!!!!!! !!!!!!!!! !!!!!!!!! !!!!!!!!! !!!!!!!!! !!!!!!!!! !!!!!!!!! !!!!!!!!! !!!!!!!!! !!!!!!!!! !!!!!!!!! !!!!!!!!! !!!!!!!!! !!!!!!!!! !!!!!!!!! !!!!!!!!! !!!!!!!!! !!!!!!!!! !!!!!!!!! !!!!!!!!! !!!!!!!!! !!!!!!!!! !!!!!!!!!

I spoke with them before the show and they could not have been more gracious
while being on a very hectic time schedule. Tickledrop you were right-my
mind will never be the same. They also very generously played for 2.5 hours.
They were much more improvisational than the last time

FJM
****
ETA:
"...the show was awesome, the best trio show I've heard yet, even better than the Two Mikes edition. Julie played with a confidence that I didn't see in her last time at the Cradle, she definitely rocks. And Eric did have less smiles than last time, but it was quite hot in there compared to before - Adrian was pouring sweat.

The set list ruled - they played "I Remember How To Forget" and "Color Futurevision" - how awesome!

Definitely worth the 6 hour round trip and 2 hours of sleep I got before I went to work!"

Adam
******
So that's it for now - if you haven't checked
Gary's blog
lately, he's got an amazing You Tube up of the trio performing "E"...and as usual, if any more emails, reviews, or news comes my way, I'll be back.
Tonight you can catch the trio performing at
Ram's Head On Stage
in Annapolis, Maryland...tickets are selling out quickly and other than a few dates in July, this might be one of the last chances to catch the trio on the east coast in 2008...but oh where they are going this fall/winter...
Later,
xo