So tonight the
Adrian Belew Power Trio
will be at
Revolution Hall
in Troy, New York and it's their last show until July 5, 2008 when they head to Canada for the
Ottawa Blues Fest
and
Quebec Summer Music Festival
followed by a handful of U.S. cities...a lot more on that to follow, as well as keeping tabs on Eric, who will have a busy June sitting in with
Crescent Moon
,
Chris Harford
, and
Delicious
and I'm sure I'm leaving a band or ten out.
*ETA: Heads up - new You Tube posted below
**ETA2: Another heads up - link to very cool article posted underneath said You Tube
***ETA3: Here's a
review
written by Gene Wicker, Jr. which just appeared at 6:00 p.m. this evening and contains a
link to some startling good pics with great captions underneath
.
Here's a killer
review
from the show in Teaneck, New Jersey last night: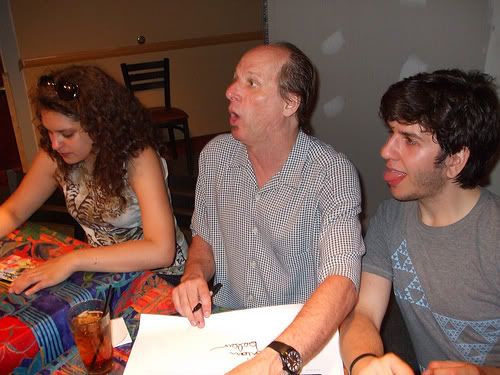 Photo by, I kid you not,
Grudnick the Flatulent
"Adrian Belew and Robert Who?

Three of a Perfect… well, you know.Adrian Belew is the musical equivalent of a character actor. Like that face you've seen in God knows how many films but you can't place the name, Belew's guitar has left its fingerprints from one end of popular music to the other. Whether you recognize the name or not, you've likely heard that distinctive sound on records by Zappa, Bowie, the Talking Heads, King Crimson, Nine Inch Nails, Paul Simon, Jaguares, Tori Amos, and others; if you're lucky, you've also heard him on one of his many solo outings.

And if you were in the sleepy, overheated vicinity of Teaneck this evening, you could also have caught him live at Mexicali Blues with the other two-thirds of his Power Trio, the ridiculously talented Eric and Julie Slick, who play drums and bass, respectively. The club featured terrific sound, great sight lines, and a temperature that would likely have allowed anyone who was so inclined to make a pretty serviceable omelette on one of the speaker cabinets.

For the faithful fan, it was all there: a set list that drew from predictable old favorites ("Big Electric Cat," "Three of a Perfect Pair," "Ampersand"), along with songs that haven't seen daylight in a while ("Futurevision," a blazing version of "Neurotica"); Belew's quirky humor; and the guitar that sounds like everything from seagulls to piano to alien landscapes. The sum of the parts is such that no matter how many times you've heard the songs, they never get old, because they're never quite the same thing twice.

Of course, they're also helped along considerably by the other two-thirds of the band. Somewhere around the halfway point of the concert, it occurred to me that the first time I saw Adrian Belew was nearly 20 years ago, when his backing band would have been aged roughly two and three. From the first notes, though, it's pretty obvious that they're not just along for the ride, nor are they there because Belew was feeling particularly generous. A good trio isn't just one guy blazing away while the other two keep time; the best ones have always been a balancing act, with the rhythm section doing as much to propel the group's sound as the frontperson. That's as true of Cream or the Police, say, or any of Bill Evans' excellent trios. In this case, the Slick siblings gave a powerful underpinning to Belew's flights of fancy. It's saying a lot when someone's playing stuff that was laid down by the likes of Bill Bruford, Robert Fripp and Tony Levin but you don't miss the originals. Even more to their credit, neither of the Slicks contented themselves with playing by rote; they made the material very much their own.

At this point, it's probably also worth mentioning the School of Rock, of which both Eric and Julie are alumni, and some of whose current students opened the show. Ordinarily you'd think that a bunch of kids with electric guitars, bass, drums, and keyboard wouldn't have much to recommend them beyond a certain kitsch appeal, but this lot were good. When I heard the opening chords of "The Great Curve," I thought to myself, "Oh no they didn't." But, of course, they did. And it was worth it, as was the rest of the set, which was given over largely to the music of Yes. Now, if you've listened to much Yes, you can imagine how cringe-inducing it'd be if it were done badly. But it wasn't; every last time change, every guitar riff and bass lick, all of it was executed well (and that Chris Squire bit on "South Side of the Sky" ain't exactly amateur hour material).

Adrian Belew's fans have been heard to grumble when he goes for long stretches of time between projects. The last few years, though, have been an embarrassment of riches in the form of the studio projects (Sides One, Two, and Three) and even his first live album ("Side Four," recorded with the Power Trio). Belew seems both musically and personally invigorated these days, and hopefully it's not asking too much that another album might be in the offing. When you're sounding this good, it'd seem a shame if there wasn't.

Postscript: For more Belew information, and/or to order CD's, visit his website here.
****
*ETA: A really cool video just surfaced of the trio performing Matchless Man in Carrboro last week. Here's the caption:



"Great show at Cat's Cradle, Carrboro NC. Adrian, Julie, and Eric were on that night. Good vibe

."
And the same song just surfaced from last night's performance in Teaneck...
**ETA2: Here's a link to a print magazine distributed throughout the Philadelphia area called
Lifestyle Magazine
and in this month's issue, if you click that link, there's an awesome article about how hot the Philadelphia music scene is right now, and look who gets a mention:

"...Further evidence the region has an impact on the national music scene is just a DVD rental away. The 2005 documentary "Rock School" documents youths' studies of music theory and performance, and it happens in Philadelphia, where Paul Green founded the Paul Green School of Rock, which now has franchises across the nation. Students range in age from 9 to 17, and can focus their studies on singing, electric guitar, electric bass, keyboards and drums. Though many don't choose to go on to become musicians, the school has influenced rising stars, including siblings Eric (drummer) and Julie (bassist) Slick, who were recently profiled in Bass Player Magazine. The pair has worked with iconic guitarist Adrian Belew."
Note to self: Venture out in 100 degree heat again and pick up a few hundred copies of that magazine.
So here I am back in Philadelphia, missing all of these amazing shows, but happily working on my next novel in between gasping for air in one hundred degree weather when I venture outside to walk the dog. I must say I do not eat nearly as well with my whole family out on tour - dinner for the last two nights has consisted of left over pizza and a peanut butter and jelly sandwich but oh well, who cares about food when I can wake up early to a review such as the above, spend my whole day writing, and get telephone calls from Gary where he nonchalantly tells me "Oh, we met
Dick Smothers
last night" or from Julie who says "Hey,
Paul Reed Smith
came to our soundcheck on Friday and wants us to tour his factory, etc. etc."
Nice life, huh. All of us.
I'm on the lookout for more photos and reviews and it's way early in the morning so there is a very good chance I'll be back.
Later,
xo