Happy Monday!
Or is that an oxymoron?
Yeah, it is, but I can't help it, I am in the world's best mood today. For one thing, I finally got to go to Ocean City yesterday with most of the family to celebrate Father's Day...I say most because
Eric Slick
got a call last week to do a last minute fill in playing
doumbek
for
Gypsy Hands Tribal Band
at
Bonnaroo
and oh boy, am I going to do some name dropping in a minute. But first, here's a photo from our trip to the beach yesterday, where Gary, Julie, her significant other
Matt
and I got to take our cheesy but oh so much fun surrey ride on the boardwalk following an incredible breakfast. Look at Julie and Matt - aren't they just so adorable? Gary took the photo, as well as one with me in it, but I was having a terrible hair day so let's pretend that photo does not exist.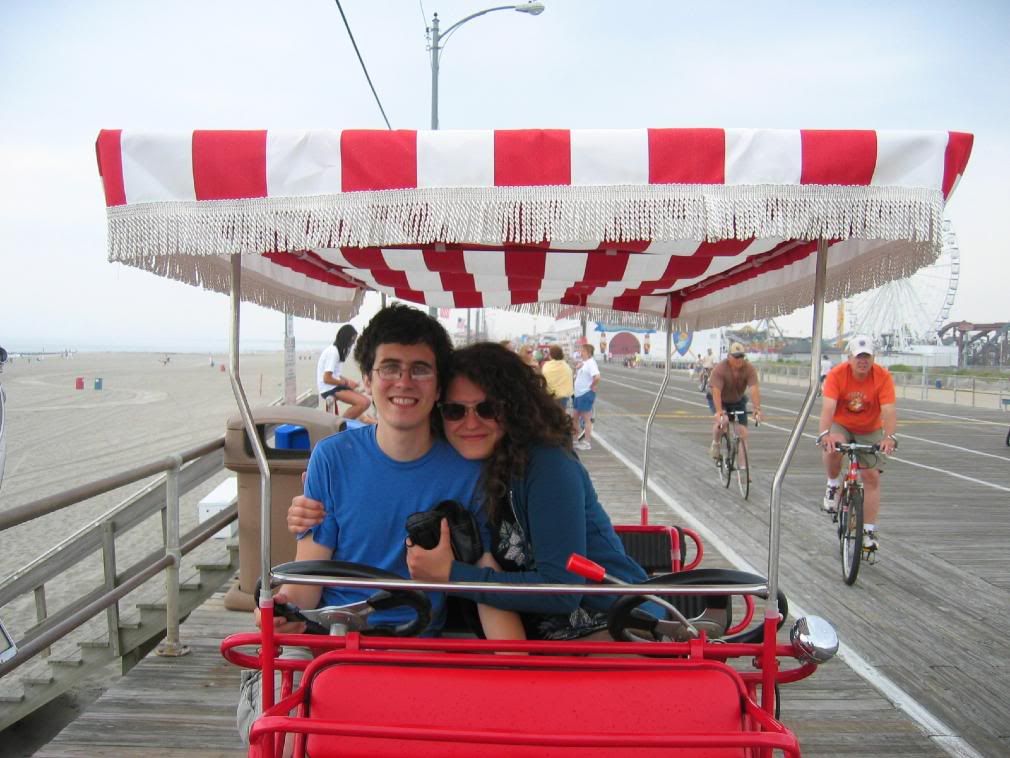 We had our first cinnamon and chocolate donuts of the season courtesy of Brown's Donuts at St. Charles and the Boardwalk, but as true foodies know, the real breakfast pastries can be found at Brother's 14th Street bakery (which has relocated to the corner of 10th and Asbury) so we headed there next for almond danish, cream cheese frosted cinnamon rolls, cheese pockets (now why has no one thought of this before - stuff a delectable crumb cake with a cream cheese mix...oh.my.god), and for dinner later, the world's best tomato pie.
Which is why we needed to pedal up and down the boardwalk for an hour after eating, telling ourselves Yep, we're burning up those calories.
Uh-huh.
Then we did all of the obligatory tourist stuff that we adore - we played miniature golf (Matt killed us all with a pro score of 39; Gary came in second, then Julie, then me...but my score was enough to bring the parents down and once again Team Julie/Matt killed us but hey, I'm a writer, not an athlete) and air hockey (we played teams, Matt beat Julie, Gary beat me, big surprise, Gary played Matt and Matt beat Gary, therefore claiming the title of King Athlete of the Day, which Matt, a musician, would hardly say he is but compared to the rest of us...though I still have an image of Matt as a freshman in college, leaving our house on his skateboard carrying a guitar and promptly falling on his head after two attempts...Matt, and Julie, by the way, had their official graduation from Drexel University Saturday night and this coming Saturday Matt's parents are throwing them both an incredible party at their house...more on that later)
After all of that physical activity, we decided we could handle a pizza at
Mack and Manco's
- the best it ever tasted - did they take the mystery ingredient out of the crust finally? There's a rumor floating around the reason their pizza is so good is that they use lard which naturally horrifies my vegetarian daughter but a rumor it is, not truth, or at least not any more, as the crust was crisp and crunchy and everything you'd ever want. Even Gary, who swears the only pizza worth eating is from
Charlie's
in Philadelphia, agreed that Mack and Manco did something to step up the quality, though the rest of the Slicks think that next to Charlie's, no one can beat it, even before they made whatever changes they did this year.
Or it could be all in our heads. The "change", that is. Maybe we were just starving.
When we got home, which was early afternoon, Gary and I were totally wiped out so we went upstairs for a nap which lasted until this morning but sometime in the middle, my cell phone rang and it was Eric to fill me in on what he was up to the last three days.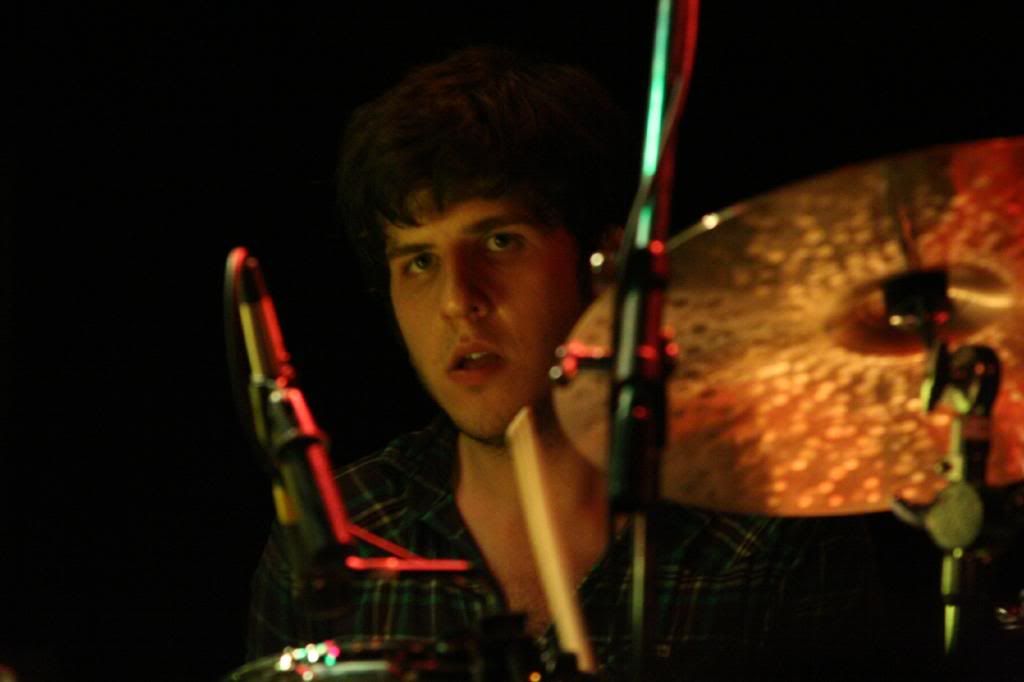 (Photos by Gary Slick)
"Hey, Mom, so guess who I hung out with?"
Groupie that I am, I was instantly awake, if only for our conversation.
"Who?! Who??"
"Well, let's see, just to start, I ate with/chatted/hung out with/sat next to Joe Travers, Pete Griffin, and Jamie Kime from
Zappa Plays Zappa
...they are all so cool and really nice...the guys from
MGMT
,
The Battles
,
Mastodon
,
Vampire Weekend
,
Bela Fleck
, and
Umphrey's McGee
-- oh, and the guys from Umphrey's said to Say hi to Julie and tell her they love her (Julie and Eric played a fantastic jam two years ago with both Bela and Umphrey's McGee in Atlanta when they first joined Ade's band in 2006)...oh, and
Yamaha Drums
has me on their artist roster list now and gave me a pass to go to
NAMM
in Nashville next week where I'll hook up with
Andre
and Adrian."
"Oh wow! That's fantastic. So let me get this straight. You come home from ten days of touring with Adrian, turn around and go to Tennessee for four days to play at Bonnaroo, then you come home, when, the 16th and head back to Tennessee again on the 20th?"
"Yeah...and then I go on tour with
Delicious
and
Crescent Moon
from June 24-28. It's crazy!"
"It's not crazy, Eric, it's fantastic," I yawned, thinking to myself Yep it sure is fantastic, it's amazing, and then we all head to Canada on July 4 for yet another
Adrian Belew Power Trio
tour and you know I'm going to be talking that one up big time in the coming weeks as well as some new and exciting tasty news as concerns the trio and their possible whereabouts late summer and fall.
Speaking of the trio, I last left you...hmmm...I don't remember where I last left you...but Gary came home from the last three days of the tour with some of the best photos he ever took in his life...ten of which he posted on his own
blog
and he will be posting many more so I will defer to him and not put a bunch up myself...but I can't help it, here's a few more: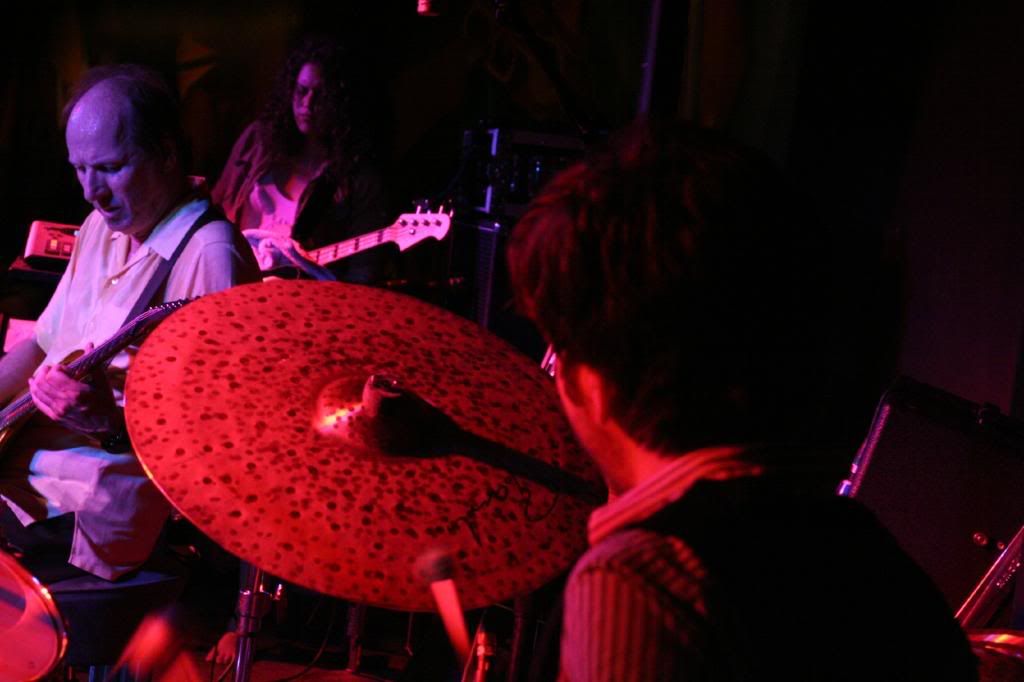 Now in this next series, which I believe took place somewhere in New Jersey, Adrian had the misfortune, or good fortune, of having a room opposite the rest of the band. Julie and Eric warned him this might happen, I don't know if he believed it, but luckily Gary was there with his camera.
Now is this any way to treat an icon who has played with
Frank Zappa
,
David Bowie
,
King Crimson
,
Tori Amos
, and
Nine Inch Nails
?
Knock-knock, Ade...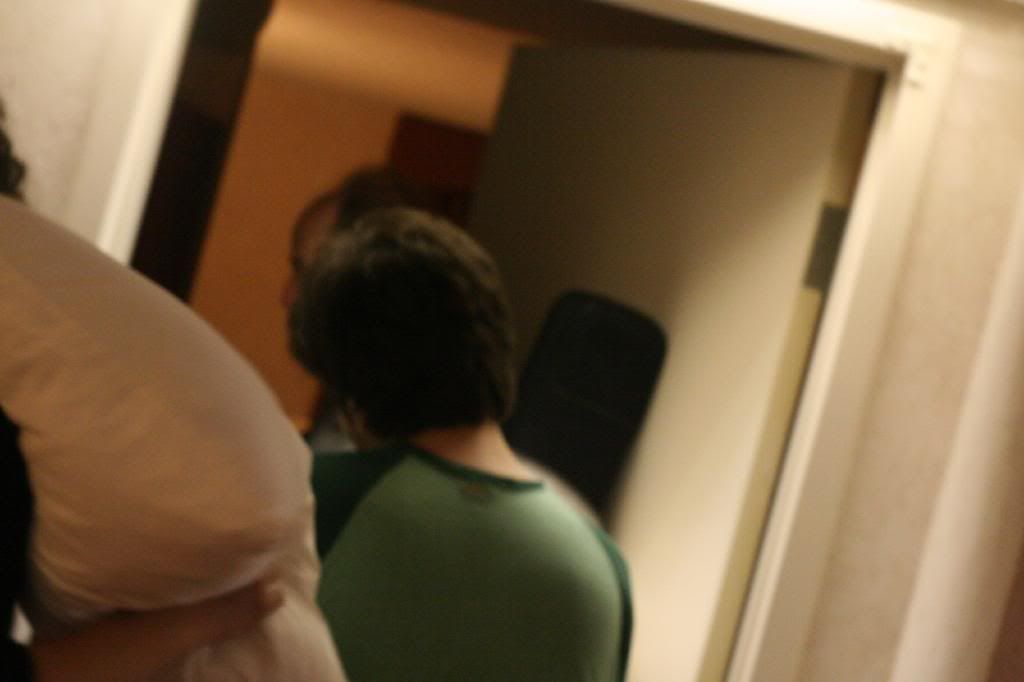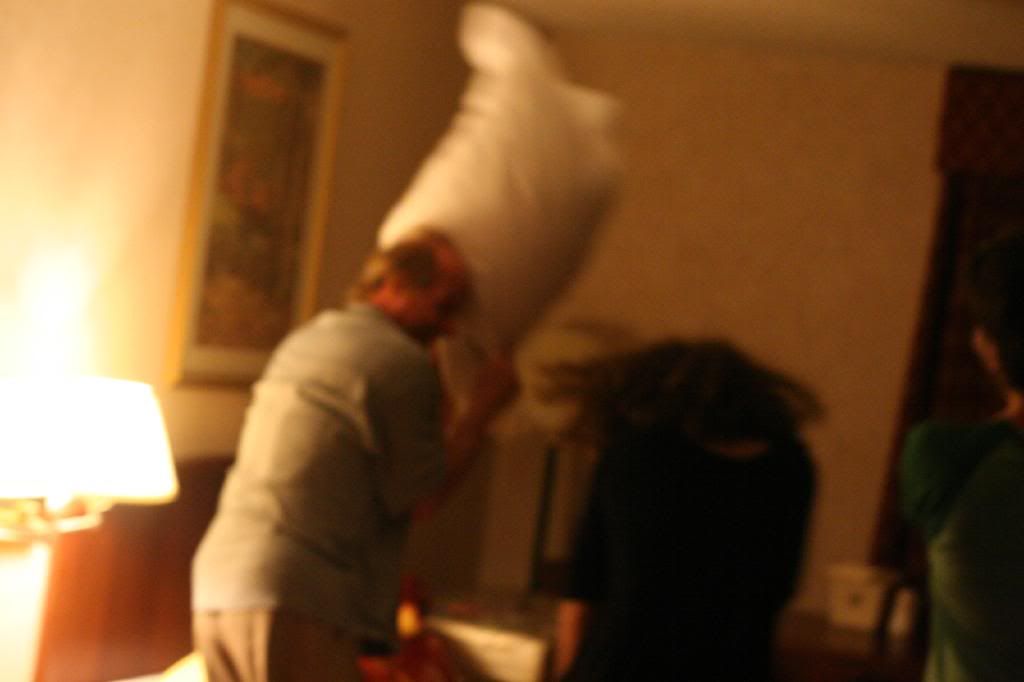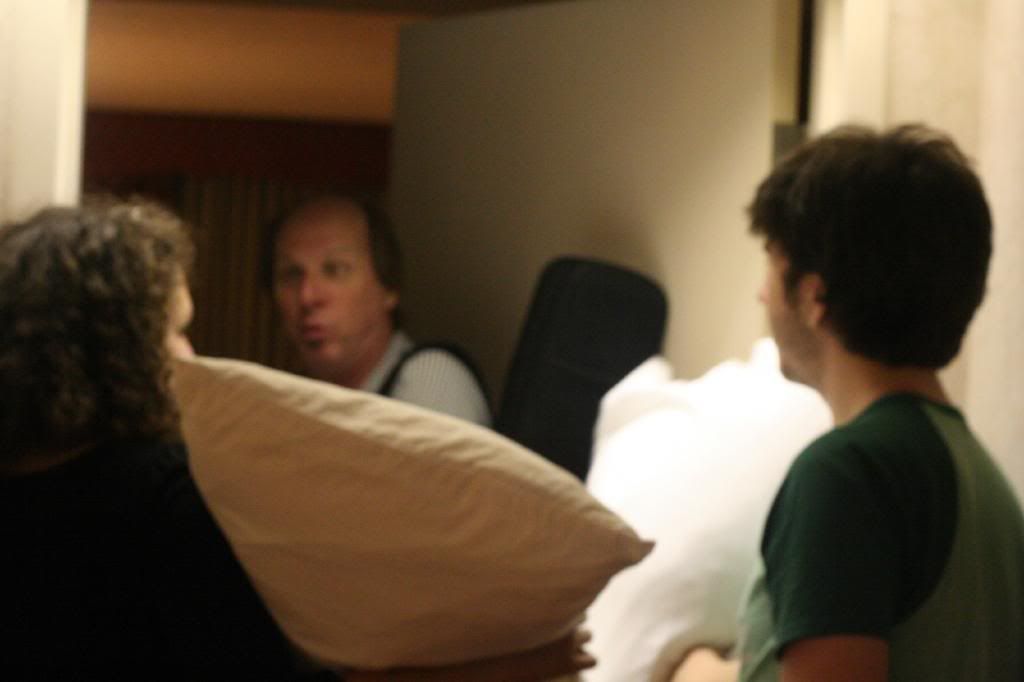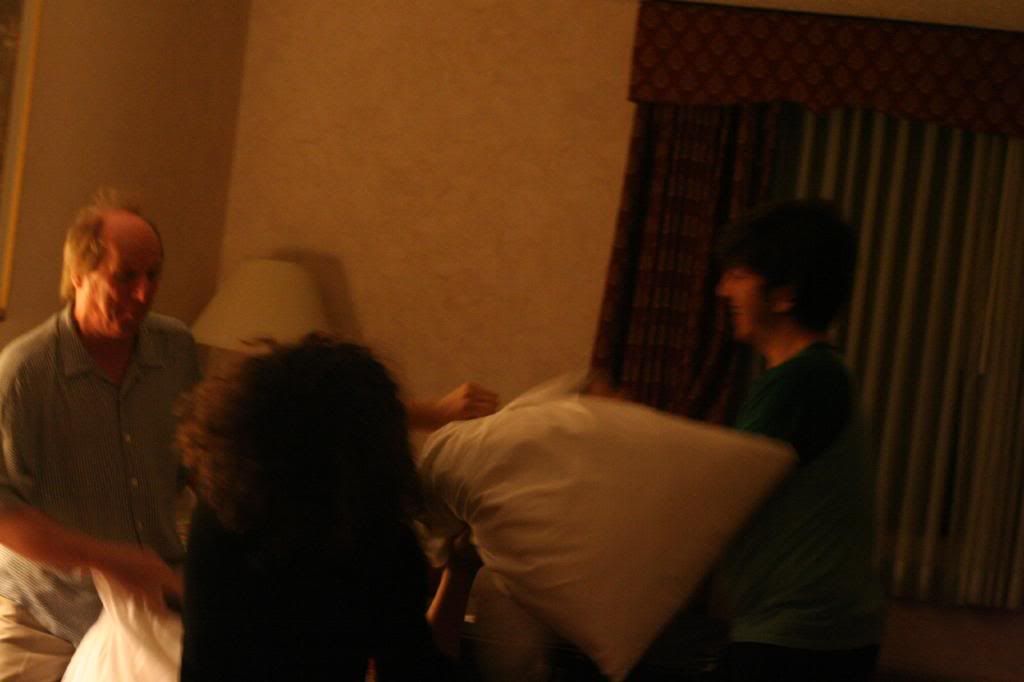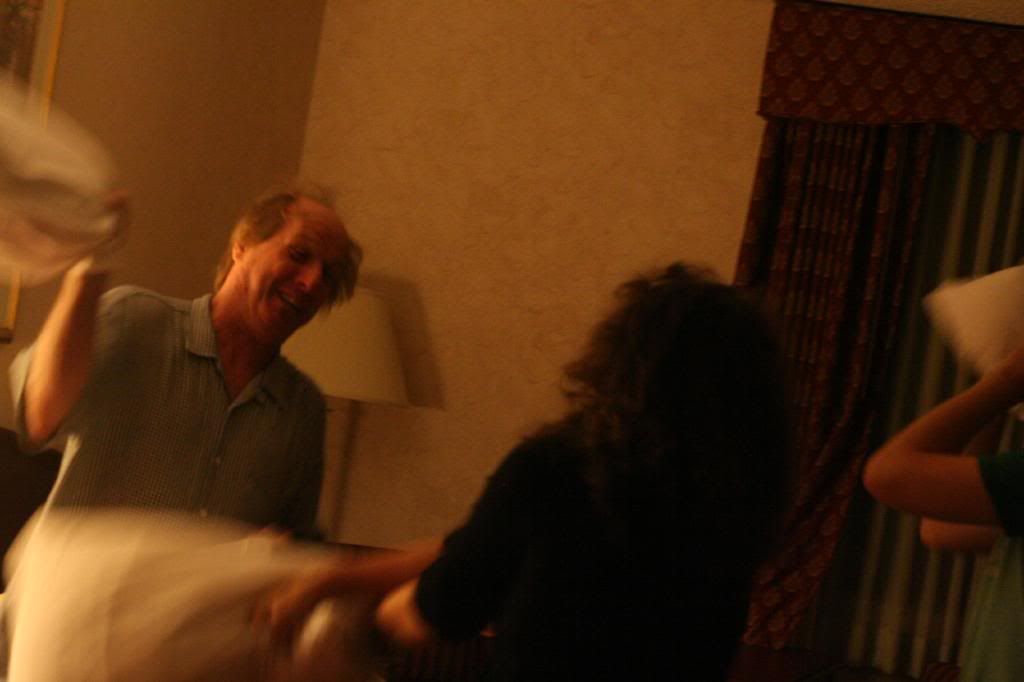 Ha ha - he had a blast...don't let him tell you otherwise.
Oh, I digress, though - as I mentioned in my last post, following their show in Annapolis, which preceded the New Jersey pillow fight...I mean, concert, they bumped into one of our comedic heroes,
Dick Smothers
. So here is a wonderful photograph of Gary, Adrian, Eric, Julie and Dick: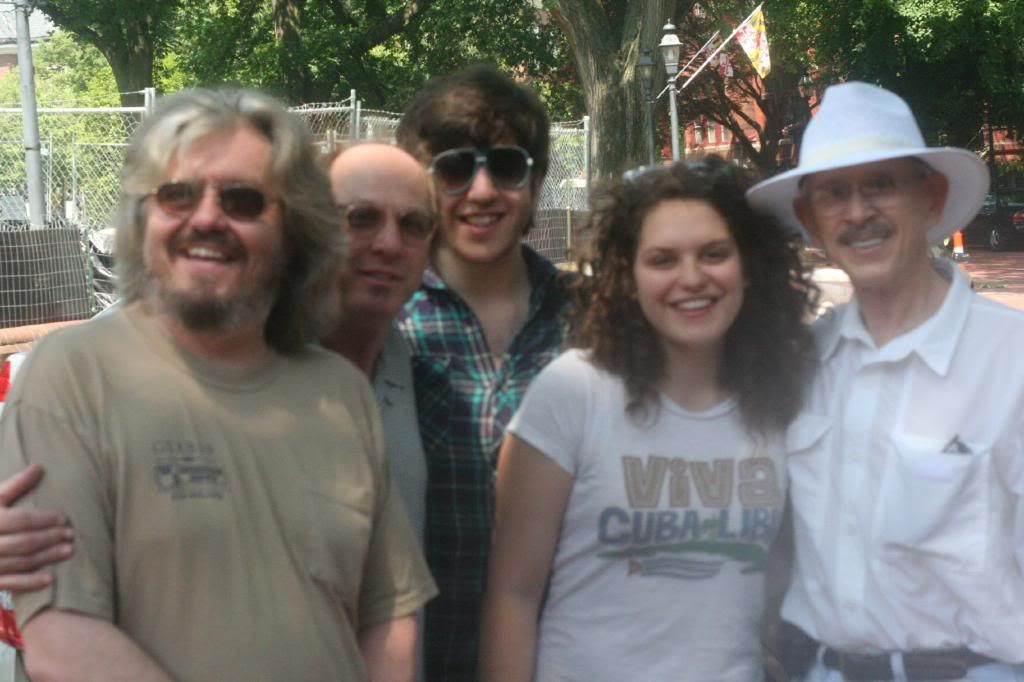 Digressing even further, right before Gary joined the tour, the trio played a gig in Lake Worth, Florida, at the Bamboo Room, and as I mentioned, they closed the place...we hope just for the season but maybe not with this lovely Dubya infested economy...anyway, as you will recall, one of the highlights of playing at the Bamboo Room is that it's part of an apartment complex and the entertainers get to stay in rooms with full kitchens, hence Julie was able to recreate her peach cobbler of wonder and delight, and much to my happy surprise, when I uploaded the photos from yesterday this morning, I found proof: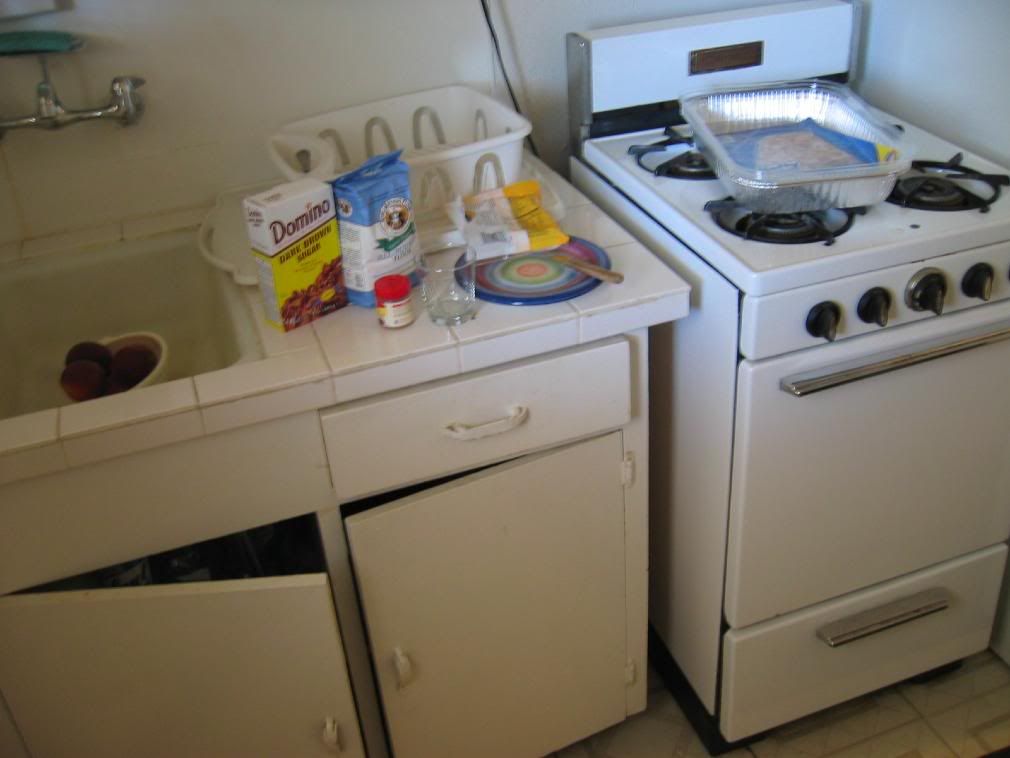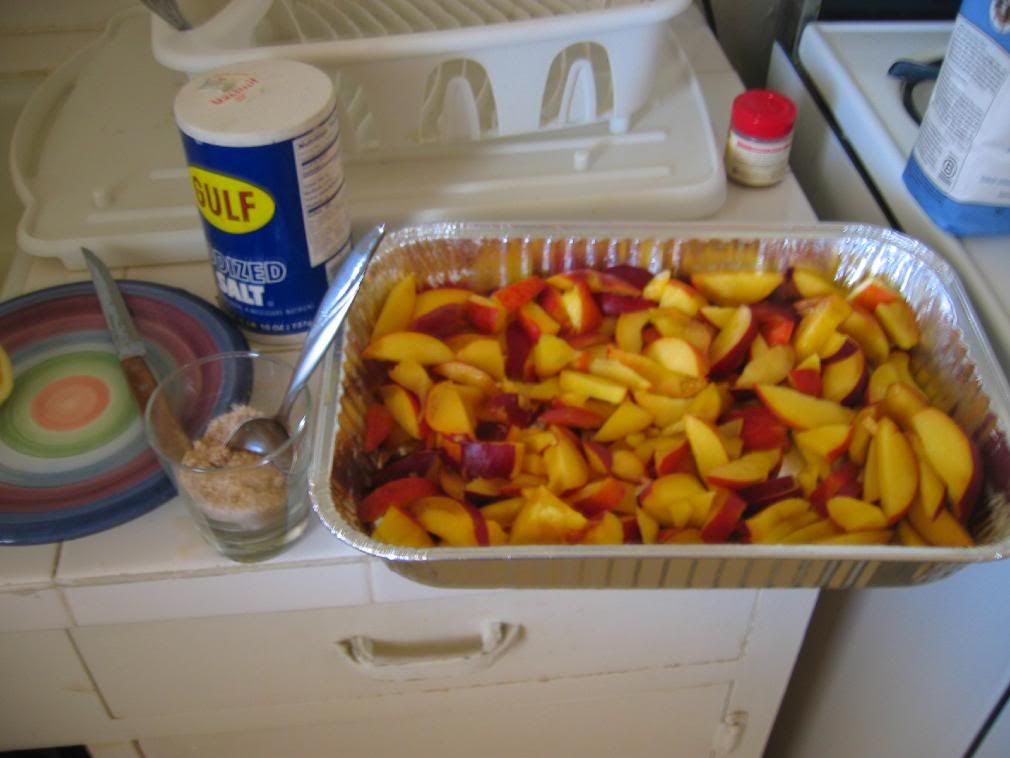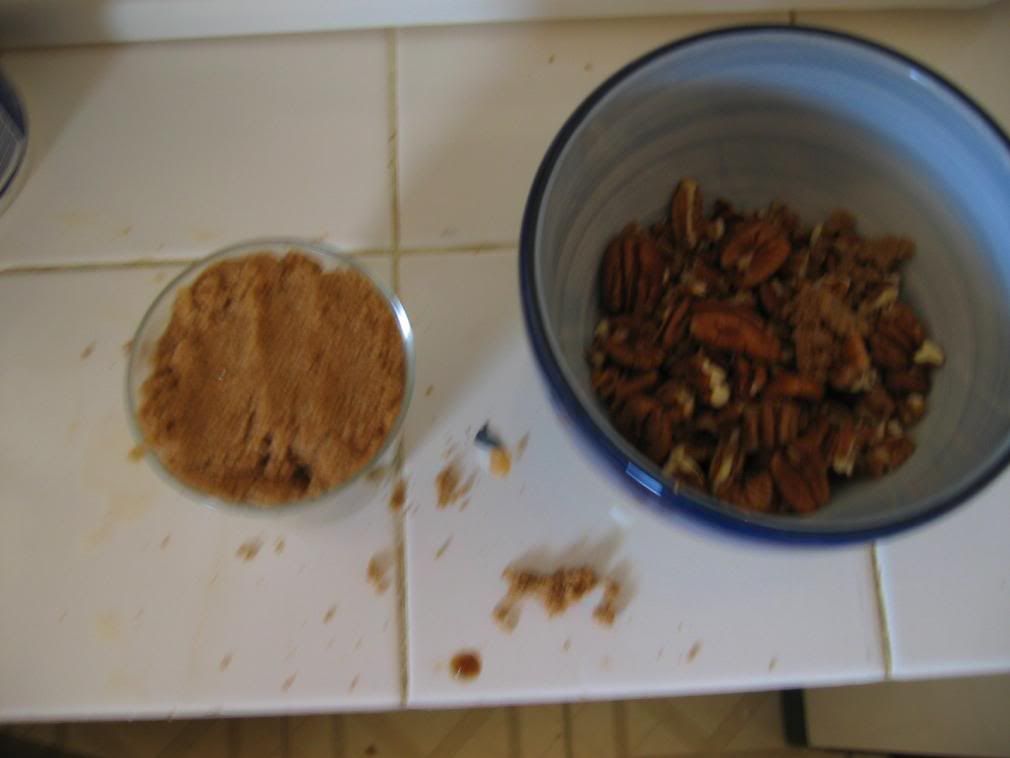 In other trio related news, I found this, in all places, on the
Bruce Springsteen forum board
in a thread which asked, Which Non-Bruce Springsteen songs are you listening to? (I refuse to type it as they have it there: Which R U listening to as internet lingo makes me fucking crazy. If you ever want to give me a coronary, use LOL or RU in an email or instant message to me...arghh...that, and text messaging and blackberries...just seeing the term "Sent from my wireless blackberry" makes me stroke out...are my biggest pet peeve in today's society other than the major stuff like THE FUCKING WAR CRIMINALS RUNNING OUR COUNTRY AND OUR MEDIA...err...sorry...those rants just come and I've gotta let 'em out)

"Side 4 - Adrian Belew Power Trio - I had the pleasure - well, I endured the hell-hole Mexicali Blues to have the pleasure of seeing Adrian play on 6/7/08. 6 7 8 - hey!

...Adrian is one of the pre-eminent electric guitarists of all time - he started with Zappa, went on to Bowie, Talking Heads, Tori Amos, Laurie Anderson, The Bears (Raisins-Psychodots) and of course, Krimson. I've seen him for years and he can be a joy to behold - he's all over the new NIN disc, for example. He also has jammed recently with Umphrey's McGee.

I was tracking him when he looked for a power duo to make his trio several years ago and was stunned and delighted to see when he chose two related young musicians' musicians: Julie and Eric Slick from Baltimore, I believe. (Note from our blogger: Make that Philadelphia, please) He had originally recorded material with members of Primus and Tool, but they could not commit to touring. Instead, Adrian found these geniuses on their instruments (Eric drums and Julie bass) at a School of Rock group.

The disc is pure power - and with songs like Big Electric Cat, Thela Hun Gingeet and Amphersand, an incredible ride. Adrian's healthy and still as limber and adroit as ever although beware: what was once a tour of songs is now a tour of jams. If you don't cotton to luminescent displays of nimble dexterity and audacious complex firepower, it's best just to check out the disc. Otherwise, see this band..."

Yep, see the band for sure, and those of you in Canada and the east coast will have a chance July 5-12...put those dates on your calendar!
Now as concerns my life...and yes, I do have one exclusive of Julie, Eric, and Adrian though it's not nearly as much fun, I am headed to the
Actors Studio
in New York City tomorrow to begin filming a documentary and I will have much more on that later in the week, hopefully with photos but I have no idea what the parameters are...i.e., how much I am allowed to blab or show you pre-production. But trust me, it should be a blast and eventually, I will tell all. Or better yet, you'll get to watch it for yourself on Bravo...
Anyway, I guess that's it for now. I've got a box full of cheese pockets calling my name and after I'm done stuffing my face, I'll probably go on a google search for Bonnaroo photos in hopes of finding Eric...ah...what a life I have...I admit it, it's freaking fantastic.
Later,
xo