So there's much to catch up on, but today's post is about Matt and Julie's graduation party yesterday - probably one of the best/most enjoyable parties I've ever attended in my life. Thank you so much to Matt's parents, Frank Rothstein, and Eva and Steve Nicolazzi, who held it at their magnificent home, and for acting as sous chefs for Julie, which meant being ordered around until 1:00 a.m. the evening before by the high priestess of Epicurian Delights who refused to let Eva and Steve hire a caterer.
Here's the cool signs which helped me to relax we weren't hopelessly lost (i.e., Did I screw up the directions when reading them to Gary...no, I did not, though I would later rectify that unusual occurrence on the way home in the dark)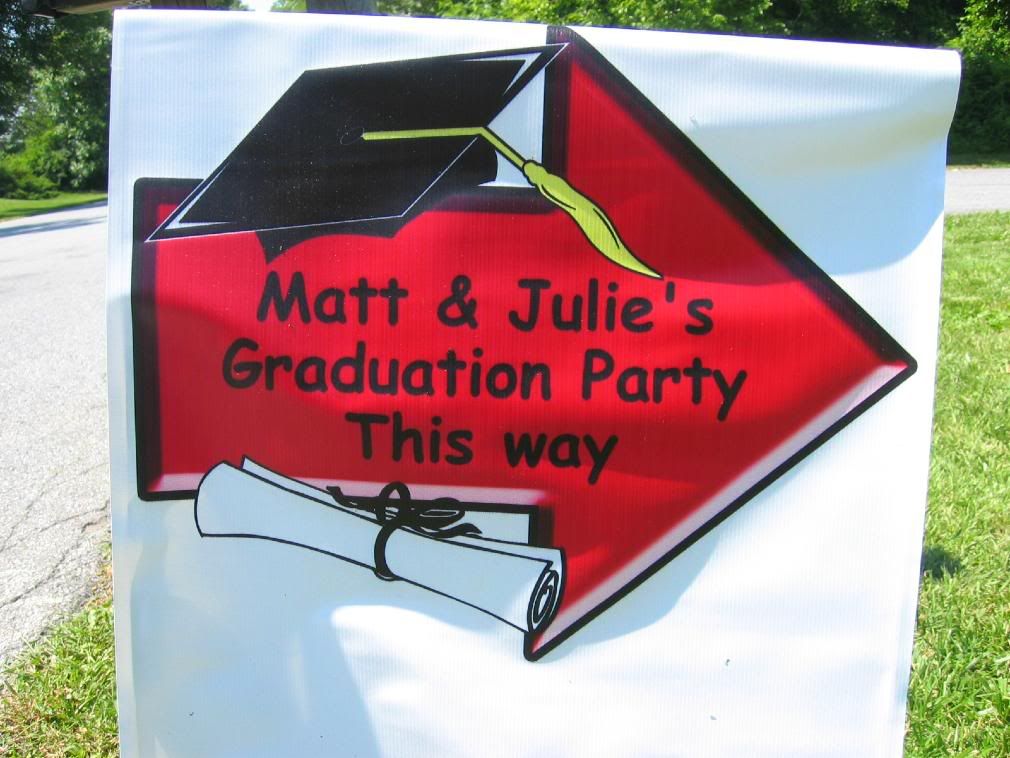 I made Eric get out of the car to take this picture much to his utter (not) joy. Other than that, this first set of photos were taken by me and now no one in my family can make fun of my rotten photographer skills anymore...or, now I know the secret. My camera works best outdoors in sunshine.
What a cool banner - and even cooler the sign that there would be a jam session at some point...many of the guests were talented musicians.
Proud papa Gary Slick, who I made pose for this photo because...there's that
shirt
again! (and notice, when you click on that link, the very cool photo credit. And as my regular readers already know, the t-shirt was designed by brilliant photographer
Mark Colman
).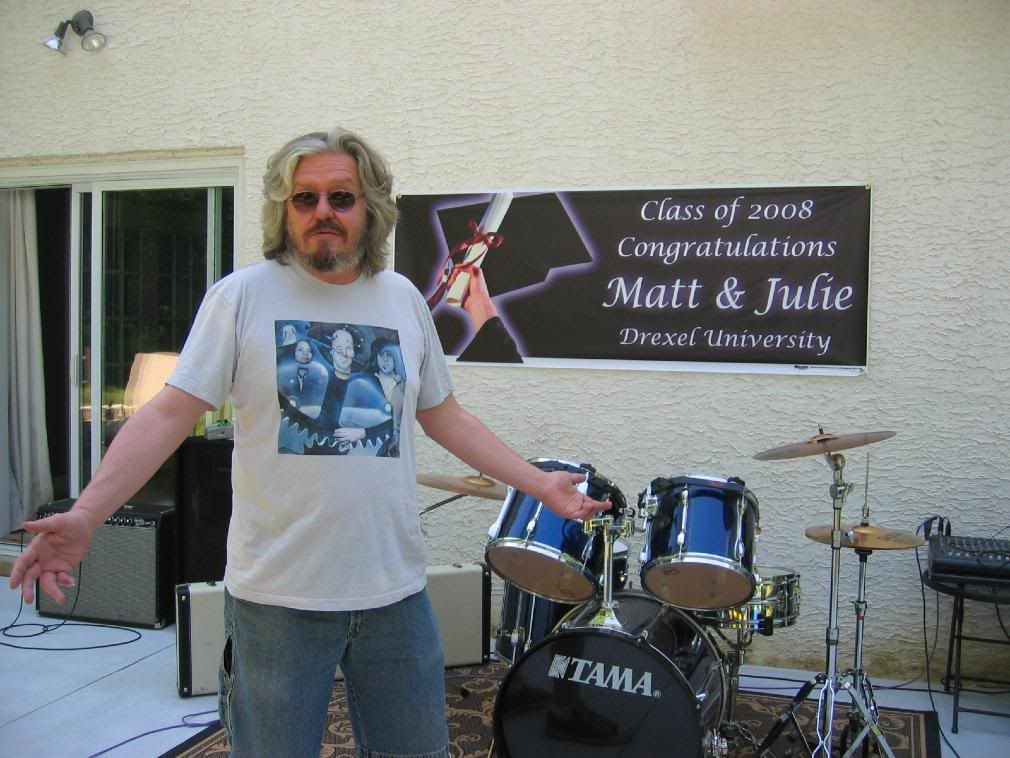 And there's the official hand lettered card, announcing Julie as Caterer, in between two of the most lethal Sangrias I have ever had - Julie's special recipe, i.e., fresh tropical fruit, red/white wine, tequila, rum, brandy, cognac, Jack Daniels...oh, I'm kidding...but only a little. More than one glass and you're dancing on tables...more than two and you probably start shedding clothes.
Erm...I wouldn't know.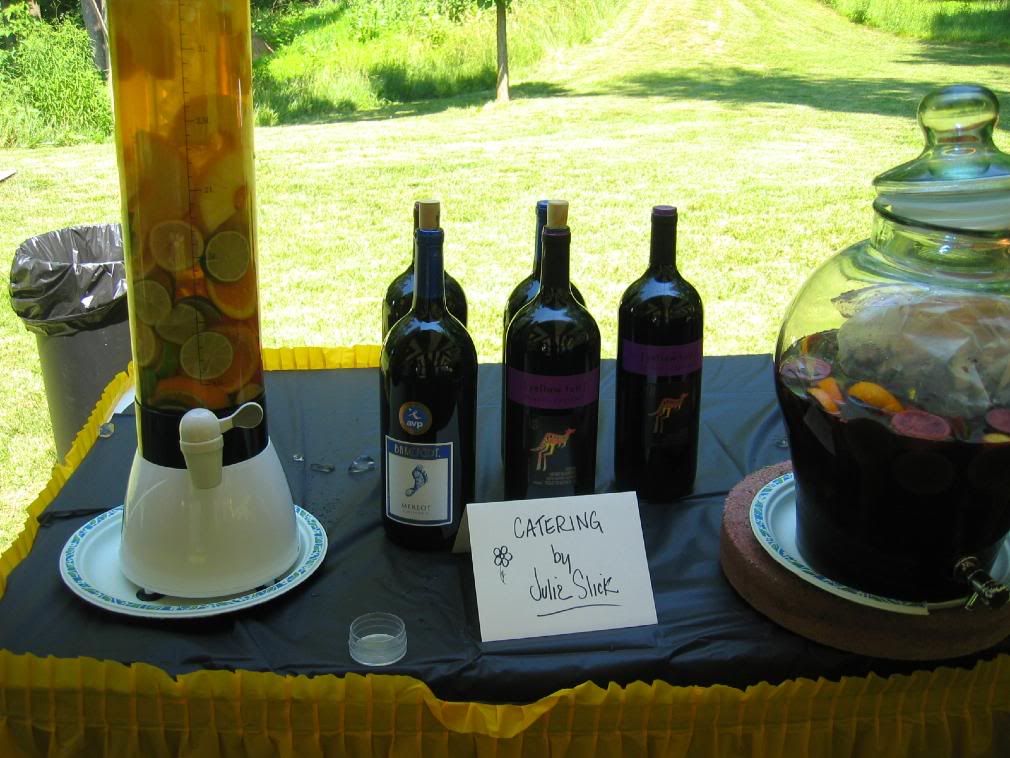 Some of the appetizers - also all made by hand and by Julie...she totally rocks. The first is brie with honey glazed pecans and a fruit chutney of sorts - there was one on every table, too and incredibly addictive.
Julie's guacamole and corn and black bean pico de gallo...too, too good...and I don't know what she used for a marinade on the mozzarella/tomato skewers but she took a simple appetizer to a whole 'nother level.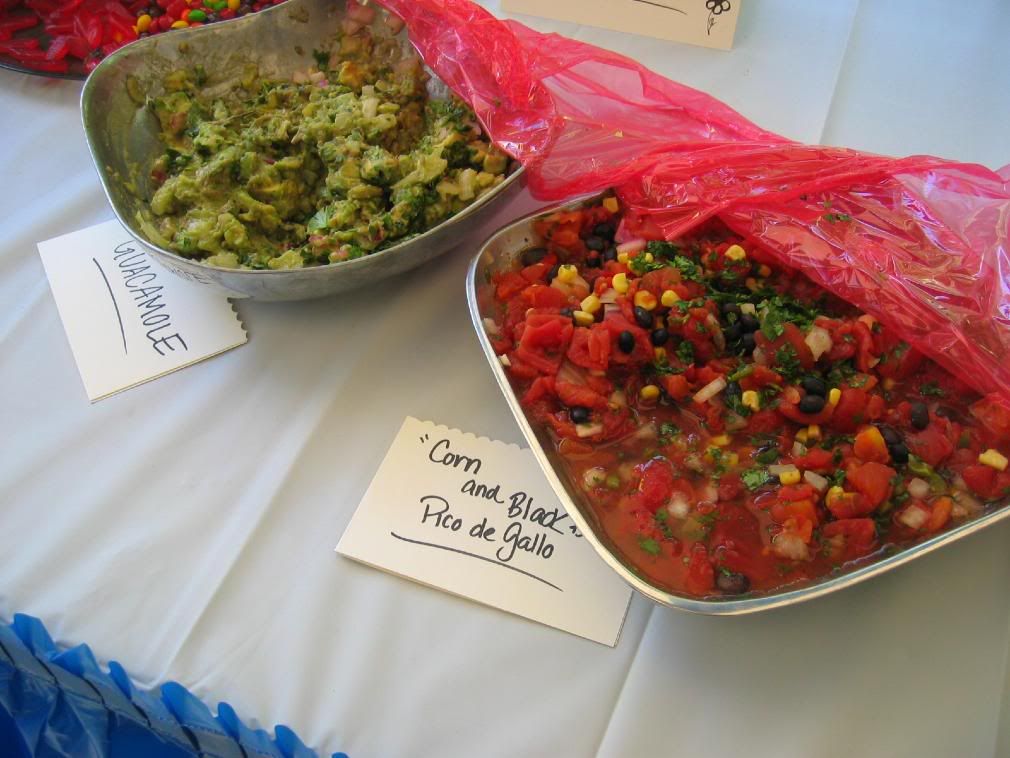 As the card says, those are indeed "Julie's Famous Poppers" and they are unfortunately so incredible I ate about three dozen and was almost too full to eat anything else.
Okay, not quite...but almost. She must have made a thousand of them, tray after tray kept appearing warm from the kitchen, and I giggled at the thought of Eva and Steve slicing jalapeno peppers and removing those dreaded seeds at midnight because I know that's what Julie had them doing...I just know it, without even asking.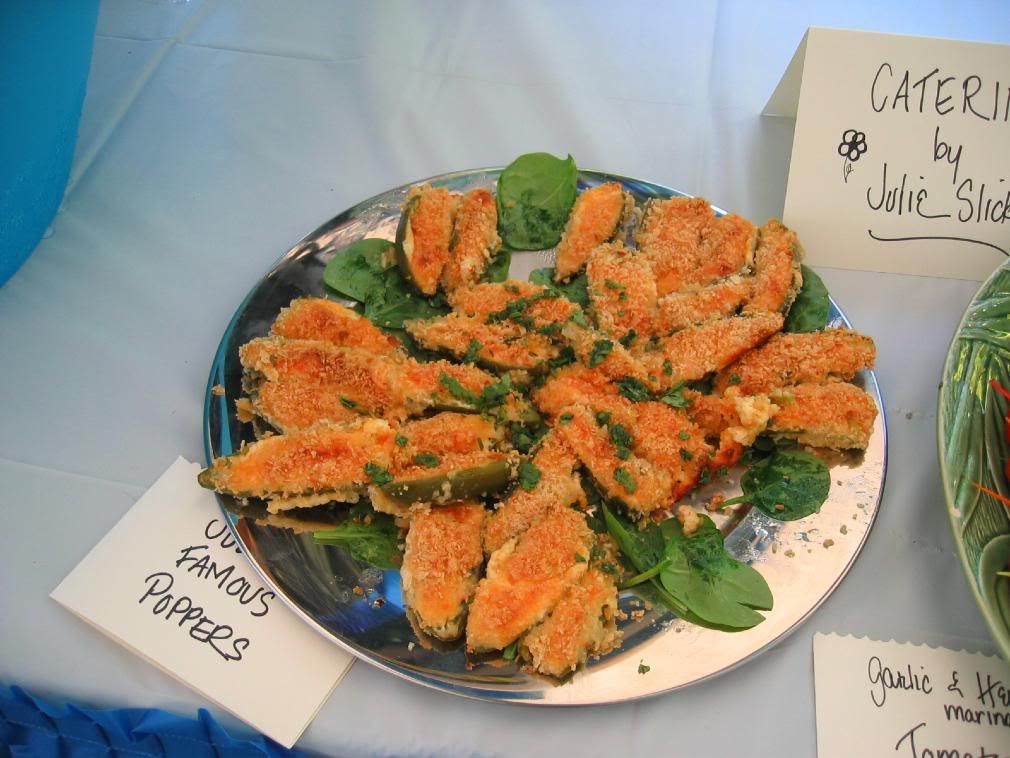 Speaking of Eva, here she is thanking us all for coming to the party...and yes...she is not only very sweet, she is also very beautiful.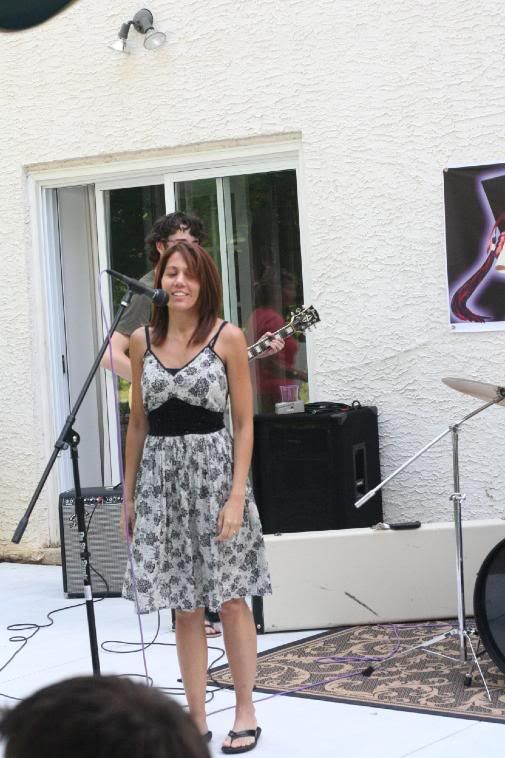 Julie and her dad, sharing grilling duties. I know I'm prejudiced, but I just adore these photos: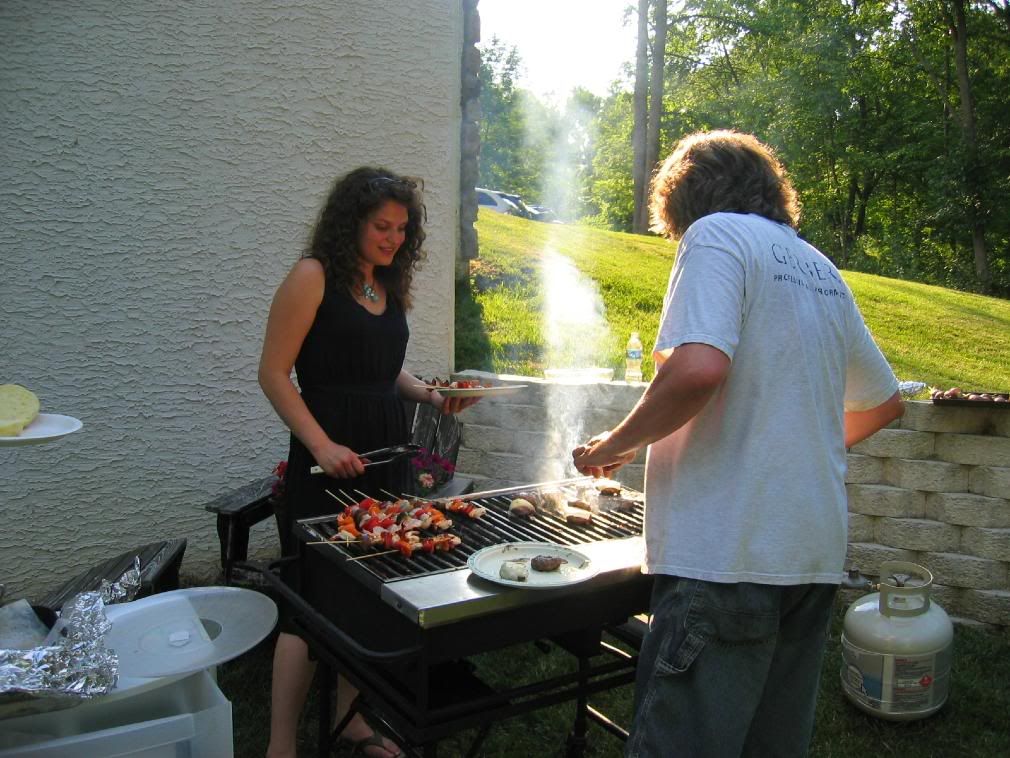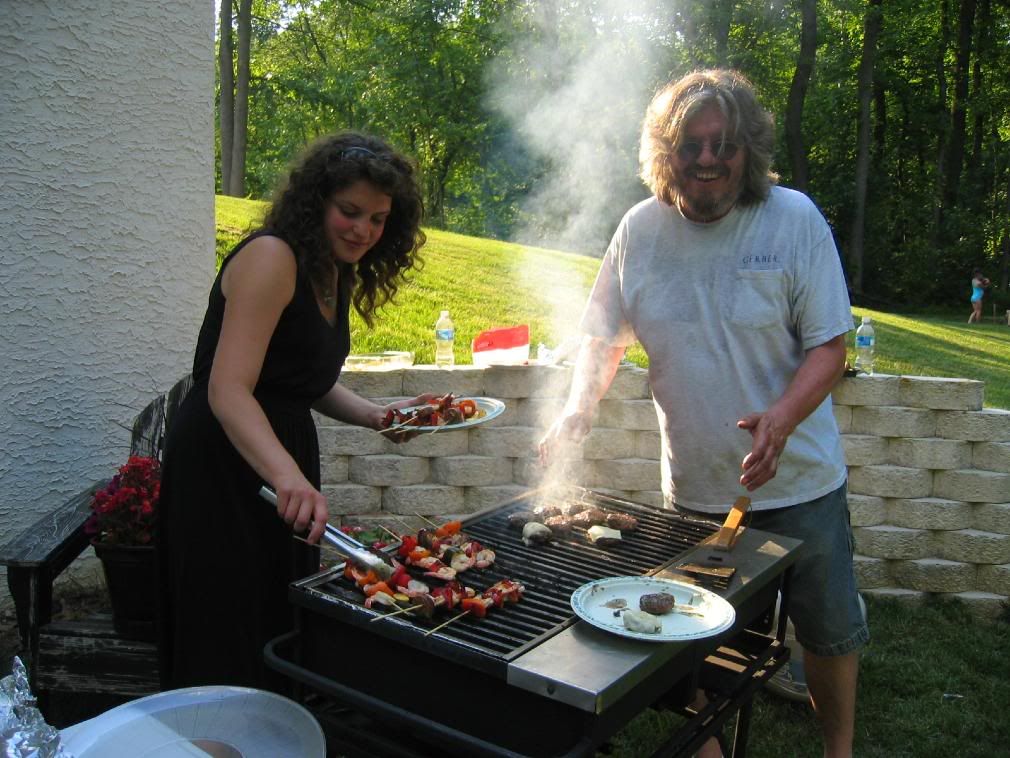 This is Clyde, Matt's dog, who stationed himself in front of the barbecue and didn't budge...which was a very smart move on his part as with so much food on the grill and so much Sangria being consumed by one of the chefs and it wasn't Gary, he (Clyde) was bound to get lucky.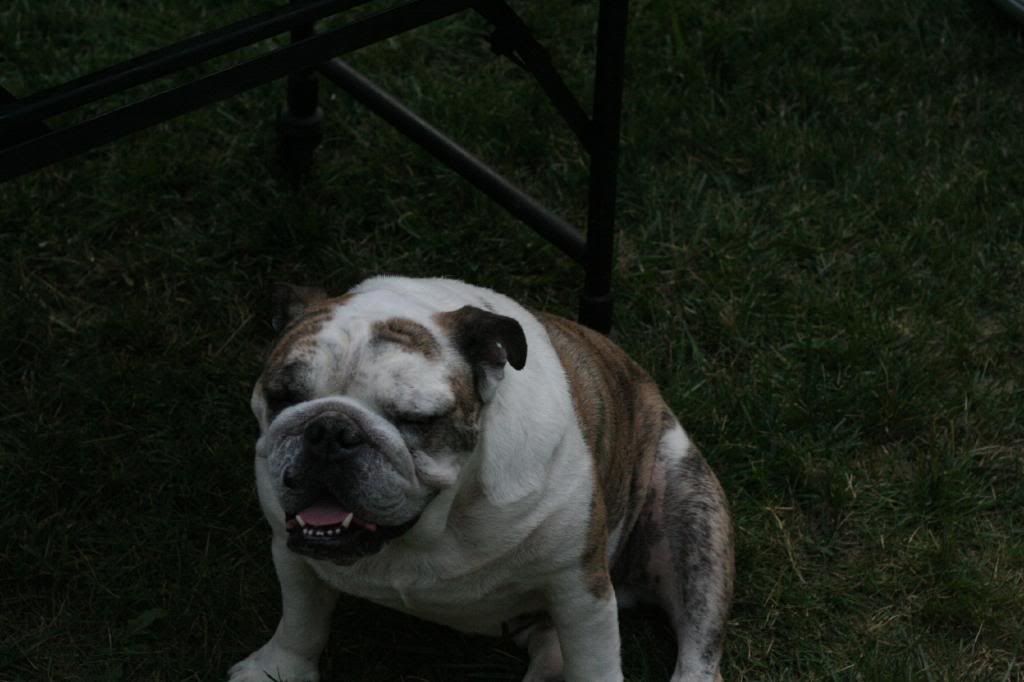 What's coming to the table now?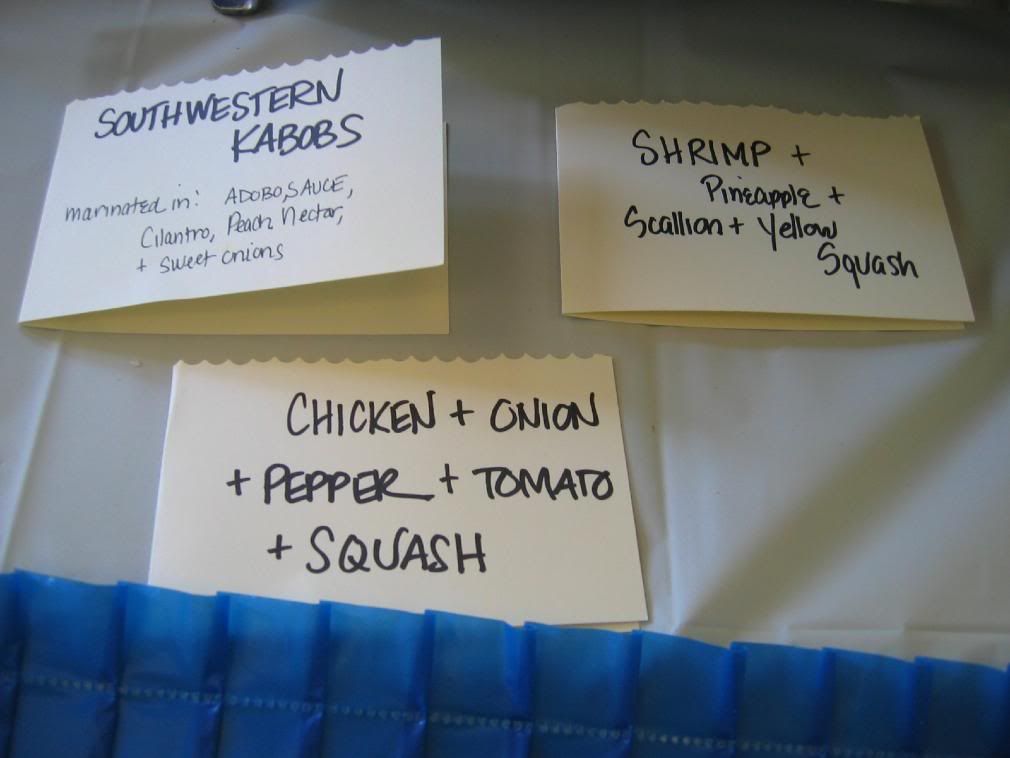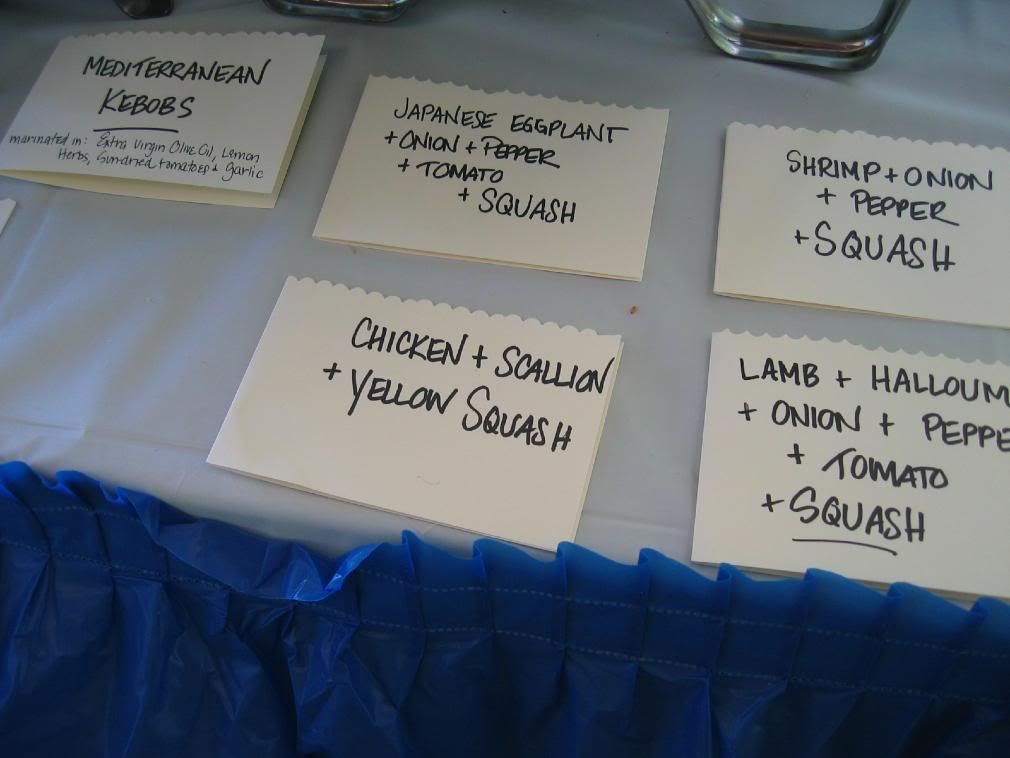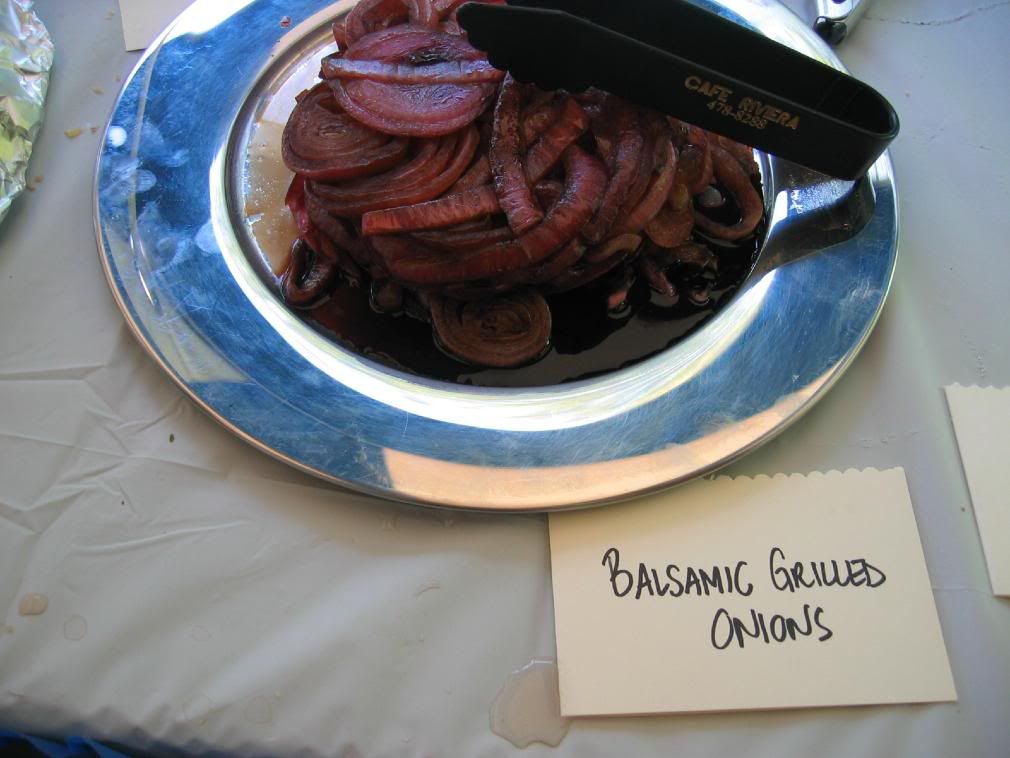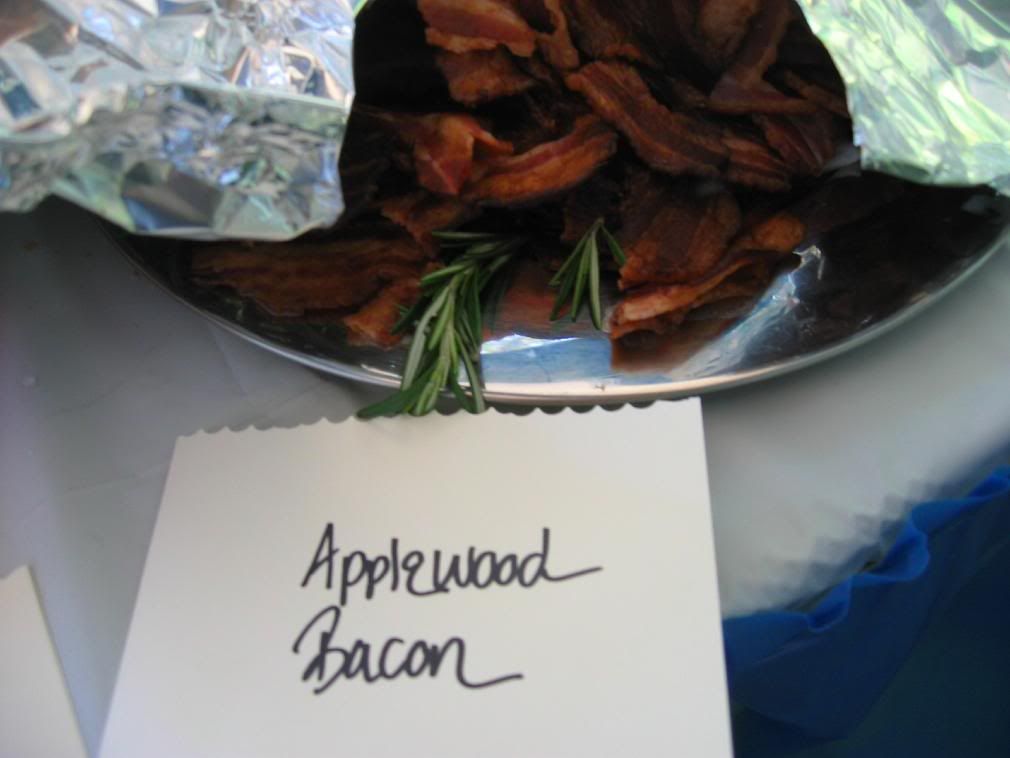 See these shrimp skewers? Un-freaking believable tasting and Clyde's first real score from a "whoops it slipped off the barbecue" mishap. Luckily I noticed right away and wrestled it from him, regretting that I could not take the chance of running for my camera to take a photo of that cute bulldog face with a shrimp skewer sticking out of his mouth but it was too risky. Okay, okay, after I took it from him, I gave him a shrimp...how could I not?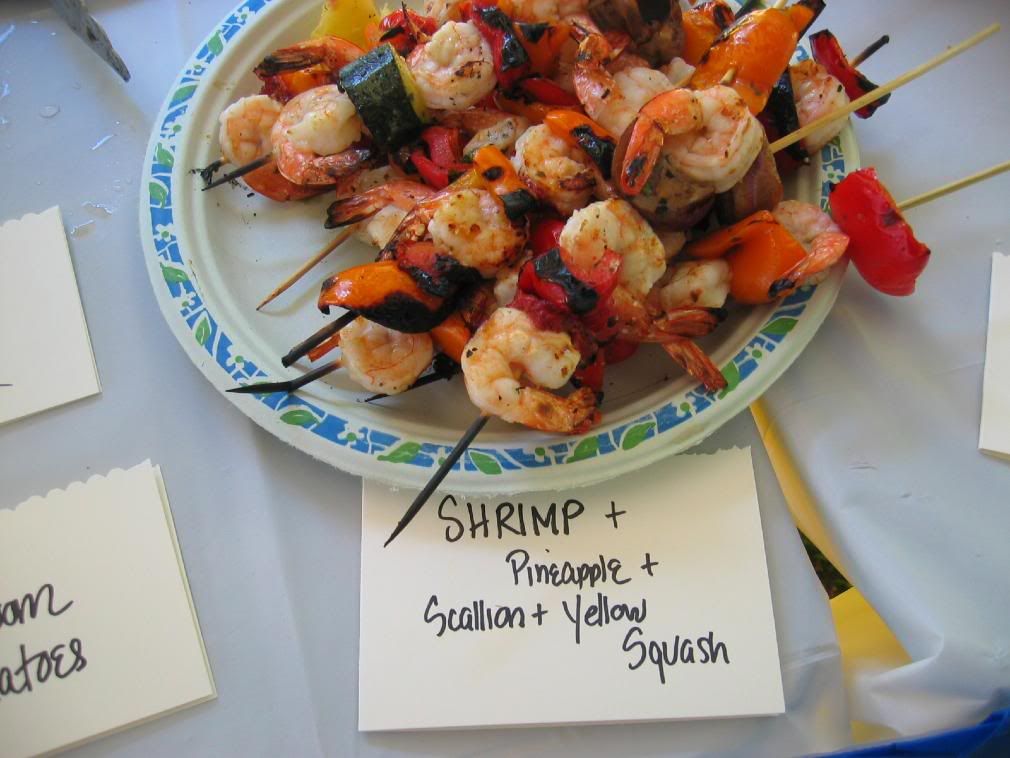 Some photos just to give you a feel for how nice the whole atmosphere was...Julie and Matt, Eric and his significant other, Katy...there's Gary behind Katy in photo #3...all of their friends...family...and the absolutely gorgeous grounds with blooming flowers everywhere...just an incredible vibe.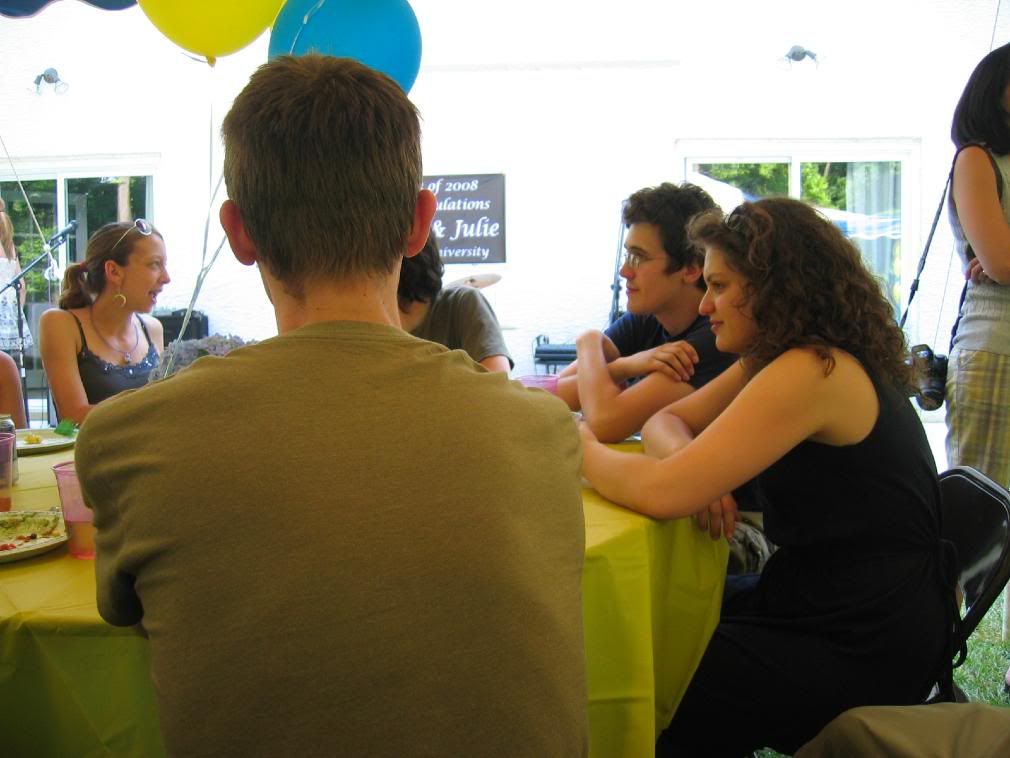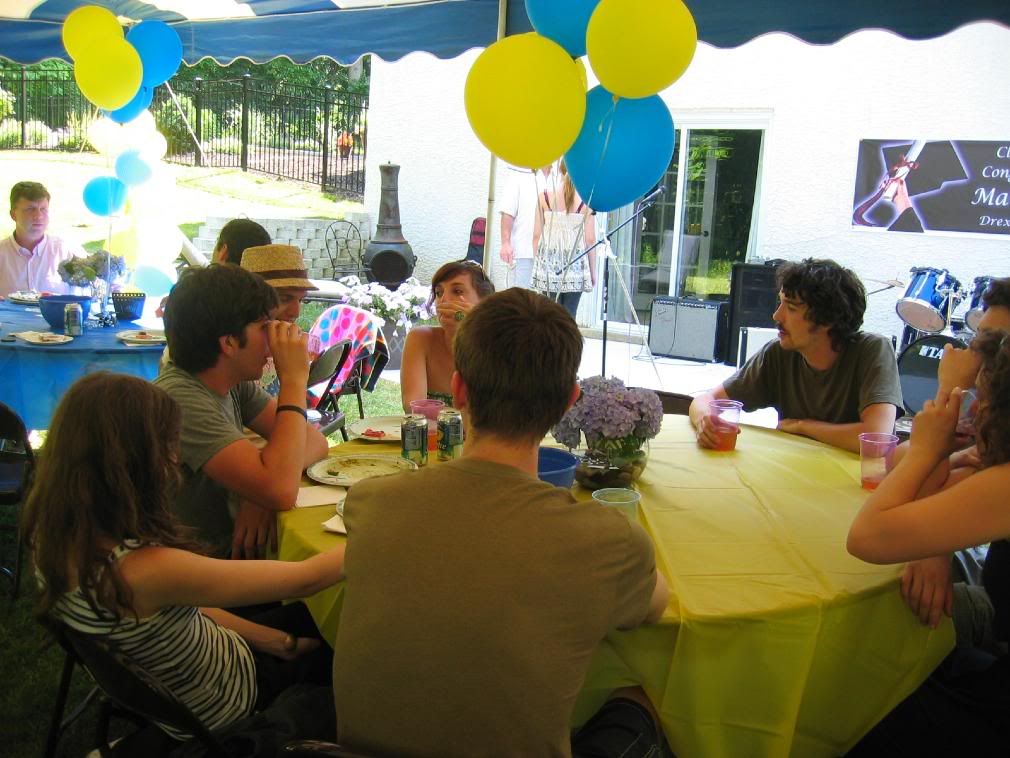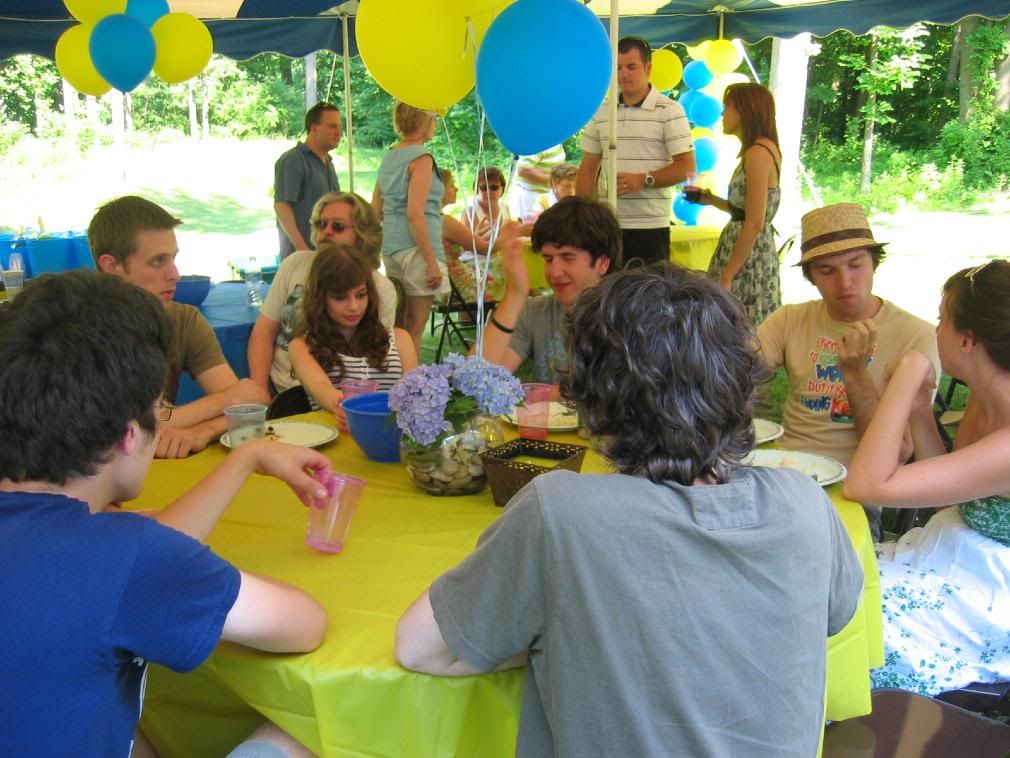 Okay, for some unknown reason, Blogger is acting weird and won't let me put up any more photos in this post so stay tuned for The Best Party Ever - Part II - below.
Later,
xo