Tonight the
Adrian Belew Power Trio
will be in Tampa, Florida. Opening for them is a wonderful band I caught two years ago when I was down in St. Petersburg - Jerry Outlaw and Friends. Jerry is a hell of a guitarist in his own right and and here's a blurb about the show in today's
St. Petersburg's Times
:
Photos by Gary Slick

Adrian Belew
With Jerry Outlaw and Friends
FRIDAY 8 p.m. Skipper's Smokehouse, 910 Skipper Road, Tampa. $15-$20. (813) 971-0666.

A master sound-manipulator and guitar hero to the art-rock pack, Adrian Belew spent time with Frank Zappa, Talking Heads, David Bowie, Nine Inch Nails and King Crimson before forming his own progressive power trio. 20-something siblings and technical dynamos Eric and Julie Slick only add to the sonic vigor.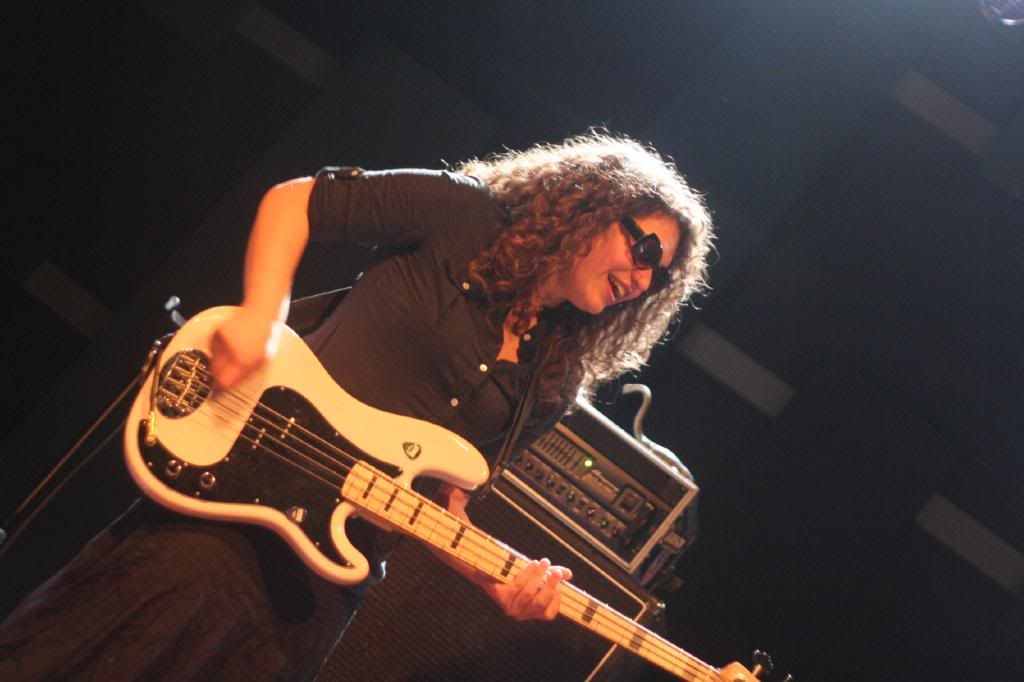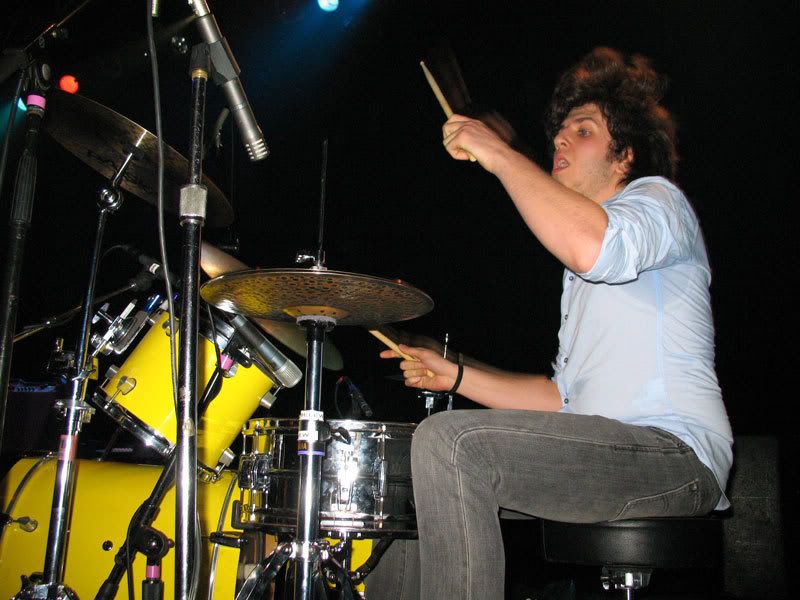 From
Access Atlanta
:


"SOUND CHECK: Belew hits wide-ranging notes

By Jonathan Williams
For the Journal-Constitution

AS ONE OF THE MOST accomplished guitarists of the past few decades, Adrian Belew has performed and recorded with the likes of Frank Zappa, David Bowie, the Talking Heads, Nine Inch Nails and Tori Amos, not to mention William Shatner and Henry Rollins —- at the same time!

Before reuniting with King Crimson, the progressive rock band for which he is best known, for a few shows later this summer, his current project is the Adrian Belew Power Trio. Touring in support of "Side Four Live," a live recording released last November, the trio performed at Smith's Olde Bar this week.

Q: You've worked with many of the most prolific rock artists of the past few decades. How did you end up playing with a couple of kids?

A: I had been working for quite a while on material for what I called a Power Trio and I had some ideas on what I wanted that to be. So I was in the market to find the right players. I went to the School of Rock in Philadelphia to do a guest seminar and Paul Green, the founder of the school, said, "I want you to hear the best students I've ever had. They've already graduated, but they're brother and sister, Eric and Julie Slick." He brought them in, they played with me and I said, "I think I've found my trio."

Q: One of your latest projects was "Ghosts I-IV," an experimental instrumental project with Nine Inch Nails. What was working on that like for you?

A: This is the third record I've done with Nine Inch Nails and it went pretty much the same as the other two. Basically Trent [Reznor] plays me the material and lets me do whatever I hear. He's very encouraging to me and lets me try things. It's really fun for me because I love the music and I have total freedom. I really like Trent's production work, I like the sound that his records have, so it was four days of happiness.

Q: Aside from your own album, have you been featured on any other recent releases?

A: I am working on a brand-new record of new material with the trio, some of which we'll play on this leg of the tour. And in August, King Crimson is doing 10 shows in Chicago, Philadelphia and New York. Around all that I'll be working on new material and the trio will be touring all over the place.

Q: Tell me if this doesn't sound like the beginning of a bad joke. William Shatner, Henry Rollins, Ben Folds and Adrian Belew are in the studio one day . . .

A: That does sound like a bad joke. That was actually another night of hilarious fun. I'm friends with Ben Folds and John Painter, the two people who were producing that record [William Shatner's 2004 album "Has Been"], and they called me and said, "Hey, we've got William Shatner and Henry Rollins here and they really want you to come over and play." We just did some improvisational work until about 5 in the morning and it was a lot of fun. I really enjoyed William Shatner. He's a ball of energy, unbelievable. Henry's a character, too. Having him and William Shatner in the same room together, there was almost no air left."
*****
From the mail bag regarding last night's show in Atlanta:
"Saw the Atlanta show, and yes, it was AWESOME

I had so much fun I'm inarticulate. Suffice to say this is the best
he's played of the 4 or 5 times I've seen him over the years, from
the Bears in the 80s to today... and the Slicks are also awesome.
What a pleasure. I also met some groovy dudes, one of whom plays
bass, and might just have made a new jamming buddy.

My face hurts from smiling. It was fantastic."

*****

"I have seen them 4x in the last 2 years. This last show was FREAKING AMAZING.... It was hands down the best to date. If you can pick your jaw up off the table after they leave the stage, then watch the crowd. It would be a great picture for a dictionary to help describe the word 'stunned.'"

*****

"...They sounded great, and I have nothing but positive, glowing, and wonderful things to say about Julie and Eric. Great young people. Just great."

*****

"...As usual, Adrian is infectiously happy when he's playing with Eric and Julie. There are KC songs that I would rather hear these guys playing that the actual KC, just because of that spirit of fun and enjoyment."

*****

"Saw the show in Atlanta. Your kids are amazing good!

Adrian - well he's on another planet and sometimes he's nice enough to take us all there for a few minutes."
*****
And the most special post of all, from Margie Wallace, wife of
Ian Wallace
, which I am editing to exclude some personal references:

"...Technically, I stole the set list...I picked it up after helping Eric break down some of his stands. What can I say, I have a soft spot for drummers who carry their own gear. And what a drummer Eric is....absolutely fantastic! I can't say enough about what great players Eric and Julie are! After so many Friday evenings spent talking with Adrian about how much he loves playing with this band, it was so wonderful to see them in action. The beautiful Julie, looking so serene while holding down the bottom end as Ade just played and sang his heart out! Not to mention the special added bonus of Saul Zonana working the soundboard while simultaneously singing harmony vocals! Everyone was having a blast and the crowd loved it! ...The audience was filled with all manner of spectacular musicians (including the venal one, tapping his feet and smiling throughout) and enthusiastic audients!

It was nice to spend some time with Julie and Eric before the show, having never met them previously. We dined at a nearby sushi bar...I discovered that as amazing as Julie and Eric are as musicians, they are even better people - smart, funny, talented and gentle. Congrats to Robin and Gary for bringing up two such fine human beings.

All in all, a wonderful evening....

Margie"
I wrote to Margie, asking her permission to post this, and here is how she graciously responded:
Robin,

They are both great kids and talented musicians (I almost cried watching Eric at soundcheck) and a credit to both you and Gary. What a gift to shepherd two such lovely souls into this life. I had a great time meeting them and look forward to spending more time with all of you in the future! ...I know our paths with cross sooner rather than later. Until then....blog away! Consider this my official consent.

All the best,
Margie


Yes, I know. That is the coolest thing ever.
Hey, here's some exciting news. Gary has updated his
blog
, which currently is a tribute to his top Guitar Gods. His first post on the subject was Jimi Hendrix - click the link to see who comes in at number two and for a hint on as to which legendary musician is next on the list.
Anyway, I know I'm always saying this, but I do expect more reviews and emails later today because I personally know a couple people who attended the show last night so yep, as soon as I receive them, I'll add them to this post.
Later,
xo