So while I do not have all that much information I am able to share as concerns last night's show, here's what a
fan
had to say:
"
Great show. Adrian had a preposterous rig for the venue, and the two kids he had with him are monsters. I wasn't familiar with his material before this, so I kind of just spent the evening enjoying the weird noises and ogling his Parkers, but it was a good time indeed."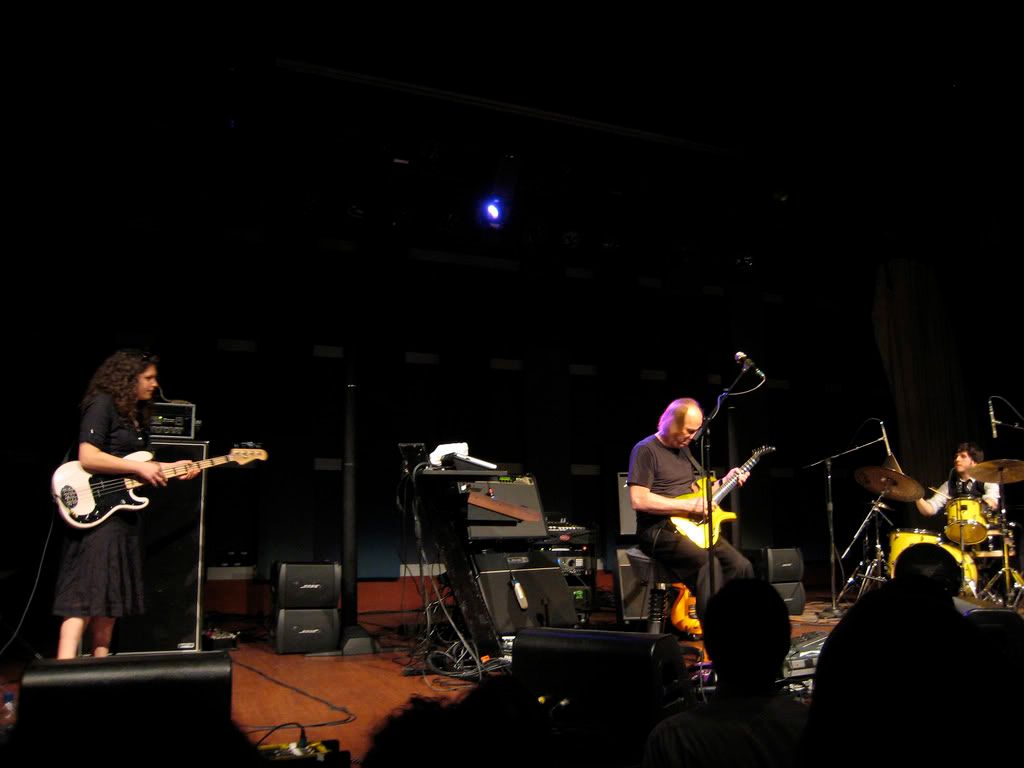 That's a pic from World Cafe Live in Philadelphia, March, 2008 (thanks, Gary) because I don't have any photographs from last night - at least not yet, anyway - nor much other information other than, um, there were two special guests in the audience - Robert Fripp and Margie Wallace, wife of beloved late King Crimson drummer, Ian Wallace.
You realize it's killing me not to say anything further but out of respect to people (including Julie and Eric!) whom I truly admire and respect, my lips are sealed.
But okay, I am running around the living room whooping it up right now and the dog is looking at me like I'm crazy.
Nothing new about that.
From
Tampa Creative Loafing
:
Friday, May 30
Published 05.28.08
By Leilani Polk

Adrian Belew

Last year, when progressive guitarist Adrian Belew brought his power trio to State Theatre, I was skeptical about how much I'd enjoy the show. Many months before, I'd finally seen Jeff Beck -- another prog-rock heavy hitter whom I loved and appreciated -- and found myself indifferent, bored even, by Beck's cold licks and lack of charisma. But when Belew took the stage with brother-and-sister rhythm section Eric and Julie Slick, his goofy mug all smiles, and they launched into a set of dynamic, jazz-infused electro rock, my doubts were put to rest. Belew's sound was relevant and rousing, a refreshing change from the route followed by too many veteran musicians, who fall back on the familiar rather than attempting to break new or even gently-tread-upon ground. Belew knew when to take control with face-melting licks, when the time was right for improvisation and when he needed to add psychedelic texture to his sizzling sonic landscape. Belew wasn't just the frontman but a vibrant force who owned his music. Overall, a badass show and one of the best I saw last year. Belew and his trio return to town this Friday night; Jerry Outlaw & Friends provide support. Fri., May 30, 8 p.m., Skipper's Smokehouse, 910 Skipper Road, Tampa, $20 in advance/$25 day of show, 813-971-0666, skipperssmokehouse.com.
So that article concerns the show this coming Friday, but if you are in the Atlanta area tonight, please check the trio out at
Smith's Olde Bar
.
And if it turns out any more "reportable" news pops up, I'll be back.
Later,
xo