Hey, hey, hey, Eric Slick is legal today - twenty-one years old. He can now sign autographs at the bar after playing with the trio in 21+ shows and even better, he can now go see any show he wants...ugh...can you imagine being a professional musician and being banned from attending your colleagues' concerts because you aren't old enough to get into the club even if you have absolutely no intention of drinking? Yet...yet, yet, yet...at 18 you are old enough to die in Iraq. Oh well. Since I have mixed feelings about this subject, I'd better stay away from it. That is to say, no, I am not in favor of underage drinking and we already know my position on war so it's kind of a no win situation for me to even take this argument on.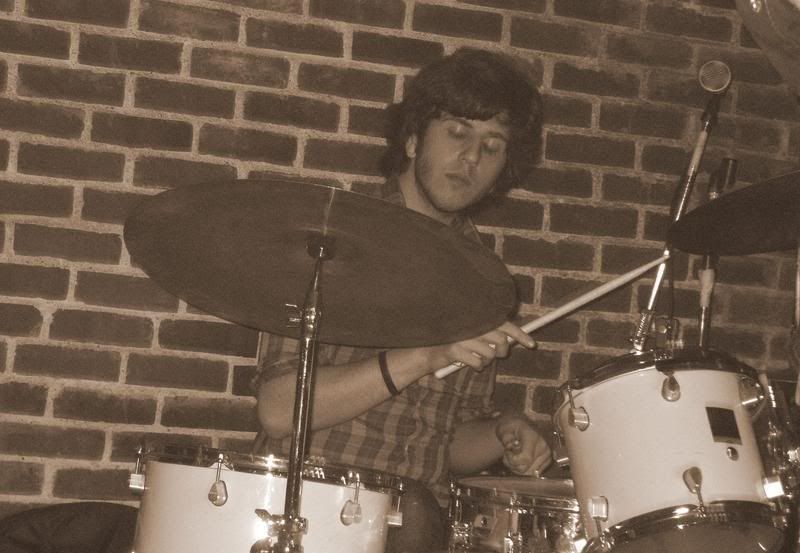 Anyway...2008 has so far been both an exhilarating and extremely sad time for the Slick family, an incredible roller coaster. But let me start this post off on a positive note. One thing I didn't get to advertise here was that on Saturday night, May 10, Eric played a gig at John and Peters in New Hope, Pennsylvania, with
Chris Harford
.
Here's the band, which consisted of Chris on vocals and guitar, Eric Slick on drums, Matt Kohut on bass and Scott Metzger on lead guitar.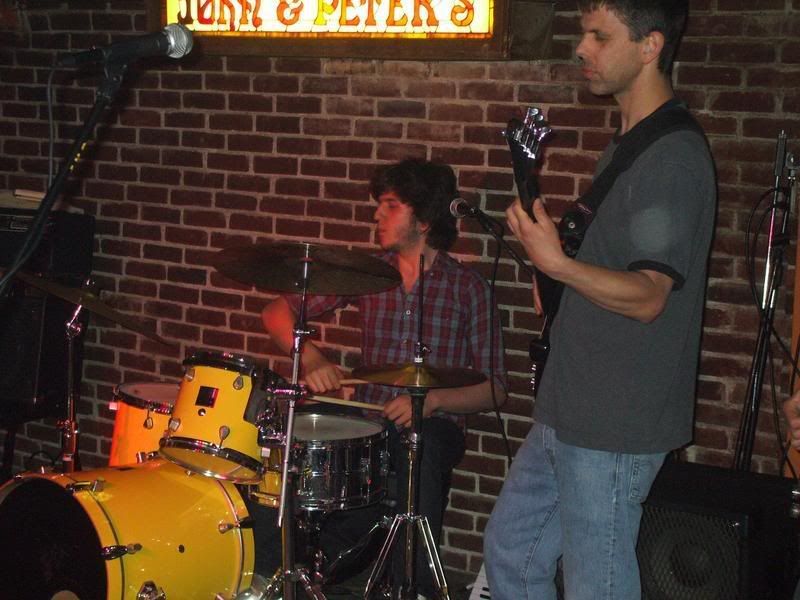 And then, as is usual and customary at a Chris Harford concert, the band played musical chairs: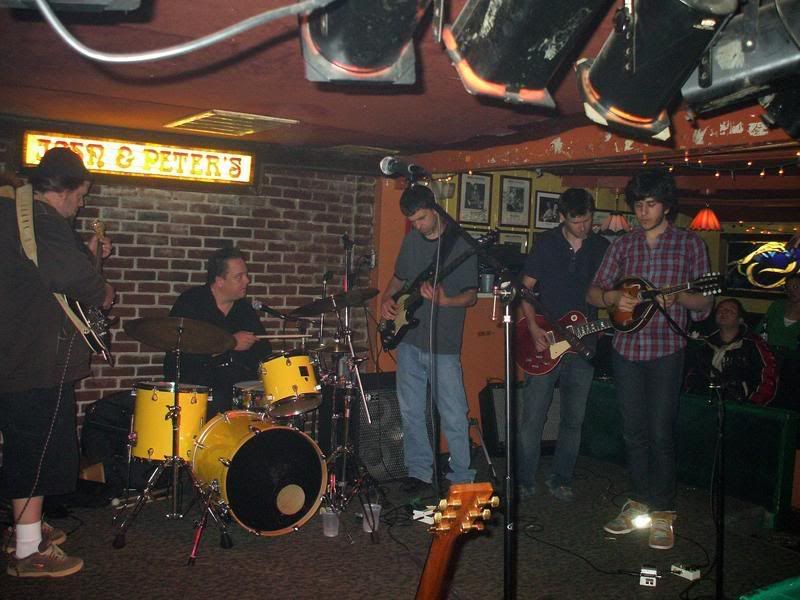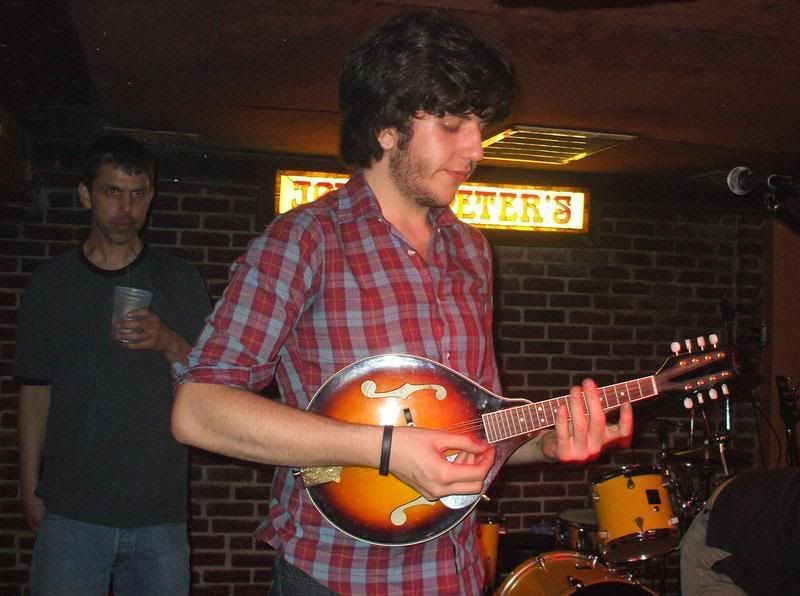 But wait...who is this waiting in the wings? Could it be proud Papa Gary Slick? Why is he sitting there, staring so intently?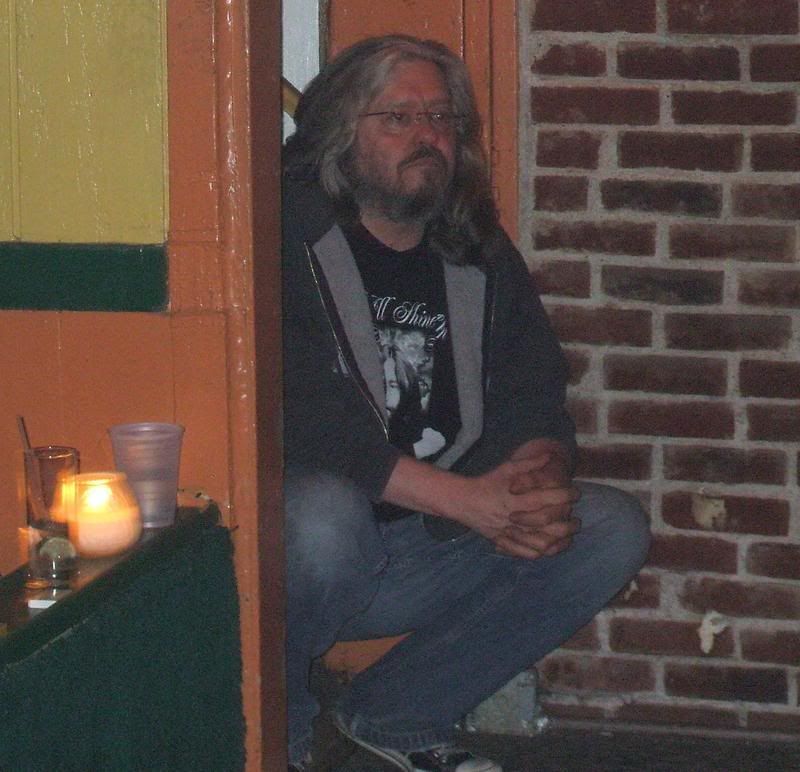 Could it be...
Yes! Gary finally realizes a life long dream to play on stage with his son! And yeah, that's the way cool Telecaster Julie, Eric and I bought him for Christmas last year. That had to be the best way to break it in ever!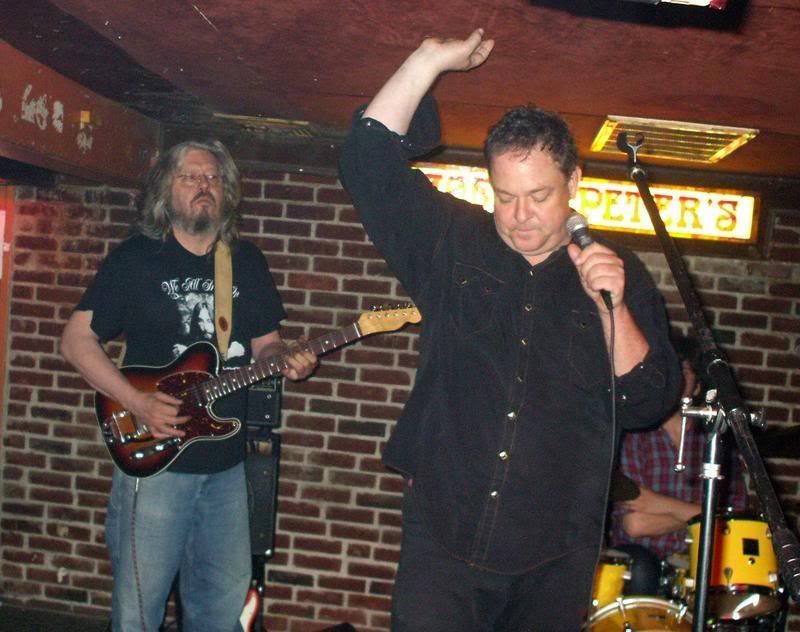 (All photos in this post were taken by "Fredington" of the
Ween Forum Board
)
Thanks so much to Chris for making it happen. Gary had a blast and Eric teased him "Hey, you did great and you didn't embarrass me!" (That's Eric humor...he is so cool, just like his dad...and his Dad, by the way, gave Ms. Julie Slick her very first bass lessons so yeah, the apple did not fall far from the tree) Like I said, it's been really rough for our family lately, especially Gary. As I've been sort of skirting around, Gary's mom began having some medical problems this spring and though we were really hoping she'd turned a corner last week, she passed away just after midnight on May 12...but Gary and Eric both spent Mother's Day with her at the hospital holding her hand. May 10 was the Harford show and Gary and Eric were able to briefly step away from the harsh reality of Mom's illness and played until 2:00 a.m., after which they were both up early on Mother's Day and headed to the hospital, not knowing it would be her last day.
Yesterday we had a really moving private ceremony for just the immediate family and a few friends...a simple graveside service which Gary began with the Serenity Prayer and asked that anyone who wanted to share a story about his Mom do so.
Eric stepped forward first, and I have to post what he wrote here because it's just so touching and sensitive and well, it's just so, so Eric:
"I have nothing but great things to say about my grandma. I have included a short list of all of my favorite memories.

1) My first Easter: She told me that a giant bunny was going to come through the front door to deliver Reese's cups. I was excited at first, until I realized I was terrified of giant rabbits.

2) When she bought us detective supplies: Julie and I became obsessed with kid detective shows, so she went out and purchased crime scene tape, sketchbooks, fake guns, and Rite Aid notepads. One time, she walked in and we had created an entire crime scene ourselves. I'll never forget the look on her face.

3) One time I convinced my grandma that my parents didn't feed me. I told her that my parents wouldn't make pork chops for me, so they just fed me bread shaped like pork chops.

4) My most cherished memory is from last week. I went to visit her at Jefferson Hospital to bring her cheesecake. I walked in and showed her what I had brought. Her face lit up. Unfortunately , the nurse said I wasn't allowed to give her any yet. I just looked over at her and we smiled at each other. We proceeded to have one of the best conversations we've ever had. She told me that all she wanted to hear was "Give Peace A Chance". I kissed her on the forehead and told her how much I loved her. She looked at me and said, "Now when can I have that cheesecake? I'll beat you with a wet noodle!" I said that I had to go to work and then she said her famous goodbye.

"See you later alligator! After a while crocodile!"

After Eric finished, Julie read her tribute, which she prefaced with a smile, saying "I should have conferenced with Eric before reading this because we touched on the same subjects." I was actually glad she didn't have the chance for that conference, because her speech confirmed for Gary and me what we already knew - that they had a charmed childhood, a good part of which was courtesy of their Grandmom and she played an integral part in the fantastic adults they became.
Here's what Julie had to say:
"Ellen Slick was an amazing woman. Some of my fondest childhood memories came from time spent at her house. When we were little, Eric and I would come up every other weekend to give our parents a break so we could run amok at Grandmom's house. I would storm into the kitchen, demand her to fill my bottle "to the tippy top" and then gang up with Eric to tear apart her couch so that we could build forts. Sheets were stretched around and propped up and we'd imagine that we were detectives stationing at our headquarters. She would just shake her head, laugh and threaten to beat us with a wet noodle or send us on a raft to Timbuktu. She was in on the fun too, though, happily playing along as our police chief, our tour manager, or the bad-guy ninja. At the end of the night, we'd clean up together. We'd set up the pull out bed where'd she lay with us until we fell asleep – which wasn't easy – she'd always just fed us caramel-y nutty chocolately Snickers ice cream bars. The next day we'd wake her up with our giggling and the clacking of dolls, GI-joes or matchbox cars. When we got hungry, we'd yell for our breakfast – and she never prevented us from going cuckoo for cocoa puffs like mom and dad did. When we wore her out, she'd sit in the kitchen, listen to her radio and sing along to the classics. When I got older, I'd sit there with her and help her do the crosswords. I returned to that kitchen less frequently as I got busy with work and school. But I made a constant attempt over the last couple of years to visit with Dad, especially when there was a coffee cake or coconut pie involved. We still always went up at Christmas to collect our annual ornaments, calendars, rock and roll t-shirts, and other things you never knew existed. It was her favorite time of year, the time all of us got together and watched as Monty dog sniffed out his gifts and tore them up all over her living room floor. The celebrations never lasted very long – not usually more than a few hours, but we'd always manage to ravage her living room and leave with bountiful bags of gifts. She'd never sweat about it though, and she'd just beam as we hugged her and note that Eric and I just kept getting taller as she kept shrinking. "You're gonna be eatin' soup off my head one of these days!" she'd shout as she wagged her finger at us. Then she'd open the door for us and observe as we'd load up the car with all of the presents she spent most of the year picking out. We'd each give her one last hug and finish every one of our meetings in the same manner. Rolling down the car window, Eric and I would simultaneously shout, "See ya later alligator!" She always smiled, her big cheeks glowing, retorting "After a while crocodile! See ya later alligator!" "After a while crocodile!" we'd counter as we pulled away, waving our hands and beeping our horn as the crazy-haired Slick family said goodbye to our grandmom on Roselyn Street."
I think we all pretty much tearfully said "See you later, alligator" as we stepped up one by one and laid a rose on her coffin at the end of the service. I'm so happy those were her final wishes...wakes and long funerals attended by strangers are so barbaric and she simply wanted those who love her to honor her the way we did.
Afterwards, the four of us and Julie's significant other, Matt, had lunch at a beautiful garden cafe called
Under the Oak
in the neighborhood where Gary and I grew up near the cemetery. Only I could put in a plug for a restaurant after such a sobering post but I feel I must mention how wonderful it was...sitting outside on an absolutely glorious day surrounded by trees and blooming azalea bushes, eating lentil cakes with Moroccan carrots, cucumber, and avocado; wheatberry salad, chilled pea soup with mint, and for the carnivores, Matt and Gary, homemade meatloaf on brioche. Dessert, baked on the premises, consisted of Philadelphia Butter Cake, Peanut Butter Chocolate Truffle pie, Key Lime Pie, Chocolate Layer Cake, and Sweet Potato Pie with Pecans. If you click the link I gave you, there are even some recipes. The soup especially was amazing.
It was a very peaceful way to end what has been a very traumatic time for our family, and even the timing of Mom's death right after Mother's Day and the fact we were able to arrange the service so as not to coincide with the happy occasion of Eric's 21st birthday were almost like her final (and usual) acts of selflessness.
And after the partying is over tonight - and we still don't know how we are celebrating or where since obviously our minds have been in other places, Eric and Julie hop on a plane for Nashville for three days of intensive rehearsals at Studio Belew in preparation of their upcoming tour which yes, will include some new and incredible material. And right after Julie and Eric return to Philadelphia on May 20,
Robert Fripp
and those King Crimson guys descend on Casa Belew for a week of rehearsals...and as soon as they wrap that up on May 27, Julie and Eric fly back down to Nashville that evening for the trio's first leg of the summer tour, which kicks off in Nashville at the
Mercy Lounge
on May 28. So basically, how would you like to be Adrian Belew right now? For the next three months, his house and life are going to be a non-stop revolving door of extraordinary musicians and music.
Hey, Eric will finally be able to have what I believe Robert Fripp calls "Monster Margaritas" at the infamous Mexican restaurant where Adrian takes all of his house guests. And I just saw on Robert's website that Eric shares a birthday with his pal
Brian Eno
. If I remember correctly, the month of May also gave us drummers extraordinaire Bill Bruford, John Bonham, Gavin Harrison, Alan White, Alex Van Halen, Chris Frantz, Bill Ward, Billy Cobham...I am probably leaving out a bunch but as I remember (or Eric tells me) I will come in and edit. Hey, it's also Robert's birthday tomorrow, too! Wow...
Since I have been really lax in posting on my blog this month, let me update you on some of the tour dates planned for the summer:
05/28/08 Mercy Lounge, Nashville, TN
05/29/08 Smith's Olde Bar, Atlanta, GA
05/30/08 Skippers Smokehouse Tampa, FL
05/31/08 Bamboo Room, Lake Worth, FL
06/04/08 Stella Blue, Asheville, NC
06/05/08 Cat's Cradle, Carrboro, NC
06/06/08 Rams Head Tavern, Annapolis, MD
06/07/08 Mexicali Blues, Teaneck, NJ
06/08/08 Revolution Hall, Troy, NY
07/05/08 Ottawa Bluesfest
07/06/08 Quebec City Int'l Summer Fest
07/08/08 Quebec City Int'l Summer Fest
07/09/08 Nectar's, Burlington, VT
07/10/08 Harper's Ferry, Boston, MA
07/11/08 River Cruise, New York, NY
07/12/08 Diesel, Pittsburgh, PA
07/13/08 The Southgate House, Newport KY
You can find the direct links to purchase tickets over at
www.adrianbelew.net
.
Now in between all of this, Eric has gigs with
Delicious
and
Crescent Moon
. Here's what I know so far:
May 24 2008 10:00P
Stella Blue Asheville, North Carolina
May 25 2008 8:00P
AmJam2008 Asheville, North Carolina
Jun 24 2008 8:00P
Asbury Lanes w/Butthole Surfers Asbury Park, New Jersey
Jun 25 2008 9:00P
The Funhouse w/Crescent Moon (Dave D. of Ween) Bethlehem, Pennsylvania
Jun 26 2008 9:00P
John&Peters w/Crescent Moon (Dave D. of Ween) New Hope, Pennsylvania
Jun 27 2008 8:00P
Toy Eaters Jersey City, New Jersey
Jun 29 2008 7:00P
School of Rock Festival (Dropkick Murphys, Less Than Jake + many more!!!) Philadelphia, Pennsylvania
Hey, please click on the link for Delicious - there's two new songs up featuring Eric on drums called Waiting for a Stranger and Test for Sergei and they are both totally awesome.
There's a great review of the
Adrian Belew Power Trio
in this month's issue of
Tone Magazine
. I tried taking a screen shot of the article, but if it doesn't work for you and if you can't read it, click on the link for Tone I just gave you and download the current issue...you'll be able to read it easily that way.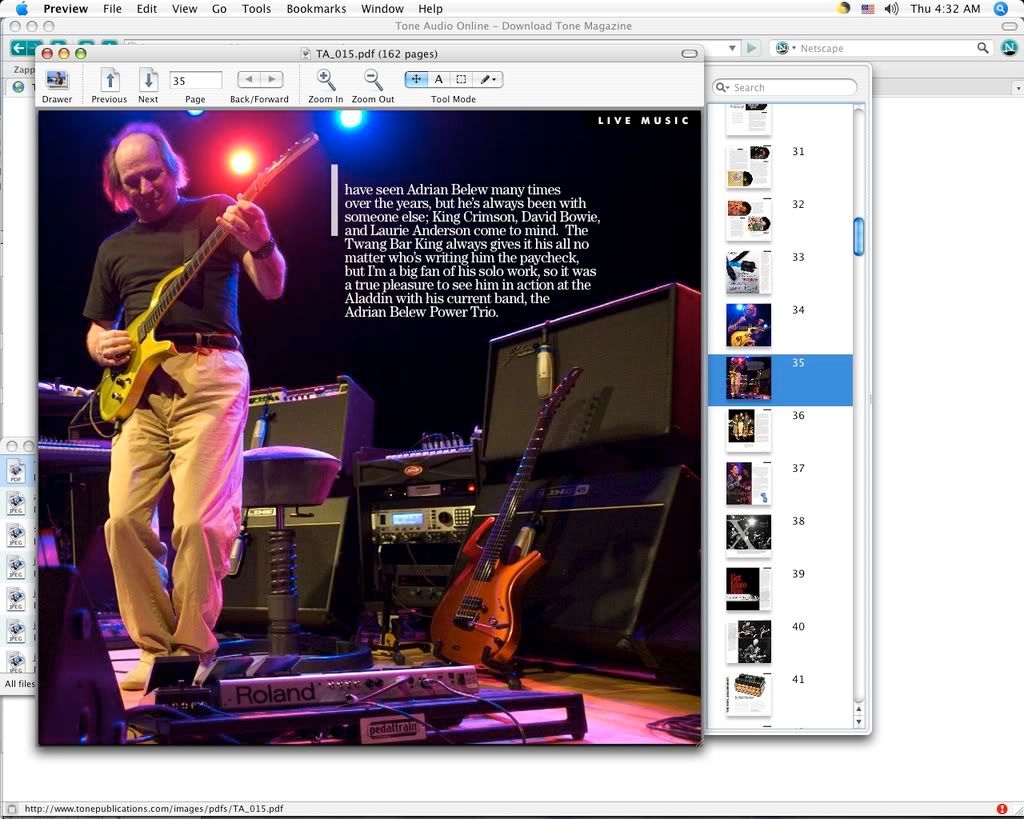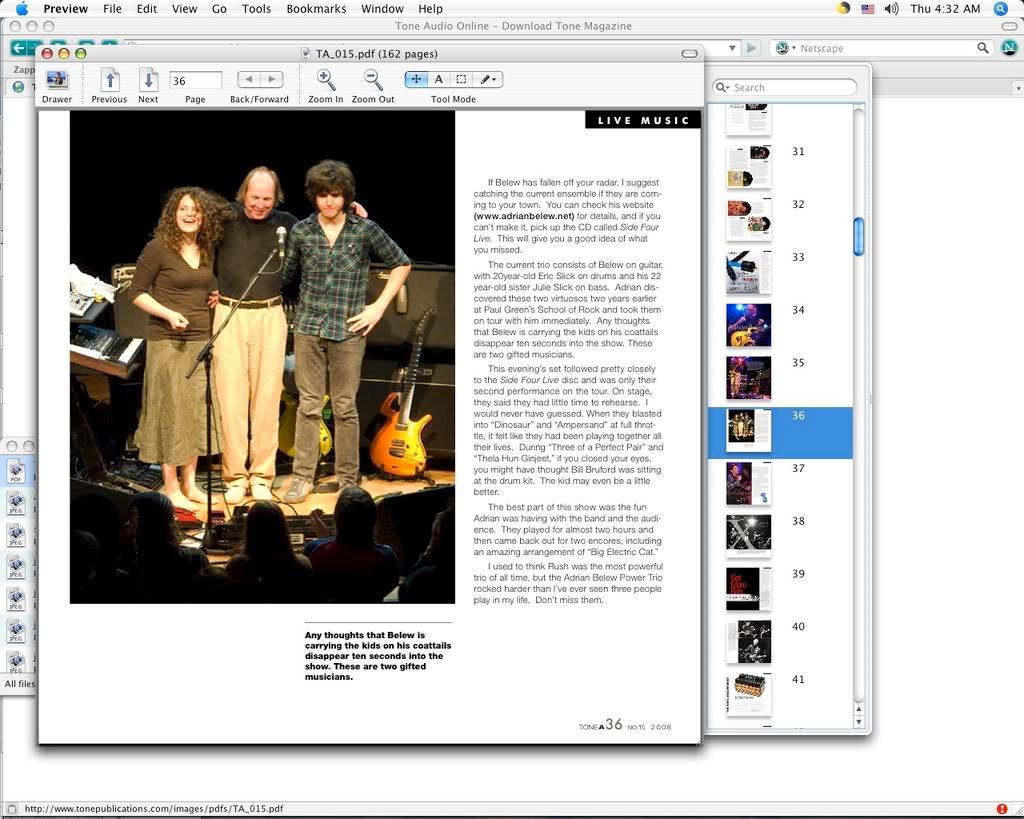 Also, I need to tell you that after I posted that whole story about Reeves Gabrels, he had to back out of the May 23 performance due to other commitments but the show will still go on...I will have the new line-up for you ASAP.
Just a reminder that I will be at the Philadelphia Book Festival this weekend - I will put up another link tomorrow -- but how cool, my name is prominently listed in the Philadelphia Inquirer today in the special insert for said festival - it really made my day to see that.
Okay, that's enough out of me. This blog will resume its usual, daily service now...at least in theory, anyway. Hey, did I mention I have a new publisher in addition to Phaze? More on that in a future post.
Later,
xo