If you only knew all the reasons I have not been blogging...
But I think I will spare the details - just know that since the first of this year, Gary and I have gone through a series of mind-boggling events, any one of which would bring most people to their knees -- and they just keep coming and somehow we are still standing but let's put it like this - we're only managing by holding each other up.
All I can do at this point is shake my head and be thankful the two of us live a day at a time and also have a dark sense of humor.
Anyway...
Let's talk about some good stuff.
Over the past several months, I've mentioned (more than once har har) a
little documentary
I'm in, written and produced by my pal
Kimberly Wetherell
, which is making the rounds of several film festivals. Well, guess what.
"WHY WE WAX" won BEST SHORT DOCUMENTARY at the Phoenix Film Festival this past weekend!!!
The next festival screenings are in Indianapolis, at the Indianapolis International Film Festival, screening on April 25 & 26 and it's also just been accepted by the Portland Women's Film Festival, screening on May 16th.
Here's an interview with Kimberly's co-producer, Amy Axelson. I feel that I should, um, clarify that my contribution to the film is talking about growing up at the beginnings of the Womens' Liberation Movement and how we didn't even wear a bra let alone shave our legs -- I know I was young at the time but I am pretty sure no hippie worth her salt would have ever considered a bikini wax and I would normally have added "and I doubt they were even invented yet" but after seeing Why We Wax, I learned otherwise as you will as well after watching this clip:
In other news, I will be in New York City this coming Monday, April 14, 2008 at 7:00 p.m. for a reading at the
Boxcar Lounge
.
I'm going with a brand new essay called "My Brilliant Writing Career" which sounds sarcastic and okay, okay, it is, but actually I have had some good news in that regard lately so it isn't as bad as it seems and I should probably change the title to "My Brilliant Film Career" though with my recent "successes" in both co-starring in a short film and writing a story upon which
another film
making the festivals is based, I can't really say that, either...but oh boy do I have a story about something else.
Here's the first paragraph of the essay I intend to read:
"So right before Labor Day weekend, 2007, I got this email:

Dear Robin,

I am a Movie and Television Producer/Director based in Los Angeles. I recently read your book Three Days In New York City - and wanted to discuss with you the possibilities of adapting it for Film and or Television.

Please contact me."
And from there, my friends, it all goes rapidly insane.
Anyway, here's a couple more pics of the Boxcar Lounge - very nice garden, huh - and an article about just how cool it really is: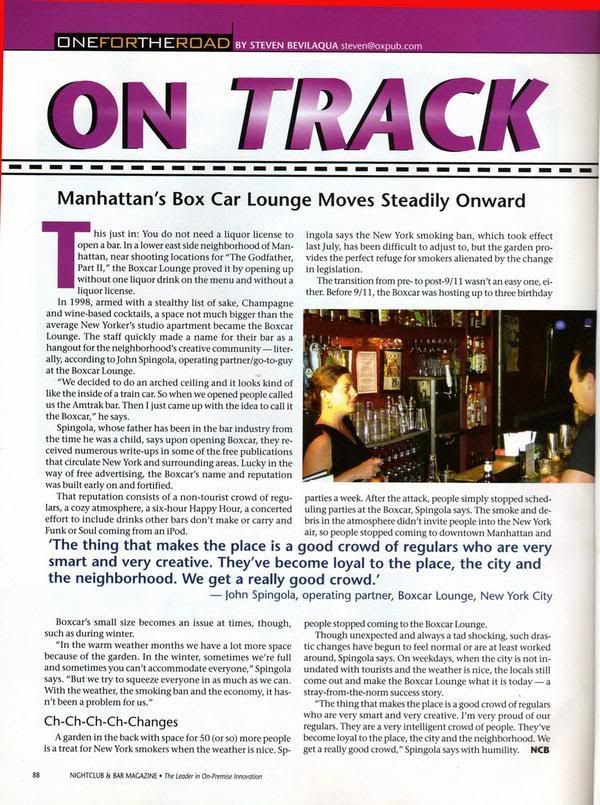 Yeah, so when I said I did have some good news in writing world, I just wanted to announce I have a new agent, Claire Gerus, and so far it has been a real pleasure to work with her.
"
Claire Gerus has been Editor-in-Chief of two publishing houses, worked for eight major publishers, including Harlequin, Rodale, Random House and Doubleday, John Wiley, Kensington, and Adams Media, written articles for national media, and taught corporate communications to such clients as IBM, Kelloggs, Mutual of Omaha, and Procter & Gamble.

In 1996, she established a thriving business as a New York literary agent, selling publishers books on a wide variety of subjects: business, history, memoirs, religion, health, spirituality, psychology, politics, pop culture, and women's studies.

She has sold a 3-million copy health bestseller, and brought film star Esther Williams' story to Simon & Schuster. It went on to become a New York Times bestseller and is now being made into a feature film.

In 1999, she joined Kensington Publishing in New York and founded Twin Streams Books, an alternative healing imprint. Later, as Executive Editor at Citadel Press, she acquired and edited a variety of titles: celebrity biographies, self-help, relationship, spirituality, new age, diet books, and health books.

From 2001-August, 2002, she was Executive Editor at Adams Media, where she published the first biography of Laura Bush. She also published a wide range of new age, business, self-help, and inspirational books.

She is presently working as a literary agent and book development consultant. Among her clients are an ex-CIA agent, a psychologist, ten CEOs, a private eye, a scientist on the verge of a major health breakthrough, a specialist in Soviet history, and others too fascinating to describe in just a few words."
So I am pretty psyched about that, yes.
I also mentioned that on April 20, 2008, I am a guest on a radio program known as
The Writing Show
and my spot is aptly named "Is There Such a Thing as an Erotic Comedy?"
Trust me, there is.
On to music news, and I hope you've read this far, oh music lovers who stop by, because today at 2:00 p.m. eastern,
Trent Reznor
will be interviewed via telephone over at XPN radio, and you can catch the live internet stream right
here
. According to XPN, Trent is going to discuss his upcoming tour, the new CD, and hmm, do you think he'll be mentioning the musicians who participated? Like, um,
Adrian Belew
? Oh, and by the way, if you click on the link, you will see new shows have been added to the upcoming Adrian Belew Power Trio tour and there will be even more additions within the next few weeks.
I was teasing Eric yesterday that while he may not be rich and famous yet, he's at least
getting there
. Semi-famous, that is, anyway. (Insert smiley face here) (Oh, and you need to scroll down when you click on that link)
Speaking of Eric, and when don't I, tomorrow he begins an eight day tour with
Delicious
at
Toy Eaters Studio
in Jersey City, New Jersey. You gotta love that name...
And yay, someone posted a You Tube of the
Adrian Belew Power Trio
which Eric gives a thumbs up - he says this one finally captures the energy/quality of their performance...you can hear the audience singing along but damn it, it's only an excerpt! I need more!
Okay, I must go back to polishing my essay and practice reading it out loud for New York on Monday night, but as usual, if there is any breaking news, I will be back.
Don't forget to tune in to
XPN Radio
this afternoon and hear what Trent Reznor has to say. It could be very interesting...
Later,
xo