Ack, life continues to be extremely tough right now - without going into it, let's just say for the past three weeks, Gary and I have personally been experiencing on a daily basis various events that could be right out of
Michael Moore's
(hey, click on that link - it is awesome)
Sicko
(another great link - I gave you the blog which is current and important, damn it and gives you some insight on what a debacle a McCain presidency would be, as if you don't all know that already). It's hard not to be completely beaten down and demoralized...and we're dealing with what is allegedly one of the best hospitals in the country.
Anyway...this is the happy, Republican hating, I love music and writing blog so let's go in that direction instead.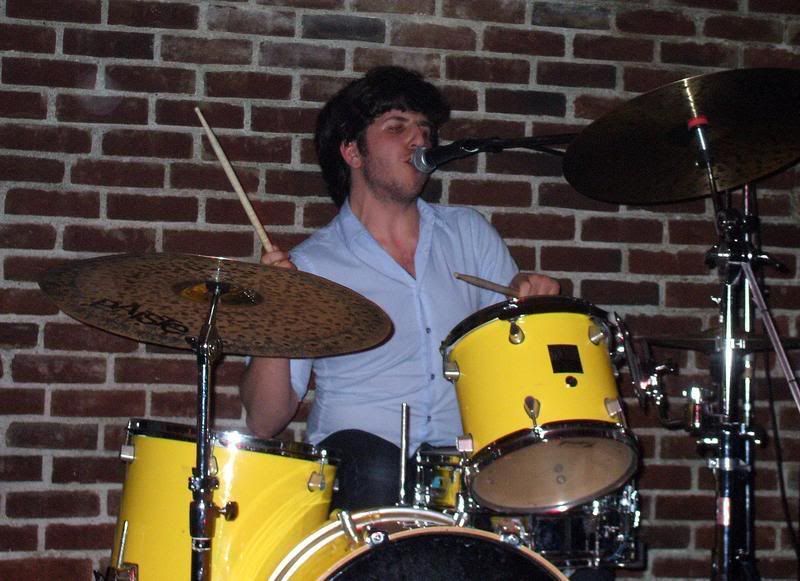 Eric has been on tour this week with
Delicious
and
Crescent Moon
, doing double drum duty, and above and below are some photos of Tuesday night's show at
John and Peter's
in New Hope, Pennsylvania courtesy of "Fredington" from the
Ween forum board
, which also contains some pretty cool commentary:
"Great time! Delicious plays heavy, spacey instrumental rock. Their web site is called "satansjamband.com" and that explains their sound perfectly. The first CM set was their standard approach. Aside from the covers already mentioned, they also did some Instant Death classics, including Doesn't Really Matter, Pharmaceuticals (with a DD trumpet solo in the middle) and Hammer to the Skull. The second CM set was crazy. It was entirely improv (aside from a couple of covers), and entirely badass. Most of the time it was DD and Andrew Weiss on bass and Eric on drums. Andre from Delicious joined in on guitar for a few jams. On one jam, Eric played bass and Andrew played drums -- and it still sounded badass. Toward the end, Ed Wilson came onstage and played DD's bass, with DD taking over trumpet and vocals -- I forget what he sang. DD took the bass back for the encore and Ed sang Missisippi Queen."
*****
"yeah nice to see the folk. I couldn't stay late because of the sucky job I got these days but got to spend some time shooting the shit with Kirk, Dave, Andrew, Eric etc.

damn that kid can play the drums."
*****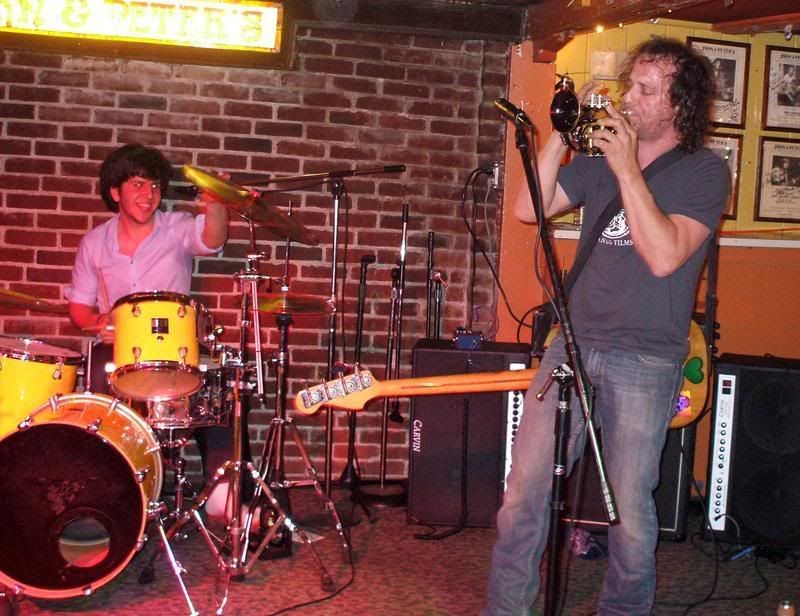 "Thanks guys~ what a blast....
Delicious was a tasty treat....image that left us wanting more~
hope they play J&P's again sometime soon. I esp. loved
it when both the bass player & the guitar player were right
up into their amps grinding the feedback....just amazing.

Dave & Erik put on a great show, per usual, which included
a few special guests; both the guitar player from Delicious
(Andre'?) & the bass player too...as well as Andrew Weiss
taking the stage for a few songs....very cool.
At one point, one of Erik's drumstick's went flying out of
his hand, & in an instant it looked like he pulled another out
of his shoe...without missing a beat! That kid rocks!
I don't have a setlist, but hopefully someone else might....I know
Dave played "Fearless", which always is a fav.....

Great to hang out with those of you that made it~ I'm still smilin'....
definitely worth being tired for."
*****
Hey, I cannot help but notice bass player Andrew Weiss plays in his bare feet. Remind you of anyone?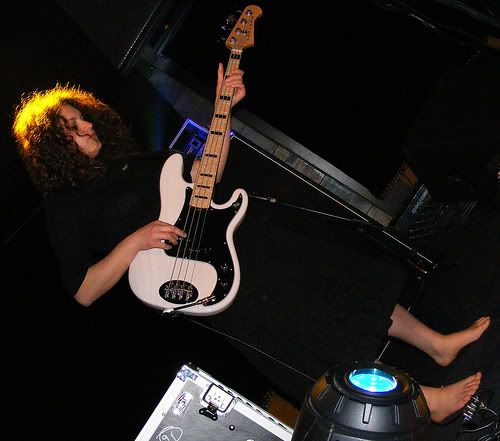 Here's a You Tube of the Andrew Weiss, Eric Slick, and Dave Dreiwitz jam mentioned above. Interesting stuff!
By the way, if anyone reading this is in the Vermont area, Eric will be playing with Delicious tonight at Nectar's in Burlington.
And then tomorrow he comes home...and...gasp...is moving out! Yep, it's true - he is renting a very cool house; his girlfriend, the gorgeous Katy, is moving to Philadelphia this weekend as well...and no worries, I'm not losing a son because he's still close by and oh God, guess who is moving back home coincidentally? Julie has decided to return, figuring that by this time next year, she'll be able to buy herself a mansion somewhere between the money she saves by living here and the money she earns working at least three jobs simultaneously. Not only does she tour and record with Adrian, she works as a server at an awesome restaurant in her down time and also has her own studio where she records local bands. In between that she has also become a huge hot yoga devotee and I'm pretty much expecting her to end up teaching that as well. I need to take a photo of her diploma just received from Drexel University - yep, there's a gold Magna Cum Laude seal on it...way to go, Julie, graduating in the top 1% of her class.
While I am on the subject of the trio, I think I missed linking an awesome
review
by the fellows at
1600 TV
. So just in case I did, here it is now:
Three of A Perfect Pair

INCOMPARABLE: Julie Slick, Adrian Belew, Eric Slick- Still Making Beautiful Music Together

The Adrian Belew Power Trio returned to Jammin' Java in Vienna for their second show in just under a year, this time at the very end of the tour and holding absolutely nothing back for their final SOLD OUT performance. From the opening notes of their first song, Writing on the Wall, to the last echoing feedback of Crimson-era compositions Neurotica and the autobiographical Thela Hun Ginjeet (wherein Belew, on tape loop, describes an ugly confrontation with would-be muggers in London), the band was even tighter and more practiced than their last trip. At the same time, this visit found them more relaxed and confident than ever, stretching their wings and experimenting, improvising, and building to wild crescendoes, only to stop on a dime and come back together in unison.

The capacity crowd was then treated to another intimate, intense performance, showcasing the material that is featured in the band's new release, the live "Side Four." The disc captures the sheer joy of this band as they give it their all, playing with reckless abandon and staggering musicianship, especially impressive for a bassist and drummer barely old enough to vote! As a good musician and close friend once observed, it's enough to make longtime players lock themselves in their rooms for months on end trying to learn the chops that Julie and Eric Slick demonstrated so effortlessly, or else make you throw your instrument down (perhaps in many pieces) because you know that you'll never be as good as they are if you spend every moment you have left trying...

Nonetheless, as a non-musician, I dwelled on the positive and inspiring side of that equation, wondering what new tricks (and perhaps which old favorites) Mr. Belew and Co. would have up their sleeves. And as always, I was not disappointed. Saul Zonana, co-producer of forementioned "Side Four", warmed up with his uniquely expressive blend of vocals and guitar, with songs that ran the gamut from Beatles-influenced pop (Mr. Blue, Midnight Rain, If I Don't) to more provacative and daring, edgier songs, using guitar loops and occasional drum programs for good effect. He too has used the last year to hone his skills, especially as a guitarist. I look forward to his next release to mark his progress as a songwriter.

The Power Trio played much of the new album, but also many favorites from Adrian's solo career (Matchless Man and Drive were standouts once again), as well as several of the songs he co-wrote as a member of King Crimson (Dinosaur remains among my favorite songs of all time, and their rendition of Three of A Perfect Pair was spot on). Naturally, the arrangements were different with a trio format, but none of them suffered for it. In fact, it breathed new life into some of the songs, propelled by Eric's furious barrage on drums (I have to wonder how many heads he must go through in a year!), with Julie more than capably playing Tony Levin's best licks, while adding some twists and more than a few original touches of her own. Afterward, she told me that she follows her brother's drumming and really plays off of him- and credits their amazing empathy and affinity that allows them to anticipate each other and flow in flawless precision. I don't think I heard a sour note all night- and I was listening pretty closely!

Other highlights were Adrian's transcendent solo on Within You Without You that has apparently become a staple, as Eric and Julie take a well-earned breather; Ampersand, which found the band tearing up the stage in glorious cacophony; and Big Electric Cat, a favorite from Adrian's first solo record, the ambitious "Lone Rhino," still luxuriant with the same innovation and whimsical charm that makes it's way into all the music that bears his imprint, 25+ years later...

So, the good news is: they're coming back AGAIN, to the Ram's Head in Annapolis on June 6th! Well? What are you waiting for?? 'Cause you KNOW that show will be sold out too-

And while you're at it, sign the petition to put this most deserving guitar hero in the Rock n' Roll Hall of Fame! The link is below- and it also contains a nice outline of Adrian's career, recordings, and contributions to the world. If they can induct Madonna (who has yet to do anything remotely approaching rock n' roll music) the least we can do is put this guy in there for all the great work he's done! (At least, as long as he promises not to play a guitar rendition of Like A Virgin when they honor him!)
Sign the Petition!
*******
Meanwhile, I have a bunch of writing news and I also want to tell you all about my reading in New York City this past Monday but I am waiting on some photos from the event so I guess I will make that a separate post next.
Right now, though, it's back to stressful matters at hand..
Later,
xo