What a week. I do in fact have Adrian's devil bug -- I think I have set the world's record for being flu ridden/head cold stricken in the past six months after boasting to Gary "See? Since I stopped working nine to five do you notice I'm never sick anymore? Remember how I used to get at least four head colds a year? I cannot even remember the last time I sneezed!"
Yeah. Right. Next time remind me to keep my big mouth shut. When I'm not coughing, I'm blowing my nose; I can't taste anything (a true tragedy) and my eyes feel like they are bleeding. All I can say is: How the hell did Adrian get on stage every night with this and put on the performance he did? I haven't even been able to properly walk the dog all week. Sheesh.
Anyway, because I feel crappy and not particularly witty, this is a good opportunity to merely post some photos and some links/reviews coming out of the tour which I have been gathering like a good little publicist.
I left you last in New York and did not get a chance to mention the Harrisburg show. Alas I was not at the final show in Vienna, but Gary took amazing photos so they will be included in my next post where hopefully I will be back to my normal (as if) self.
Have I mentioned how much I love the
California Guitar Trio
? They were the band's opener in Harrisburg as I previously mentioned, and I immediately bought their new CD after the show (okay, I didn't buy it - they insisted we take it as a gift and I cannot thank the band enough -- I've been listening to it non-stop) as well as a recording of the show we saw...the CGT records all of their shows and then offers them for sale right after. This was especially great since Julie and Eric played with them so now I have it on CD for posterity.
Here's a couple shots of the band members taken by Gary Slick Friday night -- and Gary took all of the photographs in this post...I told you he mastered the new camera!
Paul Richards: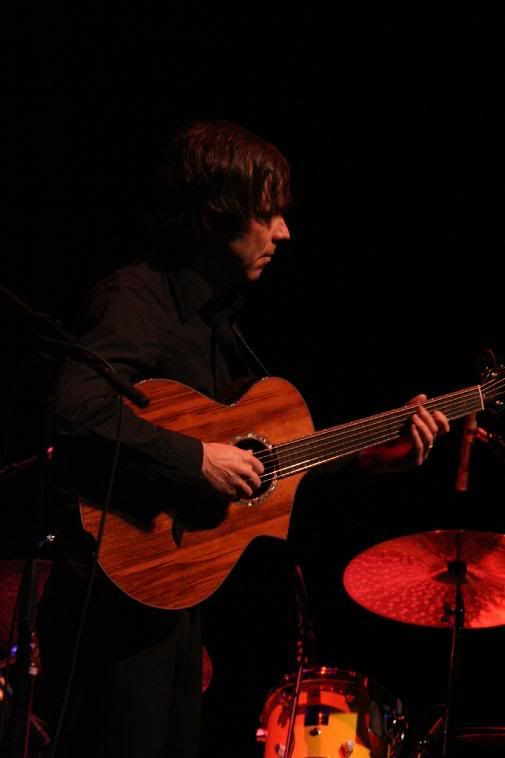 Bert Lam: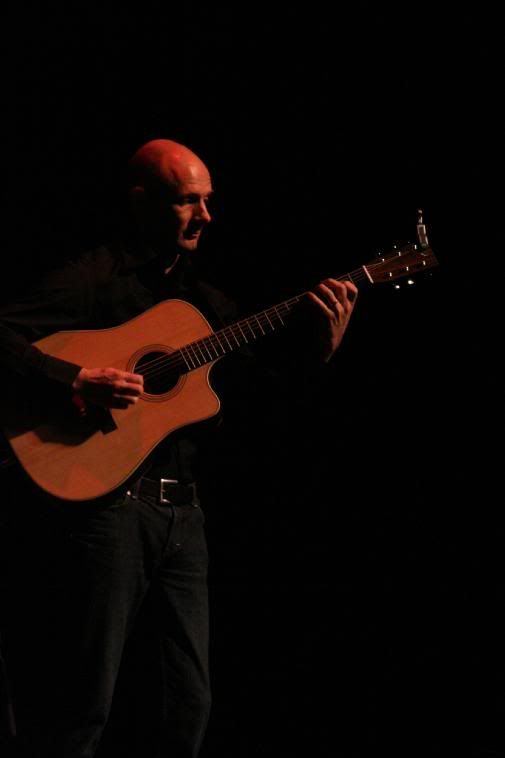 Hideyo Moriya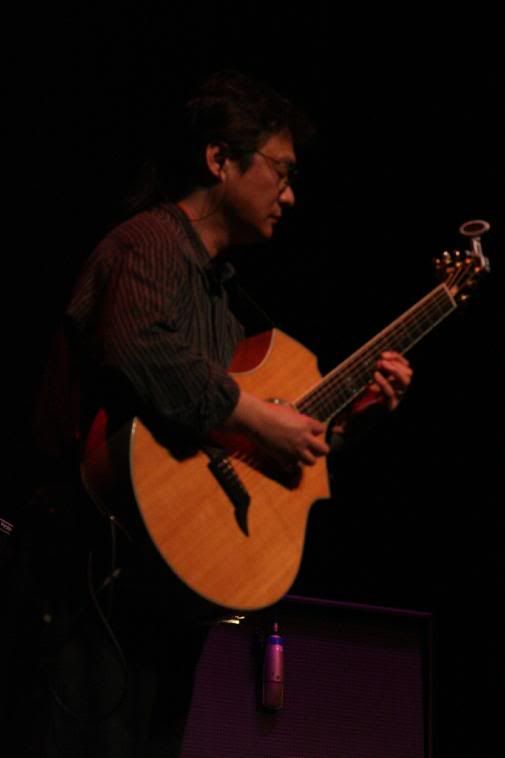 Oh wow - I just saw this...it's on the CGT website, from
Hideyo's road cam
. It is a must click! If I had the energy, I'd copy the entire page here but I think it's easier for you to go to the site yourselves and while you are there, do yourself a favor and pick up a CD or seven.
I should have figured this out, but I did not know they met as original students of Robert Fripp (the year Eric was born!) in 1987.
"
Paul Richards of Salt Lake City, Utah, Bert Lams of Brussels, Belgium, and Hideyo Moriya of Tokyo first met in England at one of Robert Fripp's Guitar Craft Courses in 1987. After completing several of these intensive courses, the three toured worldwide with Fripp's League of Crafty Guitarists. Wanting to continue working together after the League had run its course, Bert, Paul and Hideyo convened in Los Angeles and founded The California Guitar Trio in 1991, honing their intricate original compositions, surf covers, and classical re-workings.
"
From
Paul Richards' Diary
...and I must admit this totally cracked me up because trust me, I pictured the whole scenario though J&E tell me they saw them coming and "staged it" for their pleasure:
"
On Friday night, we got to do a double bill concert with the Adrian Belew Power Trio at the Sunoco Theater in Harrisburg. CGT played a one-hour show, and the audience was really into it, with lots of bursts of applause during our set. We had a long drive from Charleston that day and were feeling a little tired, and I think Bert was a little nervous because Harrisburg is his hometown. Thanks to the audience for making this a great show. We invited Eric and Julie Slick to play with us at the end of our set. They are so much fun! And we enjoyed hanging out with them after the concert too. I don't know remember when I laughed so hard watching them jump on their beds and pillow fight as we approached their hotel room.
"
Ha! I guess that's their version of doing a Keith Moon. (Thank God)
And now for some assorted, glowing blurbs I've been collecting from all over the universe since the tour began last month:
From the
Projekction Forum Board
:
"
Oh man what a show (sold out). The Trio was a awesome well oiled machine for the last gig of the tour. I knew what to expect seeing them last year, but I was even more impressed this night. Everyone was firing on all cylinders. A flawless show music and tech wise. John did a great job on the mix. It sounded much better then the show last year.

I brought my dad along and he was very impressed, and it was cool introducing him to Ade after the show. As we were leaving Ade said, "Bye Dad." Now my pops knows why I gush over how talented Adrian and the trio are. Chatted with Martha briefly pre-show. Saul's set was nice.

Wall opened in all it's fury. What I would give to see Les Claypool's reaction on how bad ass Julie is on bass, especially on this tune. Great opener.

Dinosaur was perfect. The Trio adds so much to KC songs, they sound more like a 5 piece band. Nice crowd response.

Ampersand had a awesome drawn out jam.

Ade asked how many of us were in the crowd since he couldn't see the crowd with the stage lights. Someone yelled out there are 10,000 of us, and Ade joked thru out the show about playing to such a large crowd.

Young Lions opened with a killer drum intro from Eric, I told him after the show he is a beast. I would hate to be his kit w/ all the beating it gets. I am still slackjawed how great of a drummer he is and what he gets out of it being a small kit. Lions was awesome, prolly the best version I've heard, its a top 5 Ade song for me, so always a thrill hearing it.

Beatbox was amazing. Again Eric had me amazed, as well as Ade and Julie. Ade's solo's last night were just on, incredible.

Madness was next, as I said in previous reviews, I love this tune live compared with the studio version. Pretty long jams during this one.

Drive w/in w/out you followed. Got a nice response from the all ages crowd.

E followed and it was seamless (no false starts or boo boo's) Very interesting tune. I would love to hear it again to give more thought to it. Great "new" tune.

Of Bow and Drum was excellent. Such a great song, I am happy it's in the rotation.

BEC had me bopping around. Eric was really driving this. Great soloing by Ade.

TOAPP was a great ender, again, it was flawless and had the crowd singing along.

They encored with thumping versions of Neurotica and Thela.

Just an incredible show, I am still in awe.

Chatted with Gary for a bit and joked I should get autograph from him for having the offspring he and Robin have. And asked him how his stay was at the Bates Motel. Talked with Eric and Julie for a moment. Said hi the Ade and gave him my Sharpie for his just ran out with a long line of well wishers and autograph seekers.

I picked up Side Four and got it signed.

Headed back to our friend Karl's house and sipped on awesome tequila my dad brought back from a recent trip to Mexico and puffed well into the night. Capped the night watching a Paul Simon dvd.

I had such a wonderful evening, I can't wait to see the Trio again.

And to our friends overseas, you may have some surprises soon."
******
Here's some more Gary Slick photo from Harrisburg...see that "pole" behind Julie? That's the revolutionary sound system I was talking about from
Bose
. If you click on that link, you can read all about it.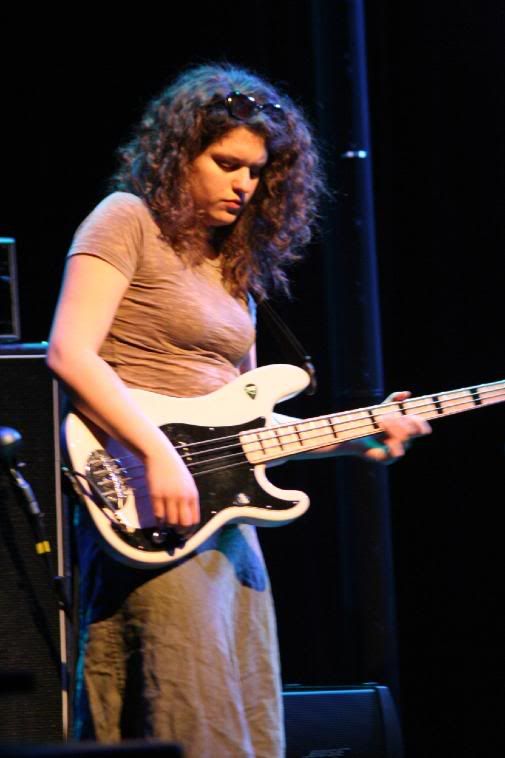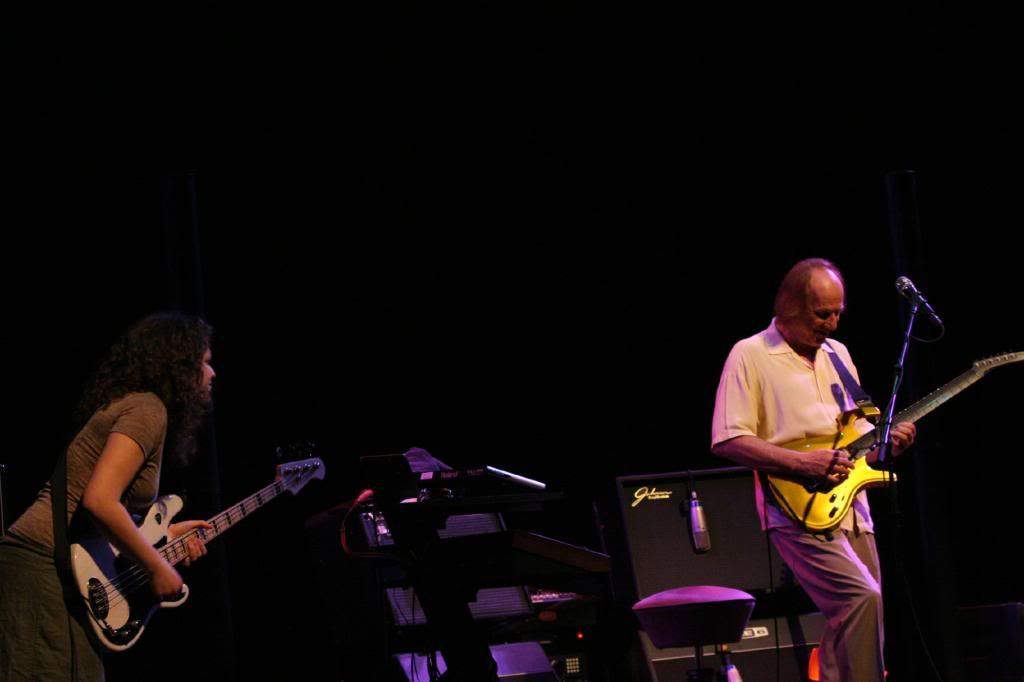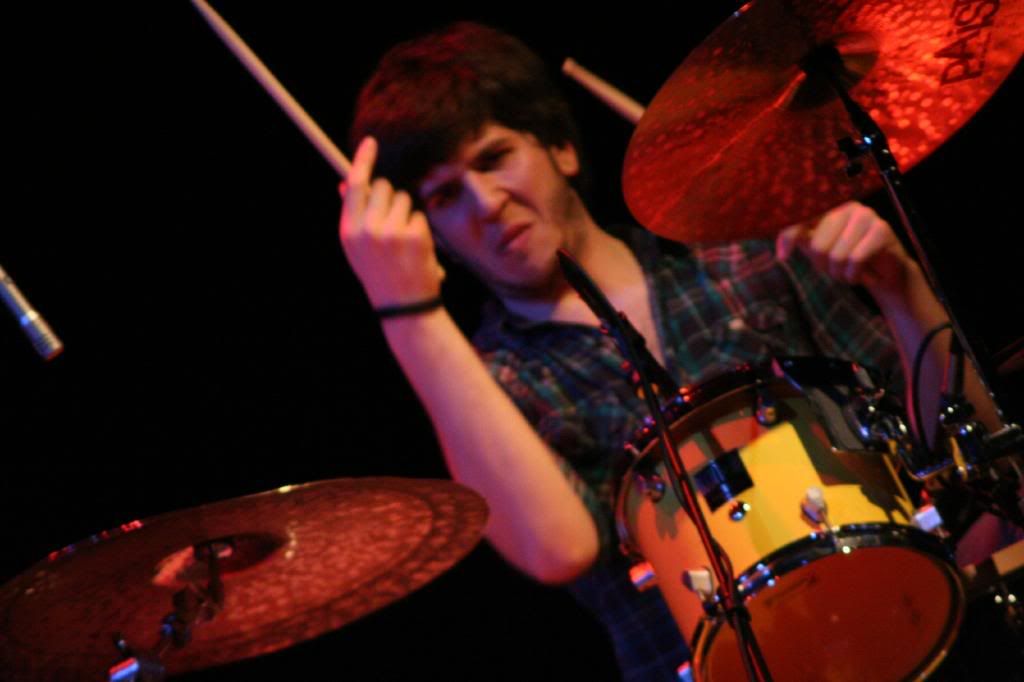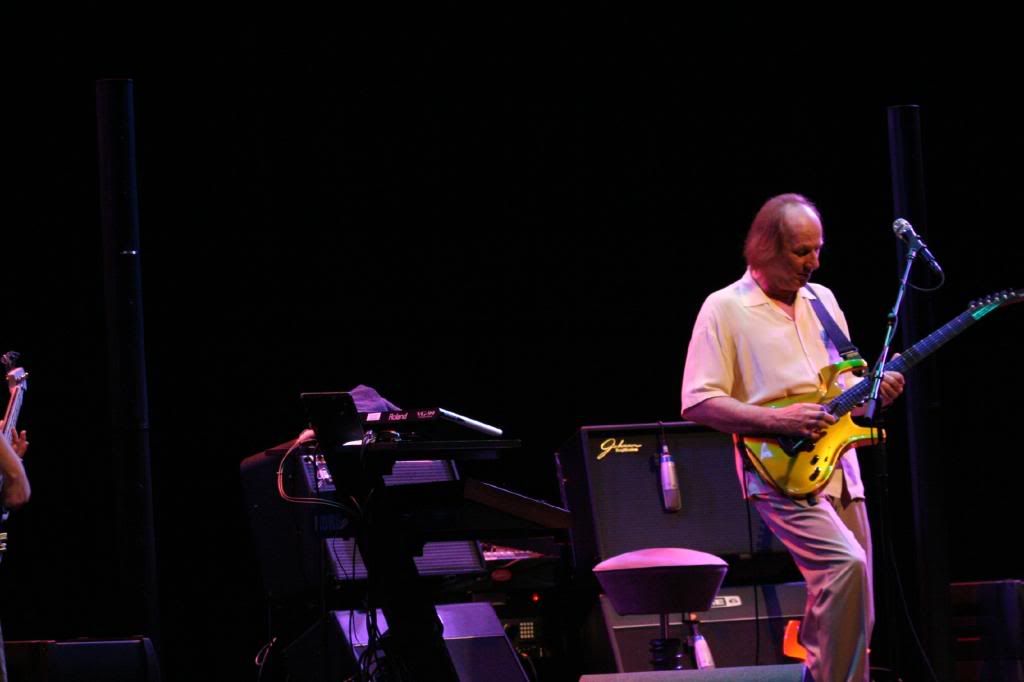 From the
Zappa forum board
:
"
I caught the Adrian Belew Power Trio the other night and was riveted throughout. Eric Slick has noticeably 'improved,' or should I say refined his style, as he already was great, and now he is off the chart. Whereas he previously had a loosey goosey Robert Wyatt style non-attack, he now seems to have tightened up a bit channeling hard bop jazz/avant-garde punctuation/teenage rock/and a little Drumbo & Robert Williams on the side. Not to diminish the contributions of his sis, Julie. I'm still processing that. She was a joy to behold. And Adrian? One of the best, period. I can't stomach guitar wankery and fusion, and thankfully Adrian rises above it all. The man's got soul.

Very well attended show, too. Big mix of folks. Lots of musician hipsters checking out the master, a ton of Crimson geeks, Zappa fans. And the simply curious. High ratio of women, too, which is always good to see.

I see over at Adrianbelew.net that he has added a couple of shows for June. If they play NY again, I will be there."
(Click on the link for some other fun photos and comments)
From, of all things, the
Cincy Camping forum board
:
"
Ade kicked ass and his backup (the Slick kids: brother Eric Slick on drums and sister Julie Slick on bass) were absolutely phenomenal. Julie was covering KC bass lines like she wrote them herself. The wife has been converted and was also impressed. So much so, that on the way home she asked when they were coming again.

Looks might we might be seeing them again in June, Friday after Cincy. Maybe.

And it's so refreshing to see a band where everyone has a sense of humor and a smile."
This one killed me because of the serendipity factor. It's from novelist
Alis Hawkins' blog
-- a comment made by writer
David Isaak
and no, I do not know either person but too cool about the writer coincidence...which got even weirder when I went to David's blog and see that he is a team blogger with someone I do know from Zoetrope Studios,
Roger Morris
, who lives in the UK. It's just so freaking weird how we are all connected in this universe...
"
Last night we saw the Adrian Belew Power Trio--which featured an astonishing young bass player named Julie Slick (as well as her brother Eric Slick on drums).

It turns out their mother Robin Slick is a novelist, too. Odd."
From the
YES google group
:
"
WOW! Adrian Belew's experimental, young, talented, tight-knit group has to be one of the ten best touring acts today. Have you seen these guys? Excuse me not when I say guys as I mean no difference to the once curtsied Julie Slick of original Paul Green Allstars fame. You can see her on the documentary DVD "Rock School" touring with Project/Object in Germany in Summer 2003. She is relentless, spontaneous, casual and cool and grounded. ....and her younger brother? I kid you not when I saw the influences of Stuart Copeland and the myriad other drummers that Eric Slick has played with come alive tonight in their own home town of Philadelphia, PA tonight. I remember recording an Adrian Belew guitar workshop once held in the *then* first branch of the Paul Green School of Rock Music school. I have a bit of audio of when Eric recognized me as the guy who helped set up a Yes field trip of sorts back stage at The Spectrum. If he only knew that in two years time he would have traveled the world with one of the most sought after musicians of this or any millenium. He seems to have grown in his prowess and power since his teen years. Touring with the best could only season you as these players and yet when I say grounded I mean humble as well. Just really nice folks and a hell of a show. What more can you want? Maybe some sleep."
Oh man, I loved that post! I guess I must know the person since they are from Philly...if whoever wrote that blurb reads this, give me a shout out in the comments section. I bet Eric will know who it is...
Speaking of Yes, they also have very nice things to say on two of their forum boards...the first of which is
All Good People
, which I just realized I did link before, however, click on the link because there have been additional comments; the second is from their other forum,
Yes Fans
. I know I've posted a link to them previously as well, but here's a brand new review of the Philly show:
"
The evening started with me picking up my wife, Debbie, at Liberty 1 downtown Philly at 5:10 PM.

At 5:20 PM we're at the World Café early and get a table to have a few adult beverages before the show.

….and as we're being seated I notice at the table next to us is Adrian Belew and friends. (Note from our author: The "friends" were Gary and me. Ha!)

We make eye contact and because of that I say "Hey Adrian, I'm really looking forward to tonight's show" and he replies "Me tooooooo".

I do have some manners so I walked by and that was that.

I was sitting so close I can tell ya he had the Vegetarian Chili.. (Note from our author: Yes, that is true. And Adrian also became a huge miso soup/sushi lover on this tour as well...I am guessing that is the Julie/Eric effect)

…after a while Adrian stood up and put his jacket on, so I figured it was a good time to say something.

I said Yo Adrian (I am from Philly after all) King Crimson announced the tour today and we (Philly) are getting two shows at the Keswick.

Adrian replies jokingly "Ah, they're just trying to steal our thunder"

I am not the guy to give you a set list but I know what I like and this show was PHUCKING awesome.

I never seen the Belew Trio before and to say I was impressed is an extreme understatement.

To start the show the three of them came running out on the stage.

…and then Adrian says "One thing I ask is no "Yo Adrian's" (Philly, it's a Rocky thing..ha ha)

The enthusiasm and energy to the max!!!

It was the best show I've seen in a long time.

Adrian Belew is a guitar god, at one time he was on his knees playing the guitar and the effects pedals with his hands.

He had this big Cheshire cat smile on his face the whole night, it looked and felt like he was having the time of his life.

One of the highlights for me came from Eric Slick. It was at the end of a song I know Ampersand. Let me tell you he was hitting the drums so freaking hard (he was putting his whole body into it), like a sledge hammer I don't know how he didn't put a hole in the drum.

It was soooooooooo cool!

I gotta admit, I don't know any female bass players, but, let me tell you Julie Slick was amazing.

She is quick as shyte and she is also one of those musicians who play live on stage in bare feet (someone want to explain why) like Steve Wilson for one.

…at one point she was jamming and leaning almost up against her amp with one of the best bass player scowls on her face I've ever seen.

I refuse to mention that she is also young and beautiful, it's all about the music.

Yeah I refuse to mention that.

This show was Hot!!! Whenever they play Philly I'll be there.

Well, that's my best shot at a review.

If you have the chance, GO SEE THIS SHOW!

You will have a wonderful time!"
Hahahaha - I think your shot at a review was wonderful, kind stranger. See you at the Crimson show this summer!
And here's a review on the same forum board about the Chicago show:
"
We had a fantastic time last week at the Chicago show. What a fantastic trio! Adrian was having a great time as was the audience. I love how he watches for the crowd reaction after a great guitar riff. He grins as if to say, "How did ya like THAT!"

My only complaint was that the stage was ringed by 6 foot plus guys...it took 1/2 the show before I could wiggle into a spot that I could actually see Eric. No problem hearing him tho!"
Anyway, again, it's worth clicking on the link to the above post to see photos, You Tubes, and other cool comments.
Here's another link containing lots of great photos -
musician Tim Reynolds' message board
:
"
#1 -- I saw the great Adrian Belew (of King Crimson) last week. He was touring as a Power Trio with a 22 year old drummer, and the drummer's 20 year old sister on bass. The brother and sister rhythm section were phenomenal. The show was at my favorite venue. What more could you ask for? The setlist even included a few King Crimson tunes."

"#2 -- Two things:

1. Belew's a badass.
2. Hottest bassist ever."

#3"Agreed. I mean, barefoot, are you kidding me?

I think I forgot to mention that at the show I picked up SIDE 4 which is the latest in Belew's line of releases, and it was actually a live set of the Power Trio Playing. The cd is absolutely amazing, and by far the best new music I've picked up in a while. I highly recommend it, and I think it is only available at shows, or on his website."
From the
Shank Hall forum
as concerns the trio's show in Wisconsin:
"
The Adrian Belew Show was great!!

Eric and Julie Slick were awesome. We already know Adrian is a good musician. Julie is a monster on Bass and Eric has some really unique beats. They both look like they were having fun. Sorry if I didn't write enough about Ade. I always enjoy when the underdogs kick it up.

I am not going to go into major detail. If you like Adrian Belew, you know where I am coming from."
From the
Fender Telecaster forum board
with the title "3 Piece Bands that Sounded Huge Live":
"
The Adrian Belew Power Trio:
Adrian Belew (guitar and the usual truckload of gear)
Eric Slick (drums)
Julie Slick (bass)"
And other people came in and agreed. Erm, if you look at the other company they are in on that board, it's pretty damn impressive. (Rush, Cream, Hendrix, etc.)
Okay, that's a wrap for today. I am exhausted and need to curl up in the fetal position and pray that this stupid cold goes away. I leave you with another Gary Slick photo of the trio signing their
tour posters
following the Harrisburg concert.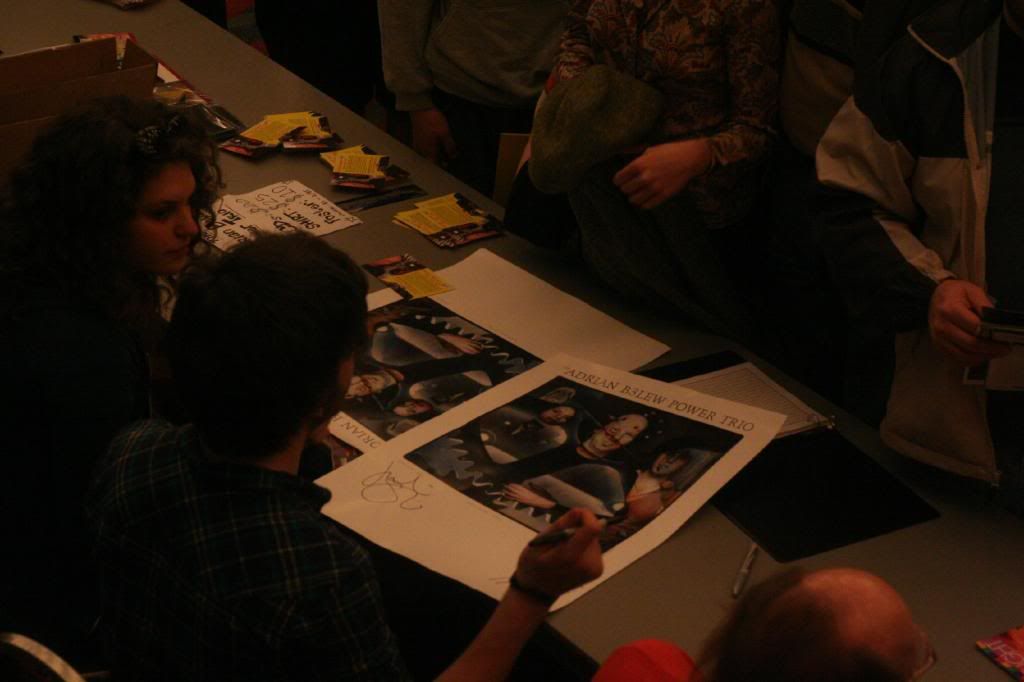 Later,
xo