Listen, I have the world's most incredible story about last night's show in New York, and the absolute amazing time we had after the concert, but I'm thinking I'm going to save it for Monday. We didn't get in until 4:00 a.m. and barely awake, we're leaving for Harrisburg now.
But two things - thank you to all of you sending me photos - I will give you linked and/or personal shout outs in future posts but today, I just have to put up this crazy one Gary took of Eric last night which totally blows me away and also, I really want to post this review that appeared in the Daily New Hampshire Gazette following the trio's show this week at the Iron Horse in Northampton, MA - I can't link it because it's a subscription only newspaper but if you do not want to settle for my cut and paste here, you can google it, be as crazy as I am, and pay for it yourself.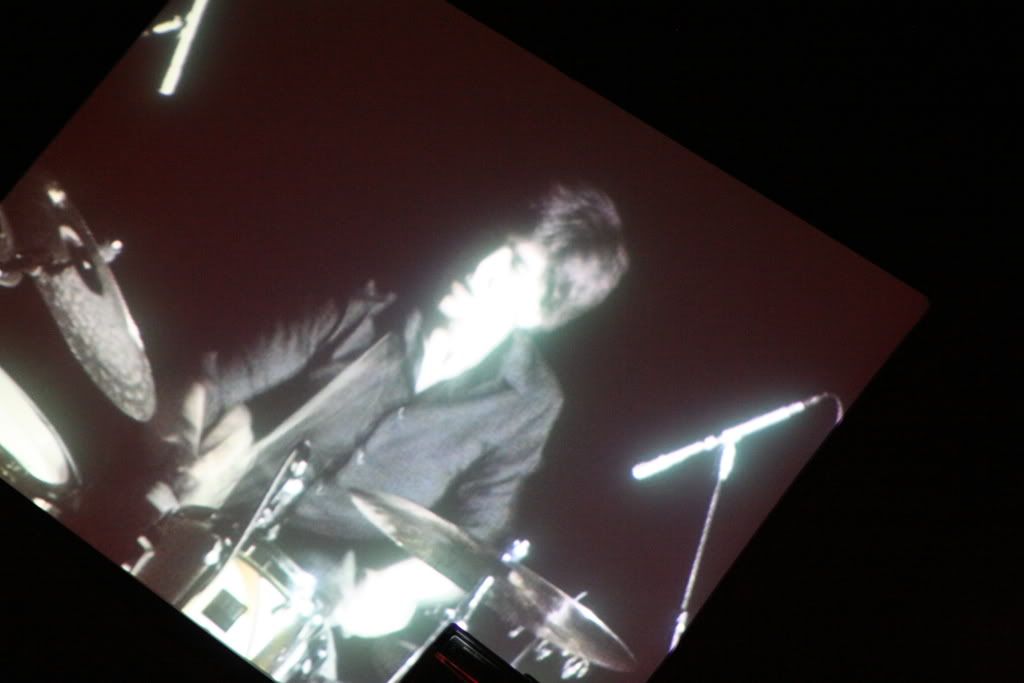 Guitar magic with a smile
By KEN MAIURI

"If you've ever been a nerd for progressive rock, at some point you've bumped into Adrian Belew. Whether you're a King Crimson nut, Zappa freak, Talking Heads follower or Bowie aficionado, there's no mistaking the guitarist's electronically processed elephantine roar and chaotic playfulness. And he's always smiling! Is there a happier music-maker? And one that can get an entire audience singing call-and-response in 7/4 time?

Belew played the Iron Horse this past Tuesday with his Power Trio, which stars Philadelphia-based wunderkind siblings Julie and Eric Slick, aged 22 and 20, on bass and drums. They're astounding. Maybe that's one reason Belew is currently beaming - he couldn't ask for more exciting and energetic bandmates.

The trio basically played the entirety of its new album, "Side Four Live," a captured-in-concert collection of songs from Belew's career, including old solo material like "Big Electric Cat" and tunes from his time with King Crimson.

Belew stood center stage with four amps aimed up at him, two on either side, and audience members stood up and bowed grandly to him with "we're not worthy" gestures, but Belew doesn't act like any kind of guitar god. What he does with a guitar is insanely original - thanks to his banks of effects and unique string-bending technique he can make it sound like a flock of wild geese, or an angry meltdown of violins - but his manner is more that of a quirky uncle. He'll be soloing angularly over two looped tracks of other guitar spazziness, and in the middle of it, look out at the crowd with an affable, big-eyed grin.

The Slicks easily kept up with Belew's fiery "twang bar" flailing. Eric's specialty was playing fluid rhythms with shocking skill. During his song-opening drum solo on "Young Lions," I had to crane my neck to check what my ear was hearing - surely there were more drums up there I couldn't see, or the drummer had secret appendages on his body somewhere. He tumbled the sticks across the tom-toms like he had four precise and well-trained arms.

Bassist Julie was a monster on her instrument, with an awesome gritty tone and more chops than my tired mind could comprehend, but again, though her hands and fingers moved expertly and maniacally around the strings, she played with focus and poise - and in bare feet.

Many of the show's 14 songs morphed into very heady jams, and the highlight of the night's instrumental fireworks was "A Little Madness," which started with Belew looping multiple tracks of his own wailing guitar. It sounded like a fleet of ambulances careening down the street. Julie started up a dangerous bass line, the aural equivalent of a tough armed thug determinedly heading somewhere. Her instrument's sound had some blown-speaker bite to it, and eventually the tune's improvisational section got wilder and she and Belew were throttling their instruments on the highest frets they could reach. Eric turned up the bash factor on his drums and the three of them built up a very furious tension; when they released it by switching back to that main riff, the audience whooped in excitement.

The trio unveiled a brand-new song, "E," which built from a spindly scale-like melody played and then looped by Belew. Later in the tune Julie took over the quick finger-twisting melody, and when the song was over, appreciative fans yelled out, "Bass player, we love you!"

Belew gave the people what they wanted at the show's end, finishing the main set with one of King Crimson's most popular (and poppy) songs, "Three of a Perfect Pair," and coming back for an encore of two more Crimson classics, "Neurotica" and "Thela Hun Ginjeet." As Eric pummeled a primal rhythm, Belew twisted skronky distortion and vertiginous harmonics out of his heavily processed guitar and Julie popped and dug into her strings, they looked like one little happy brain-frying family."
See you tonight at the
Whitaker Center for the Performing Arts
- the show starts at 7:30 p.m.
Later,
xo