I have one thing to say about last night's
Adrian Belew Power Trio
Show in Philadelphia. It was an interesting coincidence that the King Crimson tour dates for this summer were announced yesterday, because the general consensus in the audience was: Robert Fripp, Tony Levin, Pat Mastelotto, and Gavin Harrison? You guys better start "practising"...this band is at the top of their game in an almost inhuman way. Ha ha - just kidding, but seriously, the sold-out crowd was dumbfounded - once they picked their jaws up from the floor. What was so totally cool was the fact that there was a huge mix of fans - from teenagers to those *cough* my age...and there wasn't anyone standing still. Even those with reserved tables were dancing in their seats.
ETA: Some amazing You Tubes from last night.
Oh, heart be still - the world's greatest band introduction:
A Little Madness (holy crap, watch Julie Slick)
E (a work in progress)
Yeah, last night was freaking amazing. I am so stoked for New York tonight!
All photos courtesy of Gary Slick
From the
Planet Crimson Forum Board
: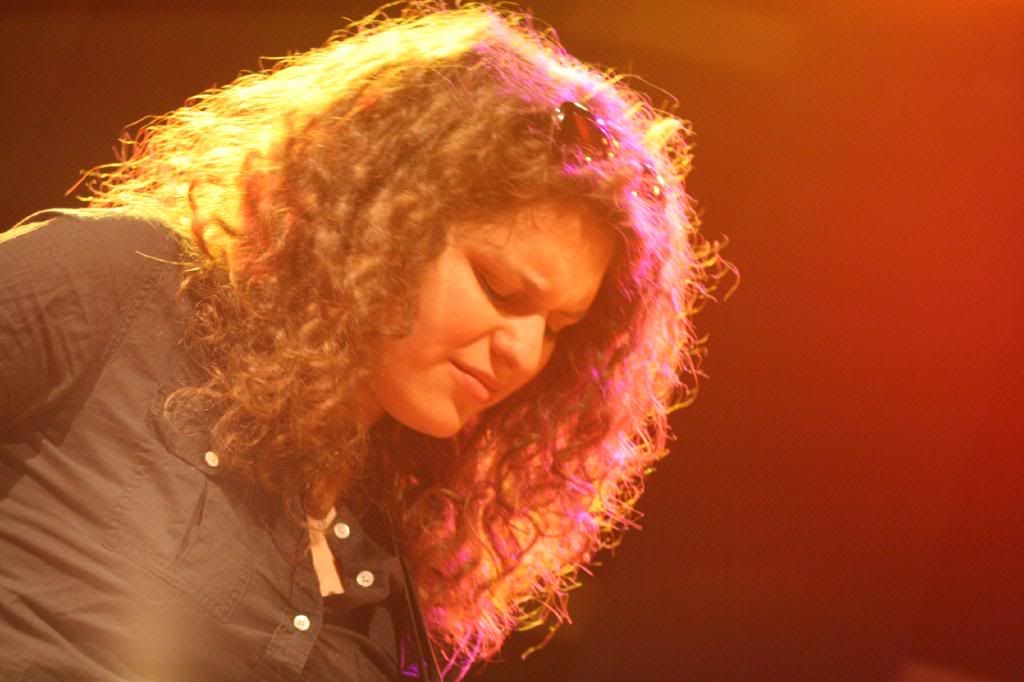 "Big gushing reviews may be getting a tad repetitive at this point, so a few observations on the Philly show instead.

-Apparently Adrian was feeling slightly sick tonight, but had I not been told, there's no possible way I would have known. His voice sounded just great and the blast of energy from the stage was still enough to rattle the chimneys for blocks around.

-Julie used to have a kind of John Entwistle stage presence before; I never knew whether it was shyness or an oh-so-cool laid-back stage persona or both. But she surprised us by being just as animated as the other two, and it's remarkable how warm & engaging the trio comes across as a whole. When they ran into some technical snafus early on (expertly covered by a killer Eric solo to lead into "Young Lions"), I never got a sense that they had to recover any kind of lost momentum. The audience was right there with them through any rough spots.

-Not only is the trio better & tighter than they were last year, they're also looser. The set was largely the same as Side Four, but the difference in how it's all played is astounding. For maybe half of tonight's show, they seemed like practically a jam band. Albeit a jam band that could still get a whole floor of people (some of them quite inebriated) bouncing in 7/8.

-J&E have an amazing telepathy. One of the joys of watching the band is not only how they all interact, but how the two of them like to crank out tricky fills in unison.

-The new tune "E" sounds killer. First it's disturbing pseudo-surf music, then a wonky space-jazz groove. Then the space-jazz lounge has a cameo by a hyper pianist, doing his impression of Keith Tippett doing his impression of a drunken cat walking over the keys. It's really much better than that sounds.

-"Beat Box Guitar" was practically an out-of-body experience. They take it out of its structure, then they take it further than you'd ever expect, then they shoot straight for some unimaginable dimension of hyperspace. Rare to see any group of humans reach this level of improv all together.

Overall: one wild ride, my favorite ABPT show so far, and let's hope this group lasts as long as it can."
Anyway, there are only three days left on this tour, and tonight's show in New York City at
BB King's
is a must see. I'll be there and hope to see many of you!
Later,
xo