ETA: Hahahahahaha -
This is for you, Julie
.
ETA 2: And here's an awesome review I just found of the show in Natick, MA courtesy of
Mike O'Risal
.
So for those of you who do not already know, to say this was an, um, interesting weekend is putting it mildly.
Gary decided to drive to Cleveland -- which normally is about a seven hour drive from Philadelphia -- for one night only, to surprise the trio and catch their show at the Beachland Ballroom. His plan was to go home early Saturday morning.
But before I launch into this long, insane tale, I wanted to post some stuff from my own personal mail bag, some cool blurbs I've found on forum boards across the universe, and also, give a huge shout out to the
Adrian Belew Power Trio
- this morning they are not only written up in the
New Yorker
but Ade gets a mention in the
New York Times
(!) as concerns his work on the new Nine Inch Nails release.
From the New Yorker:
"B. B. KING BLUES CLUB & GRILL
237 W. 42nd St. (212-997-4144)—March 13: Adrian Belew has played with everyone from the Talking Heads and David Bowie to Frank Zappa and William Shatner, but the maverick guitarist is best known as the front man of the prog-rock institution King Crimson. He's currently touring under the rubric of the Adrian Belew Power Trio, in which he's joined by a pair of young siblings, Eric and Julie Slick, on drums and bass, respectively."
Here's an email I received from Frank Vigil following his attendance at the Sante Fe show:
"
Well, I went to the show in Santa Fe (I live in Albuquerque, south of SFE) and I was totally impressed! Surreal is indeed an excellent word to describe them.

I have to say, Adrian was awesome - as always - Julie was great (my wife says that she plays lead guitar on her bass all night!) - and Eric - Oh, my God - has he ever improved in the last year and a few months since I last saw them! I mean, he was really good to begin with - but, now - he is nothing short of fantastic. And, I can say this with some authority, because I'm a drummer, too. He is amazingly fast and has nailed down an unusual playing style! Believe me, he was "on" that night! And, what really gets me is that he does it with such a small set. I hope some company is giving him/buying his cymbals, because he uses several very thin cymbals, and he beats the hell out of them! I'm sure he cracks them every now and then..."
Frank then went on to tell me that his son took amazing photos at the show and that he is snail mailing me a disc with all of them so you know I will post them as soon as they arrive.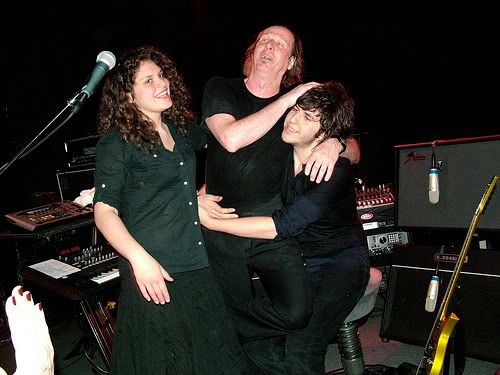 There have been special "guests" at all the shows throughout this tour, but musician
Jeff Elbel
(standing on the right) was kind enough to forward me this photo of
Gary Green
(d'oh, standing on the left)...and in case you are not a musicologist, Gary was the brilliant guitarist for
Gentle Giant
and he is a huge fan of the Adrian Belew Power Trio and came to the show in Chicago. How cool is that!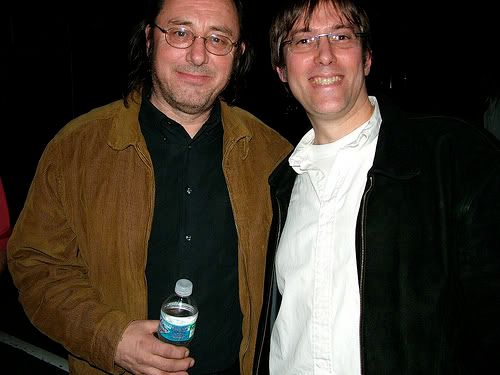 Jeff also furnished me with the above photo of the trio.

I could not help but notice that

Jeff Jankowski

was kind enough to leave a comment on my blog which others picked up for their blogs and Jeff ended up posting on his own as well but it's so good it bears repeating here:

"

Wow! That's all I can say about the show in Buffalo last night. I knew it would be good but I didn't expect the direction of some of the instrumentals. To say the band went "out there" would be an understatement. They were WAY out at times and my friends and I were blown away.

Some thoughts - Belew's playing and his guitar sound are better than ever. How does Eric get such a big sound from such a small kit? We guessed talent and practice but he shared a secret of "trail mix" with me in a brief conversation as he was tearing down so I'll have to remember that! He played the evening like a cross between Steve Smith and Keith Moon! Julie was fan-tas-tic. Hands down one of the best bass players I've ever seen. Even our waitress admitted she "tore it up".

Also, Eric did a great job on an impromptu solo when a fuse blew early in the show. Belew said that was one of the benefits of having a great drummer - for moments like these.

The band looked and sounded like they were having a blast the whole night. What a great show, and I'm glad I took the white-knuckle ride downtown to see them.

Only downside is they sold out of "Side 4" early on so we were sharing Belew's website with other disappointed fans. Everyone wants the CD with "that lineup"! Great job everyone! Can't wait for a studio release. If the new number "E" is any indication it's going to be a must-buy."

*****

Additionally, Jim Keyerleber commented on my blog, too:

"

The Cleveland Show was awesome. I knew it was going to be good based on Side 4 but Wow. These are not young musicians. Great communication when things go off tangent.
Awesome. Great. Can not wait to see again anywhere."

*****

I love this one from writer

Ric Marion

, after just seeing the trio in Michigan and it's pretty amusing though I have to tell you, things are changing in a big way for the trio in terms of their audience...word is definitely getting out and their fans now span all generations.

"

Note: This is not a review so much as observations.

My youngest son, Patrick, is a drummer and music enthusiast (mostly screaming bands I have never heard of). Through Robin Slick, I saw that her two children were doing a cross country tour with Adrian Belew, I thought, "Gee, if they come anywhere near here, it would be cool to go and Patrick can see a really good drummer - not too much older than he is."

Last night, we drove 57 miles to Ferndale, Michigan, to see the Adrian Belew Power Trio at the Magic Bag. While hunting for a parking spot, we drove down the alley behind the venue, which gave me a chance to roll down the window and say, "Hi, Eric." Julie was outside with him so we introduced ourselves. Pretty cool. Parking a couple blocks away, (There is plenty of free parking. - Okay, but Ferndale got 6 inches of snow a couple days ago) Whatever. Patrick and I walked around to the front of the theatre and then down the long line to take our place.

"What did you notice about the people standing in line?"

"They're all old."

"What else?"

"They all look like burnouts."

"How many women did you see?"

"Two. Out of maybe a hundred people."

Two guys in line behind us. "Don't know who the band is - something about them being young kids."

"It's a brother sister team and Adrian discovered them at the School of Rock - they're really good, according to their mother."

"So, how long have you been following Adrian Belew?"

"Never heard of him before this."

Patrick says, "I think I'm the youngest person here."

"That's all right, You're going to get a musical education tonight." This from the guy who has all the King Crimson recordings ever made.

Finally inside, Patrick with two large black x's on his hands (only eighteen), box office closed up tight - concert

SOLD OUT



We find a spot to sit on a bench along a side wall and watch this crowd of 40 year old men milling about with beers.

Patrick is still not sure - about the music, about a girl bass player, about the drummer - "My drum set is bigger than that."

Then the band comes on stage. The front is rushed by 6 foot tall overweight men with adoration in their eyes. We stand on the bench we were sitting on - ah, perfect view. Neither Patrick or I recognized any of the songs, but, damn, can these guys play.

Drum solo. "Wow, Dad, he is really good!"

"I've never seen a bass player do that before - she is really something."

"He can really play that guitar."

But the great thing about the three on stage were the smiles - Eric and Julie have the greatest smiles and you could tell they were having a great time - Adrian smiled a lot, too. The enthusiasm was in their faces and translated into the music as well. And the crowd loved it.

We knew when a King Crimson song was being played as the audience would start pumping their fists in the air -and their faces went odd like they were anticipating the rapture.

My ears started to go about half an hour in. It was really loud.

The guys from outside came by to say, "Those kids are awesome."

We hung around, trying to get a picture for Robin, but they shoved everyone out the door, immediately after the encore. Since it was a school night, we didn't try the back door.

All in all, a great night. Patrick got a new appreciation of different rock styles, was highly impressed by Eric and Julie Slick, and got to spend some quality time with Dad."

*****

Actually, I just remembered I have an appointment at 11:00 a.m. and need to get ready so the Cleveland blizzard story is going to have to be a separate post later today or tomorrow.

But for now, I leave you with a lot of fun links to forums.

Well, first of all, I'm sure you've all seen this, and it's a link to an article I posted anyway, but I was really excited to see that

Saturday's headline on DGM Live

was:

"

Man, this is definitely the best band I've ever had, in my solo career
Posted by Sid Smith on Sat., Mar 8, 2008

Who can Adrian Belew possibly be talking about

"?

*****

From the

Harmony Central forum board

:

"

I believe he is touring with a young brother (drums) and sister (bass) rhythm section. I saw them last time they toured and they absolutely blew me away! You are in for quite a treat..."

"Adrian Belew is incredible.

Ditto for Eric Slick on drums. That kid is insane."

*****

From

Talk Bass

:

Favorite Female Bass Players

"

Julie Slick, saw her with the Adrian Belew Power Trio last night"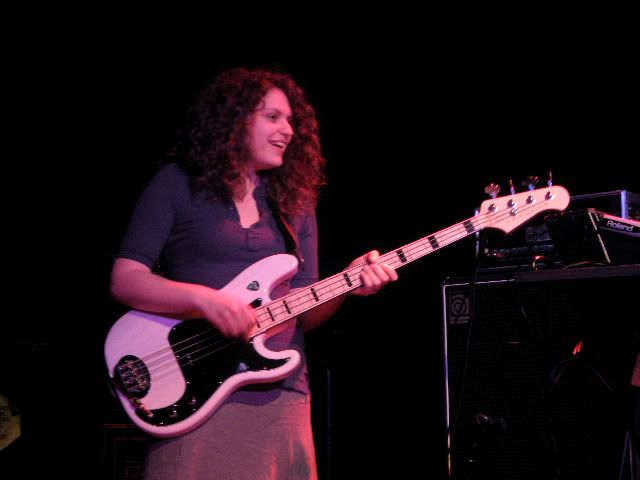 From the
Tool Forum Board
:
"
Check out a drummer by the name of Eric Slick, he replaced Danny for Adrian Belew's one project when Danny went back on tour and also plays with a band caled Project Object who are the number one Zappa tribute band in the world. he had such a tiny set yet was pulling off shit just like terry bozzio on his diety of a drum set..."
*****
From the
My Space forum board on>100 All Time Best Bass Players
:
"
tony levin
julie slick
phil lesh
bootsy and the other funkadelic bassists
kenny gradney
pino palladino"
Yikes! Just realized the time. Gotta fly - will be back with more links and news...
Later,
xo