So tonight's
Adrian Belew Power Trio
show in Chicago at
Martyrs Live
should really be something.
For one thing, I know representatives from
Lakland Bass
, who endorse Julie Slick, and
Parker Guitars
, who endorse Adrian, will be there this evening, and according to the
Parker Guitar forum board
, they will be filming tonight.
Also, I know some fans from the
Planet Crimson forum board
will be there as well, and I am expecting reviews, people!
Here's a wild man photo of Eric Slick taken this past weekend in Colorado, sent to me by tour manager and all around great guy, Andre Cholmondeley: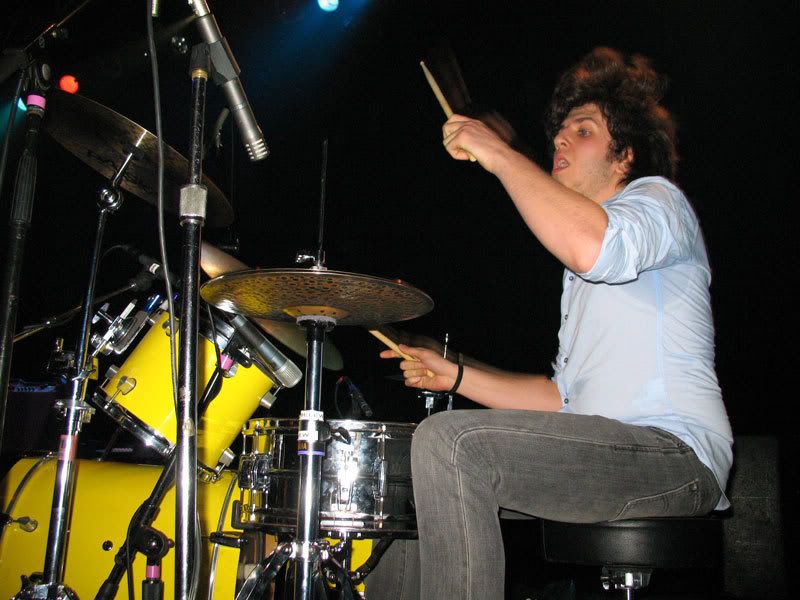 In other news, thank you to Dan Gross of the Philadelphia Daily News, for giving the trio this
shout out in his column today
:
"
Fairmount natives and Masterman grads Eric and Julie Slick will be back in town March 12, when they'll perform as two-thirds of the Adrian Belew Power Trio at World Cafe Live (3025 Walnut).

Eric, 20, and Julie, 22, were two of Paul Green's first graduates in 1998, and have been the drummer and bassist of the prog-rock guitarist's group since 2006, recently recording "Side Four Live" with Belew, who played in King Crimson, as well as Tin Machine, with David Bowie."
Very cool but I'm not quite sure where Dan got the "Tin Machine" thing from...Adrian was not in that band but did play with Frank Zappa, The Talking Heads, Tori Amos, Nine Inch Nails...
Oh man, speaking of Nine Inch Nails, how about their new release featuring Mr. Belew on guitar? So many people went to their website to purchase the music this week that their server crashed! Everywhere I go on the web, the remarks are the same:
"The album features Adrian Belew who played on The Downward Spiral. Belew is famous for being a member of King Krimson and for playing with David Bowie (on Lodger and various live tours). I saw Belew at the Corner Hotel during his first solo tour of Australia in 2006. His guitar work and songwriting are amazing..."
"...while listening to some of Adrien Belew's fan-FUCKING-TASTIC playing on the new NiN album."
And so on...there are way too many articles to copy here...but if you hit google, WOW!
Here's a
review
from the Adrian Belew Power Trio show in Wisconsin last night - sorry, I was a slacker and let that slip yesterday with no blog post but I've been working on a top secret project of my own...which I will now zip my lip over due to the jinx factor....
"We saw Adrian Belew at Shank Hall tonight. Fun show.

Adrian is a guitar guy. Innovative and fun loving. He's a member of King Crimson, and plays with a lot of people. This time out, he's doing the Adrian Belew Power Trio. It's him with bassist Julie Slick and drummer Eric Slick. They're brother and sister, she's 22 and he's 20. They've been playing with Belew for a couple of years. Here's a bit of history: Julie Slick began taking bass lessons at age twelve at the Paul Green School of Rock as one of seventeen students Paul Green taught in his apartment in 1998 in order to help pay his tuition at the University of Pennsylvania, where he was a philosophy major. Green had the students jam at venues around the city to give them real experience as musicians. For their first show, Green and his students performed Pink Floyd's The Wall at the Griffin Cafe in Philadelphia, PA. He didn't have a drummer so the owner of the restaurant sat in. Julie's mother, Robin, suggested that Green consider her 11-year-old son, Eric Slick, who eventually became the house drummer. The Paul Green School of Rock was later born. Eric began studying drum lessons at the school and now teaches there.

Eric is pretty damn good. Adrian seemed to enjoy working with him, since he usually faced Eric, and interacted with him a lot. He only occasionally interacted with Julie. Julie and Eric, however, interacted with each other a lot. It was fun to watch the signals back and forth behind Adrian's back. Like the time Eric tricked Julie with a fake cue. She was like, thanks a lot! He was laughing his ass off. Julie was pretty damn good too. She doesn't look like a rock star, with her skirt and sweater (and bare feet), but man can she play. It was kinda wild watching these kids playing Bruford and Levin.

Adrian was having a good time. He could hardly contain himself during the first few songs. He's a madman. He actually kinda devolved into wankery a few times, but he was having fun. Most of the songs they played were either Crimson or from his latest Side albums. My favorite song of the night was "Three of a perfect Pair." Smokin! (Hey, you can hear it here, for a little bit: www.adrianbelew.net"
Anyway, that's it for now. Must return to said top secret project. Oh. One final thing. You'll see the label for this post is "Chicago, Chicago, that toddling town." I just had a hilarious childhood memory flashback. When I was six years old, I thought I could sing -- I would sadly later find out this was not only untrue, but that my voice in song has been known to make grown people flee from the room and head for the toilet, or, at the very least, cause Julie and/or Eric to bang me on the top of the head, hard, from the backseat of our car whenever I attempt to join in with a CD-- anyway, yeah, back then I thought I had a really great voice and therefore prepared a "smoking" (ha) version of Chicago, That Toddling Town, a big hit by Tony Bennett, for my first grade talent show. I wore a red and white striped dress with a huge fluffy petticoat underneath, a straw hat, and for some unknown reason, I had one of those canes vaudeville players carried as props - you know, the ones you used to be able to win at carnivals back when the world was sweet and innocent. Anyway, I remember very little about my youth, but oh how I remember belting out that song with my hat and cane and the subsequent appalled expression of not only my teacher but of thirty other six year olds who then broke out into evil and uncontrolled laughter. Oh the horror!
Here are the actual lyrics to Chicago:
Chicago, Chicago, that toddlin' town
Chicago, Chicago, I'll show you around
Bet your bottom dollar you'll lose the blues in Chicago
Chicago, the town that Billy Sunday could not shut down

On State Street, that great street
I just want to say
They do things that they don't do on Broadway, say

They have the time, the time of their life
I saw a man, he danced with his wife
In Chicago, my home town

They have the time, the time of their life
I saw a man, he danced with his wife
In Chicago
In Chicago
In Chicago
Yeah, I actually sung that. And my only question back then...and I remember this clearly...was who the hell is Billy Sunday?
After all these years, I still have no idea (though it is hilarious that I innocently sang those words at age six without having a clue as to what any of them meant) so I just googled it. Apparently Billy Sunday was an evangelist who tried to butt heads with Al Capone. Ha!
Anyway, that experience scarred me for life and it would be years before I would ever attempt to sing in public again.
Erm...that would be when I was in my teens and started studying guitar. One of the first songs I taught myself was Arlo Guthrie's
Coming Into Los Angeles
which I naturally would scream at the top of my lungs, especially the chorus because yeah, yeah, I sure as hell knew what those words meant.
And no, I do not have photographs of either performance, damn it.
Okay, I am out of here but as always, will be back with any breaking news...
Later,
xo