Yeah, yeah, I'm still on the planet -- it's just that Gary and I have been playing ping pong with the flu despite the fact we both had flu shots. Fancy that. Bleh. Gary came home from work last week with almost 103 degrees fever and then literally hours later I was back flat on my back yet again burning up as well.
Naturally I have two weeks worth of stuff to discuss and by the time I get around to talking about everything, I'm either going to forget most of it or you'll all have found my usual "breaking news" yourselves but oh well, I'm sitting here sneezing and dizzy so I'll try to blurt out as much as I can before collapsing back to bed.
First of all, happy belated birthday (it was yesterday) to
Andre Cholmondeley
, who is not only a brilliant guitarist in his own right, gave Eric his first real big break at age 18 as drummer of Project Object and plays with him in a side project,
Delicious
, but he's now also tour manager for
Adrian Belew
. So things have sort of come into a full karmic circle here - very strange and beautiful.
I will talk more about Julie's 22nd birthday (naturally she shares the Aquarius sign with Andre) next week including a full description of our outrageously fantastic dinner but my current illness does not permit me to write about food or even think about it without gagging.
Also, I'm sure this is old news to 99% of you, but the Adrian Belew Power Trio now has their own MySpace site -- it's still a work in progress -- but you can download one of my favorite songs off the new CD, Three of a Perfect Pair...anyway, please friend them right
here
.
Speaking of the trio, I was really stoked to learn that
Mark Colman's
gear photo is the official tour poster - copies have not only been sent out to all of the venues (can you believe the tour kicks off in one week - Tuesday night, February 19 in Seattle?) but will also be available for sale and you know all of the members of the trio will gladly autograph it for you post-show - and har har all three also happen to be really talented artists so maybe if you are extra nice to them, you'll get a little scribble along with their signature.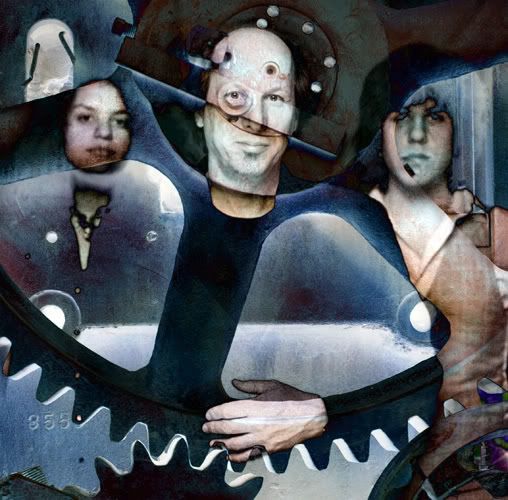 Or I could be delirious with the flu and the trio is going to stab me with sharp objects when they read this.
Oh hell, there's so much I want to talk about - not just Julie's birthday dinner as mentioned above but important current event topics, like, how I am terrified McCain is going to end up President because the Republicans own the media (I mean, seriously. How did he go from last place to #1 just like that); which brings me to another thought: I want to subject
this person
to, oh, I don't know, water boarding since it's a favorite hobby of her choice of politicians (when you are really sick there is nothing to do but watch daytime t.v. and I have never found any woman more repulsive both intellectually and even physically except for
this genetic mutation
.)
I think we should send the two of them to the front lines in Iraq so we can all be put out of our misery.
No more television for me.
No more typing, either, apparently. The room is spinning.
Bah!
Later,
xo