Nope, as much as I wish it were true, I am not on a plane to catch my kids performing out on the west coast this weekend.
I'm busy writing a couple of new chapters and editing several others so (a) I'm kind of relieved the Adrian Belew Power Trio is off tonight and heading to
Phoenix
for their show tomorrow evening and (b) this is therefore an abbreviated post which...gasp...may actually talk about writing. But we shall see. I can never leave the music totally.
For example, have a look at this brilliant photo of Julie on stage at the Coach House show Sunday night. Unless I am mistaken, the pic was taken by uber fan Burton Lo, who did some amazing work last year, too.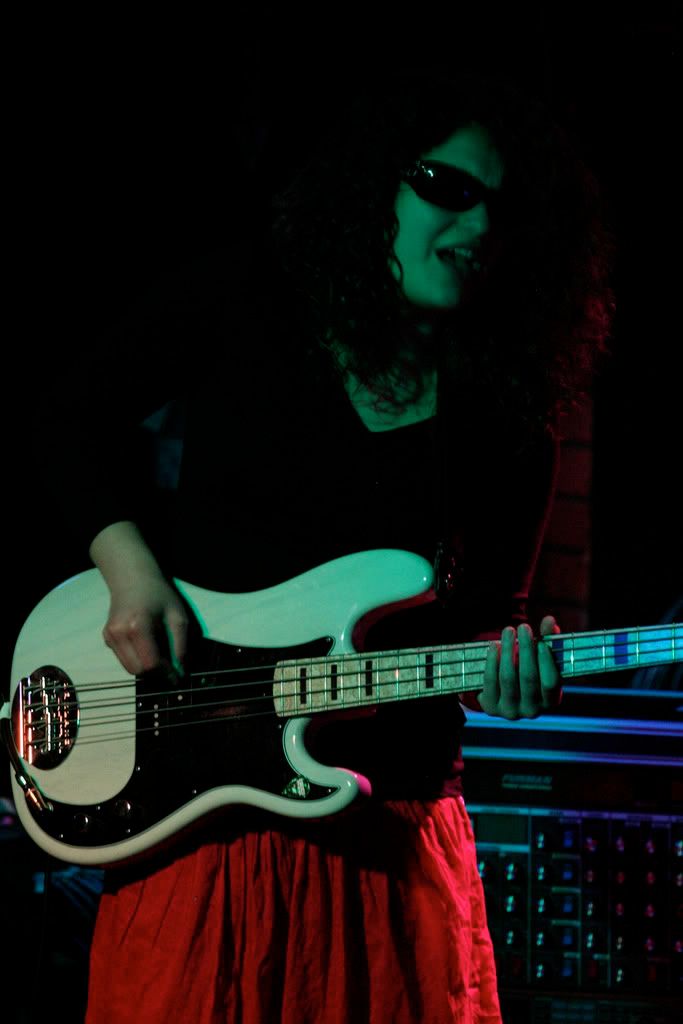 No, no, I said this post was about writing. So let me direct you to my favorite cyber hang-out,
LitPark, and an interview with Jessica Brilliant Keener
-- and is that the greatest name or what?
I met Jessica at the
BackSpace Writer Conference
last May and she's amazing. I'll tell you what else is amazing - excerpts from her latest novel, which you can read
here
and
here
.
And I know most of my readers are musicians and/or music lovers so Jessica's novel will really resonate with a lot of you.
Speaking of music -- hahahahaha - you knew I would, but hey hey, it's connected with writing -- a few days ago, I mentioned that a
film
had been made based on one of my short stories (and yes, the link works today - I finally figured out how to do it because it was tricky and not one I could just copy)...anyway, the director, Jonty Reason, sent me a copy and Oh. My. God. I was so freaked out watching it I could hardly control myself. I mean, I thought it was "based" on my story; I didn't expect to hear actual dialogue, words I'd written, spoken by actors. I had the total chills; it was surreal. And the actor they hired to play God (well, God is actually a Guitar God)...holy crap...if I were twenty and single I'd be on a plane to Australia now, stalking him. Ha! His name is Ant Neate and I can't find him on Google images so Ant, if you google yourself and come across this, please oh please send me your photo so I can post it here and drive all of my female friends crazy. You really can't get a good idea from these tiny shots but oh well, I'm posting them anyway.
And yeah, the movie has now been accepted into four major international film festivals and I really really wish the Belew UK tour this fall (shhh...it's an unconfirmed rumor...yeah, that's what it is, a rumor...unconfirmed) would coincide with it but nope, the UK film festival is in June and unless a miracle occurs, I will have to be content with watching it on my own television here in Philadelphia.
Erm, ask me how many times I've watched it so far. It so completely blows my mind. Jonty did such an incredible job and he chose the most powerful scene in the story to film. I'm like a little kid jumping up and down. Trust me, I can't even imagine what it will be like to see a full length movie or television series based on one of my books...what I do know is that I will require CPR throughout the screening.
Anyway, I did say I was writing today and I mean it so I'm out of here.
For now.
Later,
xo