So in case you were worried, it turns out I am still alive and woo hoo, Julie and Eric are on their way to Seattle right now, embarking on the month long
Adrian Belew Trio tour
which kicks off tomorrow night at the
Triple Door
. Hey, I just clicked on that tour link - many thanks to webmasters Rob and Scott - it looks awesome.
Anyway, I promise this is the last time I'll whine but I hope none of you get this particular strain of the flu...and how interesting...it's now all over the news that the flu shots we were given are resistant to whatever this bug is so, yeah, like I didn't know this already, we got horrible, sharp pointy flu virus filled needles for nothing.
Seriously, today is the first morning in over two weeks that I woke up feeling 100% and not coughing and all dizzy.
Time to play catch up.
On the top of my list of things to report other than the tour, Eric plays drums on this amazing new recording called Robert Musso and friends featuring
Robert Musso
on guitar,
Dave Dreiwitz
on bass,
Elliott Levin
on sax, flute, and poetry,
Raoul Bjorkenheim
on guitar, and special guest poet
John Richey
. You can purchase a download of the CD right
here
and all I can is...wow. Nice cover art, too, huh.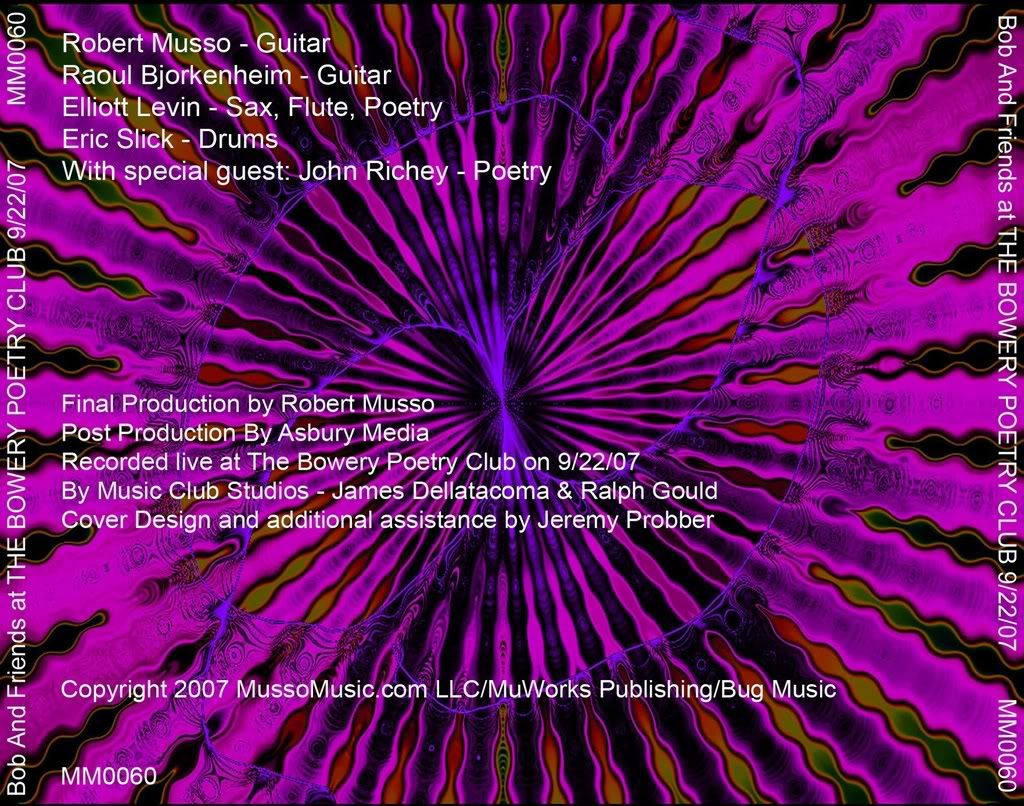 And if that is not enough, Eric also makes a stellar appearance with
Project Object
on the new Zappanale 18 CD/DVD performing Zappa's brilliant Village of the Sun/Echidna's Arf (Of You)/Don't You Ever Wash That Thing and you can purchase that right
here
and what the hell, I finally taught myself how to take screen shots so let's try it out...if you click on it, I'm not quite sure what is going to happen, meaning, will it take you right to the purchase page without the use of the link I provided or will it simply just work like a regular photo I post? We'll both find out together.
Wait. I just realize it's impossible to take you to an actual page. But it will look like the actual page. Whatever. The main thing is, I'm so impressed that I taught myself how to do this that today's post is going to be full of them but I promise this will be a one time event.
ETA: Those screen shot things are really a confusing pain in the ass. Don't click on them, just click on the link which takes you to the actual page. Bleh. No wonder no one else ever uses them. I should have figured that out.
Secondly, I got my very first
IMDB listing
! Soo...here's a copy of my IMDB web page...
Anyway, I am now on IMDB because of a little film in which I co-star called
Why We Wax
and here's their website and where the film will be screening:
And it appears I'm breaking into the movies now in a big way because the
short story version
of Daddy Left Me Alone with God was made into a film by actor/director
Jonty Reason
and the official film web page is way cool:
This is so crazy! According to Jonty's website, "
BASED ON THE SHORT STORY BY ROBIN SLICK
...
Already selected for three International Film Festivals, two in the UK (Swansea Life and The International Film Festival, England 2008) as well as the International Film Festival South Africa, DADDY LEFT ME ALONE WITH GOD is a remarkable little film."
I also have mentioned more than once that I'm editor and contributor to a new anthology called
39 and Holding Him
and I am giving you the Barnes and Noble link because their page just looks so pretty.
Anyway, the cover girl,
Matilda Kay
has kindly started a MySpace page for our book right
here
and I ask that you friend us. And now, because I am just so impressed with my new ability to take screen shots, here is what our MySpace site looks like: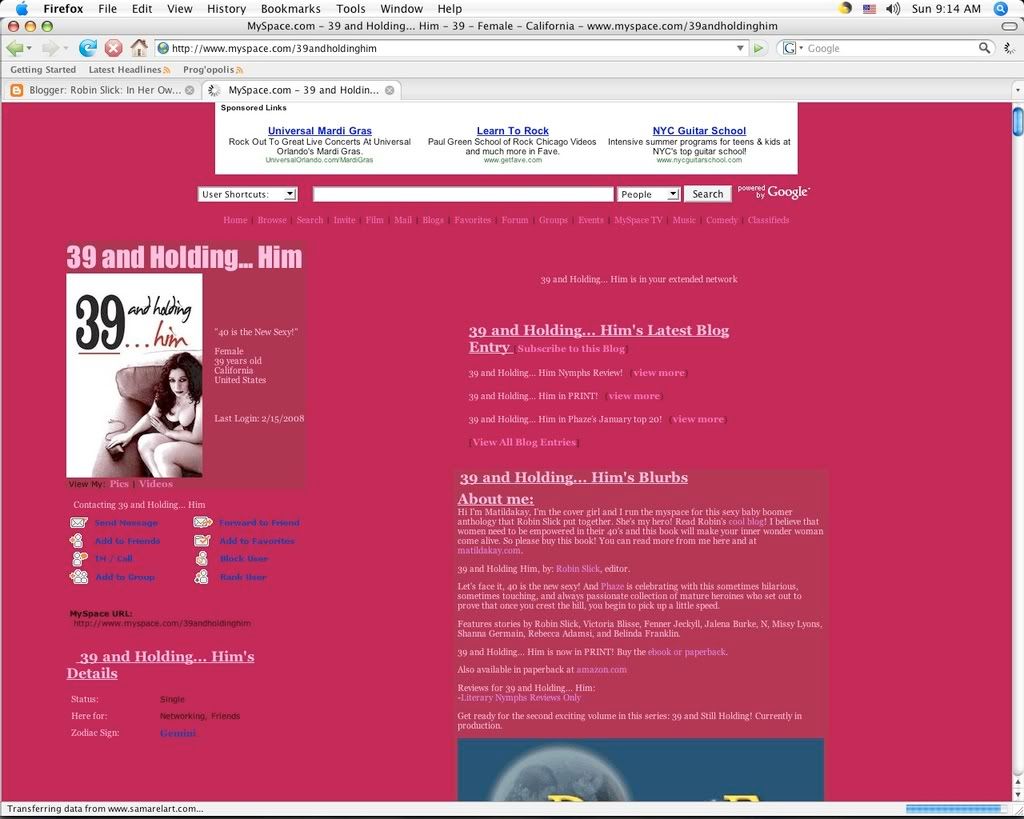 I also found out that some of my books are available for your Amazon Kindle if you own one -- here's the
link
for that.
And so ends what had to be the world's most self-indulgent post but I figure starting tomorrow, my blog is going to be all Belew tour for the next month or at least 99%...so I needed to get all my promo slut stuff in now.
Sorry, sorry.
And again, I promise no more screen shots.
Later,
xo