Photo of Eric Slick by Gary Slick at the World Cafe on October 14, 2007
Oh man, the show Sunday night at WCL was so freaking fantastic I have no words. If you are anywhere in the Wilkes-Barre, PA area, you absolutely must catch them tonight at the
River Street Jazz Cafe
. They are so fucking awesome it's ridiculous...and really, there's not much more I can say but courtesy of Gary, I do have photos...some are from World Cafe Live Sunday night and others from Asbury Park Saturday evening:
Percussionist Joshua Oxford with Eric Slick
Keyboardist/mandolin player Jordan Shapiro
Sax player Elliott Levin, Eric Slick, and Dave Dreiwitz - the new Crescent Moon?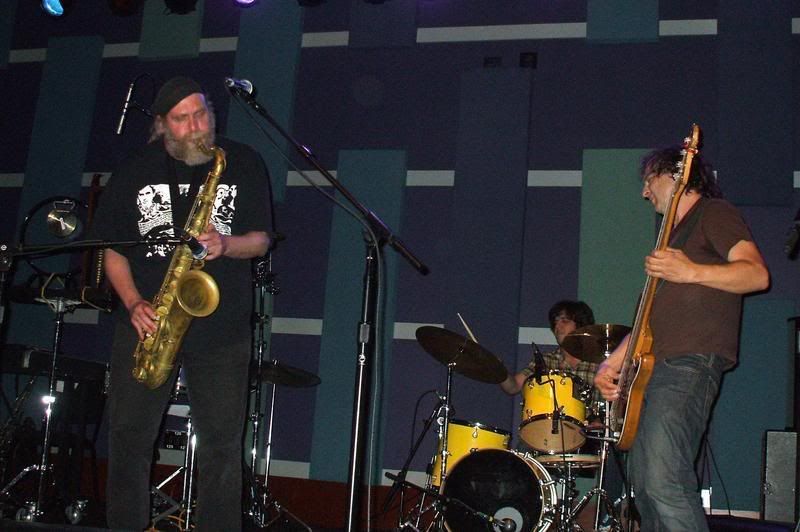 The amazing and incredible Napoleon Murphy Brock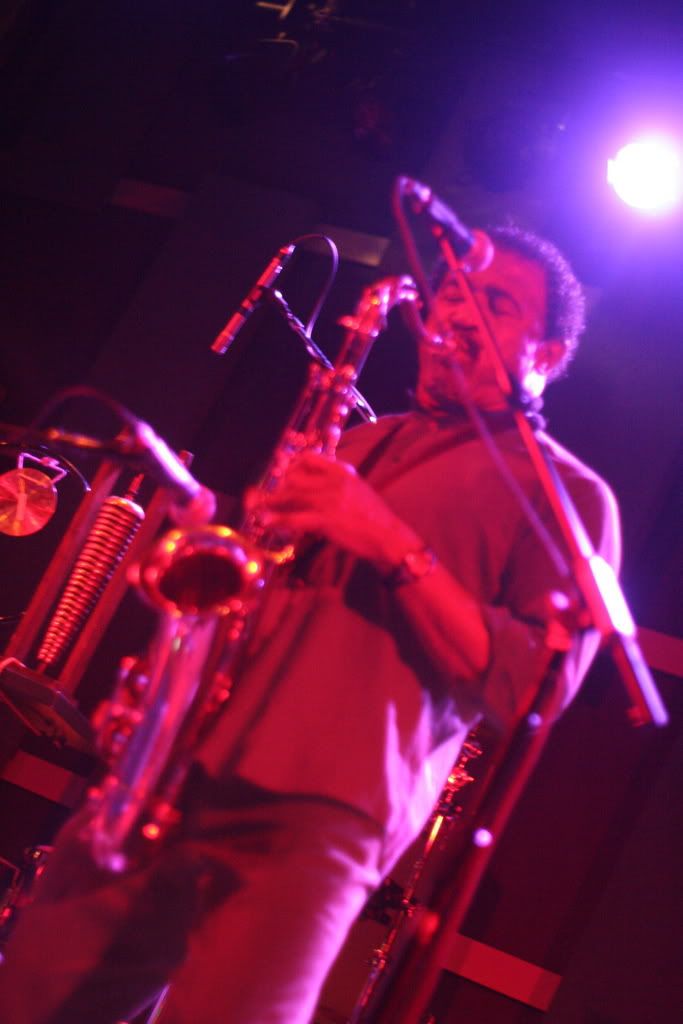 One of the best male (ha!) bassists in the universe, Dave Johnsen
Keyboard wizard Eric Svalgard
One of my favorite people in the universe and now one of my favorite guitarists as well, Andre Cholmondeley
Elliott and Dave - who knew Dave could also play trumpet? He rocks!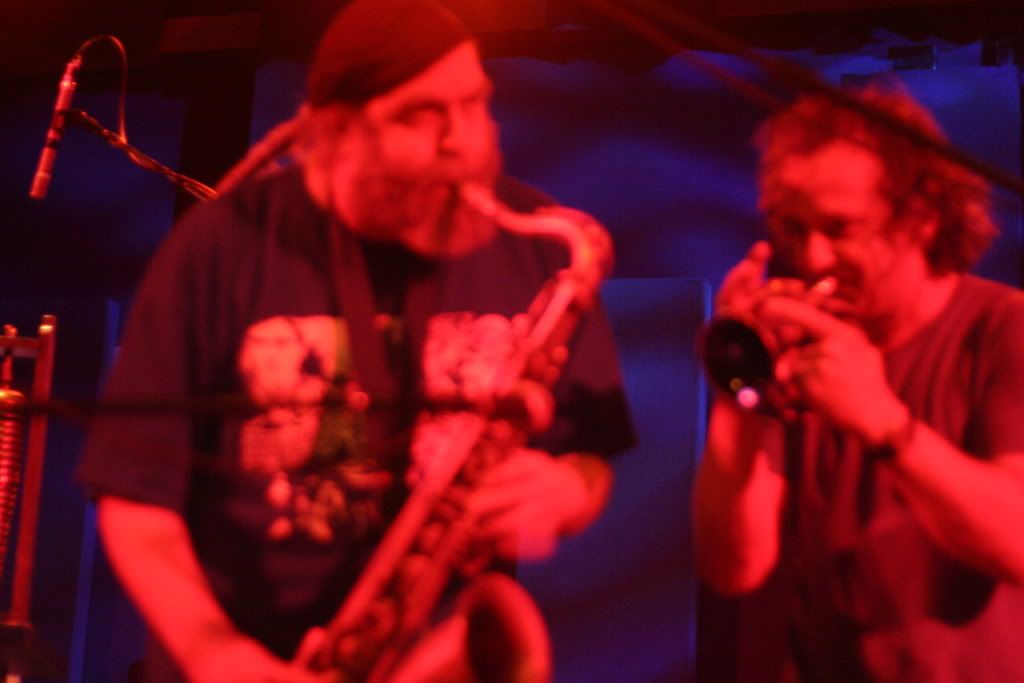 And here are the obligatory fan reviews:

From the (tee hee again)

Zappa forum board

"

An awesome show... A few highlights for me were...

The 3 minute bass solo by Dave Johnson during City of Tiny Lights (eat your heart out Dweezil!!), the drum and percussion duet during Don;t You Ever Wash That when Josh and Eric switched percussion set..



And of course Eric singing I'm So Cute was so Bozzioish it was ridiculous

... and Ed Palermo's appearance for the encore of Peaches.. And of course everything Napi played was fabulous...even took a couple of ripping solos.. And Andre was amazing...man there were flames shooting out of his fingers at times.. Smile

I think the highest praise I can give is that you hardly even noticed that Ike wasn't there... The boys played like they had something to prove, and boy did they ever..
Andre, we await impatiently for the next tour and your next appearance in the NYC area..."

From the

Ween forum board

:

"

Great fucking show last night. I love that room. Best Crescent Moon set I've ever seen. They had Elliot sit in with them on sax."

"Show was great except I missed all of Crescent Moons set except the last tune (Hammer to the Skull).

Left early to assure work was not missed. I was there physically but totally out of it all day. Def. will be checking P/O again. Slicks parents were there both nights and were fucking awesome folks."

"...

I can't say enough about Eric Slick. His playing with P/O was so amazing I shit myself. His sister is a monster on the bass as well.....a family that plays together....stays together

."

"... slick is just.... TOO slick!!"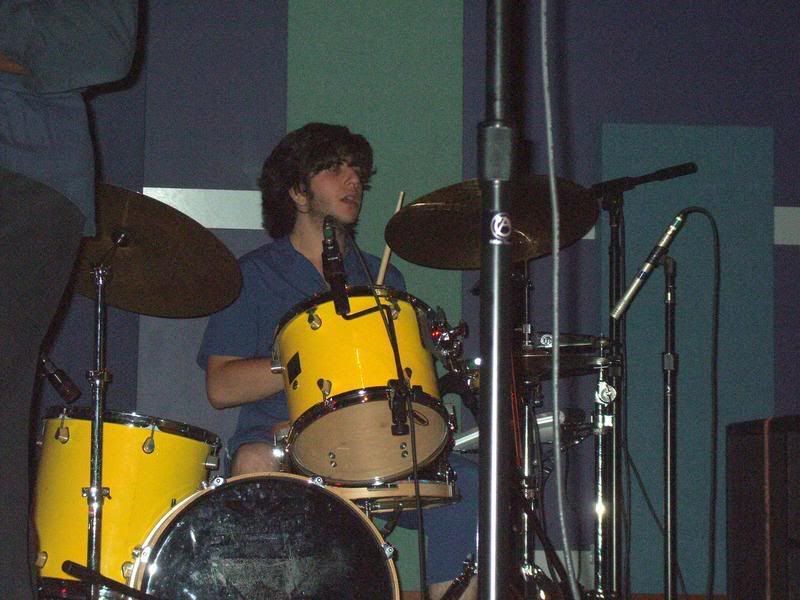 ********
I agree. Eric Slick is too slick for words. He is one of the kindest, generous, most humble and talented people you'll ever want to meet. And some of you have been asking me via email "Why is he taking drum lessons?"
Err...the same reason I constantly attend writing workshops. Because you need to keep expanding your horizons so that you never get stale or stagnate. It's why when I'm not writing myself, I'm reading books by others, in all genres. Eric has the chance to study with one of the top drum professors at Berklee School of Music in Boston. You know what he's actually doing? Taking a twelve hour Greyhound bus ride by himself every chance he gets in between touring at great time and expense just for this privilege.
And good grief, for the last time, he is not the 5th "Beatle" in King Crimson. As Adrian succinctly said in his blog:
ERIC IS MINE
. No offense to Robert Fripp, but I kinda wish he'd spill the beans already because some of the speculation has not been all that nice and in all fairness, enough time has passed and the natives are getting restless ha ha.
And now some serious words from your sponsor.
When I first started this blog, I had no idea where I was going with it but fortuitously enough, I began it at the end of October, 2004, just as
Nanowrimo
, or National Writing Month, was about to begin. Nanowrimo is an event I try to participate in every year, in which the goal is to write a 50,000 word novel in thirty days during the month of November. Believe it or not, I have written four novels using Nanowrimo as a springboard, though naturally what I wrote in thirty days was edited and rewritten many times before they were actually finished novels. And so I used the blog back then as a vehicle to post daily chapters during November, 2004 which I have since removed.
So then the blog sort of evolved into a daily personal diary (and I had to laugh at one of my stalkers who typed on another writing site to which I belong "I am a literary writer - I do not read personal blogs" but my site meter tells me WAY differently...sometimes she spends hours a day here, reading even my comment section over and over again and will even use my blog to further her own interests...i.e., if someone interviews or reviews me, she copies the link and then writes to that person, asking them to review or interview her...only problem is, she's a terrible writer and I don't want guilt by association so now I know to let these people know in advance that once their piece on me is published, they will probably be hearing from her and damn if it isn't true...they write back to me every time and say "How did you know that, Robin - are you psychic?" Nah, I just know human nature har har.)
When I was lucky enough to get a book deal for Three Days in New York City, I then used the blog as promo/advertising for my writing. And I still do...it's a very cool and useful tool to have - just ask
Neil Gaiman
. (More on him later though not a lot - just the fact that he's friendly with Harlan Ellison and oh boy wait until you see what I link below about Harlan). In fact, Neil stopped by here a couple of years ago and left a comment and I still haven't recovered...but in addition to Neil, I've met several other interesting writers and personalities and we've sporadically emailed back and forth about our books...it's been truly wonderful. You know why? Because this is the internet, not the real world...and our "friendships" end here. In the real world, we have our families...and on a daily basis we deal with the mundane...as well as great joy and horrifying grief just like everyone else. These are things we want to share with the people whom we love in the real world but not necessarily the internet because really, other than what I type here, what do you actually know about me? Let me answer that for you.
Absolutely nothing.
You may think you do, but trust me, you do not.
I only write here what I want you to know...and if you insist on reading secret messages into what I've written or have done a psychological profile on me based on that, you are wasting your time.
Getting back to my blog...
So then Julie and Eric landed their dream gig with
Adrian Belew
and Eric also with
Project Object
,
Crescent Moon
...and countless others. When that happened, this blog became a labor of love for me to promote my kids as well, and I met many fans who comment here and email me and it's fabulous, it really is.
But the bottom line is, and I've tried to say this many times nicely...the reason I gravitated to the internet in the first place is that I am not a social person. Yeah, I have been lucky enough to meet a few writers on line at places like Zoetrope Studios with whom I did click with in the real world --
Susan Henderson
,
Ellen Meister
,
Maryanne Stahl
,,
Jordan Rosenfeld
,
Kimberly Wetherell
,
Myfanwy Collins
, and many from the
Back Space
writing community come to mind but the truth of the matter is, I have recently been receiving emails which are way upsetting because they are making me feel like I am somehow hurting people I don't even know because I don't want to connect with them in the real world either by telephone or in person...even though I have tried to tell them it's not them, it's me...just ask my husband, if not for the kids and the fact that I'm a writer and need to earn a living, I would probably never even leave my house unless it's to eat in a good restaurant or travel someplace cool.
I love my house. And I love my family. My needs are very basic, and I guess I'm extremely lucky because I'm happy in my own skin and don't need others around me.
I am also not a therapist.
I understand we all have problems - I have problems of my own - but I can't solve yours and if you must know, when internet strangers tell me their problems, I want to distance myself from them even further because I simply do not have the means or time to help them -- hey, I'm damaged myself -- but despite this, I feel terrible guilt instead of saying to myself "This is the internet, Robin...you don't even have to sign on. Why are you worrying about strangers?"
I use AOL. It got to the point where as soon as I signed on, I would be gang-banged instant messaged. I was only signing on to check my mail in between writing, but instead ended up wasting hours IMing because I felt guilty. Again.
As a result, I've completely stopped instant messaging and don't even sign on to AOL; I've disconnected all of my other instant messaging tools and was shocked to learn that because I have a gmail account anyone can chat with me there so now I don't even stay signed on to that during the day.
Which leaves the blog. I love my blog. I hope it goes on forever and the archives remain even after I've left this planet. Please feel free to visit all day long if you want - I love that you enjoy reading about Julie and Eric and Adrian and even me.
But it has to stop there.
I notice that Neil Gaiman doesn't have a comments section on his blog and now I know why. I enjoy my comments, though - 99% of the time they are lovely and fun and I also enjoy commenting at places like LitPark, so I really don't want to have to disconnect my comments section as well.
Please don't force me to take that step. Read, enjoy, comment in a positive manner about music and writing...tell me a joke...whatever...but remember, this is the internet, and this is a dangerous place...this is a dangerous place (a prize goes to the first person who comments who knows where I got that phrase from).
Remember when I mentioned
Harlan Ellison
above? Read this, and now you will understand why the internet has lost its appeal for me and why I am rethinking how open I am on line. It's one of the most chilling and fascinating articles on how we are misconstrued on the internet I've ever read, and the fact that someone as famous as Harlan got involved...holy cow.
The Life and Death of Jesse James
Later,
xo