September 11, 2007
ETA (or, edited to add har har): I put up a short clip of Adrian, Julie and Eric performing in front of 2,000 people in Mexico last night on my
Publishers Marketplace Page
- go check it out!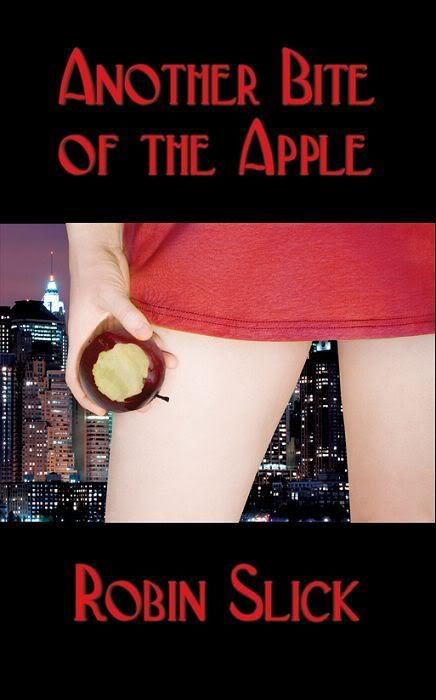 Trade Paperpack$9.00
Yay! The trade paperback of Another Bite of the Apple is available for pre-order at a special promotional rate - for further details click
here!
I'm very excited about this. And just think -- you can order and read it well before it appears on the big screen! (Or cable television ha ha -- whatever -- it's all good.)
For those of you who don't know, Another Bite of the Apple is the sequel to
Three Days in New York City
, and if you click the above "for further details click here" link, there's an excerpt.
And oh my god, should I be whooping it up that
Media Predict
has an announcement on the front page of their website regarding the selection of the five finalists in Simon Schuster Project Publish next week...and that my book is featured on said front page along with four others? Coincidence or are they just cruelly playing with my emotions? Ha!
"

We're one week away from the first cut in Project Publish. Right now, 50 contestants are competing to win a book deal with Touchstone Books of Simon & Schuster. By next Tuesday, there will be five...

"

Arghh...I will be on vacation next Tuesday and without the internet unless I ride my bike ninety seven miles (slight exaggeration) to the only library on the island. Oh well. I can use the exercise...you know there's no way I'm missing

that

announcement.

*****

So the

Adrian Belew Power Trio

tour continues in Mexico - and this photo of said trio is off of Ade's newly revamped website. It's courtesy of Vance Cox, and I'll be posting more of Vance's fabulous photos in the future for sure - they are awesome.
Here's the poster for the Mexican shows - pretty cool, huh.
And the most wonderful
interview
appears in the September edition of
The Village Idiot
:
Adrian Belew: The Genius of Rock

By Kristine Sexton

"

What drives you to keep pushing the sonic envelope?



My love of sounds. A new sound nearly always turns into a new piece of music which is what fuels everything I do. I'm not a natural at technology and much of it escapes me but I usually can find a way to make something interesting occur. After I have that "interesting sound" as a starting point I can begin to use the accumulated knowledge of my craft: writing and recording.



I had no idea that you co-wrote Genius of Love with the Tom Tom Club. How did that song come about?



Chris Franz and Tina Weymouth had a place in the Bahamas right next door to compass point studio (where I did my first record called Lone Rhino).

There are 2 speeds in the Bahamas: slow and stop. So we slowly built some songs in their apartment and then slowly went down to the studio, and slowly recorded them.

It was great fun and what a surprise for it to be such a hit!



What is your current guitar setup?



Two Johnson Millenium 150 amps, two line 6 Vetta II amps, one Korg ms-2000 keyboard, one Roland gr-30 guitar synth, a Keeley compressor, a Digitech whammy pedal, a Digitech Hendrix pedal, a Boomerang looper, one Eventide 8000, and a small monitor system to hear the loops and the keyboard. Phew...I'm tired just writing about it!

I play two Adrian Belew signature model parker fly guitars. One at a time.

How did the power trio come about?

Paul Green invited me to his School of Rock in Philadelphia and introduced me to his two favorite alumni Eric and Julie Slick. He said they were the best players his school ever had and I believe it. We played one song together and that was all it took.

You have played with so many amazing people, who are you favorites to work with?

Eric and Julie Slick, and Robert Fripp.



What major differences have you seen in the music from when you first started until now?



Nearly all of it has changed but I've worked through the "jadedness"that comes with having seen it all turn inside out and returned to the joyous enthusiasm I had when I started as a teenager. The business does not dictate the creativity, quite the opposite. Right now record labels are crumbling, the internet is flourishing but there's no money in it, radio plays little or no part in my music's life, so what do you do? The one thing that has remained constant is live performance. You still have to pay to see me play. They can't steal that!

What is the strangest gig you've ever played?

They all feel strange to me. I'm not an entertainer, I'm a recording artist. So it takes a certain mindset to do what I do in front of an audience. The hardest part is letting yourself go so that something magical can happen. But I experience that "transcendence" more than ever now with the power trio.

What are you listening to nowadays?

The sound of my fingers clacking on the iMac.



Do you have any pre-show rituals?



The Power Trio has a put-one-hand-each in an imaginary volcano, make a bunch of bizarre noises, and work up enough steam to blow the top off-kind of thing. (It) seems to work."

****

Oh, I'll say it works! And ahem. Out of all of the musicians with whom Adrian has performed/produced, other than

Robert Fripp

, Julie and Eric are his favorites? I had the chills reading that. I still have them, in fact. It's hard for me to even type this right now - my eyes are filled with tears.

So I haven't had a chance to really talk with Julie and Eric since they arrived in Mexico, but I did instant message with them for a bit and learned the following:

Adrian is a celebrity there and is asked for autographs wherever he goes, even on the plane -- they are flying from city to city in Mexico for each of the three shows and are on a very tight schedule.

Julie and Eric had one of the best meals of their lives at a restaurant called Il Latino...for appetizers Julie had shrimp and salmon ceviche followed by crab with chipotle aioli over tortillas smeared with guacamole; Eric had pan seared lightly breaded brie with a long piece of toast with a tomato coulis; Julie's entree was dorado with a mild paprika sauce and a salad with fresh mango, papaya and cucumber; Eric's entree was huge, grilled portabella mushrooms with asparagus. For dessert, they had a vanilla ice cream ball with hot fudge almond coconut crunchies.

Ha ha - they have their priorities straight -- I get the food news first.

I spoke to them online before their first show and that's the last I've heard from them so I have no idea how the concerts went...I guess no internet connection where they are in Mexico City but I am hoping to hear from today in Monterrey. If not, they are due back home tomorrow evening and I'm sure I'll have much to report after that, along with some fun backstage and touristy photos - Julie told me they took some amazing shots so far.

So that's it for now I think, but since this is me we are dealing with, you never know.

Later,

xo