Eric Slick performing with the Adrian Belew Power Trio in Toyama, Japan, on July 15, 2007 and oh man does he love that Yamaha drum kit and Paiste cymbals.
So how would you like to come down to an email like this at 5:00 a.m. in the morning?
"hey mom,
at around 10:13 this morning in toyama we experienced an earthquake. it was a 6.6 magnitude! very scary!! the good news is that we are okay and we flew out of toyama just fine. hopefully nothing else happens...jeez.

love,
eric"
Do you know the painting "The Scream"? That was my face when I read that email. Luckily, I got this information before turning on the news because actually, it was a 6.8 quake, Eric, over 500 people were injured, five people are dead, and the "death toll is mounting". I would have been out of my mind with worry had you not emailed me and I thank you so much you have no idea.
I really do wish Eric hadn't written "hopefully nothing else happens" because what he is referring to is the lovely typhoon in which they were involved the first night they arrived in Tokyo. That time, I read about it on Yahoo News before hearing from Eric and choked on fear for hours until finally being able to bring myself to discuss it with Gary, who immediately calmed me down by saying "Oh god, Robin, they have like 25 typhoons a year in Japan. They're like hurricanes only not as bad."
Yeah, well, I didn't want to refer him to the article I found right
here
:
"
Typhoon Roars Up Japan's Coast Toward Tokyo
Forecasters Say It Will Move Close To Tokyo Sunday

POSTED: 8:31 am EDT July 14, 2007
TOKYO -- A powerful typhoon is racing up the Japanese coast, heading toward Tokyo.

Typhoon Man-Yi is packing heavy rains and 100-mph winds as it moves up Japan's eastern coast. Parts of Japan could get up to 40 inches of rain..."
But anyway, what ended up happening is after taking a fourteen hour flight to Tokyo, because they were scheduled to perform in Toyama the following day and the typhoon was on its way to Tokyo at the very same time, instead of spending the night at a Tokyo Hotel they got on another plane for Toyama, where they were told that their plane might very well have to turn around due to the bad weather and to be prepared for that and lots of turbulence. So they were all awake and traveling for a period in excess of twenty-four hours. Oh god I am so glad I did not find out about all of this until afterwards...I would have needed heavy sedation.
So they made it to Toyama okay, missed the typhoon, and instead experienced an earthquake.
My husband just joked with me, "Hey, look at it this way, Rob, the Adrian Belew Power Trio is so
powerful
they shook up an entire country."
"I'm putting that line in my blog today and taking credit," I replied with a weak laugh.
"No! You wouldn't!" Ha ha - Gary is so cute when he's indignant.
Nah, I wouldn't. He did make me laugh, though, which is a very good thing under the circumstances.
And as you can see as per Eric's email, they are fine, and arrived safely in Tokyo where they are this minute, since it's around 10:00 p.m. there right now, seeing Adrian's pals,
The Parrots
. Ade says they don't speak a word of English yet are the absolute best Beatle cover band he's ever seen, so Julie and Eric are pretty psyched about that.
The shows at the Tokyo Blue Note start Tuesday, so they had today off to enjoy such things as earthquakes and The Parrots. Hopefully they really are seeing the Parrots now. Did I mention I can't stay away from the Japanese news and now I'm reading/hearing about aftershocks in Tokyo, a resultant nuclear reactor fire, and tsunami warnings?
Arghh...
So here's Julie in the airport, upon learning of the typhoon, the impending turbulent flight, and noticing that the mural behind her is one of twin towers and an airplane. Though when they incredulously inspected it further, they noted it was painted in 1996.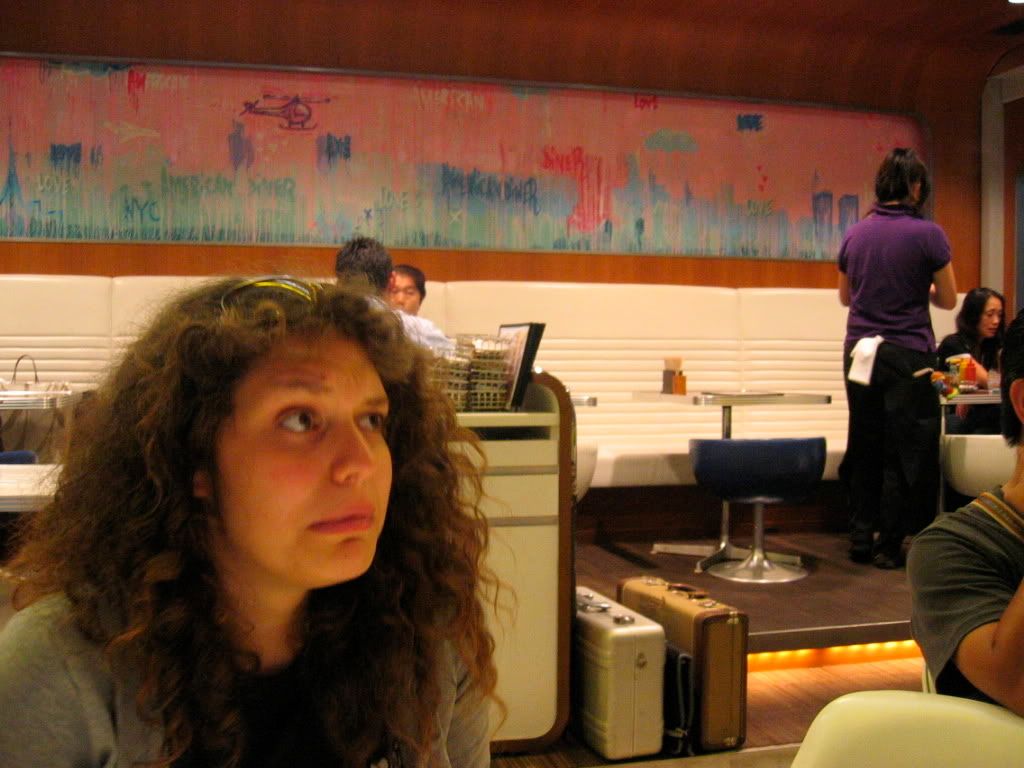 Here's sound engineer and all around assistant to Adrian, Biff Blumfumgagne hanging out in Toyama with Adrian and Eric:
Then they all went out and had a traditional Japanese meal.
"Oh my god, who ate that?" I asked Eric via instant message when he sent me the photo.
"Don't know," he said, but I think he didn't want to admit that it was this person, who is obviously fascinated with all Japanese food products:
Yep, that looks like something Ms. Julie would eat.
Or maybe it belonged to one of their stage crew:
On second thought, the culprit appears to be Eric!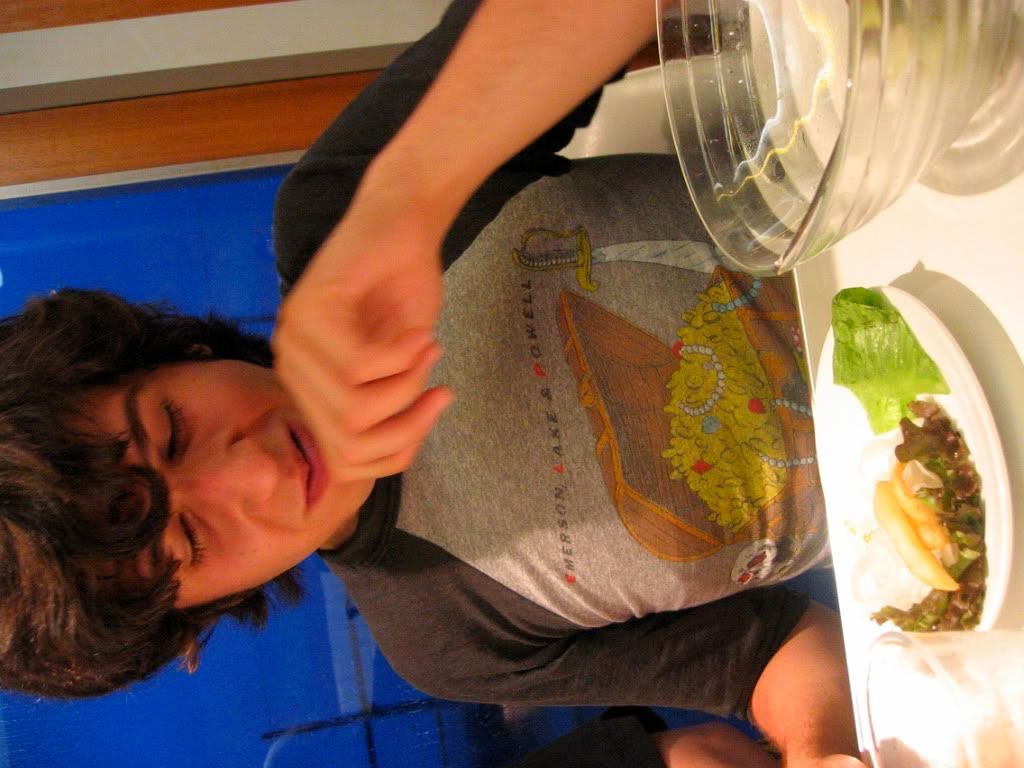 I'm just messing with you. They entire Belew entourage looks like they are having a blast.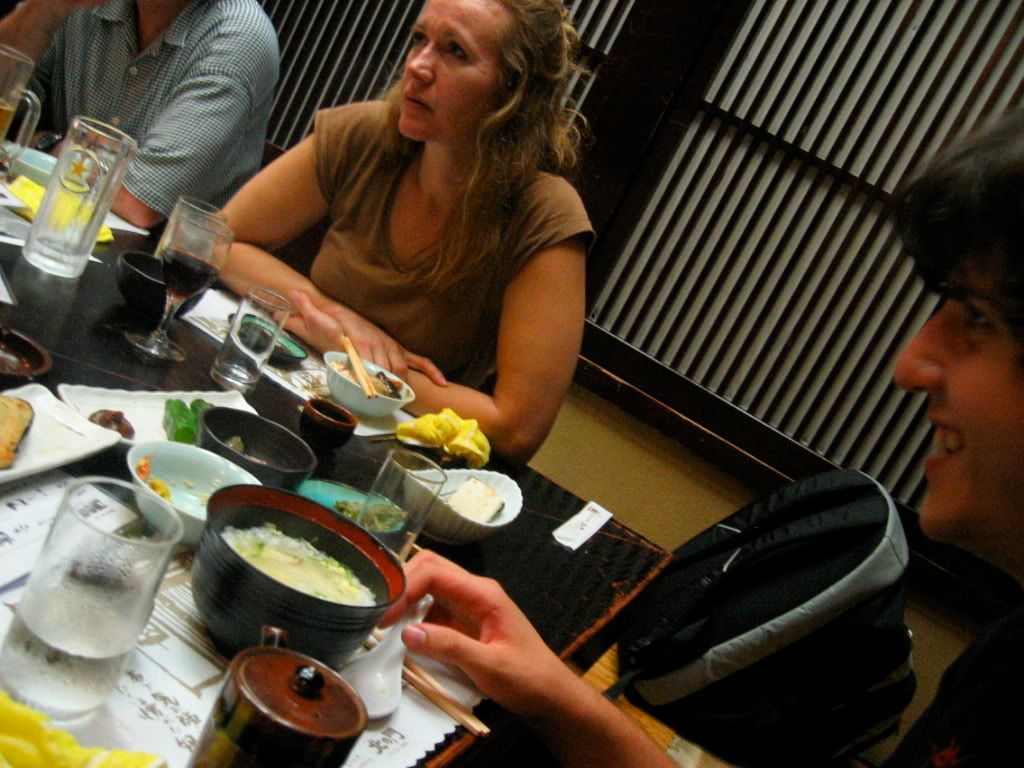 Eric told me the show in Toyama was very well received in spite of the usual and customary tour disasters: Julie's bass amp blew a speaker and Adrian had no presets because the amp wasn't working so he had to create new ones. One of the comments an appreciative audience member made to Eric after the show was "You play like a psycho!"
I know one thing. Eric is madly in love with the Yamaha drum kit provided by the promoters in Japan. He already owns the
Anton Fig Signature Yamaha snare
and it's added an incredible dimension to his playing. Adrian loves it as well, and as you all know, Adrian started out as a drummer and he agrees, Eric rules on that kit. Now. The plan is to get
Yamaha
to sponsor him! Ha ha, just kidding, though it's something Eric dreams about. The promoter was also kind enough to supply Eric with
Paiste cymbals
, and if you click on the link, you'll see Paiste was already wise to enough to sponsor Eric...in fact, reps from the company came to the Power Trio show in New York City last month and were completely blown away.
Also, the trio listened to the "Master" of Side Four Live -- it's a go...they unanimously love it...and, well, that's all I am allowed to say at this point other than there may be some additional interesting developments.
However, I do have good news for all of you
Adrian Belew Power Trio
fans living in North Carolina and Mexico. New shows have been added to their tour as follows:
August 19, 2007 Asheville, North Carolina at
Stella Blue
August 21, 2007 Carrboro, North Carolina at
Cat's Cradle
September 8, 2007 at
Teatro Diana
, Guadalajara, MEXICO
September 9, 2007 at Teatro Metropolitan, Mexico City, MEXICO
Funny. I tried to find a link for Teatro Metropolitan and all I could find were two things - a
history of the theater
, which is very cool (and that it seats over 3,000 people), and two, that
King Crimson
has played there on a couple of occasions which made me smile.
Finally, Eric was really touched by this
link
I sent him from the
Ween
website, because it contains this photo of him, taken by Gene Ween, which contains the following caption:
"
Hangin' out after our set at Bonnaroo 2007. That's the lovely Monica Hampton and "the kid", Eric Slick--drummer for Adrian Belew.
" (It's also a photo of Mickey "Dean Ween" and bassist Dave Dreiwitz)
Alrighty, on that note, I am going to turn off the news and the internet and try not to drive myself nuts over typhoons, earthquakes, and tsunamis. Check that. I'm staying on line in case Eric signs back on.
Err...not because I'm worried or anything...
I, um, want to hear how the Parrots concert was...that's all.
Later,
xo