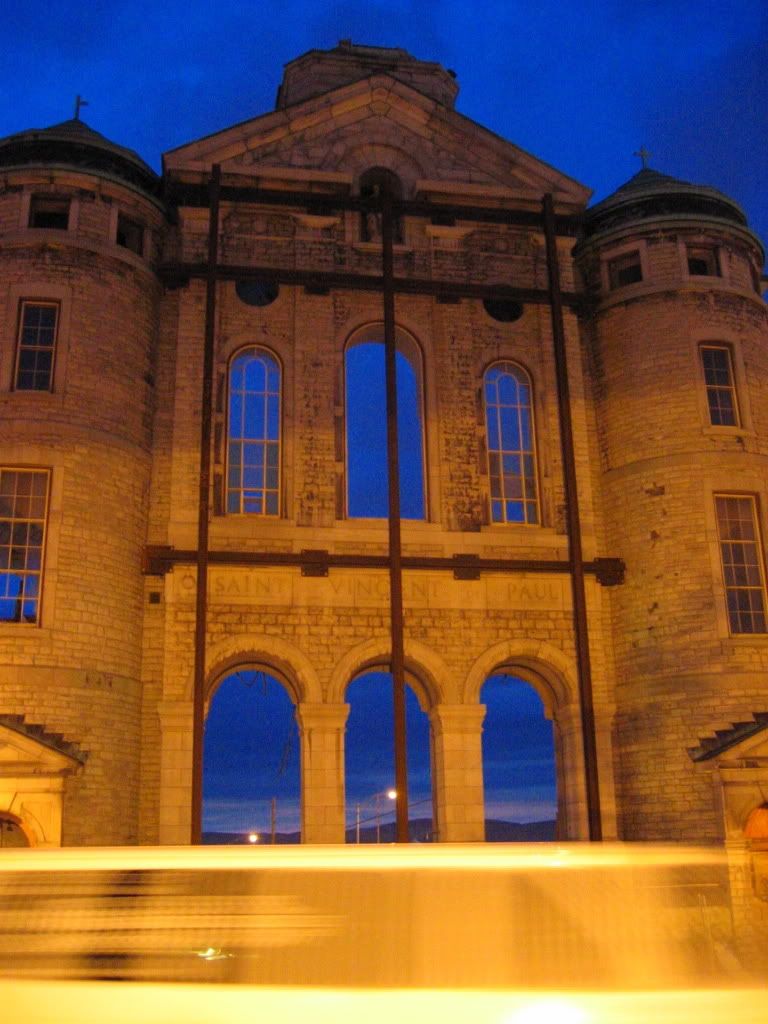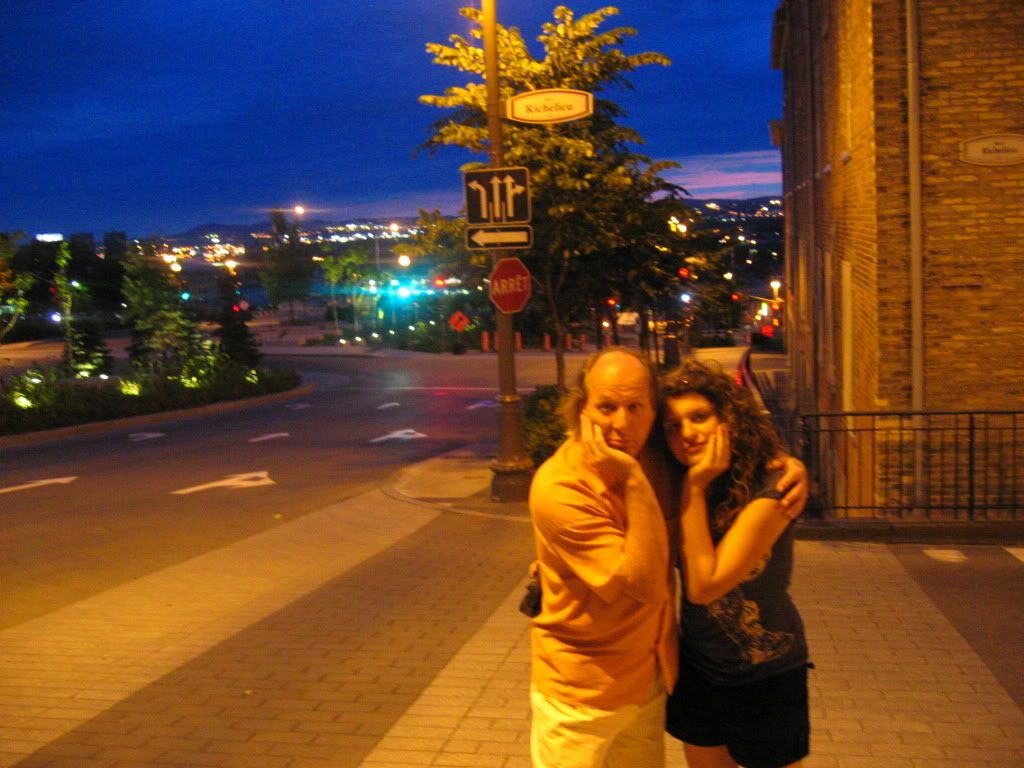 The Adrian Belew Power Trio in Quebec - July 10, 2007
God. I felt like I was looking at Beatle cards when I saw those pics. Oh. In case you don't know what Beatle cards are (sob), you could buy them like baseball cards back in the sixties...and my husband still has his complete collection of several hundred.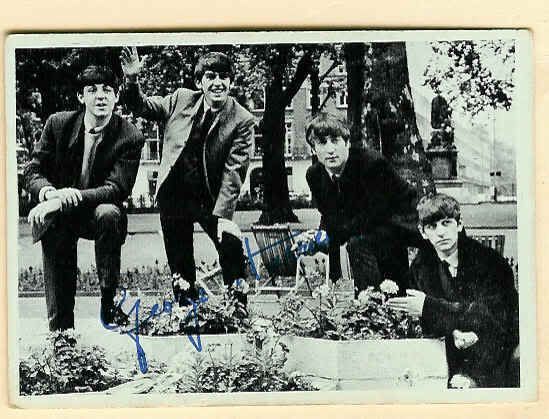 Anyway, regarding the above Belew Power Trio photos, Julie and Eric came home with 71 of them, each one better than the next so I'll probably be posting a lot more as the week goes on. Pretty obvious this is a tight band, huh. But I can just imagine the whole scenario. Poor Adrian. Julie is always insistent on being the social director - she has to be doing something every minute of the day; she has to pick the activity, the restaurant, etc. etc., and Eric, her henchman for the past twenty years, is resigned and used to it but having her now boss around a famous rock star is pretty damn funny.
Actually, Adrian looks like he's having a blast.
This is because he doesn't have to do it on a daily basis.
Oh, I'm just kidding.
Though now that I think about it, Ade's already been through this before. Remember the infamous
Peach Cobbler story
? Oh god. I just re-read it and laughed my ass off because really, there is only one Julie.
Hey, but aren't those photos great? They make my heart burst with love. What happened was the trio arrived in Canada a day early and it was just the three of them hanging out so Julie had Ade and Eric go exploring with her, and they stumbled on this incredible piece of architecture - the above facade, which is way cool but on the other side of it, there's like a 20,000 foot drop. So it's completely bizarre and totally dangerous. Hence the look of Eric and Ade's faces, and then of course Julie had to ham it up as well.
Then they went out and had the world's best french fries and two bottles of wine. I keep looking at that sunset and am so jealous I can't stand it.
Sigh...
The only thing I am nervous about is how much Julie and Eric love Quebec. Eric seriously wants to live there. They both said it was the most gorgeous, incredible city they'd ever been in and the two of them have now been all around the world. (I'm not really nervous. Gary and I will just sell our house and move there, too though we were thinking we'd all end up in Nashville, which is really not out of the question but then again, we're at a point in our lives where we'd go anywhere) So yeah, Julie and Eric were mad for Quebec - they loved the food, the people, and they said as a band, they felt they gave one of their best performances ever that night despite a driving rain storm. Not one person left early because of the bad weather, and they not only got thunderous applause, the audience made them come out for two encores. And I got a text message the night of the Quebec show from School of Rock uberlord Paul Green at 10:35 p.m. "The band is killing them tonight!"
There were a lot of articles and reviews of the show; the bad news is they are all in French. I was surprised when I hit Google and found nothing, but then I thought, Aha! I should do Google France. Of course naturally when I found a review here in
leSoleil
, alas it was also in French and I couldn't read it so I used lame Alta Vista Babblefish, which I swear, screws up the translation and spells words all wrong on purpose just to frustrate you into paying for a legitimate translation on line. But I'm going to post their translation anyway, (1) Because it's funny and (2) because it says Eric drums like he has three arms.
"
For the rain which fell without reserve, it was necessary to be entêté, unconscious, masochist or finished fan of Adrian Belew to point itself with the park of the Francophonie, yesterday. There was a little all that, to consider of them the brave men come to listen to the American artist. This one rewarded them with an explosive spectacle, confirming that it was necessary to move.

There is only one Adrian Belew. That a musician knowing to draw similar sounds from its six cords. That a type-setter who structure his songs of way also baroque. That a showman making technical prowesses without they not being pretentious. That a guitarist making such a removed from rim use of its bar of vibrato.

One feared that trio formulates some, it is not sometimes a little empty. Devil not! Belew was given the responsability never not to leave a hole, accumulating the solos époustouflants, playing of sound loops or proposing singular riffs. It was feared that its two young recruits of the Paul Green School of Rock, Julie (low) and Eric Slick (battery), have a little evil to give him the counterpart. Re-devil not! The manager of 20 year old rods seems to have a third arm so much it is everywhere on his drums, while its 21 years sœurette makes pirouettes on its four cords…

Belew will have been deprived of nothing. Neither to begin again of King Crimson at one time delivered to six musicians, nor to re-examine of the old material like Lone Rhino. In the medium, its recent compositions, like muscular Writing one the Wall or unslung Beat Box Guitar shone. No solo will be unperceived past: crowd invariably gratifiait them of cries and applause. Then when the traditional ones of King Crimson of the Eighties such Tree of has Perfect Pair or Talk Elephant pointed itself, it was the euphoria!"
Love it.
So here's Julie and Eric back at their hotel (which, as Adrian told them, is the very same one he stayed at while a member of David Bowie's band), doing their usual Keith Moon routine. Eric told me this one is his spoof shot for a Playgirl centerfold: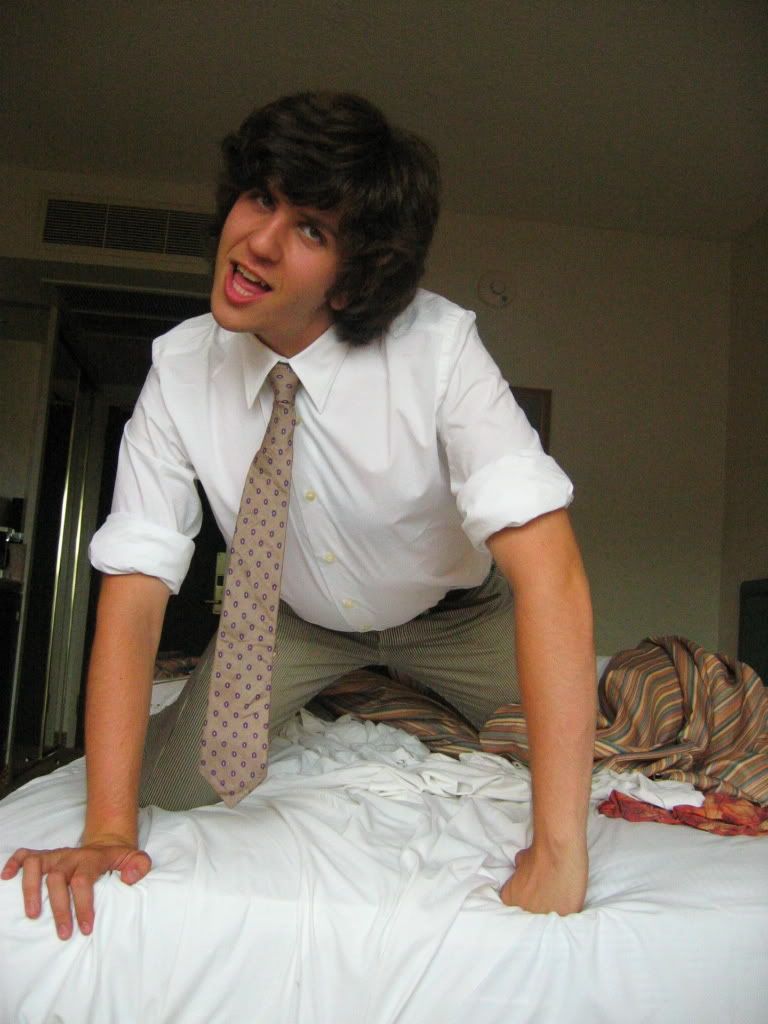 And Julie is goofing around, wearing Eric's sunglasses, and you can see Eric's relection in them as he takes the photo: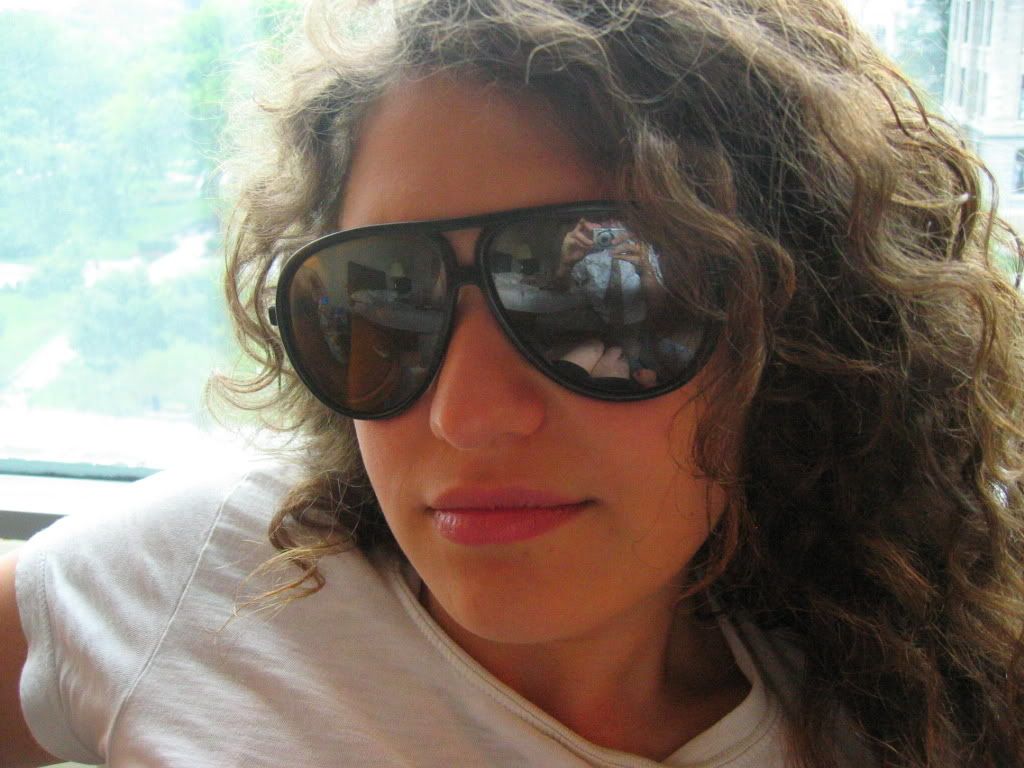 Right now the two of them are on a plane for Japan, where they're playing 13 shows in 7 days. It's insane.
Did I mention how jealous I am?
And I miss them already.
Later,
xo
P.S. Oh yeah, the Les Paul special. Well, we watched all ninety minutes of it, and we absolutely loved it, but there was not even one shot or mention of the Rock School tribute at the Roseland Ballroom. Since it is specifically advertised on their website (see link in post below), I can only conclude that the Roseland concert is the extra footage included when you buy the DVD. So. That is what I will do, and I'll report back if there is any Rock School footage at all, whether it be Julie and Eric or other students.