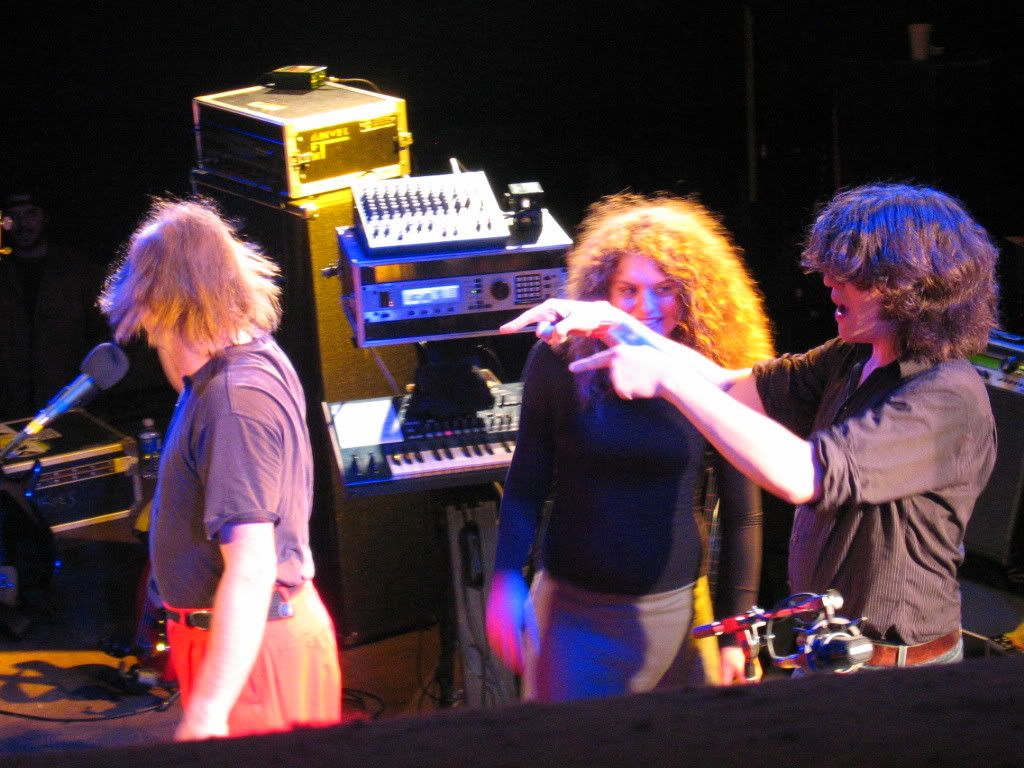 So there they are - Adrian Belew, Julie Slick, and Eric Slick, and they're about to embark on a brief mini tour today starting tonight at the
Mercy Lounge
in Nashville, Tennessee.
I know Eric arrived at Casa Belew after playing four days at Bonnaroo and Julie's been there since Sunday night, but have I heard from them? No! They probably know I'm going to pepper them with questions so they are avoiding me and rightfully so if they are planning any surprises because I am the master of making them talk! But if they were to call me, here's what I would immediately ask:
(1) How are the new songs Adrian added to the set list? Which ones made the cut?
(2) Did you hear Side Four Live? Is it almost ready to be released? Any idea when?
Arghh...I'm in groupie mom hell. Worse, I won't see the show until Saturday night. Gary is driving down to Virginia Thursday afternoon so he will catch the shows at
Jammin' Java
just outside of Washington, D.C. on June 21 and
Rams Head on Stage
in Anapolis, Maryland on June 22...I will finally catch up with them on June 23 at the
Sellersville Theater
on Saturday night and of course there's the whole
School of Rock Fest
over the weekend of June 23-24 - more on that tomorrow/Thursday because we're still working out logistics and wondering how we can successfully clone ourselves...but yep, we'll be at that, too, and for the tour finale at
BB Kings in NYC
on Monday, June 25. While we decompress from all of that travel and excellent music, Julie and Eric will have a few days to unwind before going on a major jaunt with Adrian in July - Quebec July 11 and then straight to Tokyo, Japan for the rest of the month. More on that later, too...
But ooh, ooh, I just found an article in the
Nashville Scene
, which has tonight's show as a "critic's pick" and here's what they say: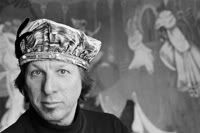 "

ADRIAN BELEW POWER TRIO If you've already been a guitarist with four legendary rock acts (Frank Zappa, Talking Heads, King Crimson, David Bowie), not to mention enjoyed a prolific 25-year solo career, how do you stay excited about music?

Adrian Belew's answer: strip down to a trio and put some fresh gas in the engine—20-year-old Julie Slick on bass and her 19-year-old brother Eric on drums. Belew, undeniably one of the most singular guitarists in the annals of rock, met the sibling rhythm section when he was a guest professor at Philadelphia's School of Rock. "They're as good as some of the really great players I've worked with," Belew says, "like Bill Bruford, Danny Carey, Les Claypool and Tony Levin. They're unbelievable."

In addition to a generous helping of Adrian's solo material, this show—a warm-up for upcoming East Coast and Japan tours—will feature some half-dozen Crimson tunes, the mere mention of which will surely bring the schizoids out of the woodwork. (A recent live recording of the current trio doing Crimson's "Dinosaur," during which Belew unleashes some outrageous prehistoric howls from his guitar, backs up his hefty claims about his new band.) Mercy Lounge —JACK SILVERMAN"

Okay, I admit it. I'm hyperventilating over that article. And hey, I love Adrian's hat! I wonder if he'll be wearing it on the tour...

I should also tell you that when the Belew tour goes back to simmer in the fall while Julie completes her remaining credits at Drexel University to graduate...though as I said, I believe they will go out on the road from September 7-16 for one more jaunt before that occurs...Eric will rejoin

Project Object

...which band now again features both Zappa/Zappa Plays Zappa great

Napoleon Murphy Brock

and

Ike Willis

for a massive tour in October and November, 2007 and one date has already been announced: November 11, 2007 at

Regatta Jazz Club

just outside of Boston, MA.

Actually, even before the fall tour...one day after his return from Japan, Eric hops a plane for Germany, where he will join up with Project Object for

Zappanale

and other Frank Zappa related festivities (a street naming in Berlin on July 28 I believe).

So I pretty much am not going to see Eric for most of the summer and since Julie will be spending most of August working on her senior thesis/project at her recording studio in Downingtown, PA, well, what can I say, empty nest syndrome has finally hit the Slick family hard.

Of course our fabulous Monty the dog is enjoying it...he's currently being treated like the emperor of the universe. Here he is enjoying a dixie cup of special doggie peanut butter ice cream which cost as much as a gallon the human stuff:
In writing news, the other day I posted a link to
Blog Critics' review of Three Days in New York City
and oh wow, as you can see, this little note appeared in the comments section "
This article has been selected for syndication to Advance.net , which is affiliated with newspapers around the United States, and to Boston.com. Nice work!
" (By the way, if you've read Three Days, I would love it if you would add your comments to the Blog Critic review as well)
What this means is that the review appeared in newspapers and magazines all over the country - I googled it and found it in Cleveland, Boston, New York...and my Amazon numbers, at least for the last couple of days, skyrocketed.
Sigh...they're kind of inching up again, but everyone knows Amazon numbers are crazy and it's the sales figures from brick and mortar stores and in my case, my publisher, which are the ones most telling. I just can't wait until September, when yes, yes, yes, Another Bite of the Apple will be out in print and I've seen the galleys which was way exciting so we're ready to rock with that and I'm furiously working on both a new novel, editing Daddy Left Me Alone with God (yes, yet again...it's now been four different books I think har har) and reading entries for the anthology I'm editing,
39 and Holding...Him
. If you have submitted a story for this anthology, please note that the submissions are open until August 1 which is why I haven't sent out any acceptance letters yet though I can tell you now I have a few definites selected...I've really gotten some great pieces from some pretty notable authors as well as first time writers who are wonderful! It will be nice to have a mix of both and that's what I plan to do.
Okay, that's enough for now but you'd better believe if I hear from Julie and/or Eric with any news, I will be back!
Later,
xo