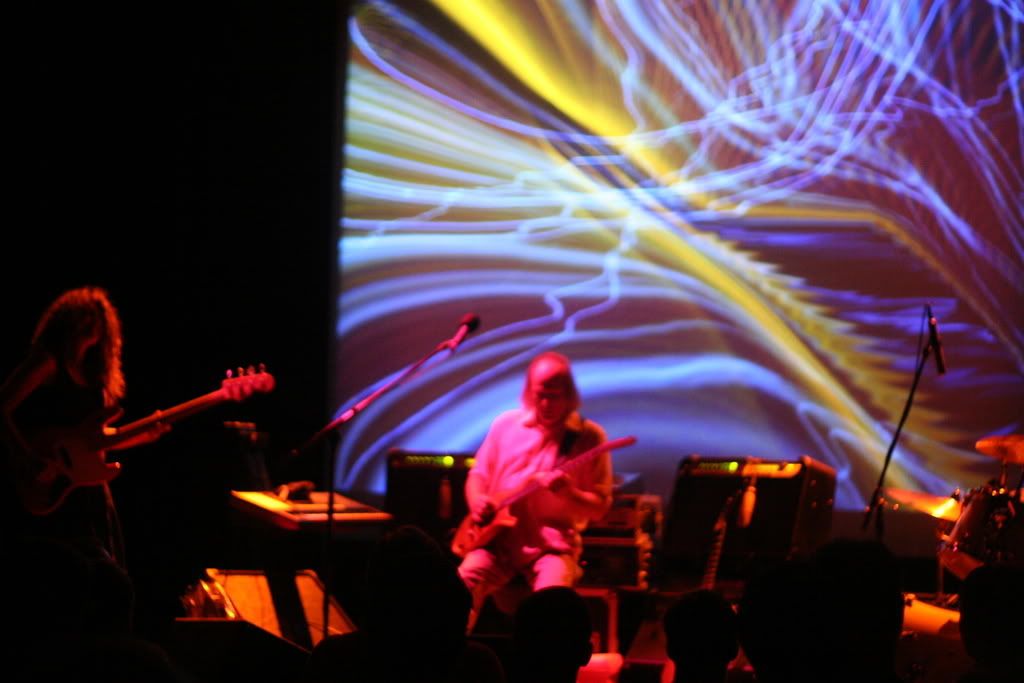 Julie Slick and Adrian Belew at the Sellersville Theater, June 22, 2007 - photograph courtesy by Gary Slick
Okay, I have about a million photos from the shows in Virginia, Maryland, Sellersville, and the School of Rock fest over the weekend but I honestly think the above photo of Julie and Adrian is one of the coolest pics my husband has ever taken so I think it deserves its own post and I'll put up a whole bunch more this week, including some great Eric Slick shots.
And thank you to Sid Smith at
DGM Live
and the
Washington Post
for linking my blog!
Yes. I know. The Washington Post has linked my blog. I think I may be having a coronary...in an absolutely fantastic way, of course.
So I was just talking with Gary on the phone and said "How the hell are you at work today?" because he literally logged close to 600 miles on the car since Thursday and the two of us have now been in six states in under a week...we're in total Adrian Belew Power Trio groupie mode. The final show will have us at BB Kings in New York City tonight...and as far as I know, it will be close to a sell-out so if you haven't bought your tickets yet, you can still grab them right
here
.
But yeah, we're both operating on like one hour of sleep over the past couple of days and it's taking all of my remaining energy to do this blogpost but I have so much to report and we had such an incredible blast this weekend that this is probably going to end up being a mini series. And I know I owe a bunch of people emails which I hope to get to shortly...
Anyway without further ado, here's part one of the saga.
Oh wait...I see Adrian has updated his website and I must admit, I LOVE IT. Go see for yourself right
here
and click on "NEWS".
Okay, back to the story.
At 6:00 a.m. Saturday morning, after being up all night with Adrian and his crew following the show at the Rams Head, Gary and Eric left Anapolis, Maryland to pick me up in Philadelphia for Eric's performance with
Mike Keneally
at the School of Rock Fest. Eric and Gary got here around 9:00 a.m., I hopped in the car, and off to Asbury Park we went for the first ever
School of Rock
Festival.
Can I tell you what an amazing event it was? I mean, Paul and his crew put together the most insane two days...it's hard to believe he pulled this off and I'm sure there will be reporters from all over the area who cover that aspect so I will defer to them and provide you with links as I find them. But all I can say is...oh my god...from 20 students in his apartment in 1998 to the thousands from all over the country who attended this fest...it's unbelievable.
Eric's gig with Keneally was at 1:00 p.m. They freaking blew the crowd away...you just don't see/hear musicianship on that level every day. Those guys are musicians' musicians...just on a completely different level than most. So you had Keneally on guitar, vocals and keyboards (yep, simultaneous to playing guitar sometimes), Eric Svalgard of Project Object on keyboards, Eric Slick on drums, Doug Lunn on bass, and Rich Stone on clarinet and sax. Amazing, amazing, amazing.
Unfortunately, we had to book out of there immediately because Eric had to be at the Sellersville Theatre (90 miles away) for an early sound check for his show with Adrian that night. But just as we were leaving, a film crew grabbed the three of us and wanted interviews which was way cool but I kept looking at my watch and was naturally hyperventilating. No worries. It was quick and fun and we were on the road ten minutes later.
When we got to Sellersville around 4:30 p.m., we learned that the legs to Eric's floor tom (drum) were missing...most likely left at the Rams Head in Anapolis, and three music stores in the area were out of them, so Ade's crew went off to Lowe's and bought some metal and made their own.
Gary and I were way too nervous for that.
We drove 50 miles back to Philly to get Eric another floor tom and also, really, to walk the poor dog and feed him since he'd been alone all day.
Then right back in the car, 50 miles to Sellersville, just in time for the show.
Oh my god, the trio was amazing. Gary and I both had friends from work (or in my case, my former job) there and it was ultra cool to get their reactions - they were totally blown away. Here's one review I found about that show, but I beg to differ when it comes to the remark about Julie...err...Julie has her own style and she's very much John Entwistle when it comes to stage demeanor. Ade and Eric are the showmen; Julie is their straight "man". But all in all, a very nice
review
:
"
Well, this was one of the most surprising shows I have been to in a long time.

The opening act was a local gal named Caryn Lin who is making a pretty good name for herself using an electric violin and looping. She has been all over TV and schools with her program called Bach to Rock.

Adrian and his power trio came out to a faulty mic but started the show anyway with a song I was not familiar with. At the end of the song, they fixed his mic and they started the show again. I don't know the name of the tune but as the rest of the show it was kick ass.

The Power Trio consisted of Adrian along with brother and sister Julie and Eric Slick. They were highly recommended as the top graduates ever from the local Philly School of Rock. Julie is 21 while her brother is 20. I have never witnessed talent like this from youngsters besides the likes of Eric Steckle and just a few others.

For all but one track, Julie played a Fender Precision (or possibly the Jazz model but I could not read the head). She also played a beautiful Frettless Gibson on one track. The drum kit Eric played was not elaborate but the kid had chops. If you could mix a Weckl and Bruford together, Eric is what you'd get. Neither of them missed a beat or note while keeping up with the veteran Belew. I am also surprised kids of their age getting into the obscure (as 3LB put it) music of Belew and King Crimson. My only complaint about the bassist Julie, is that she did not have a good stage persona. I seriously don't think she has a clue just how good she really is and therefor was a bit quiet and shy on stage. Most of the time she played the most difficult Tony Levin bass lines, she looked bored or asleep although she ripped up every note.

Playlist went something like this and not in this order:

A few songs I didn't know.
Dinosaur
Some song about a Cat
Rinosaurous
Neurotica
Three of a Perfect Pair
A song about ruining the earth
A few more of which I was not familiar

Encore was:

Thela Hun Gingeet
Elephant Talk

Adrian must be the Master at making a Guitar sound like anything but a Guitar. The sounds he can make are truly incredible. His voice was still all but stellar as he did play several songs in an octave a bit lower than the originals. His voice only cracked once that I noticed on a high note.

Unfortunately for me, the last time I saw Adrian Belew was with KC in 1982 just after the release of Beat and Discipline. I immediately fell in love with both disks and was overjoyed that this show included tracks from that era along with TOAPP.

On a side note, this weekend was also the School of Rock Festival where all the kids performed along with some giants including Adrian. Eric Slick had just arrived at the show to perform after playing with FIVE other bands on Saturday, and again was to play today with several others including Adrian and his sister.

Cheers to the School of Rock for molding such talent that by far blows away most bands and their music of today. These kids can play circles around most of the top performing Popular Artist of today and the last couple decades. If anyone gets a chance to see this performance, I highly recommend it."
****
And then we have this
review
:
"
I have been on an East Coast Entertainment tear lately. With an imminent West Coast relocation quickly approaching I guess I am trying to get in those last hurrahs of the East.

In the past thirty days, I have been to plays at the Kennedy Center, and New York's Public theatre. I have seen concerts in Brooklyn, Manhattan, D.C. North Carolina and Philadelphia. I have seen platinum selling recording artists as well as some incredible Indie acts. I have seen acts whose styles range from Jazz, Prog. Rock, R&B, Pop, Punk, Country, Blue Grass and Blues. Oh yeah even some Opera. I have experienced these shows in seedy dive bars in the city, hip stylish clubs, outdoor theatres, stadiums, and concert halls. The place where "it' all happened. The show that officially blew my mind! The performance that continues to well up from the depths of my soul, happened in a coffee shop in Vienna, Virginia.

I am not especially good with words. I loath overly contrived writings about performances where the authors obvious main objective is to impress you with his/her ability to use a thesaurus. A good show always leaves me wanting to go home and write about it, but any "experienced" music fan realizes this is an almost impossible task. Words just aren't capable of communicating the kind of experience a good show can conjure. Aldous Huxley said it best. "After Silence, that which comes nearest to expressing the inexpressible is music."

That being said, I am finding it difficult to refrain from residual grunts of pleasure over the Adrian Belew show I experienced at Jammin Java, a coffee shop in a strip mall in my home town of Vienna Virginia. It was obviously an intimate affair. The coffee shop boasts an amazing sound system as the proprietors are true musicians themselves and have not compromised in sound quality.

Belew, for those of you who don't know is a guitar player extraordinaire. Early in his career he was sort of a hired gun. He played for Talking Heads, David Bowie, Laurie Anderson, perhaps his most recognized project, King Crimson and the list goes on. As of late he has been doing solo albums and producing.

Thursday, June 21 2007 Belew graced the #4 best city to live in the nation, of Vienna Virginia with his presence. I was exhausted from 10 hour work days and basically continual concert hopping in the evenings. True Confession, I was "pissed off" at someone as well, and seriously contemplated not going to the show at all. But I knew better. How could I not? Wow.. great decision as, probably by the third song I was literally transported. All that mattered was the music I was experiencing. Energy, happiness, and contentment were what consumed me at that moment in time.

Belew was accompanied by an exceptionally talented rhythm section of Eric and Julie Slick. A brother, sister duo. Eric was the drummer and his sister Julie played bass. They are 20 and 21 respectively. Eric was phenomenal and had nearly every Buford lick down pat, and his own obvious talent and style was displayed as well. Julie the bass player also wowed and amazed. Being a woman myself, I hate to admit that when I saw this obviously young, beautiful female bass player walk on stage I was skeptical of how well she could actually hang with Belew and play in Tony Levin's shadow. Well needles to say all doubt was erased after about the second song. She even pulled off Elephant talk on a straight bass. She played a beautiful Gibson bass. Adrian stuck exclusively to his Parker fly by the way. The shows music ranged from early solo stuff. Even good ole Lone Rhinoceros was brought off the shelf for our pleasure. He played many great Crimson tunes including Dinosaur which I had never heard live. He also gave us an incredible rendition of the Beatles, Within you Without you. His Big Electric Cat had this forty five year old, tired sample of Suburbia, out of my chair and dancing.

A high level of technical skills combined with well crafted songs and the clear and obvious penchant for performing displayed by this power trio enjoyed by a nice group of obvious long time, clever and witty fans was the perfect combination for a musical experience that will probably sustain for a very very long time.

Thanks Adrian and The Slick Sibs..

If you get a chance to see this act Trust me on this and do it!!!!"
****
I disagree. I think that reviewer is most excellent with words and I thank her very much for her kind write-up of the show.
****
Okay, so we're at the Sellersville show when Eric breaks the news to us that his first show in Asbury Park at the SOR Fest is not at 2:00 p.m. the next day with Adrian Belew but at 12:00 p.m. with
Crescent Moon
.
"Oh my god, Eric. What does this mean?" I said, already knowing the answer.
"It means I temporarily leave the Belew tour for the night, come home with you guys, and you have to wake up at dawn to take me back to Asbury Park so I can get there in time to rehearse and do my show with Dave."
"And then do a show with Adrian right after?"
"Pretty much."
"And then what?"
"I'm playing with Prfsr Drz (I cannot spell that) at 5:15 and
Chris Harford
at 6:00 p.m. and guess what, I'm doing double duty on the drums with
Joey Russo
."
"So we're pretty much spending all day/night tomorrow in Asbury Park, huh."
"Yep."
I looked at Gary, who of course was smiling from ear to ear, because he lives for this stuff. Well, so do I, but because I am the official family neurotic, all I could think of was "Oh god, the dog is alone all day again and traffic coming home from the Jersey shore on a Sunday night in the summer is going to be a freaking nightmare".
I decided it was out of my control and I wasn't going to worry because over the next three days, I was going to hear the world's most incredible music, hang out with fantastic, cool musicians, and really, what could be better than that.
More on day two...lots more, actually, tomorrow. I'm still on way too much of a high to be coherent, and I have to say, yesterday was one of the most special days of my life and I want to do it proper justice.
And besides, I have to get ready now to head for New York City. I hope to say Hi to a lot of you at BB Kings tonight!
Later,
xo