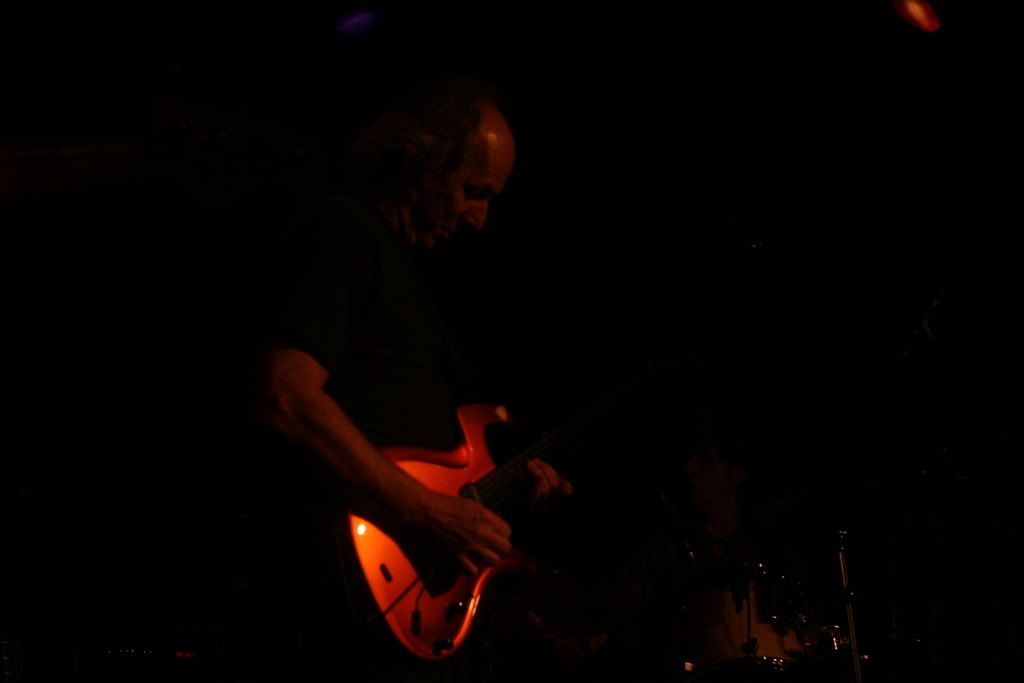 Another amazing photograph of Adrian Belew and Eric Slick courtesy of Gary Slick - Vienna, Virginia July 21, 2007
Okay, first let me say this. Monday night after the BB King show Adrian gave Gary what I guess is a rough mix though it sounds like it's freaking perfect to me...of Side Four Live.
You have no idea.
It's the best CD, live or otherwise, I've heard in the past twenty years. Even though I've seen the trio countless times now, nothing prepared me for the sheer brilliance of their music. I had chills, I was in tears, I could barely keep from jumping up and down. Other than that, I'm totally speechless.
And guess what? It very well may be ready to be released in just a few more weeks...
From
1600 TV
, who will have a video/interview of the trio up on their website shortly (cool site, huh)...but here's what they have to say for now, in part:
"
To start things off on the right foot, the one and only Twang Bar King, Adrian Belew and his Power Trio treated us to an earful of sonic fury, on Thursday June 21 at the cozy Vienna club, Jammin' Java. Wild noise was coupled with beautiful, delicate sounds that spanned his entire career, and the band previewed their upcoming release, "Side Four, " co-produced by Saul Zonana, who opened for the Power Trio with an impressive display of original songs that showcased a unique voice and some skillful guitar work in his own right.

We were lucky enough to catch up to all of the touring musicians in Mr. Belew's company that night, and after a great interview (see it soon on Fairfax County Public Access Channel 10 and right here on www.1600.tv) supplemented by more stories and the general good spirits that followed, the Power Trio turned up the juice and performed a blazing show. It was a special night, indeed.

From Beat Box Guitar to Matchless Man and Drive, from early solo favorites like Big Electric Cat to new arrangements of signature King Crimson tunes like Thela Hun Ginjeet, Elephant Talk, Neurotica, Dinosaur, and Three of a Perfect Pair, this well-rehearsed band had the chops to faithfully interpret the songs, while reinventing them with their own style and savvy. School of Rock alumnae Julie Slick on bass, and her brother Eric Slick on drums filled out the sound with poise and muscle. Eric never missed a beat, grinning and laughing as he traded licks with Adrian, while Julie stood serenely, calmly thumping her bass with a confidence, authority and ease that Tony Levin would have admired.

All of this sheer enthusiasm created an unusual atmosphere of playfulness, not often seen among musicians of this calibre. The buoyant mood clearly made it an enjoyable night for players and audience alike, allowing Adrian the freedom to take off in different directions not always pursued in other bands, and he made the most of it- jamming, improvising, and putting on a virtuoso show. As always, he coaxed a jungleful of animal sounds out of his Parker guitar- seagulls, elephants, cats, rhinos, and yes, even a dinosaur. One of many highlights of the show was a solo Lone Rhinoceros, the words lending empathy for a proud, endangered relic of a simpler time. This was followed (or was it preceded?) by a seemingly- spontaneous instrumental rendition of Within You Without You from Sgt. Pepper, imbued with his own touch and still unmistakable from the first note.

But it wasn't just the effects, the solos, the volume, or the complexity of what they were playing- the Adrian Belew Power Trio are a force to be reckoned with because they actually listened to each other, played off each other and they had a steady groove going all night long! The space they generously gave to create, to urge each other on, to jam, take risks, and explore the songs and make them their own- that was truly unique, and powerful. It's something I'll never forget because it is both rare and genuine. We really saw a spectacular, yet very intimate show. Thanks again, guys- you SHRED! The Adrian Belew Power Trio are in New York and next week, on their way to Japan as the tour continues, but stay tuned to this space for when they return to the area. You'll hear it here FIRST! In the meantime, check out the pics, news and a great bio video called "Life in a Nutshell" at adrianbelew.net (also on the infamous 1600 links page, with other planned domestic dates coming up and Side Four release info SOON!)"
*****
From a cool little blog called
Blah
:
"
Welcome to Blah3
Tuesday, June 26 2007 @ 04:37 EDT

Music Review: School Of Rock Festival, Asbury Park, NJ
Monday, June 25 2007 @ 10:12 EDT

We got up Sunday morning and ran out of the house, jumped back into the car and off we went back to Asbury. Traffic was worse than either going or coming back home on Saturday, but we still arrived in time to see Adrian Belew on the Main Stage.

Besides serving up a vertiable buffet of tone from his copper-colored Parker Fly, Adrian was mindful enough of style to wear sunglasses that matched his guitar.

And I've got to mention the other two players in the Belew Power Trio - the brother-and-sister duo of Eric and Julie Slick. Both grads of the Philly School Of Rock, they gave Belew all the foundation he needed to go off - in fact, they seemed to push him to go even further out on the musical limb of the moment. These kids (neither one is barely out of their teens) are two players to watch - they will be around a while, and they are exceptional."
*****
From
Planet Crimson
:
"
Still buzzing from the AB3 show last night. I'm not much of a reviewer so I'll keep it short:

You MUST see this band! Adrian was his usual amazing self which was what I expected. He really never lets you down and I am in total awe of his ability to multi-task on stage. He plays an impossible riff, loops it and then playx more impossible riffs over top of it. All the while he's smiling at everyone in the audience like we are long lost friends.

But that wasn't the best part. The best part was the Slicks. Even after reading so many great reviews I was stunned at how good these two are. Julie Slick made me ashamed to even think about calling myself a bass player and Eric is just sick.

Oh and Adrian signed my Dust cd cover print. A very nice night indeed.
*****


"So last August's AB concert in Phila was one for the ages. It stood out from every other show of the year (and possibly the couple before). This trio was OUT of this WORLD. Could they possibly get better? I had my doubts, but last night they actually edged out that previous show. Ade and the Slicks seem to be energizing each other more than ever, and thankfully it's the kind of mutual-feedback loop that doesn't cause everything nearby to overload and short out. Well, not literally.

Same as last time, our opener was Saul Zonana. I enjoyed him more than before, probably since his stuff took some time to sink in last time. He's got a great voice and some fun songs, even if he couldn't top The Argument in the song-for-an-inflatable-sex-doll department. Mainly he just needs a real backup band instead of a MIDI program in a box. Still, quite an enjoyable set all around.

I could complain about BB King's really not being a great venue (uncomfortable chairs, people squeezed too many to a table, way-overpriced eats), or the headaches that resulted from someone nearby indulging in some not-quite-legal flammable plant matter. But once the trio started threatening to blow every fuse in Times Square, everyone's attention was rapt and any little quibbles were handily blown out of our heads. This show KICKED from the first note and never let up. Set-wise it was the same as last time, minus the solo "Walk Around the World," but expanded with "Men in Helicopters" (which somehow became a bonafide arena-rocker, I kid you not), plus a STONKING "Neurotica." Ye gods. I think they actually equalled the KC version from Mexico City.

This time we ended up on the stage left side of the room instead of the right, so it was Eric's turn to blow me away. He looked more Keith Moon than ever (mod haircut, striped shirt and tie) and did his share of bouncing and head-tossing. But the crazy stuff was never less than razor-sharp and he never stopped propelling the others along at 150mph, even while trotting out one insane fill after another after another. Comparisons to Peart or Bozzio wouldn't be entirely out of place. Meanwhile Julie cranked out a low end every bit as inventive AND hyper-catchy, while Adrian just looked as if he was having the time of his life.

It's always interesting to see how the material's adapted for a trio, such as "Frame x Frame" where Adrian loops & overdubs himself in order to cover both the 6/8 and 7/8 parts ("there's never a Fripp handy when you need one, is there"). But no matter the song, in this group's hands it comes out as powerful as you've ever heard it. Seriously folks, they've got a chemistry usually reserved for MIT labs. Don't miss them if they're swinging near you. Knock over a bank if necessary. And be ready to grab Side Four the minute it's possible."
*****
From the comments section of my blog:
"
Wow, I just got back from the SOR fest and BB King's last night and I can't explain how charmed I feel to have experienced such a great weekend. Your kids are absolutely amazing. My nephew and I caught Eric with everyone and he is unbelievable. I wished Julie played with so many different groups...and as to her on-stage persona, I wonder if that guy thinks Fripp looks bored, quiet and shy too.

The trio's sets at both the fest and BB King's really can't be explained with words. But, I can say how strange it is to have my attention so divided between the band members. I used to just watch Adrian...now I feel like I'm cheating on whoever I'm not watching. The trio is truly something very, very special and I hope it lasts for a long, long time.

In any case, we were in a parking garage getting ready to leave and my nephew was going on and on about Eric and Julie. I turned around and Julie was walking up with some friends and I had to start thinking about how to nonchalantly kick him in the shins...too funny!

(In case Julie reads this, I was a bit mortified to be associated with my parents car and their gigantic "W" sticker. I'm sure you really don't care, but I felt like I got caught at the scene of a crime I didn't commit).

To bring my rambling to an end, later that night my nephew said "they're not 'sick' they're slick" (that is funny when you haven't slept for 4 days)."
*****
Oh my god, as I told the person who wrote that comment, that made me seriously laugh out loud. The "W" part, that is...too, too funny.
From the comments section of
Adrian's blog
:
"
June 24, 2007 11:10 PM
Rheayes said...

What a weekend!

My husband Roy and I saw twelve bands in the last three days. We had booked our flight to the East Coast long before I knew of Adrian's tour. The original goal was to attend NEARFest - the North East Art Rock Festival in Bethlehem, PA. But Adrian played 40 minutes away in Sellersville. It was too perfect; we had to go. We also managed to see the band Asia and Ian Hunter from Mott the Hoople at separate shows in nearby Philadelphia on Friday. Whew!

Adrian was wonderful. We had seen the earlier power trio, but this was our first time seeing him play with the Slicks. Excellent performance all around, even with some technical issues that must have been frustrating. It was great getting a chance to say hi after the show as well. The opening act Caryn Lin was very good as well.

This year has been amazing. I've seen Adrian three times this year, with completely different shows. We are getting very spoiled!

Rhea
*****
June 25, 2007 3:54 PM
Dan said...

Just home from the the triumphant final show at B.B. Kings. All I can say is wow! I've never heard Adrian playing better and Eric and Julie are amazing discoveries. I cannot wait for Side Four!

Thank you for another amazing evening of music!
******

From Robert's Journal:

"T bought me a ticket to Adrian Belew Power Trio with Julie and Eric Slick at BB Kings for Fathers Day.

5:00 Arrive at BB Kings and get a priority seating ticket, we're number 8. We hang out in Lucilles, have a beer and watch Hendrix at Woodstock.

6:00 We go in and have excellent seats, one table from the stage, very close to Adrian. The show is amazing. Julie and Eric are outstanding and Adrian, is of course, phenomenal. This is the second Power Trio I've seen. The other was at the Turning Point in Piermont, NY. I look forward to a third. The trio comes on at nine and plays for 1.5 hours. Every piece is better than previous, a lot of Belew material and of course King Crimson thrown in and at the end, Three of a Perfect Pair, Frame by Frame, Elephant Talk, and Thela Hun Ginjeet. Great show."
*****

From Wild Koba's Music Box:

" adrian belew. bb king's, 6/25/07 (summer show #2)
last night's belew show at bb's was pretty off the hook. i wasn't sure what to expect, but overall, i was pleasantly surprised by what i caught.

the twang bar king was playing in a trio featuring the slick siblings: 21 year old julie on bass, and 20 year old eric on drums. and they played their asses off (and yes, they are schooled in the ways of rock). the drummer was especially brilliant. he did an excellent job backing up every freak sound from belew with his own diabolical rhythms.

the star of the show, though, was belew, who looks WAY TOO MUCH like f. murray abraham in "amadeus" if he were joyful and untormented. belew is one of the few musicians i've seen live who's constantly happy and enjoying himself onstage. it's refreshing every once in a while to see someone who doesn't look like they hate their job. thankfully, no sturm und drang when it comes to belew.

and in case you weren't sure, belew can still play. his blistering runs and glass-like chords were dotted with abusive whammy torture (lots of great sounds resulted).

the crowd's energy was clearly at its peak during the steady stream of crimson songs that appeared in the latter half of the set. bass-girl slick displayed great prowess on "elephant talk". there were a couple of long instrumental jams i didn't know, but baby slick and belew were playing like they were in a barfight; they were throwing everything they could think of at each other. great stuff."
*****
From
Mike Keneally's blog
:
"
amazing weekend at the inaugural School of Rock Festival in Asbury Park. You were only sixteen miles away and you didn't come? Wow.

I had a super-interesting band: Doug Lunn, Eric Slick, Eric Svalgard on keyboards and Rich Stone on bass clarinet and tenor sax. No rehearsal. You try playing the "Dolphins" medley with no rehearsal."
After which one of his pals commented:
"
Power Trios rock my world! With everything else going on this past weekend, I neglected to tell you how much I enjoyed you're set on Saturday...three words... Eric F*ckin' Slick!

No rehearsal...really??
"
****
Okay, speaking of Mike Keneally. Do you know what a freaking thrill it was for me on Sunday at the School of Rock Festival? First, when Eric performed at noon with Dave Dreiwitz in Crescent Moon, first Mike sat there next to me bopping along, grinning from ear to ear, then he jumped up on stage for the song, "Hammer to the Skull" when a young School of Rocker let him borrow his guitar. Oh my god, it was insane!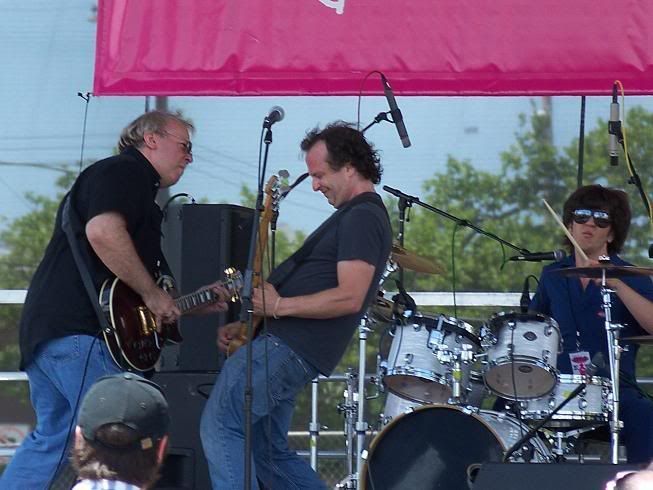 Mike Keneally on guitar, Dave Drewitz on bass, Eric Slick on drums
But even more surreal than that was later that afternoon, when I found myself standing next to Mike yet again during the Adrian Belew Power Trio set. I could not get over to his reaction to my son and my daughter up there with Adrian. He kept turning to me with that smile, and I can't even tell you all of the awesome things he said...I don't want to embarrass Eric and Julie who are both managing to stay humble.
Not me. I'm freaking out over how great this trio is and once you hear Side Four Live, you will know exactly what I'm talking about.
Meanwhile, I have like a gazillion photos from the tour and this past weekend at the School of Rock Festival from both my camera and the cameras of fans who were kind enough to email me. I'm trying to figure out the best approach here...I may just start a new album on my photobucket site and put up a link because they are all so great I can't decide which ones to post. But in the meantime, thanks so much to Steve Kozlowski and Anna Jackow for sending me such awesome pics.
Later,
xo