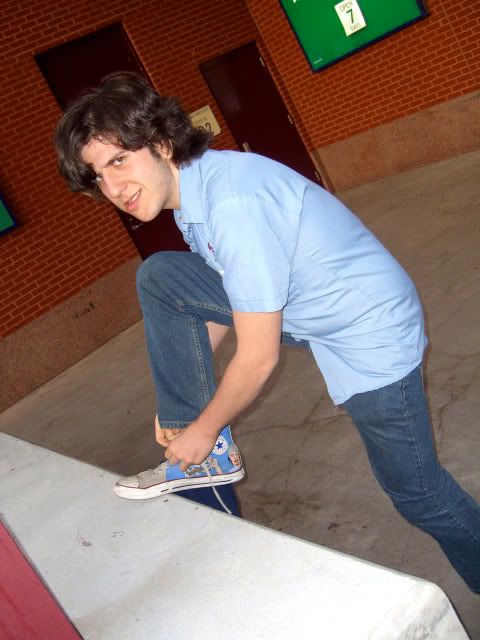 Ha ha Eric, I found the photograph which proves you actually went to a Phillies baseball game last week...at least I think that's Citizens Bank Park but I'm not sure since I've never been there
So I've been busy editing, reading, etc. but I just wanted to pop in, say hi, and remind the world that Eric has two gigs tonight at
John and Peters
in New Hope, Pennsylvania with both the opening act,
Crescent Moon
, featuring Dave Dreiwitz of
Ween
and then he's sitting in on drums with the fabulous
Chris Harford
.
Funny. I see on John and Peter's website that they've been around for thirty-five years. Sadly, I know this is true because Gary and I used to go there when we were eighteen years old to see a group that used to be a Philly institution there -
Johnny's Dance Band
. I was actually just completely freaked out to find that website and catch up on what the former members are up to...I remember thinking Nanette was so freaking amazing and I can still hear her singing "My boy Alfredo, has eyes like potatoes, but when he comes to my house he's the genius of love..."
Those are probably lyrics I just butchered on the order of "Give Peas a Chance" or "There's a bathroom on the right" or "Excuse me while I kiss this guy" but I can't find them anywhere so I'm going with what I think is right.
Ha ha - they just don't write songs like that anymore. I'm almost positive we have it on vinyl but Eric's drums are blocking our collection right now so I will ask Gary when he wakes up but I'm pretty sure it's up there on one of the shelves. (What, you didn't think we ever threw out our vinyl collection, did you? Not with 5,000 records spanning five decades! They take up an entire built in shelving unit on a good section of our living room wall). Because naturally now I want to have a listen to see if Alfredo still holds up after all these years. I vote yep, it will. In looking over the website, I was surprised to learn that Fran Smith was with the band on that song...Fran would later go on to join
The Hooters
, and oh my god, what a sobering sight their website just was. I guess I didn't realize how many years had passed since I'd last seen them live...when they were still young and all drop dead gorgeous, especially Eric Bazilian. Want to know the last time I saw The Hooters in concert? It was during
Live Aid
on July 13, 1985 at JFK Stadium in Philadelphia. I was two months pregnant with Julie and in the stage where I needed to be in the bathroom every five minutes, either to toss up whatever I ate or to pee. And naturally there were these huge megalines for the ladies room, but I planned my trips accordingly so I wouldn't miss anyone good -- like, when I saw Joan Baez on the schedule I bolted for the toilet but then again, I probably would have done that pregnant or not.
Ha ha - be nice, Robin, she's anti-war and anti-Bush just like you are. Okay. And, she was also in love with Bob Dylan at one time, just like you. Wait. I still love Bob, but I am still reeling from his Starbucks affiliation.
Anyway, getting back to Live Aid, music is music and if the same concert were held today, I'd still probably plan my bathroom trip around Joan Baez. Sorry, Joan.
This just cracked me up from the Live Aid article:
"
Memorable moments at JFK Stadium

When Bob Dylan broke a guitar string, Ron Wood took off his own guitar and gave it to Dylan. Wood was left standing on stage guitarless. After shrugging to the audience, he played air guitar, even mimicking The Who's Pete Townshend by swinging his arm in wide circles, until a stagehand brought him a replacement.

The JFK portion included reunions of Crosby, Stills, Nash & Young, and members of Led Zeppelin (although they were not officially announced by their group name from the stage, they were announced as Zeppelin on air by ABC host Dick Clark).

Teddy Pendergrass made his first public appearance since his near-fatal car accident which paralyzed him for life. Pendergrass, along with Ashford & Simpson, performed "Reach Out And Touch".

The transatlantic broadcast from Wembley Stadium suffered technical problems and failed during The Who's performance of their song "My Generation," immediately after Roger Daltrey sang "Why don't you all f-fade away."

At one point during her set, Joan Baez announced to the assembled crowd (and the viewing audience) that "this is your Woodstock"
I like the bit about Dick Clark introducing Zep on television. I can't believe I never heard that story, but then again, I was at the concert, not watching it on ABC. It never fails to amaze me that Dick Clark is lauded as king of rock and roll - he's a lucky, lucky bastard who fell into television and American Bandstand at just the right time...in truth he's no rocker, he's a ruthless, brutal businessman who destroyed the career of one of Philadelphia's premier guitarists,
Charlie Gracie
and oh my god, do I believe I just clicked on that link and there's a picture of Fran Smith, the Johnny's Dance Band/Hooter's member I just mentioned above?
Cosmic, baby.
Wait, that's not really a good link for Charlie Gracie, though...I want to find one where it tells the story of how Dick Clark fucked him over. I watched a documentary about it on PBS last year and felt like smashing the television set. Aha! Here's
Charlie's official web page
and there are trailers for the documentary and all kinds of cool stuff.
I bet you all never heard of Charlie. Well, you can thank Dick Clark for that. But should you ever be near Wildwood, New Jersey, you can probably catch him playing at a club there this summer. Oh wow. I just clicked on his tour schedule and found this:
"April, 2007: Charlie begins work on new cd for LANARK RECORDS with AL KOOPER and others contributing!"
Cool! And I'm thrilled to learn that
Al Kooper
must be doing okay now if he's recording -- I know he had a brush with Dr. Death a few years ago - a brain tumor which robbed him of 2/3 of his sight but luckily it turned out benign and surgery restored him to better health. Whew.
Ha ha - it's amazing where this blog takes me sometimes. I'd intended to just sign on and write about Eric's gig tonight; now I've wandered back into rock and roll history and I want to end this post now so that I can go back and click on some of the links I've provided here and read more myself.
So...
Later,
xo