Another pic from the Chris Harford show Saturday night at John and Peters - there's Chris, Eric, and Scott -- Dave is hidden behind Scott somewhere...

So I had fun reading the

Ween forum board

- here are some more blurbs:

"

great show. Chris was his wild self. (not to mention, he's been playing in the over 40 Lacrosse league in Princeton)

Eric Slick is indeed the best young drummer on the scene in a long, long time. guy plays it every way from Sunday and with authority. hell of a nice guy too.

in fact, kudos to all the players. hell of a band there.

kudos to Metzger for great playing and a solo on the Leaf that just fucking ruled. (anybody notice he's doing a Mickey and suddenly growing like three inches or so?) Scotts really maturing as a fine, fine player..."

"Saw a bunch of old favorite tunes. A good grouping of freaks out. Dirtmerchant, thanks for the Jim Beam! Sean Horan out on a weekend, always good. Harford & band had a good controlled sound but still went over the top occasionally & the mix was done up nice too.

That Eric kid can really play the drums

. As well as "Fearless", Dave did another great cover in the Crescent Moon set: "Silver Machine" by Hawkwind..."

So I'm reading all of this, and then I see someone found my blog and put up a link. I really got a kick out of what followed:

"

cool... wow, I just read that....so that's Erik's Mom?
She writes really well, & it's neat to get her
perspective on the J&P's scene...esp. since
she'd been there years before.

Sorry I didn't get to meet Erik's parents...
they must be so darn proud of him.
& knowing so much about music, themselves,
I'll bet had alot to do with his influences
over the years growing up...which I think
is just awesome, & very cool."

Then I really smiled because someone posted a photo of Julie playing bass and said, um, some nice things about her and her obvious attributes:
Ha ha, thank you
Daryl
, and you should click on that link because Daryl takes amazing photos -- he took several of the Adrian Belew Trio when they were on the west coast tour in November.
Anyway, getting back to the Ween forum board, so there I am smiling at Julie's photo and, um, compliments and a few photos down, there's a picture of me with a similar comment which totally made me laugh out loud.
I have made the bigtime now...I can die with a huge happy grin on my face.
Seriously, that was awesome and Ween fans are great.
Okay, if you want to catch Eric on drums tomorrow night, here's where he will be:
Eric is part of the Sarah Zimmermann Trio, and Julie is the regular bass player but she's really bogged down with school so Andy Z. is filling in for her. Here's a photo of the band along with a
link to their MySpace site
, where you can have a listen to one of their songs (written by Julie, by the way)
In other news, I was stunned to learn that Napoleon Murphy Brock was leaving the Zappa Plays Zappa tour. What's so crazy about this is that on Saturday night at the Chris Harford show, I asked Eric when he'd be home from touring in Germany and he said "oh, around August 8 or 9" and I was bummed because I wanted to go with him to the Zappa Plays Zappa show at the Electric Factory in Philly on August 8.
"I haven't talked to Napoleon in like forever," I said. "I miss him."
Napoleon and I were bus seat mates on the legendary twenty one day Paul Green School of Rock west coast tour, summer 2004, and we really bonded...I think the last time we spoke was at the Rock School movie premier in LA in May, 2005. (Oh god, was it really two years ago? It feels both like yesterday and like forever)
Anyway, here's what Napi had to say about his departure:
"
"Hello people!! Thanks for wondering exactly what's up. I really appreciate that, and all the support. I send you my love , but i'm not gonna be on the ZPZ tour this year - contractual complications -- but I'll be seeing you in some other setting -- you'll be able to see me perform music in many locations -- stay tuned to www.napoleonmbrock.com. We will have some updates there before too long - I am going to put all kinds of new info up there before too long.

I WILL be in your area sometime this year --and you know what kind of performance you're gonna get! I've been in training since January. When i wasn't in the gym, i was working on the music - 5 hrs a day. I'm gonna put a whole thing on my site about "preparing to go on tour".

So - As of now my next show is the Syracuse Jazz fest June 28 with Ed Palermo Big band. More yet to come....Keep an eye on the website or this forum.!!

God Bless,
Napoleon"
I'm reading between the lines here, but as you know, Eric will be touring with
Project Object
the last week of July, first week of August, and then possibly in the fall while the Belew tour is on hiatus as Julie finishes (finally) a couple of credits required for her graduation...so in a perfect world, I may be seeing Napoleon again sooner rather than later, and under the best possible circumstances, playing with Mr. Ike Willis, Robbie Seahag Mangano, Dave Johnsen, Andre Cholmondeley, and Eric Slick!
Do you think these will be "must see" shows? Oh my god, you'd better believe it.
And there's more on the music front with my son.
As I posted here last week, he's doing a maniac run at the
SOR Fest
on June 23 and 24, playing with like six bands (I think I've lost count now...). Anyway, he's slated to play Saturday afternoon with yet another Zappa alumni,
Mike Keneally
and on bass was supposed to be the brilliant
Bryan Beller
, but according to what I just read on the Zappa forum board, Bryan is now gigging with Steve Vai, and filling in for him at SOR Fest will be
Doug Lunn
.
Holy crap, click on that link and see Doug's creds! So Eric gets to play with yet another luminary in the music world. Damn lucky kid, that Eric.
Or should I say, damn talented man!
By the way, and I will be posting this again closer to the event, the entire two day festival will be live streamed on the internet on
WDCD Radio
. So if you can't make it to Asbury Park on June 23 and June 24, you will be able to hear everyone from Ween to Adrian Belew to the Bad Brains on radio, free of charge. But seriously, this festival is going to be so fucking cool you should find a way to be there in person.
I don't have any writing news I want to share right now (she said with an evil grin) except that one week from today, I will be in a luxury suite at the Algonquin Hotel for a couple of nights courtesy of my participation at the
Backspace Writers Conference
May 30-June 1 where I will be hanging out at various events and on a panel June 1 at 4:00 p.m. with the awesome title: "You Write Your Momma With That Pen?" Fiction from the Edge - Jackie Kessler, M.J. Pearson, Robin Slick. (Mark Bastable, moderator)". Pretty cool, huh. Oh, yeah, here's something else. I seem to have acquired a
Neil Gaiman
doll. One of my anonymous readers put up an ebay link on my blog and I could not resist clicking on it...and since it was "handpainted" and "hand made" and only $9.99, what did I have to lose. What I can't believe is that no one else bid on it but that could be because no one else was aware of its existence.
It looks kind of creepy though -- I don't know, I will have to see it in person and naturally will take another photo once it arrives.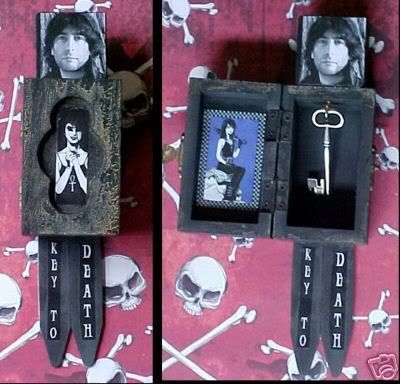 Ha ha - it measures nine inches by two inches.
Please don't ask me what I plan on doing with it...
Be quiet! Wash your brains out with soap! I was thinking more along the lines of turning it into a campy necklace by putting it on a string of black suede or simply using it as a bookmark.
Or I will give it to
Susan Henderson
when I see her next week at Backspace where she will also be on a panel...hers is a lot more normal than mine but what did you expect -- "And on the Sixth Day: Creating Living, Breathing Characters in Literary Fiction" - Mark Bastable, Jon Clinch, Renee Rosen, Susan Henderson (Jeff Kleinman, moderator)
Whatever. It's all good.
Later,
xo