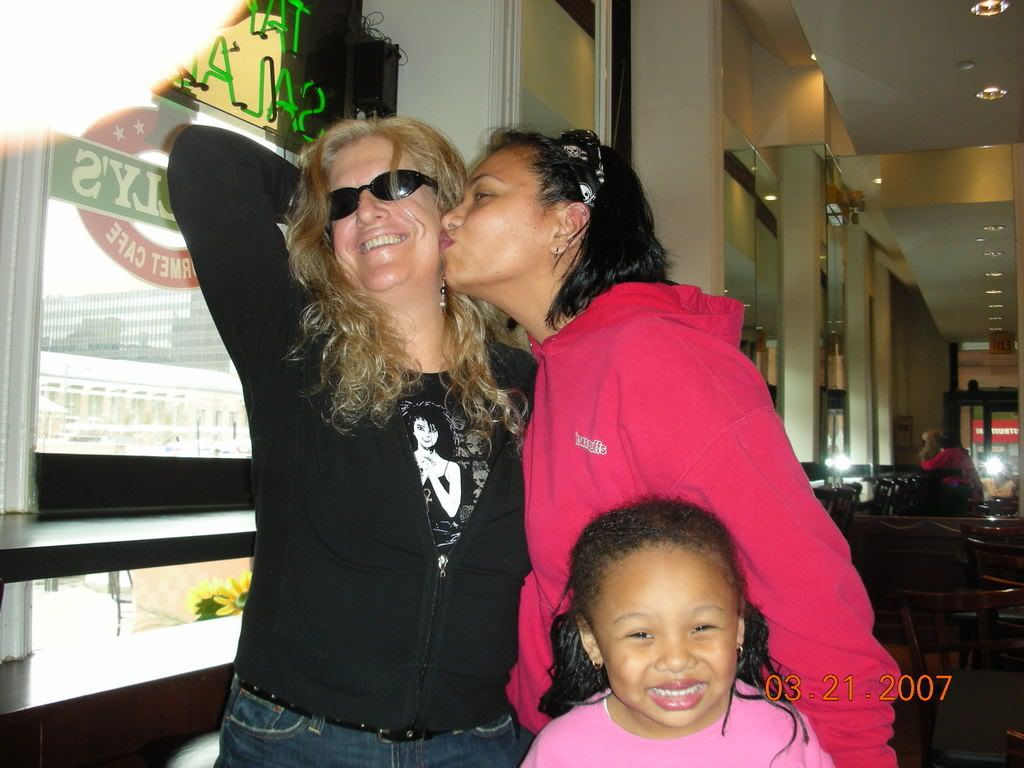 Ching Pea* and me (and yeah, yeah, I eat, sleep, and shower in that Gaiman t-shirt...it's become part of my body. The little sweetheart in the photo is Jai, Ching Pea's beautiful daughter)
So I've been running around like a crazy person, getting ready for the book convention next week, writing, editing, making goodie bags to hand out (see post below)...as advertised in said prior post, I really have lost my mind.
To add to my hysteria, I have had the head cold from hell all week (this has not been a good year for me healthwise...bleh) and we are currently in the middle of a monsoon/ice storm on April 16 in Philadelphia, so for those of you who doubt the effects of global warming...get real. Good lord, I just looked out the window. There's two inches of snow on the ground right now!
I'm just glad we didn't fill our flower boxes yet. Sheesh.
Anyway, I do have some cool music/writing news so I thought I'd take a break and blog today.
My insanely talented, world traveler son
Eric Slick
will be in Myrtle Beach, South Carolina, on Wednesday, April 18, 2007 playing at
Hard Rock Park
, opening for
The Marshall Tucker Band
, who are famous for that song "Cant you see, can't you see...what that woman...been doin' to me", which I'm sure would be my husband's theme song if he didn't dislike most southern rock har har, and
Sister Hazel
who, I must admit, I've never heard of before in spite of being a self-proclaimed musicologist because, as we all know, I am a Guitar God woman.
Joining Eric for this show will be the fabulous
Sarah Zimmermann
on slide guitar and
Courtney Cox
, on truly awesome shredder style lead guitar and no, no, please do not confuse our Courtney with that anorexic chick from Friends who danced with gah...the Boss (double gah and gag, too) when MTV still showed rock videos. Here's a
news blurb
about both the park and the show on the 18th.
Speaking of Eric, and daughter
Julie
, yay! Another two months and the
Adrian Belew Power Trio
takes to the road again on the heels of their soon to be released new CD, Side Four Live. Dates so far are as follows:
June 22, 2007:
Rams Head On Stage
, Annapolis, Maryland;
June 23, 2007:
Sellersville Theater
, Sellersville, Pennsylvania
June 24, 2007: TBA - Major announcement coming via press release one week from today!
June 25, 2007:
BB Kings
, New York City
July, 2007: Tokyo, Japan
In other Belew related news, and I'll be posting this link again on Saturday, as I've mentioned before, Gary and I befriended
Jeff Menke
, an ultra cool old school underground FM d.j. who has a show at
WNKU Public Radio
from midnight until 2:00 a.m. on Saturday evenings. Anyway, I sent him an MP3 of "Madness" from the fourth time the Power Trio ever played together live at
Zappanale
this past summer -- and it was a pretty amazing show considering that the airline lost all of Adrian's equipment, pedals, effects, etc. and he basically went on stage with just a guitar and a then nineteen year old drumer and a twenty year old bassist (who is now twenty-one and drinking shots of tequilla at a recent
Doctor Dog
concert -- heh -- I have eyes everywhere, Julie) so they had to cut certain songs and do free form, extended jams on others. In listening to this incredible MP3, which Jeff is going to play on his radio show this coming Saturday night, you would think that they'd been together for years and years and performing under ideal circumstances. And if you like what you hear, you can order the CD/DVD package from the
Arf Society website
.
In writing news, as I've also mentioned before, I have an essay entitled "Psychotic Reaction - Blog Trips for the Wordly Writer" which appears in the new print issue of N.L. Belardes'
Noveltown Review
, and I have to say N.L. has one of the more interesting blogs I've come across. While looking for his post on a recent
mixer
he held for the debut of Noveltown (where is that post, Nick? I want to read it and I want photos!)...I found
this
and ooh, does it make for some dishy reading. And if you read the comments section, you will see an extremely intelligent remark from
*Ching Pea
, who is Nick's business and life partner and yep, the one kissing me in the above photo.
Seems to me I have more news but I can't think of it at the moment so as usual, if I can remember what the hell I was going to say or get inspired, I will be back...
Later,
xo