Photo of the band taken by Gary Slick on Friday, March 30 at the Black Lodge

There's Eric Slick on drums/percussion (which included everything from a ladder to PVC pipe to pieces of sheet metal), Elliott Levin on sax...and the names of the rest of the band members are listed in the below review, which, naturally, gave me the chills:

"

ELLIOTT LEVIN and The Black Lodge Ensemble



Finally, and with great effort, The Black Lodge has a working ensemble.

The purpose of this working group is to develop original material, perform with special guests and to go where no band has gone before. The first fruits of this project were performed onstage Friday night with Elliott Levin.

Elliott Levin is a Philadelphia native, published author and renowned performer on saxophone, flute and spoken word. Elliott has performed throughout the US and the world with many groups, including: Cecil Taylor's Unit Core Ensemble, Harold Melvin and The Blue Notes, Scram!, New Ghosts, Atzilut (Fourth World) and Talking Free Bebop.

Elliott graciously joined our project approximately one month ago
at the request of

Eric Slick

. We then did a series of live improvised radio broadcasts from the studios of wdcdradio. These included solo performances and ensemble improvisations with Rock School students alumni and quests.

This workshop stressed improvisation, extended technique in all instruments as well as the use magnetic tape loops and pre-recorder Reel to Reel tape and studio as instrument applications to live performance.

Friday night's performance was a seamless forty-five minute exploration of avant-free form music, delivered with energy, wisdom, humor and confidence. A mesmerized crowd of mostly students (about time!) and guests cheered Elliott and company to The Black Lodges first ever encore.

Hands Down, the best performance I have ever seen in The Black Lodge.

For this project The Black Lodge Ensemble was:

Elliott Levin – Saxophone, Flute, Spoken Word
Eric Slick – Drums, Percussion, Sheet Metal, Ladder, Organ
Dylan McConnell – Bass, Guitar, Tape Loops, Keyboards, Magnetic Tape
Dominic Angelella – Guitar, Percussion
Daniel Nitz – Guitar, Water Bottle, Percussion
Gina Gleeson – Guitar
Foster Longo – Keyboards, Prophet 5

The Black Lodge Ensemble's next project will a be:

THREE COMPOSITIONS

Works by Dylan McConnell, Eric Slick, wdcdradio

Anyone interested in joining The Black Lodge Ensemble need only an open mind.

BLACK LODGE PRODUCTIONS
blacklodgeprod@yahoo.com

WDCD RADIO
wdcdradio@att.net"

For more reviews of the show including those of the other bands that performed, visit this

link

.

********

Yeah, that performance was really something and so is the new Rock School -- Dylan McConnell is not only the Philly music director he's the national Art Director for the school as well -- and he did an amazing job on both the exterior and interior of the building. It was totally cool to learn that the new, improved location has even a better vibe than the first school at 13th and Race. It even has that music "smell"...like, when you go to a music store or CD store or a venue where musicians are playing...I can't explain it, it's intangible. As far as visually, Dylan blew up

Thom Lessner

posters and other photos of Rock School shows and decoupaged them to the walls to make this simply amazing wallpaper which. I admit it, I'm going to steal the idea and do the same in my own hallway which means that when you come over my house now, you won't have to worry about banging into all of the paintings I currently have crammed and hanging everywhere in that narrow space. My mind has been boggling with the possibilities all weekend - besides owning several of Thom Lessner's posters myself, I can blow up huge black and white posters of photographs Gary and I took of Julie and Eric playing with everyone from Adrian Belew to Eddie Vedder to Jon Anderson, Ann Wilson, blah blah blah. I am psyched!

Here's one of the early Lessner posters from a Rock School show and I'm going to have to double check with the kiddies on this but I do believe that is a drawing of both Julie and Eric on either side of Zappa great

Napoleon Murphy Brock

, back in the day when they were like two of only twenty All-Stars nationwide.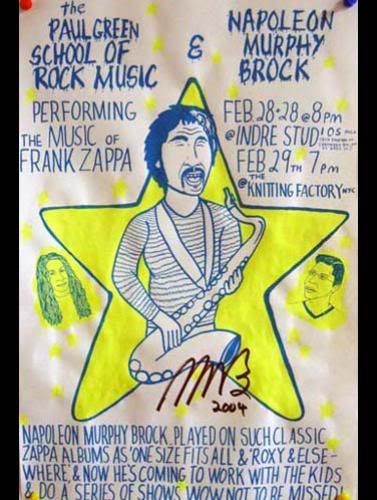 Ah, time flies. That poster is at least 3-4 years old...Julie "graduated" Rock School in 2004 and I think that's the last time Eric wore his hair that short and he used to wear glasses...
*****
So in other news, for two straight years I was the victim of an April Fool's joke after managing to go my whole life without ever being tricked. Last year as you may know, I was totally bamboozled by
Howard Glassman
, who allegedly digested the "compleat works of Neil Gaiman" and Sue Henderson was not only fooled as well, she went after him for an
interview
and I was so jealous I hadn't thought of that first!
Anyway, this year's blockbuster Let's See What An Idiot Robin Is and How Easy She is to Fool came courtesy of a good pal who knew about that writer who rankles me (big surprise, she rankles her, too), read the comment I had in my last post about yet another writer who wanted to smack that person with the flat side of a shovel, and she sent me an email which was a fake copy of a Publishers Marketplace announcement of a huge book deal for said shovel in the face recipient. I almost hurled my breakfast -- she totally fooled me -- but then, being the masochist I am, I went to Publishers Marketplace to see for myself and couldn't find it anywhere -- so then I did an actual deal search -- came up empty again -- and in a flash realized what day it was. I admit it - I'm usually thrilled about people I know getting book deals but this one had me sitting groaning with my head in my hands. I did get back at my friend, though...I know she's a saint, a really good person, but along with that heart of gold she suffers from tremendous guilt so I wrote back to her "Oh no. I want to kill myself. I just had to take a second blood pressure pill." And the poor gal got alarmed that I over-medicated myself because of her prank because as I figured, she had no idea that you can't arbitrarily double your blood pressure medication, which is why I didn't write back "You made me drink a Bloody Mary at 10:00 a.m." instead.
Then of course I sent her joke off to two other writers, both of whom were fooled as well, but now I'm nervous one of them took me seriously because he didn't write back and I just hope he's not swinging from the rafters in his attic right now.
I'll tell you what else really made me laugh. This: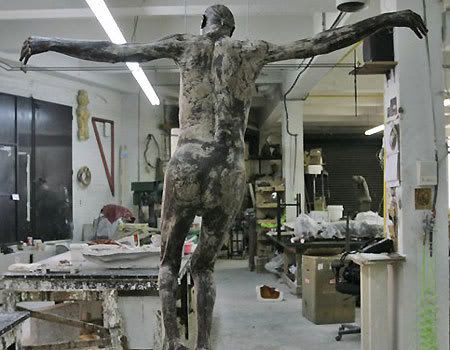 That would be Chocolate Jesus, brilliantly named "My Sweet Lord", sculpted by artist Cosimo Cavallaro, which was to have been displayed from Monday at Manhattan's Lab Gallery. But apparently, the lovely Christian right wing had a problem with this and as usual, fucked everything up.
"The Lab gallery's artistic director, Matt Semler, has offered his resignation, saying the decision to cancel the exhibition was a result of "strong-arming from people who haven't seen the show, seen what we're doing."
Yeah, no shit. It's the typical behavior I've come to expect from those right wing morons -- and woo hoo, these are the people currently running our country.
To read the rest of the article, click
here
(the BBC News version since I wouldn't dare post the Fox news version of this debacle).
And so to wrap up this post nicely, I think, I offer you the following:
Chocolate Jesus
Song and Lyrics by Tom Waits
Dont go to church on sunday
Dont get on my knees to pray
Dont memorize the books of the bible
I got my own special way
Bit I know jesus loves me
Maybe just a little bit more
I fall on my knees every sunday
At zerelda lees candy store
Well its got to be a chocolate jesus
Make me feel good inside
Got to be a chocolate jesus
Keep me satisfied
Well I dont want no anna zabba
Dont want no almond joy
There aint nothing better
Suitable for this boy
Well its the only thing
That can pick me up
Better than a cup of gold
See only a chocolate jesus
Can satisfy my soul
(solo)
When the weather gets rough
And its whiskey in the shade
Its best to wrap your savior
Up in cellophane
He flows like the big muddy
But thats ok
Pour him over ice cream
For a nice parfait
Well its got to be a chocolate jesus
Good enough for me
Got to be a chocolate jesus
Good enough for me
Well its got to be a chocolate jesus
Make me feel good inside
Got to be a chocolate jesus
Keep me satisfied
********
By the way, Passover begins this evening at sundown. Have I mentioned my Christian husband makes the absolute best chicken matzoh ball soup in the universe? Unfortunately, I forgot what today was and we've already got a pork tenderloin marinating in the refrigerator for tonight's dinner which is kind of funny. But you all know how I feel about religion -- I wish it would go away -- but the food, man, I'm all about that for sure. So I'll probably have back to back meals this weekend of my aforesaid soup on Saturday followed by a honey glazed ham and chocolate bunnies on Sunday.
Sad but true: Last week Gary's mother gave us a box of matzoh an elderly neighbor bought her -- her neighbor mistakenly thought they were like Saltines and Gary's mom actually thought we could make matzoh balls out of them.
Gary also makes the best fried matzo so all was not lost. And yay, even Eric ate some because it was vegetarian. Ha ha - he should only know how my grandmother made it - with
schmaltz
. In fact, if I ever describe schmaltz to him, he'll probably throw up, especially if I tell him we had it in a mayonnaise jar in the refrigerator at all times when I was growing up and my parents used it like butter...
Memories. Oy.
Later,
xo