So that would be Eric and Julie at Zappanale last summer, and if you look in the background, there's Adrian talking with Gary. The reason I am posting that photo today is because when they played at both the Zappa festival and the
Herzberg Festival
in Germany the following week, also on the bill was the incredible
Soft Machine
featuring legendary guitarist
John Etheridge
.
Here's a photo of John at Zappanale with his sax player: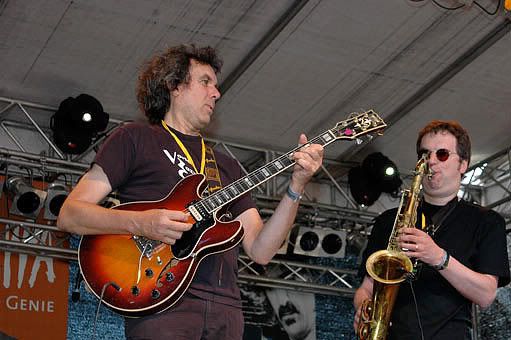 Anyway, yesterday morning, as we were having our coffee and reading the newspaper, Gary said to me, "Oh look, John Etheridge!" and he pointed to John's pic and an
article in the Philadelphia Inquirer
which talks about John, who will be performing tonight at the
Kimmel Center
.
Naturally, Gary befriended John at Zappanale (Gary befriended everyone on the Belew tour from the
California Guitar Trio
to Paul McCartney's
rhythm guitarist
, who, by the way, has one of the coolest websites ever. I am so, so jealous...heh...not of Rusty's website, but of my husband's effortless ability to make cool friends)..anyway, he finished reading the article and remarked to me "Ha ha, if John were to bump into Eric today, he'd know him right away and say Hi and hang out with him."
I was busy drinking my coffee trying to wake up and also idly wondering who sent me email at 7:00 a.m. since I heard the "You've Got Mail" thing go off on the computer so I really wasn't paying attention, I just said Yeah, Yeah, Oh really? and went to check my mail which turned out to be an inquiry as to whether I'd like a visit from the Big Dick Fairy. (Only if it's someone bringing me the head of Cheney on a silver plate but that's another story)
Anyway, I went about hitting the "spam" button, Gary went upstairs to get dressed for work, and we went about our respective days.
I got home around 3:00 p.m. and Eric was packing, getting ready to leave for Myrtle Beach, South Carolina (see post below). The Hard Rock Park people ended up sending a luxury tour bus, complete with beds, to pick up Eric and the rest of the band at 9:00 p.m. last night, delivering them to VIP suites at the not-even-opened yet five star Hard Rock Hotel...but in the meantime, Eric said to me, "Hey, Mom, I think I'd better go to
8th Street Music
, (which is about a twenty minute walk from our house in downtown Philly), to pick up some new drum sticks."
Oh. By the way. Eric just obtained another endorsement -- this time for for drumsticks -- from Vader but alas they won't here for a couple of days so he wanted to stock up for this performance.
So he left the house at around 4:00 p.m., which was only about an hour or two before 8th Street Music closed for the evening. 8th Street is one of the few remaining mom and pop style privately owned music stores still around -- as you know, the world is now dominated by the Sam Ash Music and Guitar Centers of the world -- still very cool places, but you know me, I really do have that anti-corporate mentality.
Gary came home from work and we were doing our usual non-cocktail cocktail hour, meaning, at 6:00 p.m. we crash upstairs and watch the Simpsons, in between rehashing the respective horrors of our day. Just kidding -- but Gary will talk about work, I'll talk about writing, we'll both talk about the kids and the dog...and mainly, what do we feel like eating for dinner. All of a sudden, my cell phone rang.
"Hello, Mom?"
"Hi, Eric. What's up?"
"You'll never guess what just happened."
"What?" Naturally I was immediately alarmed because, well, it wouldn't be me otherwise.
"I'm at 8th Street music right now (where, Eric will be mortified to read this but it's true, he's a bit of a local celebrity because most of the guys who work there are drummers and love
Danny Carey
, who played with
Adrian Belew
on Side One and Side Three along with bassist
Les Claypool
before Ade hired Julie and Eric as his new bassist and drummer) and we're talking about Adrian and my show tomorrow night and you are not going to believe this..."
By the way, here's a pic of Julie I just found on the Zappanale web site from the same set of shows and she's so freaking gorgeous I have no choice but to interrupt what I was telling you and post it now: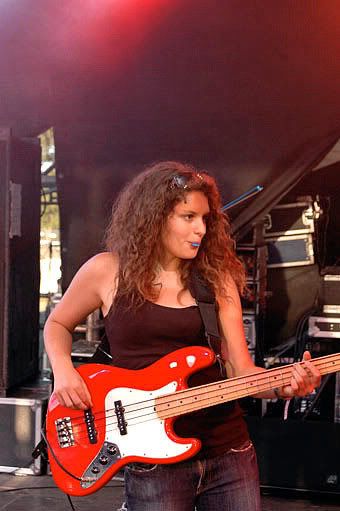 Okay, back to the story.
"So you're talking to the guys at 8th Street about Belew and the upcoming tour and the Myrtle Beach Show and then what?"
"This man, who was buying a pedal, pointed to me, like 'Hey, it's you! I know you!'...and I looked at him, he was so familiar...but I couldn't place him for a minute."
"And?"
"And then he realized I was trying to figure out where I knew him from, and he said, "I'm John Etheridge. We played together in Germany. You're in Adrian's band!"
So Eric was completely freaked out, all of the guys working at 8th Street Music were freaked out, and Eric ended up talking with John for an hour. John asked Eric for both his phone number and email address (ha ha, I wonder why, though Eric is so modest he can't admit to himself that maybe John wants to do a future project with him because he's such a great fucking drummer but in a way, I'm extremely glad Eric is so grounded and humble...a lot of twenty year olds would let all of this go straight to their heads and not handle it nearly as well).
So Eric is telling me all of this on the phone and Gary is right next to me in bed and hears the entire conversation and he's practically speechless.
"What did I say to you this morning, Rob?"
Err...I don't know. What did he say again?
"I said if John were to bump into Eric today, he'd know him right away and they'd end up hanging out."
"That's right! You did!"
I handed him the phone and he told Eric the story, and Eric was really stunned because, as he said to me, "what were the chances we'd be in that store at the very same minute...I could have gone any time that day but I waited until the place almost closed because I spent all day learning the songs for the Myrtle Beach set list and practicing."
By the way, in case anyone is going to that show tonight, the set list is phenomenal. They're doing a free form insane version of Zappa's King Kong with Katie Jacoby doing an unbelievable electric violin solo and I am seriously hoping someone is there with a video camera and at least part of this concert ends up on You Tube...it's going to be that good.
Back to John Etheridge and Eric, it turns out that John and Soft Machine are touring Japan throughout July, and while I can't confirm this now for sure, after talking about the respective venues in Japan, it appears that Soft Machine may be joining the Adrian Belew Power Trio for part of their far eastern tour but I'm not positive so I will wait for the official word out of Camp Belew.
All I know is, I'm starting to get really excited. And wait until I'm able to post the press release coming this Monday about that major show in June I hinted about yesterday. There may be a change in plans...Adrian, Julie and Eric may be playing more than one show on June 23 at two different venues and the June 24 date may be wrong...but you are all just going to have to wait until Monday to find out what the hell I'm talking about.
Trust me. It will be worth it.
Later,
xo