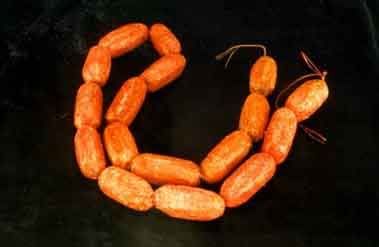 Sorry for the gross photo if you are a vegetarian (see below)...but for some reason, it's cracking me up and wtf, they are links, aren't they?
So it's Friday, a holiday weekend, and I've been buried with writing, editing, and getting my head together in time for the book convention in three weeks, so I thought I'd post some cool links to sites where I've been playing during my now precious little down time.
This is a cool one for writers -- it's a genie where you paste in a portion of your work, whether it be fiction, non-fiction, or a blogpost -- and the genie will tell you if you are a man or a woman. I tried to trick the thing like 50 times (hmm..maybe I do have too much time on my hands) and I couldn't do it...it's deadly.
So, for your Friday challenge -- see if you can beat the
Gender Genie
.
Then, for a total waste of time altogether but lots of fun nevertheless, you can upload your photo and dress yourself in various disguises and then be part of an on line gallery courtesy of
Andy Barker, P.I.
If you want to see how I look in a tie dyed shirt with raven colored dreadlocks, click at your own risk
here
. I think you may have to use Firefox as your browser to see that -- Netscape didn't work, but that could be me. And yes, I know, I did a terrible job...I am going to try it again later and have more fun with it, like, dress myself in a police outfit with those dreadlocks instead of trying to be "pretty". Heh. I just wish I could figure out how to lift the photo and post it here but it's not letting me.
If you are a Monty Python fan -- and hopefully everyone who reads my blog is one or I'm afraid I'm going to have to ask you to go away, you will be totally addicted to the insane
Spam-A-Lot Game
.
You may also be interested in knowing just
how lusty you are
, but if that doesn't appeal to you, how about:
How sinful are you?
Are you a tortured genius?
Could you be a vegetarian?
Maybe you'd be more interesting in learning whether or not you are a
paranoid schizophrenic?
(I personally am afraid of taking that quiz)
Yeah, I'm better off sticking with
Which artist should paint my portrait?
Nah, scratch that -- I'd rather know "What kind of rocker are you?"
Okay, that quiz I had to take now.
Oh good fucking lord...
You Are an Emo Rocker!

Expressive and deep, lyrics are really your thing.
That doesn't mean you don't rock out...
You just rock out with meaning.
For you, rock is more about connecting than grandstanding.
Expressive and deep, lyrics are really your thing.
That doesn't mean you don't rock out...
You just rock out with meaning.
For you, rock is more about connecting than grandstanding.
Well, the description fits, even if the music doesn't. Christ, how in the world did that happen? Sadly, I was completely honest when I filled out the form so it must be true.
I don't even know any Emo rockers. I figured I'd get "cranky jaded cynical hippie". Oh. Wait. That's probably not even in the answers. Oh well. At least I'm not Gwen Stefani. My God. She grates on my nerves like you would not believe. I actually saw her on television the other day doing a song where she yodels while dressed in a little Catholic school uniform (err..Gwen...forgive me if I'm wrong, but aren't you pushing 40? Ugh, between your choice of music and those Britney dance moves you make me want to hurl a year's worth of food)
Anyway, that's it for now. I'm taking off for breakfast with my son at what looks to be a most interesting restaurant -
Cafe Lift
.
Hopefully my hardest decision today will be deciding between the scrambled eggs and lump crab meat on a toasted English muffin topped with hollandaise sauce or the Challah bread dredged in a cinnamon vanilla custard, baked & then topped with fresh seasonal fruit, served with homemade whipped cream and real maple syrup.
Yikes -- I just saw this one: Bananas and a chocolate hazelnut spread with homemade whipped cream in a Italian style crepe.
Hopefully my doctor doesn't read my blog -- I'm supposed to be eating lettuce leafs and brown rice, joining a gym, and...ugh...it's too depressing to think about. Luckily I love my doctor and he's very kind - he just looks at me sadly and I know what he must be thinking: "Robin has a death wish".
No, I do not -- in fact, Dr. X -- when you see me this morning (prior to breakfast out with Eric) -- you will be thrilled to learn I've lost ten pounds since I visited you last -- which is why I may allow myself the above mentioned treat. Or, you just may guilt me into having the veggie fritatta.
Whatever. It's all good.
Happy Friday, everyone.
Later,
xo