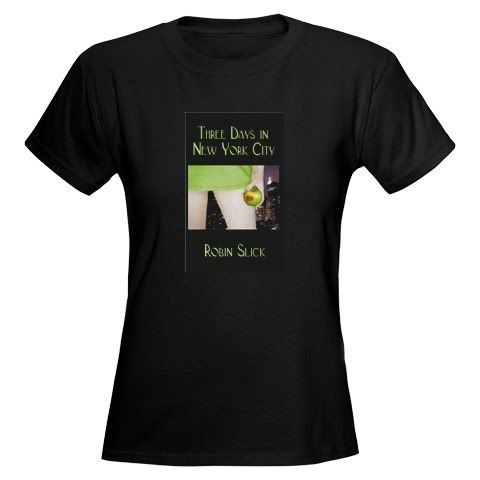 So as I frantically try to get my act together for the
RT Convention
where I will be for five days, two weeks from today, networking, partying, signing, and selling books, I have a couple of new additions to my wardrobe courtesy of my publisher and my very own
Cafe Press Store
, also known as "Phazed and Confused". This, and some of the cool promo stuff I'll be handing out at the convention, would not have been achieved without the help of
2006 Eppie Award winner
Alessia Brio
.
Here's the shirt she designed for another bite:
So yeah, you can purchase these cool t-shirts, tote bags, coffee cups, posters, by clicking on the above link to my little shop on the web.
Alessia received my frantic e-mail this past weekend as I struggled to upload jpgs of my business card and book covers and turn them into bookmarks, shiny postcards, giftbags, magnets, etc. as promo to give out at the convention along with some other goodies which I'll post below just so you can see for yourselves that yes, it's true, I have lost my mind.
But first things first. So if you click on the link for the RT Convention provided above and have a look at the parties, the first night we have a vamp/Moulin Rouge decadent chocolate party sponsored by megapublisher
Ellora's Cave
. The following night is the Faery Ball, followed by Friday evening's Wild West Vampire affair (yeah, I know...vampires in cowboy hats...wait...isn't that our President?)...and finally, on Saturday, something with which I can at least identify a tiny bit -
Dorchester Publishing's
Immortal Rock and Roll party. Yep. Immortal rock and rollers. Ha ha - that's an oxymoron for you, huh.
Anyway, these are all costume events. Now, I've made it pretty clear how I feel about costumes. I don't even wear colors -- if it's not black, forget it. Basically I was planning on wearing my above two new t-shirts. So I started asking around -- I talked to other authors, friends, and they were all like, "Okay, I guess you can skip the costume, but you still need to wear something "after six" to the Ellora's Cave party and pretty much "nice slacks" or "fancy dress" to the others...
See what I'm saying here? Either way, I was screwed. The only party I had an outfit for was the final one on Saturday night -- rock and roll immortals -- where I'd just wear my usual black jeans, t-shirt, black leather jacket and shades.
Okay. I took stock of my wardrobe. I opened my closet and hoped for a miracle. Let's see. Four long sleeved black blouses. Several long sleeved black polos. About a hundred black t-shirts. Three pair of black jeans. Three pair of Lucky Jeans (trust me on this -- once you go
Lucky
you will never go back)...and one very sad looking black suede skirt from the eighties.
I sighed. Soo...it meant I had to go shopping -- something I loathe unless it's for cool art, books, or CDs -- and buy three new black dresses which I'd probably never wear again. I started looking around on line, threw my hands in the air, and said "This is freaking ridiculous. I could fly to London and have a nice vacation for what this is going to cost."
Because naturally I didn't have shoes to go with any of this formal wear, either.
In the meantime, I started emailing with some more authors attending, one of whom I met at RT in 2005 and really, really love based on our mutual adoration of music and the fact that she's from England and had a very special connection with the late
Chas Chandler
. In case you are too lazy to click on the link, Chas played bass on the Animal's House of the Rising Sun and We Gotta Get Out of this Place in addition to managing Jimi Hendrix and introducing Hendrix to Clapton, thus giving Jimi a chance to play with Cream on stage.
Anyway, it turned out that she was not only dressing up, she wrote "As I'm on the Faery Court, I've got a very elaborate, wickedly expensive ball dress. Do not imagine you can compete with this number! We have lots of immortals as well as the usual non-human critters. How about, though, acting as a character from one of the books?"
Oh man, she threw down the gauntlet. Now I wasn't merely screwed, I was ultra screwed. Subsequent emails edged me on a little more.
I realized that for me, buying a dress and actually wearing it was technically a costume, so why not really go for it after all? I started googling faery costumes, vampire costumes, and what do you know? I found all this goth stuff! Not only all black, even the faery stuff, but way cooler than any dress I could have found at, bleh, The Gap and suchlike places.
As I researched just what does a faery wear, I learned that there are several different kinds, and I would need to accessorize.
No, no, I wasn't going to carry a magic wand, but I did need a headpiece. I went from website to website. Nothing appealed to me -- everything I found would make me either look like an escapee from a mental institution or a bride who found her veil at Wal-Mart.
And then I found this:
Isn't that the coolest faery crown ever? I mean, it's gorgeous, it's handmade, and cost about the same as a hardcover book. I found it at
Heirloom Ribbon and Beadwords
where I've already bonded with the two beautiful owners, Taryn and Pamela, and you really need to visit their site, say hi, and maybe order some other cool stuff they've got available...they really are terrific and sweet and are bending over backwards to accommodate me.
"Do you make these in black?" Ha ha - my first question.
"If it's custom made, will it be ready and at my house before April 24?"
The answer was yes to both, but in the end, I decided to go with the one pictured because it matches a beautiful crystal necklace I own -- which I already know is a must to wear with a faery dress. Get it? Faeries - magic crystals?
Oy. I really have lost my mind. Anyway, wanna see my faery dress? Here's a pic: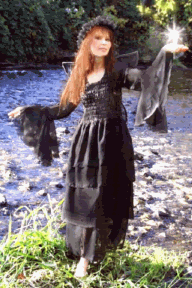 Don't worry. I'm bringing a camera with me to RT and I wouldn't miss this photo opportunity for the world. Fear not -- I will get someone to take pictures so you can see for yourself how I look as both a faery...and...gasp...a vampire, because guess what, I found this number and bought it as well: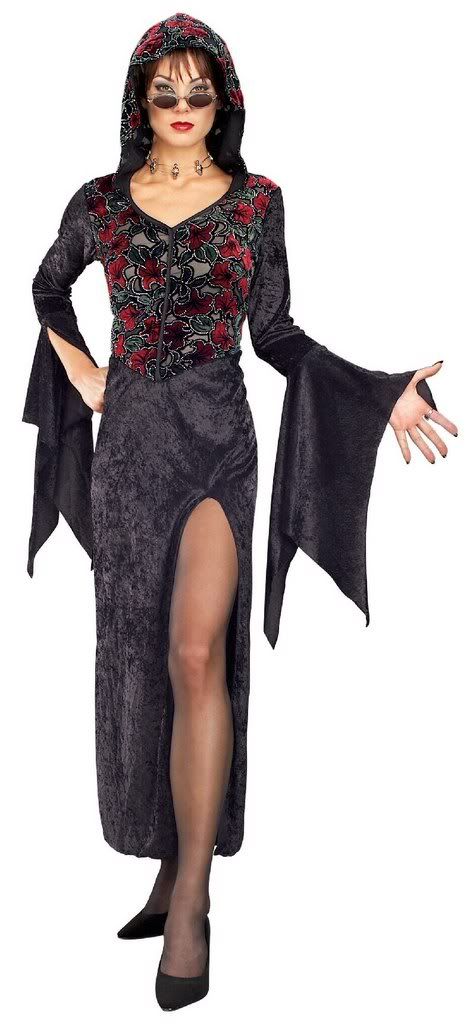 Okay, so now I'm covered for the Faery Ball and the Vampire thing (by the way, I'm wearing black cowboy boots which I already owned with the vampire dress because in my mind, how else would a Wild Wild West Vampire dress?). I still needed an after six Moulin Rouge outfit. Now that one was difficult. So I decided to hit Ebay, because really, if you can't find it there, it doesn't exist.
Much to my shock, I found a $225.00 brand new
Betsey Johnson
dress for $35.00 in my size! Only one problem. There were four hours left to bid, and eight bidders. I wanted that dress! It was mine! It was black, it was ultra cool, it was an incredible bargain. Luckily, Julie and Eric taught me how to be Ebay savvy. I made sure the highest bid was $35.00 and waited until there was one minute left to bid. Uh-oh, someone bid $40.00. $41.00. 35 seconds left. I figured, screw it. I'll go as high as $50.00. With ten seconds left, I threw up my bid, gulped, and waited.
I won! I won! Here's my Betsey...the only dress I think I've ever really been excited about:
I sat back in my chair and breathed a deep sigh of relief. Done, done, done. Now. All I needed was my promo stuff, and as I said, Alessia helped me big time. Here's my new business card, which, as you can see, is taken from the logo on my website which was designed by both daughter Julie and me and executed by my lovely webmistress,
Glass Slipper Web Design
.
These business cards were also turned into shiny, laminated, two sided bookmarks and ultra cool magnets.
Alessia also made me these high gloss postcards of both the front and back covers of all of my books -- here's Another Bite: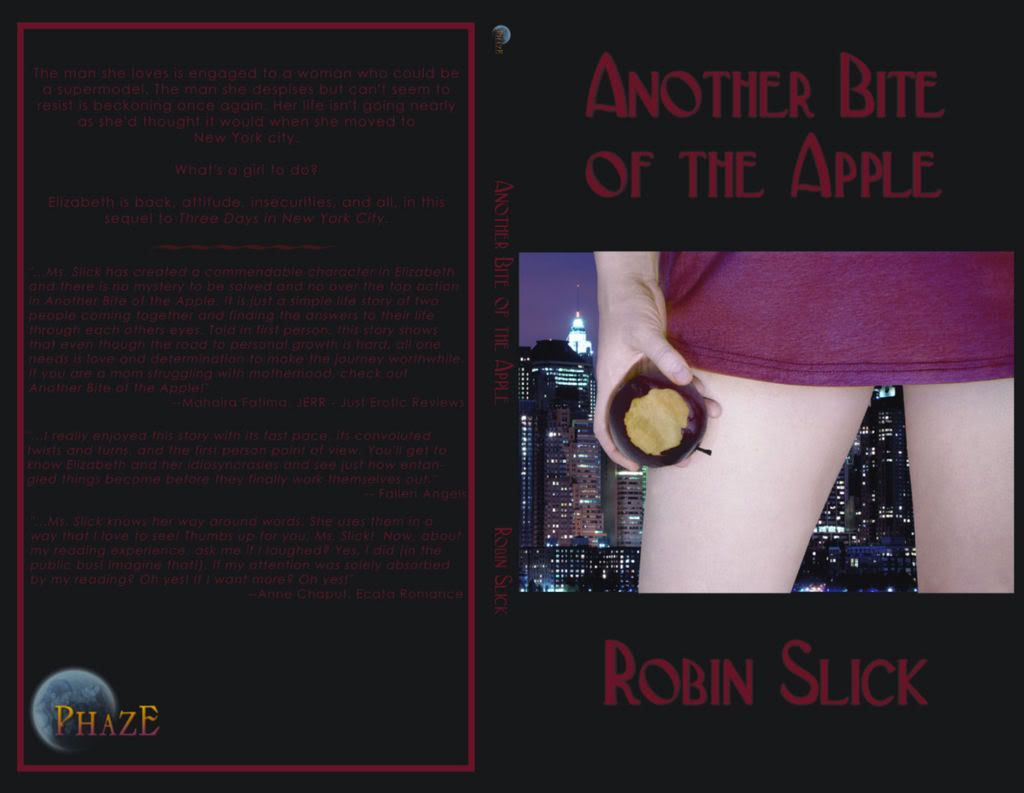 Anyway, now all I needed was additional goodies to put into these really cool red mesh and satin drawstring gift pouches I'd purchased. So each one will have, in keeping with the apple theme, a few of these: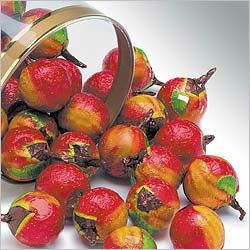 That's premium chocolate, baby, with a gooey caramel center. I will have buckets and buckets of those to give out at my signing table as well.
I'll also be handing out these in my goodie bags -- I actually bought several different types but here are a few examples: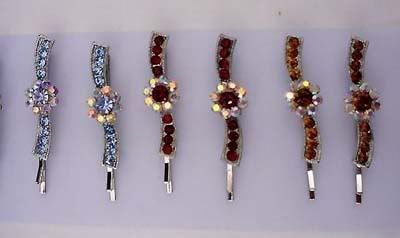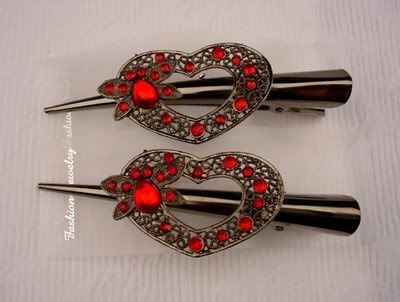 So that's my RT Convention story. Now my latest worry - for once in my life I'm totally prepared, but there's no way all of this stuff is fitting in a carry-on bag so I'm going to be forced to use real luggage (I also need five days worth of regular clothes to wear to various meetings and workshops held 9-5). So naturally I'm already hyperventilating that the airline is going to lose it all.
Oh well. If that happens, I really will lose my mind so it won't matter.
*********
If you have managed to reach it to this section and I've actually held your attention with all of the above RT ramblings, let me quickly switch to music news, which is way exciting and deserves its own separate post. But seeing as I'm not sure I'm allowed to announce it yet, here's a hint:
The Adrian Belew Power Trio
, which, as you know ad nauseam features my son Eric on drums, daughter Julie on bass, and the legendary Adrian on vocals and guitar, has begun to make their summer touring plans. Can you say east coast swing with one particular incredible show featuring a few megabands and son Eric doing double duty on the drums with at least two other megastars?
Can you say Canada?
Can you say...JAPAN???????????????
Ahem. That's all I'm saying for now. Sit tight. A formal announcement will be forthcoming which will blow your minds.
But for now, I leave you with this, which a friend with a very wicked sense of humor was kind enough to send me.
As you watch this and have a giggle (or in my case...this actually made me cry...but then again, I'm a raging hormonal mess these days)...please click on their
The Zimmers Band
MySpace site and read about them. It's actually both uplifting and tragic at the same time.
Later,
xo