The only thing creepier than the actual man is his impersonator...
Ugh. So I read in
Rolling Stone
that Bono was knighted yesterday.
This calls for another excerpt from "Daddy Left Me Alone With God", my highly touted but as yet unpublished newest novel har har:
Once I said those words, I realized they were true, spoken from the depths of my deeply damaged heart, and at that moment I really did feel like vomiting.

"Ouch," Mick said.

"I'm horrible, aren't I? I'm a wicked fucking witch. That was a dreadful thing to tell you. If I believed in hell, I'd say I was going to burn in it though in my own personal version I'll probably be stuck in a Wal-Mart for eternity being forced to listen to U2 CDs twenty-four/seven."

Mick laughed. "And she's funny, too. What have you got against U2, anyway? Bono's a nice chap. He does lots of brilliant work for charities and suchlike."

"I know, I know. But it's his voice, you see. He somehow manages to both moan and sound arrogant at the same time. It's quite extraordinary, really -- worse than chalk on a blackboard. And as for Edge – has there ever existed a more one dimensional guitarist?"
Hmmm...I need to change "chalk on a blackboard" - I can't believe I used a cliche and didn't catch that on one of my million read through/edits.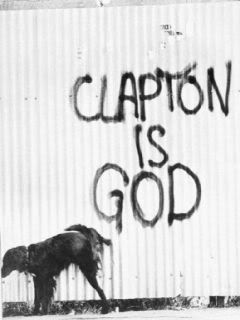 Err...speaking of "God", Happy birthday
Eric
. Holy shit, he's sixty-two today. I can't handle that.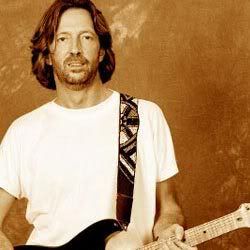 Hey, EC, in surfing through Google images for a good photo, I have to tell you -- you need to take a page from Neil Gaiman's book and grow your hair long again because: (a) You look younger with long hair; (b) The hair you are currently sporting makes you look too much like an old fart American jazz musician from the fifties. So that's why I posted the above and not one of your current pics.
See what I mean? Oh, and for more on Gaiman, visit
LitPark
today for some very cool photos and comments where I am encouraged by
Nathalie
, who met Neil in Paris last week, to write a short story entitled "I Want to Be Neil Gaiman's Pussy".
Well, as you can see by my remarks there, it was my idea - she just wants me to act on it.
And Nathalie, thanks for the link to your photos, but if you must know, Sue and I found them on Monday and we've been stalking your blog all week. I'm afraid I didn't pay attention to your warning that "The copyright for all pictures (photos and ePaintings) in this blog is mine unless otherwise specified. Consider yourselves warned." because I figured you wouldn't mind if I lifted a few for my own, err, personal use. But I promise to give you credit. Hey, everyone - that pic I posted on Wednesday of Neil in Paris? That was taken by Nathalie!
Susan has really created an amazing oasis for writers at her site and I've made some great friends over there, but as in any large group, there always has to be someone who rankles me and I was joking about this person with another author who not only agreed with me, he gave me what had to be one of the best lines of 2007 and made me literally spit out my morning coffee:
"
I have history with Ms. X. I'll tell you some time. Leave us say only at this point that I am not a violent person but I would willingly do six months on a chain gang for the pleasure of smacking her in the face witb the flat side of a shovel."
Oh god, I need to steal that line. And now you all know I'm not as nice as Sue, who has a heart of gold and a high tolerance level for fools. She truly is my hero.
Finally, in other, kinder, gentler news, just a reminder about my son's show tonight -- which I'm really looking forward to because it's an atypical jazz fusion jam and I just realized as I was about to name the musicians involved that we have three D's and 2 E's -- Dan, Dom, and Dylan on guitars and bass respectively and Elliott and Eric on sax and drums. They're the headliners so even though the doors open at 8:00 and the show starts at 8:30, they most likely won't go on until at least 9:00 but I'm not sure -- anyway, get there early because the other acts on the bill look interesting, especially those featuring Matt H and Nero, who are both incredibly gifted musicians.
BLACK LODGE PRODUCTIONS
presents
ELLIOTT LEVIN - 'flautist-sax-ist-spoken-word-ist' extraodinaire backed by the dynamic duo
Eric Slick
and dmc*...special surprise guests, too!
CETUS - Avant Metal from the Gutter fronted by Rock School graduates Nick and Matt H. You saw Matt H peel the paint off the walls last month, now see him thrash this place fo real!
The Trio Nero - instrumental excursions into the heart of darkness starring our own Nero Catalano.
Women - Bill Rooney is the Man, The Musical!
m*callen - secret solo project (guitars, wailing, laughter, etc)
Friday March 30 8pm @ The Black Lodge
1508 Brandywine st.
$2 admission records & cds for sale!
*********
So that's it for today, I think, but you never know. Now. I'm off to read through my novel yet again in search of any more dreaded cliches.
Oy.
Later,
xo