Adrian, Gary, and Eric joking around pre-Dayton show. I have so many cool photos I can't decide which ones to post so the following are a mish-mash of both the Dayton and Newport shows with many more to follow - these are just a few of the ones I uploaded from Gary's camera...I haven't even gotten to my camera yet.
Proving that (1) Gary's new camera does indeed take awesome portraits and (2) daughter Julile is beyond gorgeous even if she did put me through hell last night (don't ask...normally I would blog about it but let's just say she made it to New York last night but not before tearing out my liver and spleen first with worry)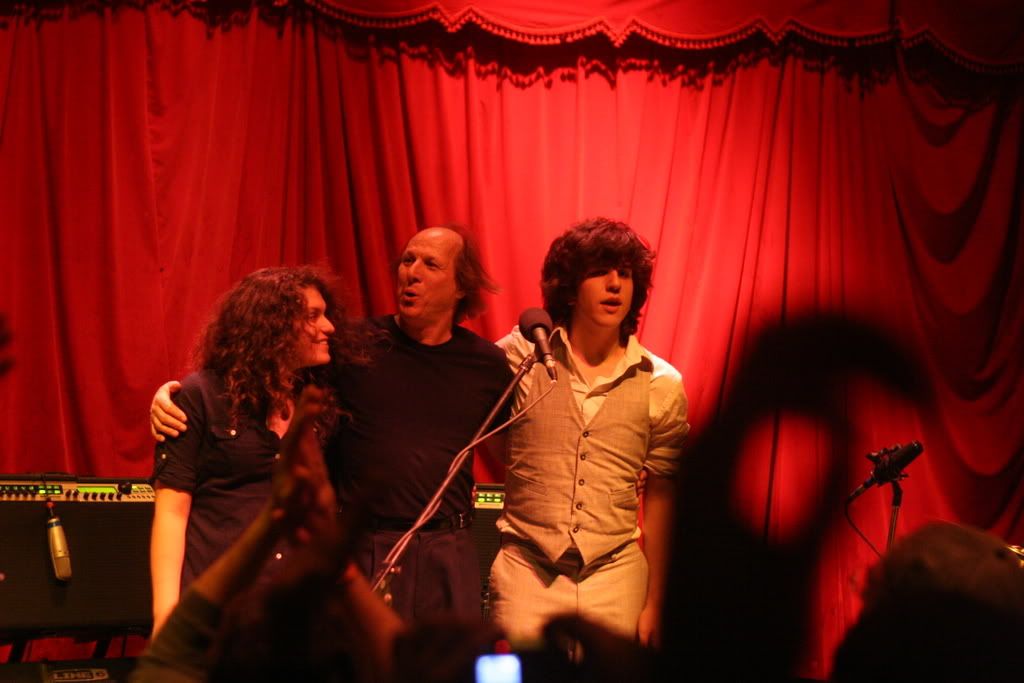 Yes, I know. I'm supposed to put the "finale" photos at the end of my post, not the beginning, but I am in a complete tizzy -- I just spent an hour making Eric an awesome vegetarian lunch and got a phone call that Julie wanted me to make her one, too, which Eric has to bring to NY with him now...she's lucky I'm even speaking to her let alone making her lunch! Heh. Have you noticed both of my kids have me waiting on them hand and foot? Oh well. They are so, so worth it.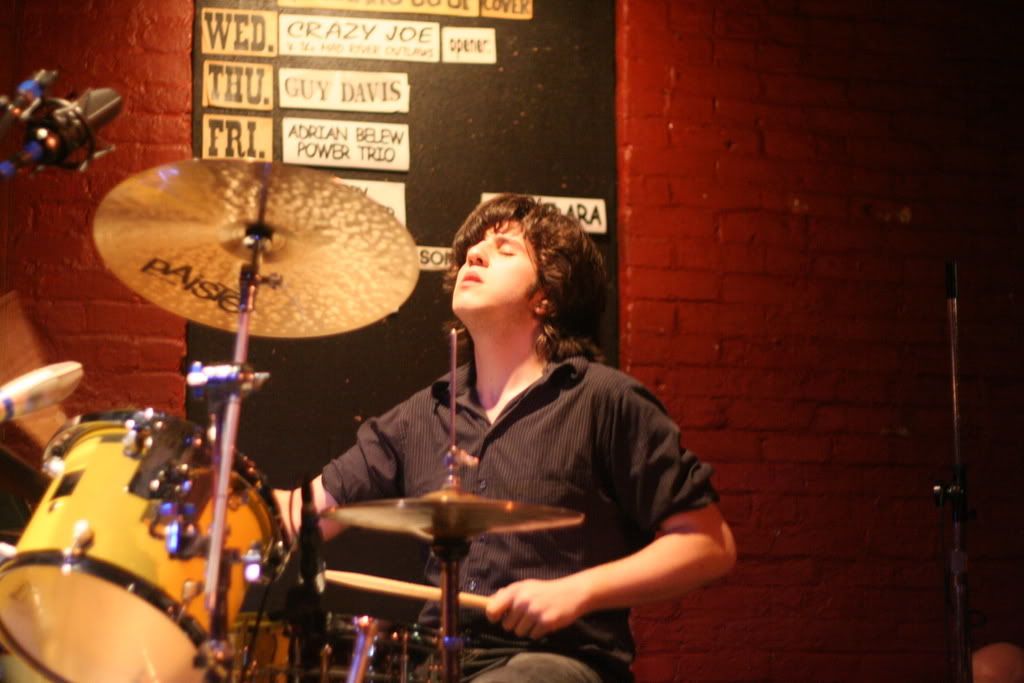 Eric Slick and his amazing new
Paiste cymbals
...these are so outrageous you can't believe it.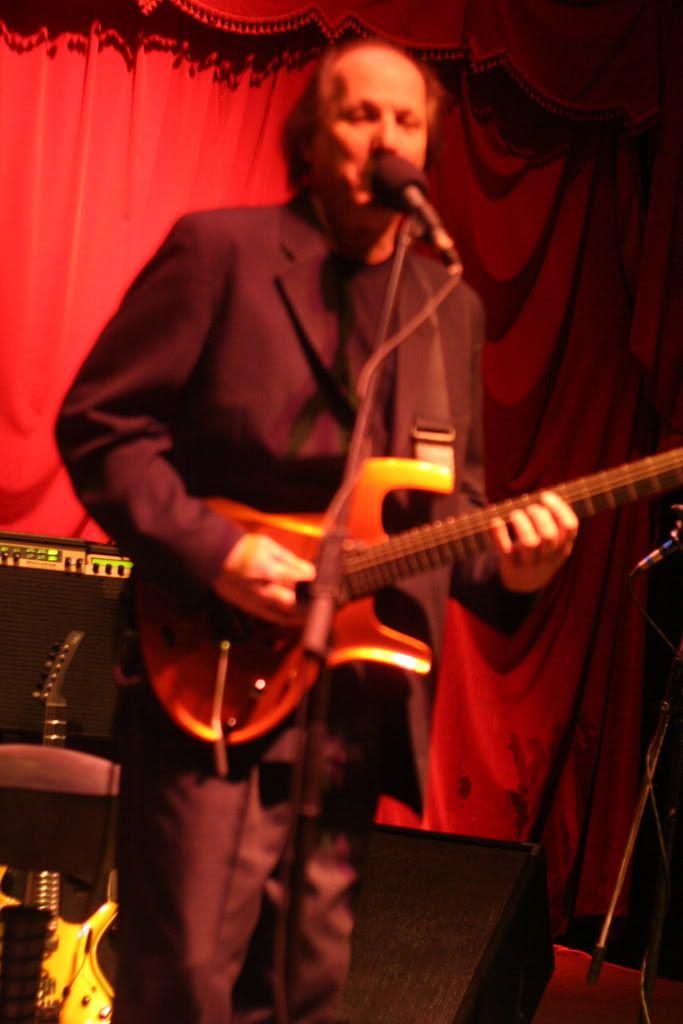 The Master himself, Mr. Adrian Belew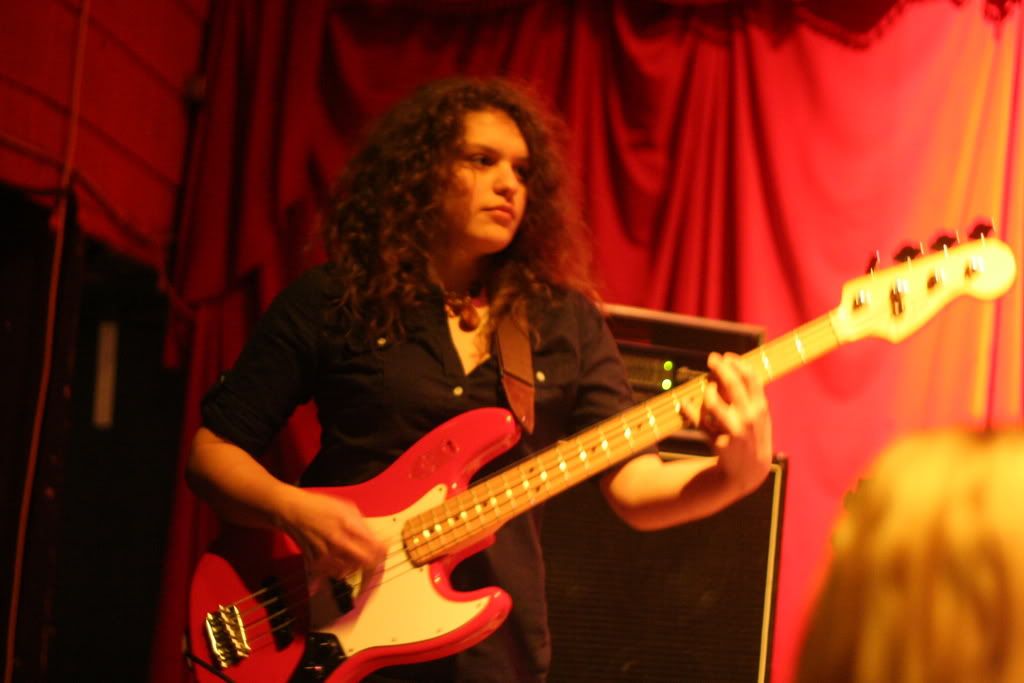 And the most beautiful lunatic...I mean, bass player, in the universe, Ms. Julie Slick.
Just kidding, just kidding. Let's just say Julie had a difficult time getting from the airport in Newark to New York City last night and I was expected to perform miracles back here in Philadelphia in between worrying that she wasn't feeling well...anyway, it all worked out and I love that little lunatic more than life itself. What's a night's sleep, anyway. As I said, the bottom line is, she did get to New York City in time to record
Jon Anderson
of
Yes
and I'm still alive and sane enough to write about it.
Anyway...
Heart be still. It's true. Side Four Live was recorded Saturday night. Oh my god. My kids are on a CD with
Adrian Belew
. It's finally hitting me now. Well, somewhat -- I need to have it in my hand to be sure it's really happened. That, and the accompanying DVD which I understand is extremely cool - full of both concert footage and interviews. Arghhh...I want it now!
From a fan's
journal
...and let me add that with all of the below entries, I did not correct any of the authors' spelling errors, etc. so please don't blame me (heh)...I merely copied these as is:
"A couple weeks ago a friend of mine emailed everyone to say the Adrian Belew power trio would be playing in Dayton at the Canal Street Tavern. As my alma mater, Wright State University, is having a big alumi even this weekend including a Model UN reunion I decided to go. I haven't been to Dayton in months, and some of my best friends live there so a visit is always full of good food, conversation and music.

I've seen Belew before, back on the Lone Rhinoceros tour, and with King Crimson, so I knew it would be a great show. Belew is a very unique guitarist, capable of getting sounds out of the guitar no one ever dreamed of. He once explained how to do that to my friend Alex, and his explanation was clear and lucid. Could Alex go home and make them? No, even though his high school band played the Yes catalog and selections from the Mahavishnu Orchestra. It was simple, logical and from another planet. But when you get discovered by Frank Zappa and then David Bowie asks you to play with him, well, you have to have talent...

(Note from me: I had to edit here. Our fan did not know Adrian was previously in King Crimson and I just couldn't leave his post up as is...where he debates if Ade was good enough to try out for the band or something...though in all fairness, our fan says Yes. Heh. And thank you Gary for pointing this out to me..I kind of skimmed through it and didn't pick it up on the first read).

Okay, continuing on...

But his rhythmn section was very cool and new. The Slicks. Julie Slick just turned 21 and plays bass. Her brother Eric is 19 and their drummer. These kids have chops out the wazoo, beautiful timing and their playing is just so tasty. Great show.

Of course while David Bowie and the Talking Heads have made a few hit records, King Crimson is a band for musicians. You don't get shrieking teeny boppers at a Belew concert. You get serious music lovers and serious musicians. I spent the concert chatting with Tim Dozier, former drummer and arranger for the seventies funk band Slave, who was just a huge Belew fan. He was totally jealous when I told him I'd seen Crimson and a nicer guy you couldn't imagine. Belew's pretty nice too. This wasn't a show where people put on airs and acted like stars, we were there for the music and they were happy to play it for us. And with a Newcastle costing a mere $3.50 life was good.

If you get a chance to see Belew, do go. You'll hear stuff no one else on earth could play. And you'll hear the Slicks, who have wonderful careers ahead of them."
From
Progressive Ears
:
"
Took in the Adrian Belew Power Trio last night at Canal Street Tavern in Dayton Ohio..i was told to be ready to be blown away, and i was,but not by Belew [that was a given, i assumed]...his backing band, the Slicks, were incredible!! 19 year old brother,Eric, playing a very, very high energy percussion and his 21 year old sister Julie, just ripping a bass line underneath everything...i was thoroughly impressed with them...it's always great to see 'Ade', he has so much fun playing, and the crowd feeds off his energy...an extended version of 'Beat Box Guitar' was the highlight, with a mid-song improv jam...several Crimson songs ['Dinosaur', 'Elephant Talk', 'Frame by Frame', among others] where played flawlessly...if you get a chance, check this tour out, you won't be dissapointed!!!"
*****

"Eric was the first drummer to graduate from the School of Rock in Philly. He also tours with Project Object. I've seen him twice and is a very approachable and funny guy."
*****

"I saw them at the Zappanale last July, and was equally blown away. Got to hang a bit backstage too, and they're all very cool and easy going. Adrian is still one of the great guitarists of our time."
*****

"True! It smoked! They were all totally friendly and approachable as well. Adrian banged his head very first thing on one of the low-hanging Bose PA cabs, which must've hurt like hell, but he joked about it all evening. He literally has a million sounds - some exquisite and ethereal, some very ugly; all great. What impresses me most about him is his independence, how he can pick a difficult part (even a beat ahead to allow it to reverse-track!) and sing a line that seems completely contrary to it. Similarly, when his gear occasionally misfired, he'd just smile and adjust, and make the glitch fit in. The kids are fantastic allright, Eric on drums in particular last night, just a ball of fire. Definitely, catch them if you can. This micro tour winds up tomorrow I think, but there will surely be more gigs since they love touring and playing together."
*****
From yet another
fan
:
"
...Saturday night, Feb. 17, my girlfriend and I went to see Adrian Belew (with Julie Slick on bass & Eric Slick on drums) at the Southgate House in Newport, KY. What a kick-ass show! We were close enough to shoot him with rubberbands (not that I would wanna do that) and there were only about 150 to 200 people in attendance which did not even half-fill the place. Maybe the bad winter road conditions have something to do with the small turnout, as it did snow all day. It was a live recording, and they rocked the joint anyhow. It was such a great experience to closely see Adrian's expressions as he plays, he just tears it up from the inside out..."
There's also a ton of reviews coming in from Adrian Belew's Yahoo Group which I'll probably post tomorrow along with more photos of the band in actual concert.
Anyway, both kids are with Jon Anderson in New York, I've got the house to myself, and I really, really, really need to write.
Until tomorrow...
Later,
xo