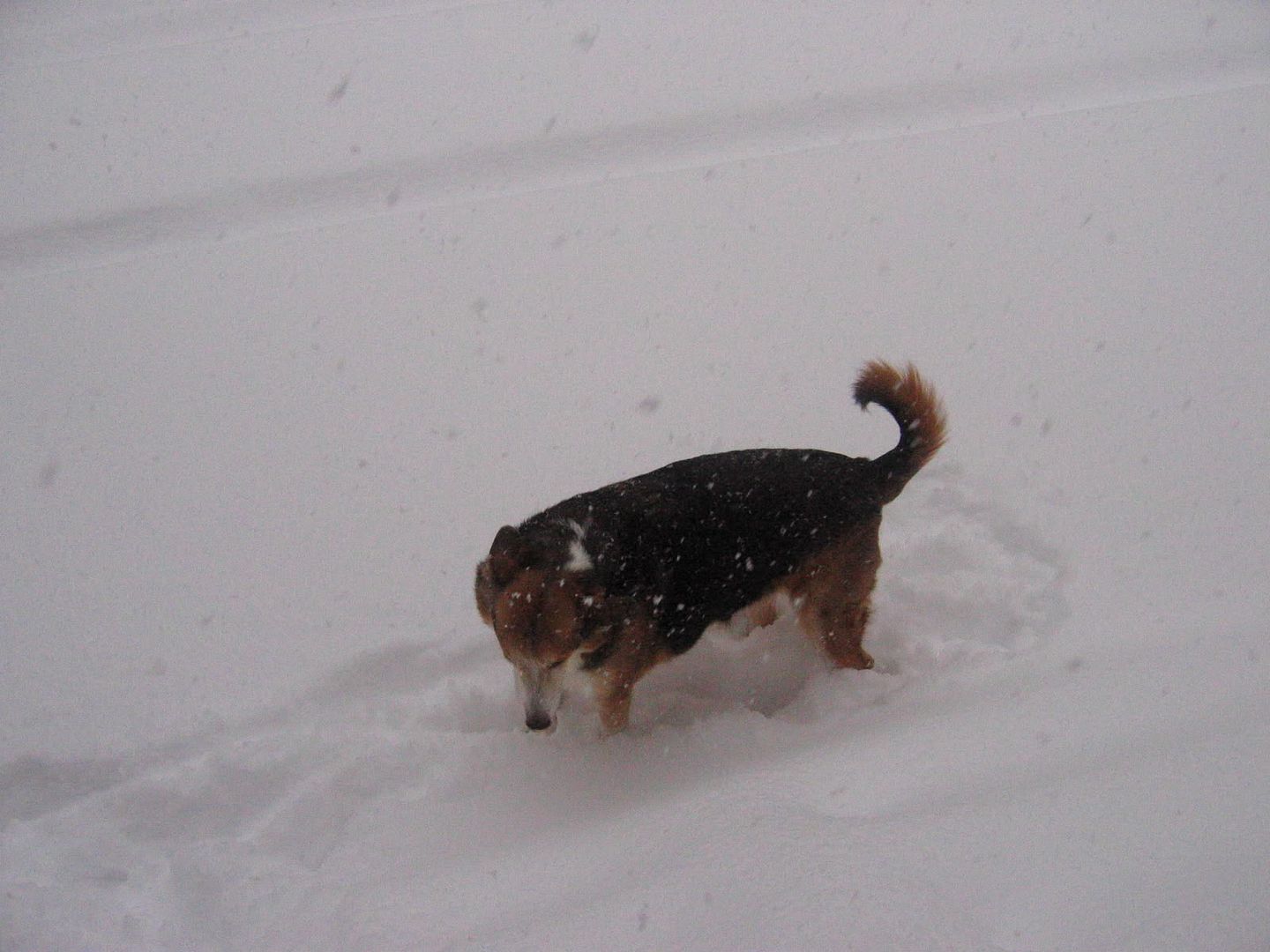 My youngest son, Monty, frolicking during our last blizzard
So like for the first time in...ever...I am actually praying for no snow this week. The schedule around here is so crazy and awesome...but yikes, if we get a blizzard we're in big trouble.
Anyway, here's some of the cool stuff going on.
Right now Eric is on his way out the door.
"Where ya goin', Er?"
"I'm going to Rock School to hang out with
Jon Anderson
."
Jon's in town to do a
bunch of shows
. Eric first met Jon in 2005 when he played a gig with him at the LA Knitting Factory -- they did an amazing version of Heart of the Sunrise which they also recorded together on the
Rock School Soundtrack
.
Speaking of Jon Anderson...it gets crazier, but continuing on with this week...
5:00 tonight Eric heads for Wilmington, Delaware to rehearse with
Project Object
for their gig at the
Rock and Roll Hall of Fame
this coming Wednesday, February 14.
Yeah, he's flying to Cleveland on Wednesday, just when they're expecting the snow.
Okay, I'm just not going to allow myself to think about that.
The next day, Gary and Julie load their gear into our Jeep and take off for Cleveland where Julie and Eric will perform with
Adrian Belew
at the
Rock and Roll Hall of Fame
on Thursday, February 15.
Friday, February 16, the Adrian Belew Power Trio performs at
The Canal Street Tavern
in Dayton, Ohio.
Saturday, February 17, the Adrian Belew Power Trio performs at
The Southgate House
in Newport, KY where they will record their new CD, Side 4 Live, in front of, you guessed it, a live audience.
Sunday morning Gary and Eric are going to load all of the gear back into the Jeep and take the eight hour drive back to Philadelphia. Julie, on the other hand, is getting on a plane for New York City, where Jon Anderson has requested that she record his two shows at
B.B. Kings House of Blues
on Sunday, February 18 and Monday, February 19. It appears that both of these shows are sell-outs but I'm not entirely sure.
So yeah, my daughter is going to go straight from recording her first CD as a performer with Adrian Belew to producing a Jon Anderson CD within two-three days of each other.
I know I've said it before, but in my next life, I really want to come back as my kids.
So now you know why it simply cannot snow this week. Everyone say magical chants, light candles, do whatever it is you do.
Later,
xo