Last night was Project Object "nerd night" - hence the glasses on Eric and get a load of the outfit on guitarist Robbie "Seahag" Mangano: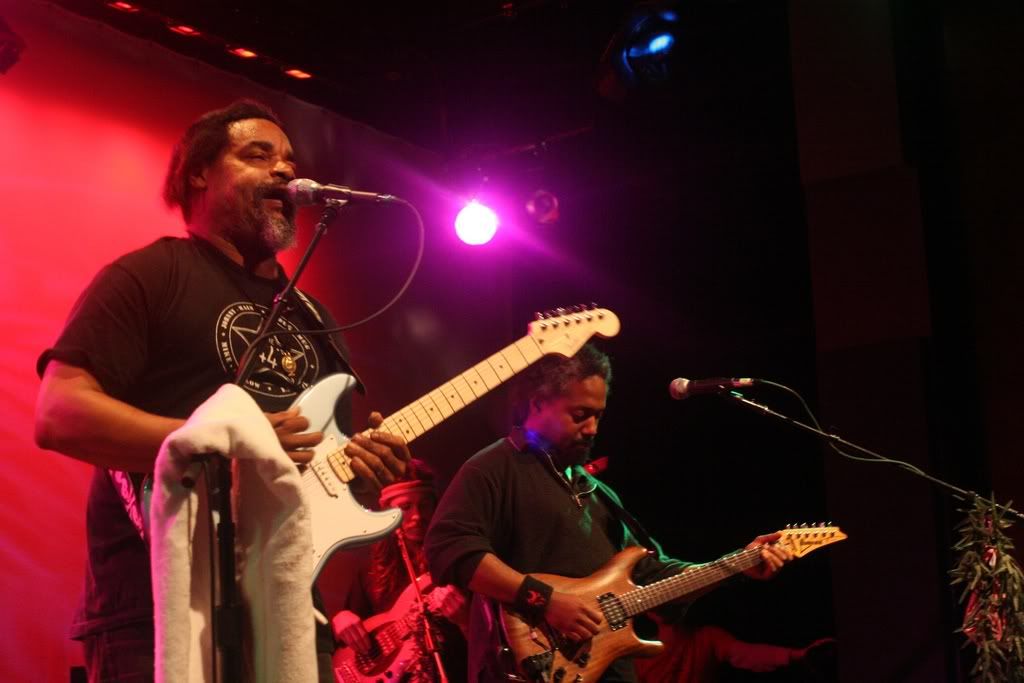 That of course is the insane Ike Willis, bass virtuoso Dave Johnson, and guitarist/vocalist/all around wonderful musician/friend Andre Cholmondeley
And a crazy shot of crazyman keyboardist Eric Svalgard
So last night's Project Object show was everything you could want in a concert and more...plus, Gary got to use his new camera and the photos really rock. It was almost impossible to choose the best ones for this post but fear not, I'll be posting many more over the next several days.
First, let's dispense with the reviews I've gotten via email so far, one of which is because I'm a member of the
Adrian Belew Yahoo Group
:

"Wed, 10 Jan 2007 14:19:57 -0000
Subject: [AdrianBelew Tribe) Eric Slick... wow!

Hi all,

De-Lurking once again with some "almost" off topic fan-boy raves for the kid on the kit. I saw him last night with Project Object and he blew me away. I mean, my god, i have been listening to Zappa for longer than he has been alive and can't believe how well he has picked up all of the material these guys are playing from all era's of Frank's work. He really holds his own up there.

Anyone on the East coast should go see them tonight (Wed) in Lancaster, PA...tomorrow
(Thur) in Boston or Saturday in Albany (with Ed Mann!!). Check www.projectobject.com for more info.

And, to bring this post back around to Ade, when Andre was introducing Eric, he said "be sure to catch him and Julie this spring with Adrian Belew!!!"
So you know I loved that, and the very next email I read came from my pal Jessica, who comments on this blog as "Peanuts and Planet", (by the way, what does that mean? I dunno but I like it...peanuts and planet, that is) and congrats to Jess because she's now Dr. Jess...she came to the show with her boyfriend and a Frank loving pal and here's a copy of an e-mail from her said pal which she forwarded to me:

"That was freakin rad.

That kid is a fucking insane drummer. He just got sponsored by xxxx (I'll let this one out of the bag in a few days) cymbals.

I felt obliged to tell him after the show, "I've seen Terry play 'I'm So Cute', and i gotta tell you, you brought the thunder!"

Cuz ya know why? It's true. The kid was awesome.

Ike was great.

Everybody was cool. Plus they played not one but TWO songs from Joe's Garage- "Cy Borg" and "Outside Now"- unlike the Zappa Plays Zappa show, which played Zero songs from Joes Garage.

Good time."
Project Object was on fire last night. Everyone in the band was fucking amazing, and Ike sang and jumped around the stage like he was twenty-five. Seahag is one of my favorite guitarists ever; Dave Johnsen is mind-blowing on the bass, Svalgard kills the keys, Andre is just all around great - vocals, guitar - he does it all and I just adore him. They had a surprise guest join them for a few songs -- very cool local sax player
Elliott Levin
Okay, before I post more pics from Gary's outrageously cool new camera, pop over to
Susan Henderson's website
for a totally awesome interview with author
Maria Dahvana Headley
. But if you are a writer or even a wannabe writer, scroll down to the post directly below the interview and answer Sue's question of the week, which is, "Half the battle of writing and selling a book, seems to be in the pitch. In two sentences or less, tell me about the book you've written or the book you are currently writing."
So yeah, of course I answered in the comments section and oh my god, it took me almost two hours to write my two sentence pitch for my current novel, but my other reason for bringing up Susan is to let her know that she can now worship at the alter of
Neil Gaiman
without me...I mean, I'm still a major fan of his writing, but I've transferred my pathetic fan girl crush from Neil to the guest keyboard player in Eric's band,
Jordan Shapiro
. Just call me Demi or Cher. Oh god, I'm totally kidding, but heigh ho -- here you go, Susan, this is for you: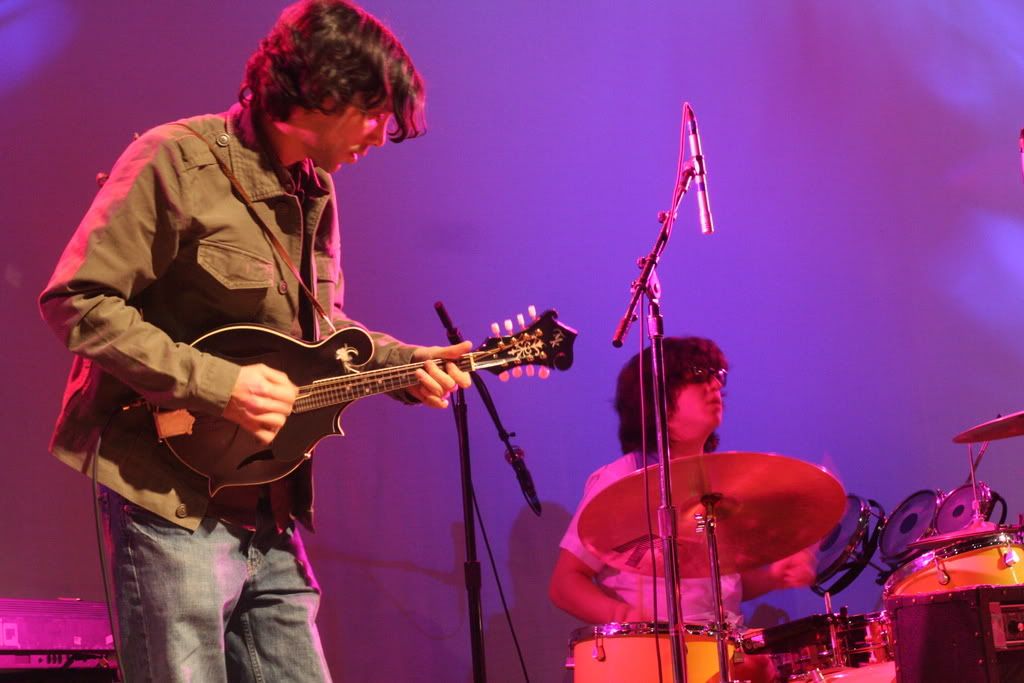 Now, now, you know I'm only joking and trying to give both my son and husband heart failure, but trust me on this, Jordan is a kick ass keyboardist and mandolin player and just one more reason to see this band though to be honest, I'm not even sure if he's with them for the remaining week of the tour but if you are in the New York area, he's worth checking out.
Oh enough. Behave, Robin.
Okay.
Actually, I'm really excited about Gary's new camera and the quality of the pics which were taken in a very dark venue. It's the first time we've ever been able to get digital photos that clear.
So I'm exhausted and I am still sitting on a ton of news but I have to coninue to keep my lips zipped for now, damn it. We didn't get home until after midnight; I had four hours sleep, and Gary just walked in the door so it's time for "cocktail hour" -- no alcohol involved, it's just our decompressing time upstairs (where the dog manages to squirm between us every time). We've decided to barbecue tonight -- why not, it's been sixty degrees for the past two weeks and this evening is the first time it's dropped down to like twenty below zero and I'm sitting here wearing two sweatshirts and my teeth are chattering.
But you know, that's us, we want to barbecue and so we will and we wouldn't have it any other way.
We did, however, take down our Christmas tree but decided that, as in prior years, we're keeping the colored lights we threaded on our beamed ceilings on all year because they make us happy.
Later,
xo