"Scream before go on stage
Most Rock band ceremony before go on stage, scream together as loud as possible."
...Hideyo Moriya
Said rock band Adrian Belew Power Trio on stage
2/3 Belew Trio father, Gary, doing merch with California Guitar Trio's tech, Aaron
Group shot of California Guitar Trio and Adrian Belew Power Trio
So I took a break from editing my new novel today to do some Google stalking on my crazy family and man, I hit the jackpot.
I found the above photos on the website of
The California Guitar Trio
who recently opened for my kids...err...I mean the
Adrian Belew Power Trio
out on the west coast two weeks ago. The pics are from
Hideyo's Roadcam
, the Portland show on November 15, but there are others as well
here
and
here
.
Next I discovered just an amazing You Tube with son Eric on the drums, the mind-blowing Katie Jacoby on electric violin, Eric Svalgard of
Project Object
on keyboards, Rock School star
CJ Tywoniak
on guitar, and Julie's boyfriend
Matt Rothstein
on bass. But you have to wait until the Adrian Belew song currently playing on my blog finishes before the You Tube sound will work, so hang around for a few minutes because it's really worth it, trust me. Oh wait. You can also double click on the You Tube and it'll work that way because it will take you to the You Tube site. D'oh!
In other news, I got an email from the person who maintains Stewart Copeland's website who stumbled on a blog entry I made when I met Stewart last year in L.A. and he asked me for more details and permission to post the accompanying photo...of course I said yes.
Julie on Stewart Copeland's website
Here's the photo which is now on their website in case you are too lazy to click: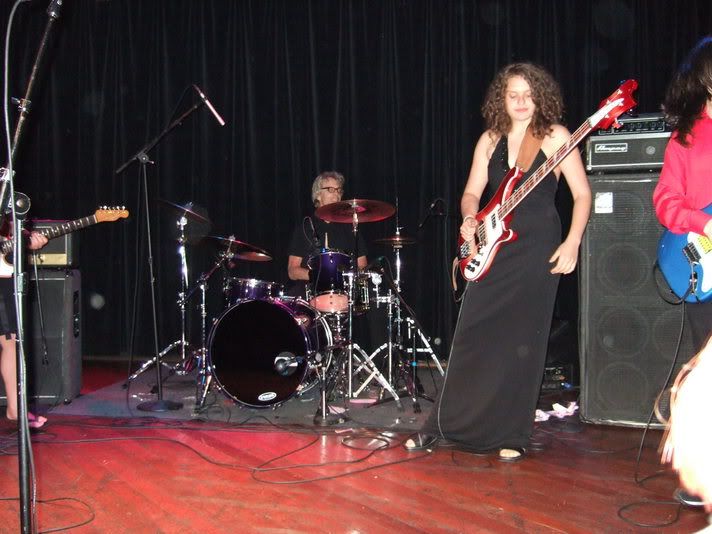 That would be Julie and Stewart performing School's Out for the Summer with Alice Cooper at the LA Knitting Factory last May. Here's another photo, but you can't really see Stewart on drums:
Then we have Eric's tour over the weekend with
Chris Harford
...here's what they say on the
Ween Forum Board
:
"
TONITE 12/3 - CHRIS HARFORD & BOC - D.C. AREA ***CHRIS HARFORD & BOC***

featuring:
Dave Dreiwitz - bass
Scott Metzger - guitar
Eric Slick - drums

SUNDAY, Dec 3, 2006
8:30p doors

IOTA CLUB
2832 Wilson Blvd
Arlington, VA
703-522-8340

www.iotaclubandcafe.com/

"sweet. that line-up rules. eric slick is a drumming prodigy."

"who is eric slick?"

"School of Rock prodigy"

"Eric is a great drummer. That is a great line-up."

"Eric looks about 15 years old, but I think he's 18 or 19. Unbelievable drummer period. Nice kid too.

Drums with Adrian Belew."
Ha ha - and that's what I found in the first five minutes. So yeah, life is pretty awesome right now. Eric is doing the above mentioned show in Washington, D.C. tonight; Julie and Gary are out buying Christmas lights, and the dog and I are sipping wine and fooling around on the computer. Okay, the dog is sipping wine, it's me on the computer.
Err...
Anyway, the Harford show at the North Star Bar on Friday night was a lot of fun; there's a funny story I could tell in connection with it but I don't want to horrify my son so I won't...but there was in fact a green room and I did pester him there but hey, there was a cooler full of free Yuenglings and no one else wanted them so what could I do? They put on a very tight, fun show...didn't even take the stage until 11;00 p.m. and finished up around 1:00 a.m., the guys from the
Benevento Russo Duo
showed up because they had a gig at the Electric Factory which wrapped up just as Eric was taking the stage at the North Star...Eric hung out with Joey Russo for a while, then they all headed back to the
Ween
house in New Hope to await arrival of their rental van for the rest of the tour, which was in Baltimore last night with the Duo and like I said, Washington, D.C. tonight.
In other words, no one is home and I should be writing and working on my novel, or at least talking about writing.
So I will.
I'm nervously awaiting word on two possible awards; I sent a story to a literary magazine via snail mail -- something I usually would never do because I'm not pretentious enough to imagine myself a literary writer (thank God) and more importantly, I'm a lazy sod who would rather save a tree and submit by email, but this magazine is special, it's called
Tin House
, and they have a special issue coming up which focuses on
evil
. Now I just happen to have a short story I wrote on that very subject so I decided to go for that snowballs chance in hell and subbed it.
I'm sure you'll read my sobbing rejection post here in about three months, but hey, you cannot win if you do not play. And oh my god, did I just quote a Steve Forbert song? You have permission to shoot me now. Please. Put me out of my misery.
Let me make up for it.
If you don't know where you're going, any road will take you there.
(My personal theme song...lyrics by George Harrison)
Or..

I'm never gonna know you now, but I'm gonna love you anyhow.
(If you don't know who wrote that, you're just not cool enough to read my blog)
.Just kidding...the late, great Elliott Smith...Waltz #2...and here's a heart-wrenching stripped down version, sans band...Elliott solo back in 1998:
Okay, back to work for me. And ooh goody, Julie and Gary are baking Christmas cookies tonight. To say that they are awesome bakers is putting it mildly -- the Slick family has an international reputation for our cookies. You can email me and if possible, I'll put you on our recipient list.
Ha ha - some people will do anything to be a Best of Blog 2006 finalist. Tsk, tsk, simply shameless, aren't I? Yoo hoo, judges? Care for some cookies?
Later,
xo