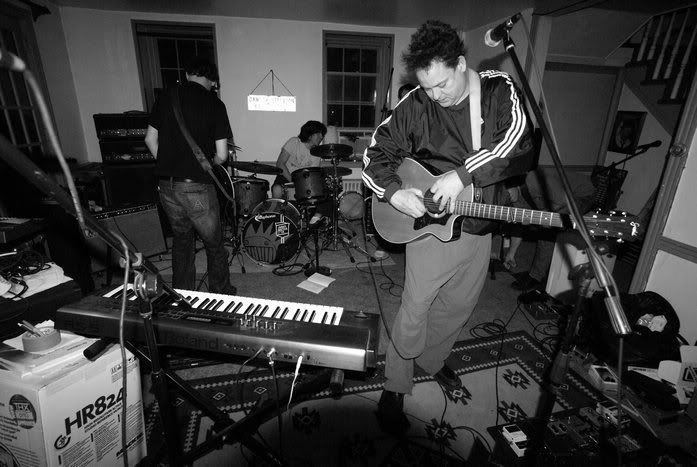 So Aaron, a/k/a Geen Ween of
Ween
got a cool new camera, and during the recent rehearsals for the Chris Harford show, could not wait to try it out. That's my awesome son Eric on the drums of course, Chris right in front, and with his back to the "audience" is I believe guitarist
Scott Metzger
.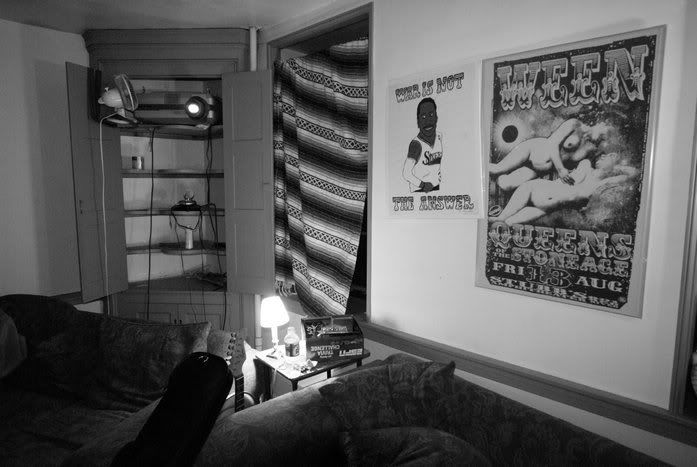 The Ween house/studio living room -- Eric spent the night on that sofa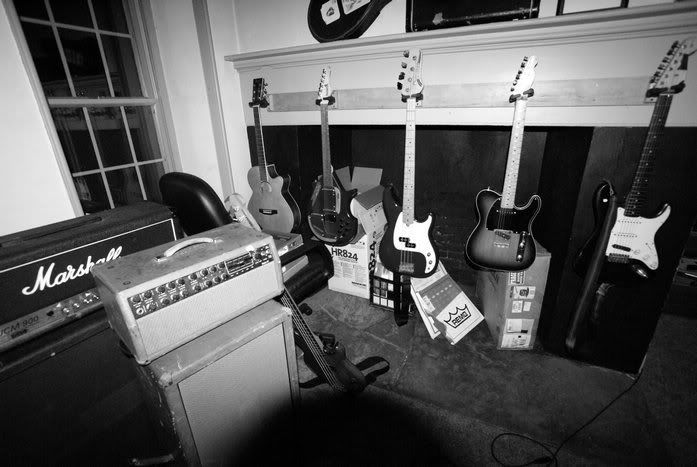 Every room has a fireplace (ha)
The band just chilling out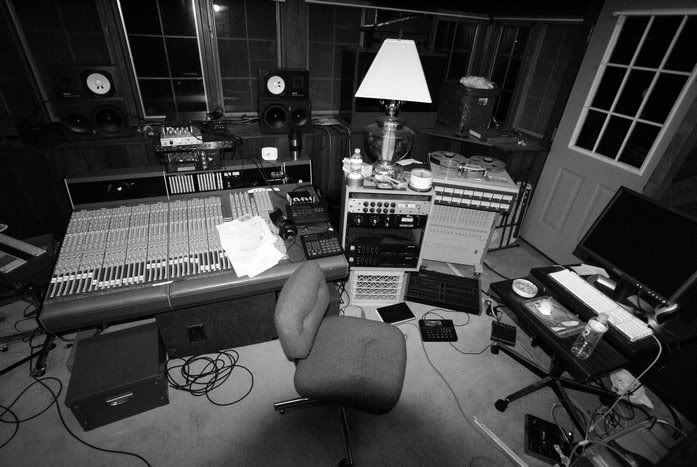 A shot of the studio
So that was fun to find this morning, as was this little blurb over at
Jam Bands News
:
"Prog-rock guitarist Adrian Belew will join Umphrey's McGee for a run of shows this March. Belew will open for, and later perform with, the prog-inspired jam-titans at Urbana, IL's Canopy Club (3/14), Grand Rapids's Orbit Room (3/15), Pontiac, MI's Clutch Cargos (3/16), and South Bend, IN's Morris Performing Arts Center (3/17).

'Tis the season for side-project and while at home preparing for their New Year's Eve run, the members of Umphrey's McGee have remained busy. On Thursday drummer Kris Myers sat-in with Hack'N Wheeze for a cover of Trey Anastasio's "Burlap Sack and Pumps" and Ween's "Roses are Free" at Chicago's Joe's Pub. Friday and Saturday guitarist Brendan Bayliss and bassist Ryan Stasik performed with the New Deal's Darren Shearer and Jamie Shields at the Windy City's Martyrs'. Billed as The Omega Moos, the quartet offered two evenings of improvisational dance music, including numerous Beatles teases and a nod to the Top Gun theme. On Friday Bayliss and guitarist Jake Cinninger will host their annual acoustic holiday show at Chicago's Vic Theatre. Myers will also perform a free show with Sicky Lupree and Rich Stitzel at the city's Webster Wine Bar tonight."
Since I just found this article fifteen minutes ago, I don't know if this is just going to be Adrian solo, his gig with Projekct 6, The Bears, or if it will be my brilliant offspring, Eric and Julie Slick with Adrian as the Adrian Belew Power Trio...Ade did say he would be going out on tour again with J&E the last two weeks of March so I'm not sure if mid-March qualifies for that or not...but you know I will be posting billboards across the internet as soon as I find out more details. I do know that when Julie, Eric, and Adrian played with Umphrey's McGee at the Acoustic Planet Tour in Atlanta this summer, all of the musicians involved had an incredible time as it turned out to be a mass jam kind of thing so it would be way cool if this was going to be a repeat performance of that.
In other news, this has become kind of old so I'm pretty glad there's only another three days of voting left until the polls close at midnight on Friday, but here's the dreaded logo to click on to vote for me as best diarist...or if I must be honest, 5th through 10th place finalist. Just a reminder - you can vote more than once -- in fact, you can vote for me daily -- but only once a day.
I've pretty much got a lock on 10th place (ha) but it would be nice to finish around where I am now...6th I guess, though of course being in the top five sounds better.
Anyway, I have much cooler stuff to talk about.
Like, my son, Eric received the following email from an extremely prestigious cymbal company:
Dear Eric:
xx is very interested in working with you.
You will get contacted by xx to work out the details.
Thank you for your interest.
Best regards,
xx
In other words, yesterday Eric got word of possibly the world's best endorsement from the world's best cymbal company. Only another real musician (and his mother and father who usually have to pay for suchlike stuff) would know the true meaning of this...but let me tell you, it's major, and this is the best cymbal company around -- Eric is foaming at the mouth at a chance to own some. And it's incredibly cool that out of all the drummers out there, they are in talks with Eric to represent their company...and he's only 19.
(Due to the jinx factor, I won't name the people involved until the cymbals are actually attached to stands in my house, but judging by their mutual correspondence, this is pretty much a done deal)
So Merry Christmas, Eric!
I also don't want to forget to mention that besides the Fugazi gig in NYC Saturday night, Eric's got a show with **PRFSR**DRSZ** at the Black Lodge on Thursday night - admission is all ages and the low, low price of $2.00 and I believe CDS for each band will be available for the same low, low price...and further, that daughter Julie recorded Dog and Pony in her studio
BLACK LODGE PRODUCTIONS
1508 Brandywine

Thursday Dec 14 8pm
performances by:

Dog and Pony (Mike Sabolick and friends)
OODS (ex:Sweatheart/Flamingo/Atlas)
Planet Y (its Yanni!)
**PRFSR**DRSZ**
So that's the news for today. Ho ho ho, I am so not done my Christmas shopping but we are almost done baking our fabulous cookies. I counted ten different varieties this year, each sicker than the next...not only are there the usual peanut butter delights topped with miniature Reeses cups and powdered sugar Russsian tea cookies with a chocolate kiss (well, it's better than that, it's a
Wilbur bud
inside), we have chocolate chip toasted coconut pecan cookies, butter almond sugar cookies, almond cookies with apricot thumbprints, caramel shortbread, imported chocolate chip shortbread, cinnamon butter cookies, sour cream cake-like tarts with almond joy/mounds centers, and white chocolate macadamia nut cookies. I somehow found huge tins yesterday at, of all places, CVS Pharmacy, so if any of you are insane cookie fans, better write to me now because trust me, I'm only making one trip to the post office this time of year and it's going to be this Friday morning...after that, if you want to stuff your face with Slick cookies you are going to have to visit us personally.
Oh god. I retract that statement. What I really mean is, you'll have to wait until next year. Or arrange to meet me on a corner somewhere in Philadelphia or New York. Between the tree, presents, drums, guitars, amplifiers, and usual general chaos around here, there's no room for any extra humans.
Just the way I like it.
And somehow, between worrying about the post office, gift buying, and being way excited about my upcoming weekend in New York City with daughter Julie, I do believe my novel is finally finished. I can't look it at any more. I think I can now recite all 400 pages by heart. And yeah, I'm going with the title "Daddy Left Me Alone with God". And me being me, I'm already fantasizing about the cover art.
Can you say "Black Fender Stratocaster"?
Later,
xo