Julie Slick, Adrian Belew, and Eric Slick at World Cafe Live, August, 2006
The Adrian Belew Power Trio on tour: Tonight, at the
Granada Theater
in Dallas, Texas
So I say goodbye to my family this morning for sixteen days and what excited me a week ago now leaves me with a sense of dread. I've never been alone more than a few days in my life. Sad, but true. Writing wise, this is going to be awesome...but oy, I guess this is a glimpse into my very near future...no way are Julie and Eric going to hang around Philadelphia much longer with all that they have going on and I'm just going to have to make this empty nest thing work for me somehow. Like, I have an idea for a novel that literally has been keeping me up at night and I'm actually going to do
Nanowrimo
because I'm very competitive and this is the kind of book which will write itself...I have it all mapped out in my brain and every aspect is falling into place in that wonderful way which rarely occurs in my frenzied world. And since I'm pretty sure I've done Nano every year since 2003 it would be bad luck to stop now -- I've gotten one published book out of it (Three Days in New York City)...the sequel I wrote in October of last year arose from it (Another Bite of the Apple)... and the book that's been causing me to tear out my hair for the past two years also originated from a Nano rough draft and yes, yes, every last revision is finally done (all 5,000 words...arghhh) -- but to be on the safe side I'm just letting it marinate another week or two for one last read before sending it out.
So. Actually, I have much more interesting news to report. First,
Krimson News
has an absolutely amazing podcast up on their site where Jeff Duke and Steve Turnidge interview Julie and Eric and right smack in the middle of the podcast they play the version of Heart of the Sunrise Julie and Eric recorded with Jon Anderson of Yes for the Rock School soundtrack. They play the entire seven minute and something song before wrapping up part one -- this podcast is in three parts to be broadcast over the next couple of weeks in conjunction with the tour. Yeah I know I've posted the tour dates a couple of times but I figure I'll do it again over the next two weeks so none of my friends out on the west coast can say I didn't tell them...but how cool...they're going to be everywhere from San Francisco to Seattle to Oregon. Damn I'm regretting not going. This always happens! When will I ever learn?
Anyway, getting back to the podcast, my pal Sid Smith over at
DGM Live
also has a couple of news blurbs about the Belew tour and links to the podcast and tour dates as well.
Also, the other band in which Julie and Eric are the rhythm section is the Sarah Zimmermann Trio, and they have launched a
MySpace site
which features two of their original songs and a jam...Julie recorded it in her studio on Monday and did the mixing yesterday.
In other news, if you are interested in my Halloween attire for yesterday, I suggest you visit the comments section of
Susan Henderson's blog
...and scroll down to like the 10th or 11th comment...apparently there's another Robin making the rounds on Sue's blog so now I guess I'll be known as SLICK...anyway, you know you are dying to see what I came up with and I must admit, this year I have outdone myself and Susan was kind enough indulge me by letting me post a photo in her comments section.
Anyway, getting back to my family's departure, have I mentioned it's suddenly occurred to me that I am the sole caretaker for the dog for the next sixteen days? Arghh...early morning, afternoon, and late night walks in cold and rain and blah blah blah. Good thing I love the little knucklehead...here he is last Christmas with one of his favorite toys and yes, as you can tell, I live in a nuthouse scatered with toys of my own and I wouldn't have it any other way.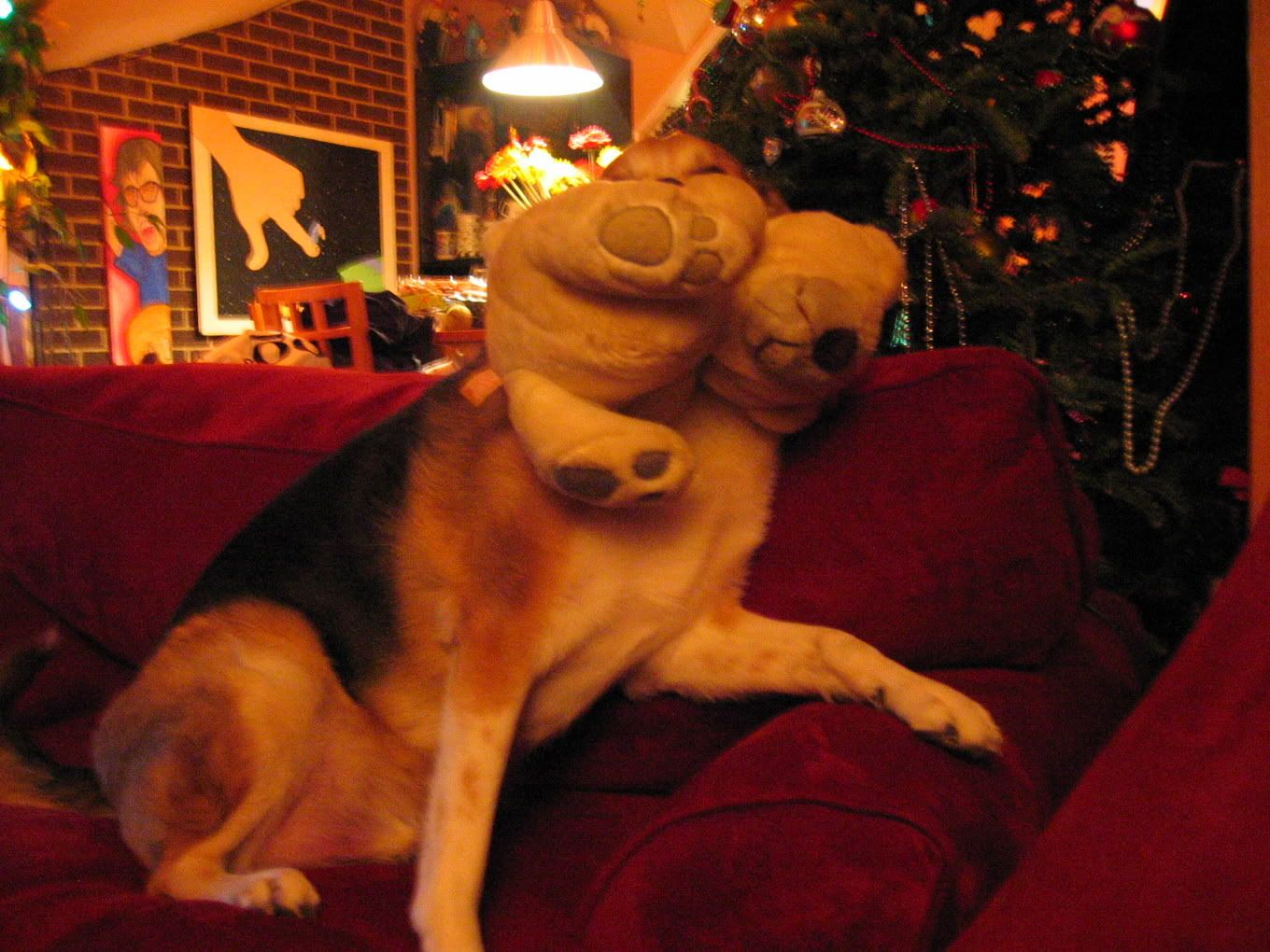 Later,
xo