Photos of the Adrian Belew Power Trio at the Belly Up Tavern near San Diego, CA courtesy of
Burton Lo
Okay, first things first.
Krimson News
has part II of their podcast with Julie and Eric up today and yeah, yeah, I know I'm their mother but I laughed out loud. It's hilarious and sweet and really well done. Plus, as an added bonus, this week they break up the interview by including "Barracuda" in between segments -- Julie and Eric recorded that with Ann Wilson of
Heart
for the
Rock School soundtrack
.
In fact, here they are performing it with her in Seattle last May: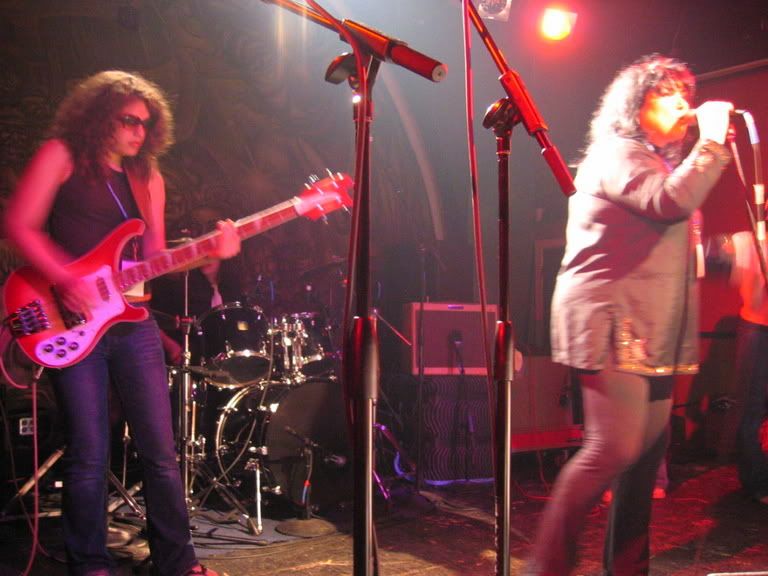 Anyway, I also found some cool stuff on the
Planet Crimson forum board
, and in case it's a members only thing, here's a bit of a review...
"
... A lot of nice things have been said about Adrian's current band, but seasoned manager of expectation that I am, lol, I remained somewhat skeptical. Up until about 10 to 15 seconds into the show anyway, when I knew it was great band. Contrasting in style, but meshing together well, Julie and Eric proved to be a tight propulsive rhythm section that powered Adrian's songs to new heights. At its peak the intensity of the performance had real emotional power; I not only had to wipe away sweat from my forehead, but a time or two, a tear rolling down my cheek. As always, Adrian's joy in performing was contagious, and though I've been told I don't smile enough, when he looks you in the eyes as he's wringing that guitar neck, well I did my best to give him a big smile back (even Julie smiled back at him eventually, lol). The King Crimson songs were definitely better than they were with last year's band, and I have to say it, especially on "Thela Hun Ginjeet" it felt like the spirit of Crimson was present. Afterwards the ovation from the crowd packed into the club was so loud, Adrian covered his ears and said, you guys are louder than us, I didn't think that was possible."
And that same post led me to
this one
, which is the above mentioned Burton Lo's Flickr site and includes another cool review.
Anyway, tonight the Belew Trio hits Long Beach, which is right outside of Los Angeles, and they will be at
Vault 350
which looks just too cool for words and tomorrow evening, November 9, they will be at the legendary
Slim's
in San Francisco.
I'm so jealous! Have I mentioned how bummed I am to not be on this tour and how much I miss my family? I'm starting to crack. Next thing you know I'll be the woman with her knickers on her head carrying all of her weirdest possessions in a shopping bag while crossing the street on a red light and shrieking at startled strangers that she's meeting
Erica Jong
,
David Sedaris
and
Neil Gaiman
for martinis at the Algonquin.
But heh heh...I am a very happy woman right now in spite of being desperately lonely. You didn't notice any smirks on that simian face today, did you?
And bye bye,
Rumsfield
. Hello,
Nancy Pelosi!
Seriously. Click on those links. You can thank me...
later,
xo