...but I did
So today is the release of my good pal
Ellen Meister's
incredible, incredible book "Secret Confessions of the Applewood PTA".
To learn some really fun things about Ellen, please visit our mutual friend
Myfanwy Collin's blog
.
And here are the first stellar reviews for Applewood:
From Publishers Weekly
Cat fights erupt among Applewood's soccer moms in Meister's eager-to-please debut. The local PTA, driven by über-wife Suzanne Podobinski, is raising money to build a small stadium at the elementary school when a location scout, searching for a place to film a movie starring George Clooney, happens into their Long Island town. The PTA quickly dissolves into factious committees, and Meister uses the ladies' competitiveness to delve into the histrionic relationships of suburban housewives: lawyer Maddie Schein has an inferiority complex that's exacerbated when she imagines her chiropractor husband has a crush on his cousin; brash, show-offy songwriter Ruth Moss secretly longs for satisfaction after three years of caring for her impotent, half-paralyzed husband; and mousy Lisa Slotnick, married to a millionaire computer geek, is in for a rocky ride after her alcoholic singer mother shows up. As tension mounts, the ladies cast aspersions, scheme, connive and resort to blackmail (a ploy that comes in handy after Suzanne is spotted in a poolside ménage à trois). The comic book"inspired cover and Lisa Kudrow blurb are the icing on this cupcake of a novel. (Aug.)
Copyright © Reed Business Information, a division of Reed Elsevier Inc. All rights reserved.

From Booklist
It's every woman's fantasy to have a film--location crew select her hometown for the next movie starring a major cinematic sex symbol (in this case, George Clooney), and when an Applewood, Long Island, elementary school, is deemed a possible site for Clooney's upcoming flick, the members of the upscale community's PTA go into hyperbolic overdrive to turn fantasy into reality. As members of the PR committee, it will fall to Maddie, Ruth, and Lisa to polish Applewood's somewhat spotty reputation when the producers come to town. Accomplishing such a massive public-relations coup would be difficult enough, but add Maddie's failing marriage, Ruth's clandestine affair (with the school superintendent, no less), and Lisa's alcoholic mother to the mix, and you have women facing challenges that make the typical Saturday morning PTA bake sale look like a piece of cake. With sexy characters, sharp dialogue, and snappy pacing, Meister's sassy, saucy debut novel could well turn into a movie of its own. Carol Haggas
Copyright © American Library Association. All rights reserved
I met Ellen for the first time four years ago when she was still on an agent search for her manuscript. Here we are together at brunch in New York City: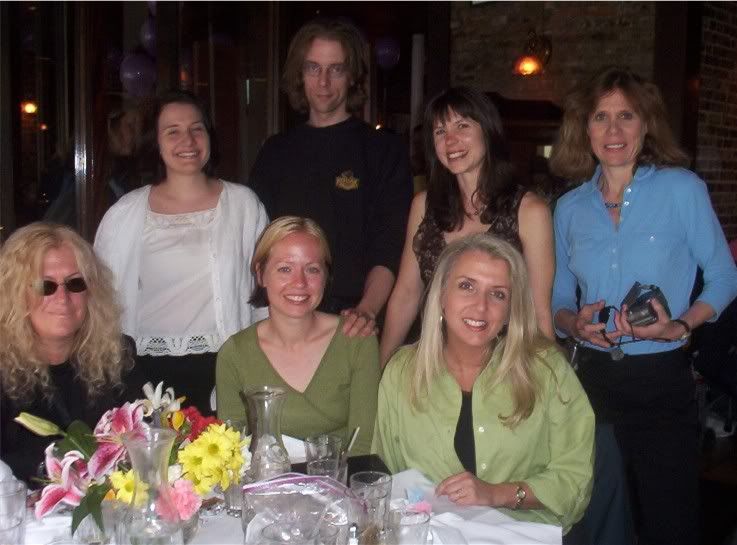 Ellen is on the first row, far right, that's me as usual hiding in dark glasses on the far left, and with her hands on her shoulders standing above Ellen is
Susan Henderson
, my fellow partner in crime in the
Neil Gaiman
fan club.
By the way, Neil and Ellen share publishers. How cool is that! Maybe they'll get to hang out at the Harper/Collins Christmas party together? Of course Sue and I will crash, or dress as maids and pass around trays of champagne...
Seriously. Buy Ellen's book. I've read it. It's freaking amazing. And...there's a chance that Lisa Kudrow will say something about it on the Jay Leno show tonight. Lisa did the audio version of Ellen's book, as well as providing her with a blurb for the cover. I've made it easy for you to buy -- just click on the Amazon link on the right under my "recommended reading". Okay? Okay!
I repeat. HOW COOL IS THAT???
So yeah, I do hear an orchestra playing Stars and Stripes, I do see fireworks in the sky, and today I am celebrating bigtime for my dear friend Ellen.
Later,
xo