Julie Slick, Adrian Belew, and Eric Slick on stage in Springfield, Ohio
ETA: I was just over at
DGM Live
and Sid Smith is not only reporting on the Adrian Belew Power Trio tour, he just teasingly linked my blog along with that of
Neil Gaiman
. Ha! And here I haven't mentioned Neil for days...
(And now he's going to get a couple hundred thousand more daily hits on his blog courtesy of Sid. Ha ha - you can thank me later, Neil.)
So here's a portion of a cool review of Friday night's show I received from Kevin McKeehan, a member of Adrian Belew's tribe:
"The show last night was awesome...first time seeing Ade electrified and outdoors...very cool. I'm lousy with set lists unless I purloin one...which I did not. I really dug Matchless man and Lone Rhino...still one of my faves and he let loose towards the end.

Robin...your kids are excellent...two scoops to you and yours! I got to see the first iteration of the power trio and had been blown away with the powerful playing of Mike G. on the bass and spent equal amounts of time watching him wail away...Julie on the other hand is silky smooth and soulful, yet still powerful.....put the heart back into the songs instead of ripping it out, gave them a new depth.

Eric is simply staggering...such a young man with such chops....he definitely has a very, very bright future in the music biz..."
Wow. Thanks for that, Kevin, and for the excellent photos you provided -- especially the above group shot. I'll be putting up more in future posts. Oh, you know what? Let me post a few more here -- one of Ms. Julie and one of the Slickster on drums.
For those keeping track of such things, yes, Julie has many basses and I'm hoping someone sends me a photo of her playing her vintage fretless Gibson Ripper -- she uses it on "Elephant Talk" and uh-oh, did I just give away a secret song from the set list? Ha ha - nah, I see the set lists are published all over the web so I'm thinking I'm safe sharing that info at this point.
And let me also provide you with this
link
for more of Kevin's awesome photos of the concert. There are some amazing ones of Adrian.
It's too early for any reviews of last night's Chicago show to be in -- it's like 6:30 a.m. there right now. I'll either edit this post to include them as I find them later in the day or will gather them up for a blog entry tomorrow -- depends on whether I can control my excitement or not.
Also, it appears that Julie and Eric didn't have internet access in Chicago because we have AOL and I'm able to see that they both have considerable amounts of mail that they haven't opened so that also means Eric has been unable to enter anything on the tour blog for the Philadelphia Inquirer yet but he's doing it in Microsoft Word and will transfer what he wrote to the blog as soon as he's back on line -- which, I guess, will be later tonight or tomorrow morning when the Adrian Belew Power Trio returns to their home base in Nashville, Tennessee. And oh my god, do I believe they leave for Europe in a few days? What a life! And someone who was at the Ohio show posted this:
"By the way, there was chatter, after the show, about another east coast leg, and another west coast leg, after Europe.
I think that's the info I already had...i.e., there are several dates for an east coast and southern swing in August and plans to tour Texas and the west coast in November...but who knows, maybe there's more being added. I'll report it here as soon as I get any new information.
In the meantime, let me say this to the
man
responsible for the current Adrian Belew Power Trio...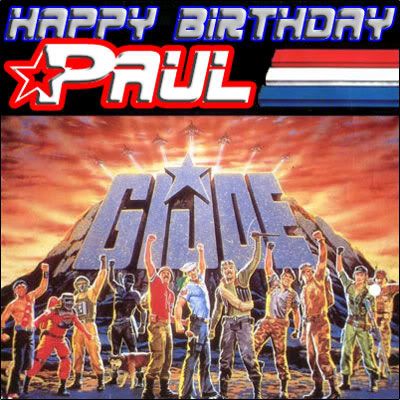 Um, I feel compelled to add that this photo is meant to be funny. My regular readers know how I feel about the war and the Bush Administration...arghhh...I keep waiting to wake up from the nightmare.
Later, (with more Belew news I hope)
xo