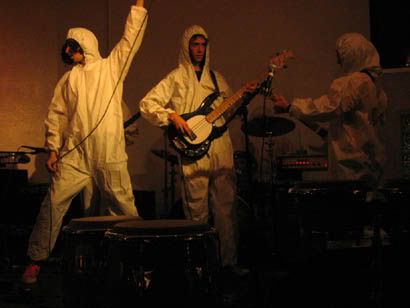 The Hall of Famers from Rock School performing DEVO
So, I hear I missed a great School of Rock Best of Season show Saturday night because not only was Skunk Baxter fantastic but they brought Eric Slick, Dan Nitz, Mike Connor, Matt Manser and Joey "Reno" Randazzo out of retirement to perform DEVO one final time.
Here's the You Tube, though. It's wild and crazy though you really need to be there live to see it and believe it. This was a spur of the moment surprise so they didn't have their white suits (I took the above photo during the west coast tour of 2004) so they improvised for costumes Saturday night (and I'm trying not to think about the fact that they resemble terrorist beheaders)...anyway, I love the way Eric drums on this:
Oh crap, for some reason the embedded version isn't working, so here's the
direct link to the You Tube Film
.
In
Adrian Belew
news, the tour schedule for the eastern part of the United States is starting to fill up nicely. I have some dates but I want to wait until they all appear on the venues listed so I can post links, however, here is the first one and I'm so stoked I can't even begin to tell you - they're playing BB Kings in New York on August 8. Here are the
details!
Ha - you will note this is an old advertisement for the Power Trio and mentions
Les Claypool
on bass and
Danny Carey
on drums. Well, how cool is it that Julie is replacing Les and Eric is replacing Danny -- I mean, really -- those are some shoes to fill, huh.
Anyway, in my world, forgive the brief blog posts - I'm going to be absent most of June completing Baby Boomer as yes yes yes someone is interested in it and would like to have it by the end of this month. I just need to tweak it a bit more before I'm confident about the edits. Okay, you know I'll never be confident nor will I ever able to stay away from this blog for a month but I really need to devote serious time to writing so yeah, I may not be here every day.
I know there's other news but right now my son and his girlfriend are fooling around on the sofa next to me (ack!) and my daughter is hocking me about going out to buy a new cartridge for the printer and I also need to visit a crazy herbal store to buy Oil of Peppermint because apparently this is the natural way to keep squirrels from eating the apples off my tree (do you believe it? I have a twelve foot by twelve foot oh poor me I live in the city garden in the back and planted a little tree a few years ago which is now this huge gorgeous thing bearing fruit!)...though I'm not so confident about this peppermint stuff cos' I tried it before as well as other natural ways to rid us of pests/rodents and um, they don't work. But poison just isn't an option so it may be the squirrels who end up enjoying my apples, not me...oh well...that's what Whole Foods is for, huh.
So let me get out of here so I can take care of my errands early and come home and work on the novel. If anything exciting happens in the meantime, I'll be back.
Later,
xo