Adrian Belew with Julie Slick on bass and Julia Ranier on guitar and hidden as usual where you can't see him on the drums, Eric Slick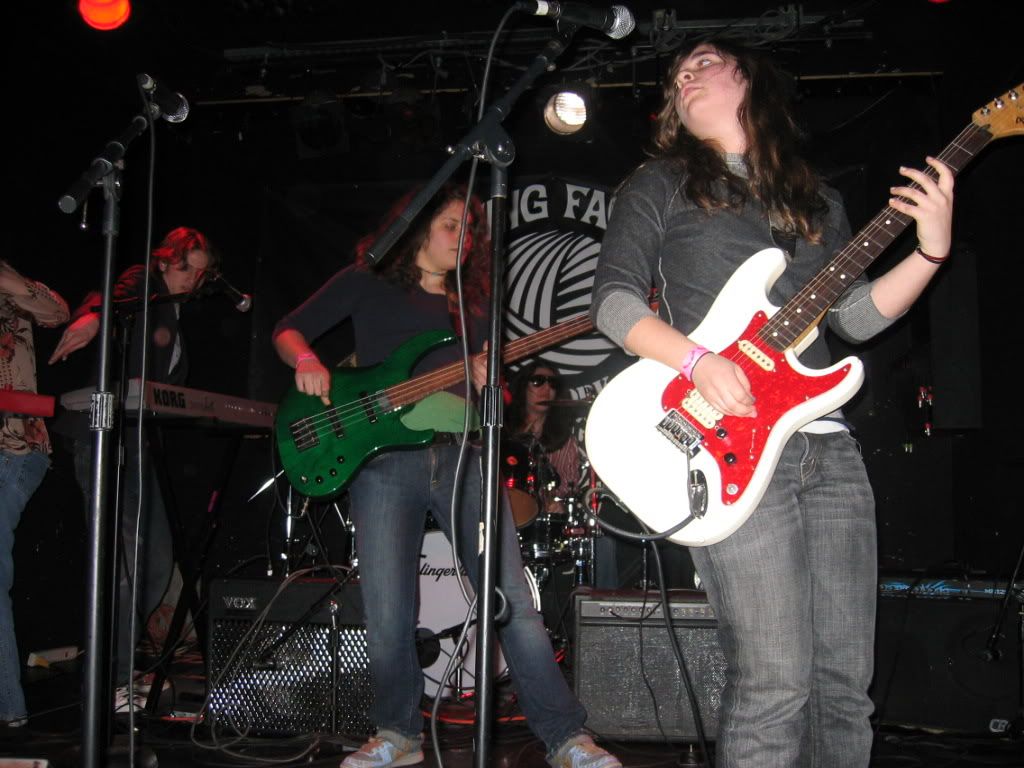 Aha! There's Eric, along with Julie and Julia and that's Foster on the keyboards
Some more...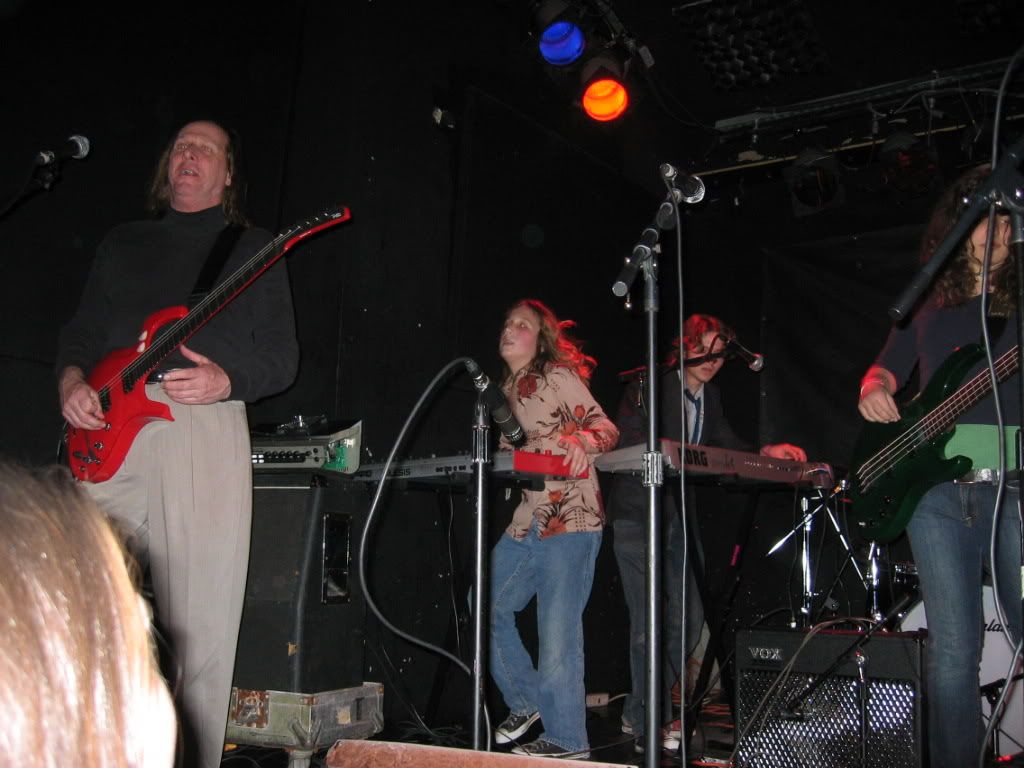 So last night was amazing! I'm still on a high from it.
I still don't believe how the whole thing panned out.
Last blog post, I was a bundle of nervous energy, wondering if I should take the two hour trek to New York on a Sunday night to see my son play one song with Adrian Belew at the Knitting Factory. My daughter was also invited to play, but she works as a server at a restaurant on Sundays and is very conscientious and wouldn't call in sick.
I knew it was going to be a surprise to Eric that he was playing -- though as it turns out, he was having the best day ever being Adrian's roadie and hanging out with him and impressing him so much that when Eric brought Adrian over to say hello, Adrian told us that he'd love to have Eric come down to Nashville and maybe do some future project with him. Gary of course had to grab me by the elbow so I didn't swoon but I managed not to be my usual dorky self -- probably because I was so whipped by the end of the evening.
But I digress...
So I figured eventually Eric was going to get the news he was playing and he was going to call me and then I would most likely have to drag Gary out of his Sunday coma and make him drive me to New York to see our son. By this time, I'd given up on Julie because it was now late afternoon and she never phoned me.
But Eric never called, and when I tried to call him, it was obvious he was hanging with the cool kids and didn't want to talk with his mom, so I figured, okay, he must not want me to come up to New York...he's just playing on one song, blah blah blah. So I get comfortable in my p.j.s, and woo hoo, I have Neil Gaiman's MirrorMask on DVD which I am really looking forward to watching, when I hear my cell phone (which has the lovely ring of the actual Bob Dylan version of Along the Watchtower. Ah, I love technology. The sound of the telephone ringing used to make me cringe..well, the phone still makes me cringe, but at least I'm in love with my ring tone).
It was now 4:00 p.m. and I'm like Oh my god, you're kidding me. Because it wasn't Eric, it was Julie, who was calling me from the restaurant, telling me she'd be home in twenty minutes, and could I please ask Daddy for her if he'd drive her to New York because as it turned out, she wanted to play with Adrian Belew after all in a big way.
"Oh god, why can't you call Daddy?" (picturing him in bed in the fetal position snoring after most likely watching the Phillies' spring exhibition game on television and basically shutting out the world until Monday morning)
"Mommmmmmmmmm"
"Oh alright, I'll do it. Sure. Feed me to the lions. See if I care."
Just kidding. No one is prouder of his kids than Gary, and since he's a guitarist, I didn't exactly have to twist his arm to see Julie and Eric play with Adrian Belew.
So I threw on clothes, Julie came bursting through the door, changed...Gary pulled up...we hopped in the car...and it was now 5:10.
"What time does the show start, Julie?"
"Doors open at 6:00; show starts at 7:00 p.m."
I watched the clock on the car nervously. If there was no traffic, we could make it by 7:00 barely. If we hit traffic, we'd be doomed.
"Julie, call Eric and tell him we're on the way."
This I did at 5:20. Have I mentioned what a nervous wreck I am? I couldn't keep my eyes off that clock the entire time because I kept imagining us driving all the way to New York and getting there late and finding out that they already performed City of Tiny Lights without Julie.
You have no idea what a nightmare that would have been for me on all counts. Julie, her father....arghhh....very, um, emotional people. (This is, of course, why they are also incredible musicians so while I've come to accept this insanely emotional behavior, I'm still never quite prepared for the ensuing explosions even though they pass quickly)
Oh happy day...I mean night...we hit absolutely no traffic...just a five minute jam at the Holland Tunnel...and it's only 6:45 p.m. But I don't allow myself to stop hyperventilating even though I know that the Knitting Factory is basically walking distance from the tunnel...and naturally, I must have given off those vibes because even though we've been to the Knitting Factory like ninety times, we veered to the left off Beach Street instead of taking the right fork which would have taken us to Broadway, so Gary made some insane cowboy U-turns there and oh my god, 6:59 we pull up at the Knitting Factory and you can't even believe this, there's a parking spot...legal and free...right outside.
We rush inside and the place was packed! Considering it was Oscar night, this was pretty damn impressive, but Adrian Belew has some devoted fans.
As I stood at the bar catching my breath, Julie walked over and laughed and said "Guess what, Paul isn't bringing Eric and me out until the final song."
Whew.
Eric ran over and hugged me and I found out he did know he was playing City of Tiny Lights but had just found out an hour ago, and he already knew I was on the way. But seriously, had I known he was playing Saturday night, I would have definitely made plans to be there Sunday for sure....but then Julie would have been screwed out of a ride to New York and she wouldn't have gotten to play...so strangely enough, the whole thing worked out perfectly.
Anyway, the show. It was INCREDIBLE! What an enjoyable couple of hours, hearing songs which spanned Adrian's entire career - Heroes, which he did with David Bowie; two of my all time favorite King Crimson songs from the eighties - Three of a Perfect Pair and Frame by Frame...and then he said "Many years ago, an alien came down to earth..and he was amazing...he was with us for a short time...and he gave us this...."
And he fucking launched into Purple Haze.
The whole crowd sang along. "Excuse me while I kiss the sky!"
Magic. The night was magic.
And then for the last song, Paul introduced Julie and Eric, and they came out and did City of Tiny Lights with Adrian and brought the house down. You know me, I was crying, so that's why the photos are wobbly again...but I have plenty more so I'll try and see if I can find some better ones when I'm less out of it.
Adrian had jammed with Julie a couple weeks ago but there were so many other musicians there at the time he was a bit overwhelmed and had forgotten Julie and Eric were brother and sister. So after the show, he talked with Gary and me again and said he couldn't believe it -- he congratulated us on having two such talented kids...you know me, tears again...like I said, I'm on a high from which it will probably take all day to come down.
I think this would be a good time to watch MirrorMask. It looks very cool and even cooler, something I normally would never have sought out on my own but ever since I read Gaiman's Smoke and Mirrors in September I've been down several strange paths, the latest of which had me writing my first science fiction piece. Crazy, huh. Though I've already been told "Hey, this isn't science fiction, this is just another thinly disguised Robin Slick sex, drugs, and rock and roll story".
That was me who said that. Ha.
Okay...I'll be back later with a review and any other news Eric feeds me when he wakes up -- which I imagine will be sometime around noon.
Later,
xo