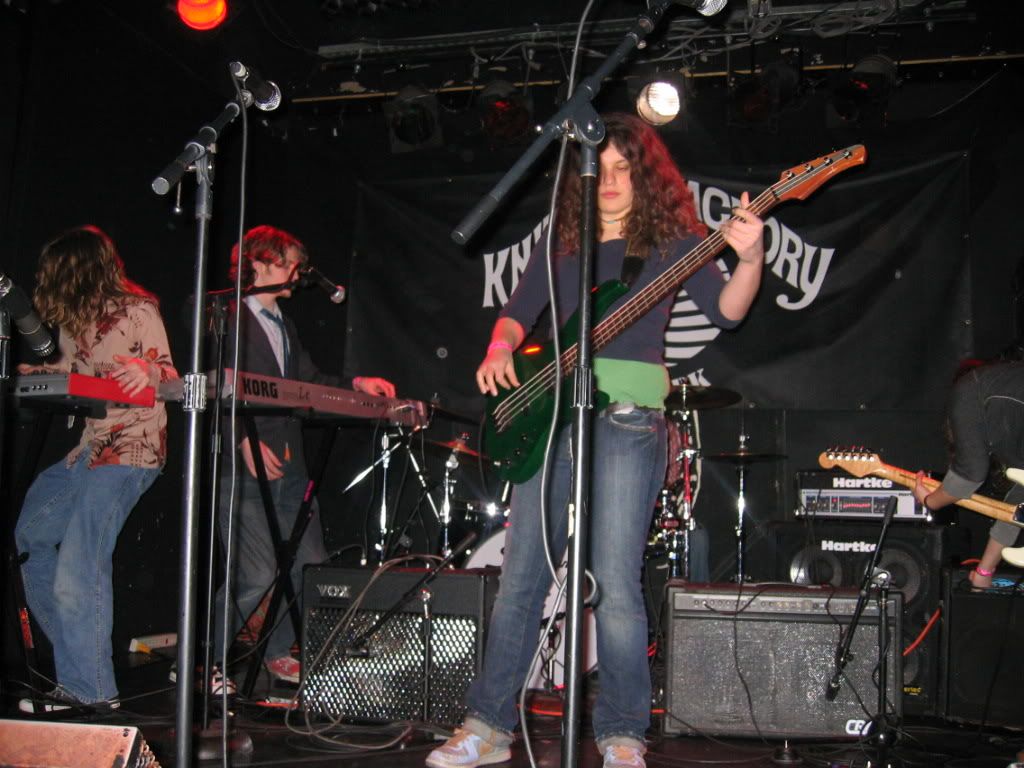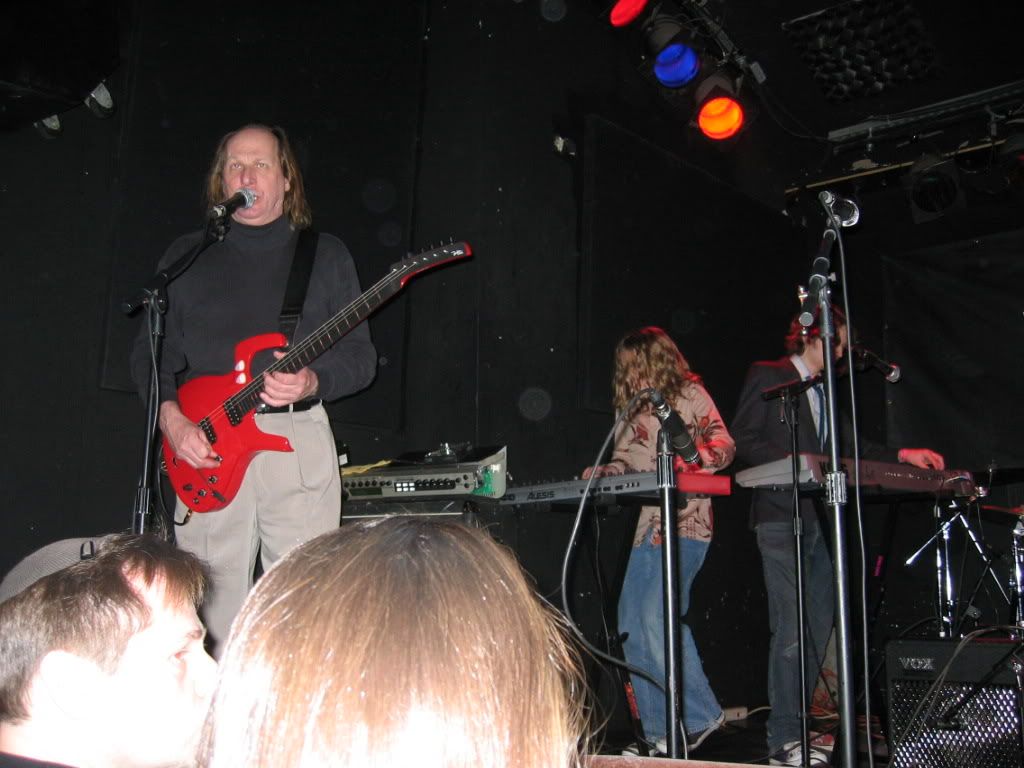 A couple more photos of my daughter, Julie, playing bass on City of Tiny Lights with Adrian Belew at the Knitting Factory in NY Sunday night...alas you cannot see son Eric on the drums...but here he is in a pretty bad shot where I totally cut off Paul's head and show Julie and Julia from behind...sorry...hey, I'm a writer, not a photographer!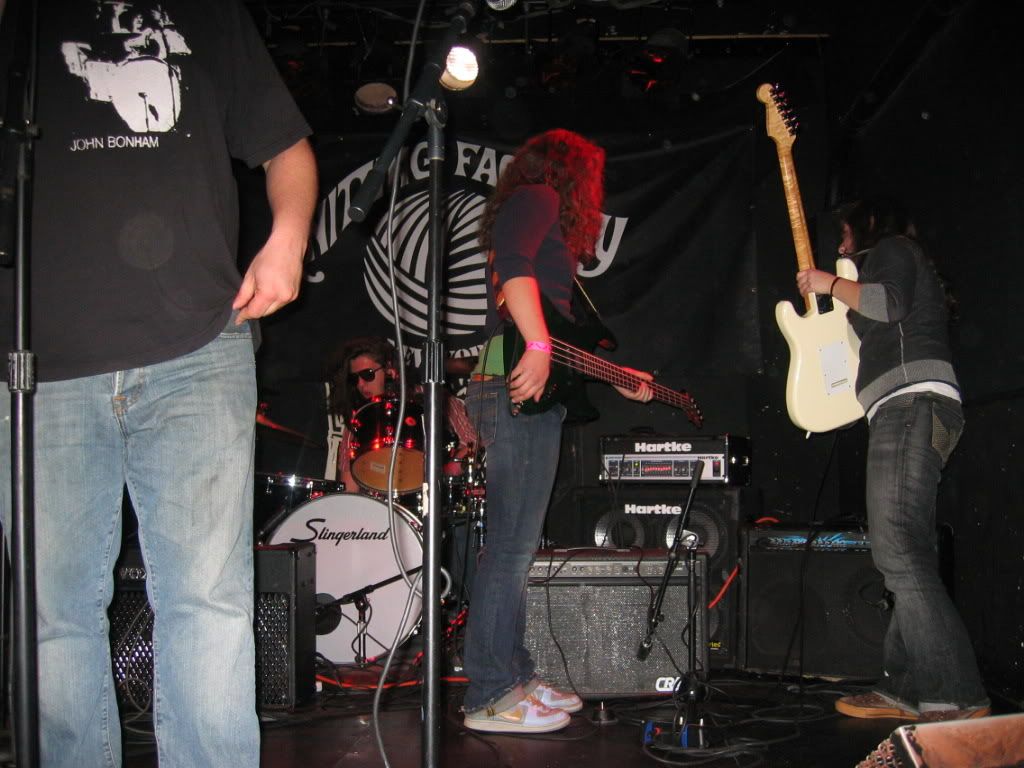 Two things I just heard on the news I that made me giggle...sort of...
Yanni, that new age musical wonder (snort), was arrested for verbally abusing and then hitting his girlfriend; (I'm not laughing that he did this or making light of the crime itself, mind you, I'm laughing that it's "Yanni")
Madonna's daughter just saw the video clip where she kissed Britney Spears at the MTV Awards...or was it the Grammys...all crap, I get them confused...and asked her mother "Are you gay?" And Madonna replied "I am the mommy pop star and she is the baby pop star and I am kissing her to pass my energy on to her".
Yes, I just heard this on CNN so it must be true.
I will now puke up my breakfast.
My photos and blurb here about Adrian Belew made it on to
DGM Live
this morning -- and it turns out I was linked by a very cool
guy
. Wait until Eric wakes up and reads his creds and his blogposts...I just had a most enjoyable time doing that very thing.
Eric is still pretty freaked out about meeting Adrian. I mean, Adrian has only played with Eric's idols -
Bill Bruford
,
Terry Bozzio
, and
Danny Carey
. So can you imagine what this feels like for a drummer barely nineteen years old?
I want my son's life. By the way, his tour with Project Object is just about set give or take a couple weeks in May so here's where he'll be starting April 12:
Project/Object - The Music Of Frank Zappa Apr-May 06 Special Guest:
IKE WILLIS
April
12 Philadelphia, PA World Café W/SCHOOL OF ROCK ALLSTARS!!
13 Sayreville, NJ Starland Ballroom w/ MAHAVISHNU PROJECT!
14 Albany, NY Valentine's
15 Burlington, VT Higher Ground
16 Northampton, MA Iron Horse Music Hall
17 Providence, RI The Century
18 Boston, MA Harpers Ferry
19 New Haven, CT Toad's
20 OFF
21 Cleveland, OH Beachland Ballroom
22 Chicago Martyrs
23 St. Louis, MO Cicero's
24 Detroit, MI Magic Bag
25 Cincinnati Poison Room
26 Milwaukee, WI Shank Hall
27 Louisville, KY Headliners
28 Asheville, NC Stella Blue
29 Atlanta, GA 5 Spot
May
7 New York, NY BB King's Blues
Like I said, I am going to hit as many as these cities as I can...really looking forward to it. Eric isn't listed as their new drummer on their
actual front web page
yet but if you click on "news" on the left hand side and and scroll down to their post of February 4, 2006, you'll be able to read all about him.
So the moment you've all been waiting for -- my capsule review of Neil Gaiman's MirrorMask. Actually, I'm lazy and admittedly no movie critic so I'll just copy my remark in the comments section to Susan Henderson:
"I know I'm prejudiced, but I had the best time watching MirrorMask today. Since fantasy isn't my usual genre I have nothing to compare it with so I absolutely adored it and thought it was incredibly creative - both the writing and the film itself."
So that's my thumbs up for what it's worth. I see it's coming to Comcast pay per view March 31 in case you don't get around to scoring the DVD.
Speaking of
Susan
by the way, click on the link and read her compelling blogpost today. Also, I see that Sue scooped me on our writer pal
Bob Thurber
who has some pretty exciting news -- actually, now you have to go to Sue's page to read all about it as well as an excerpt from Bob's incredible award winning story.
Finally, you MUST watch this, courtesy of my new favorite website,
Okay, I think that's enough excitement for today. Back upstairs to work on the novel.
Later..
xo