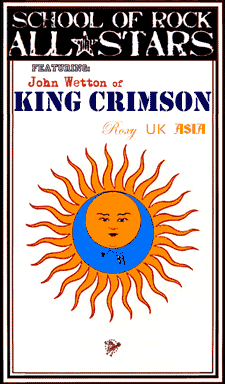 So this should really be cool.
John Wetton
is appearing with the Paul Green School of Rock Music All-Stars for four shows as follows:
Thursday March 16, 7pm
School of Rock, Downingtown
Friday March 17, 8pm
School of Rock, Bergen County
Saturday March 18, 6pm
New York Knitting Factory
Sunday March 19, 6pm
The Troc, Philadelphia
By the way, here's a group shot of Adrian Belew when he played with the Rock School All-Stars a couple weeks ago as well as a couple more on stage: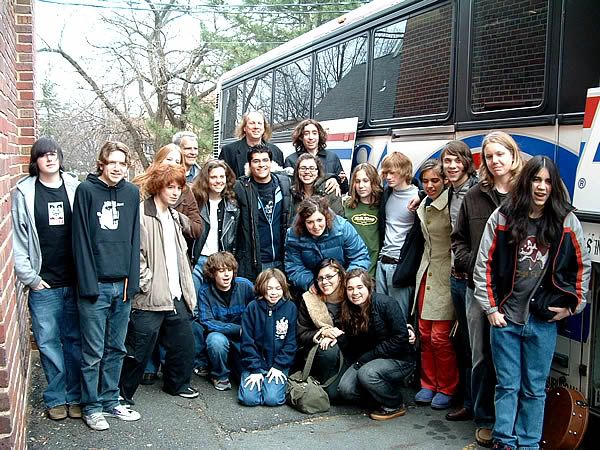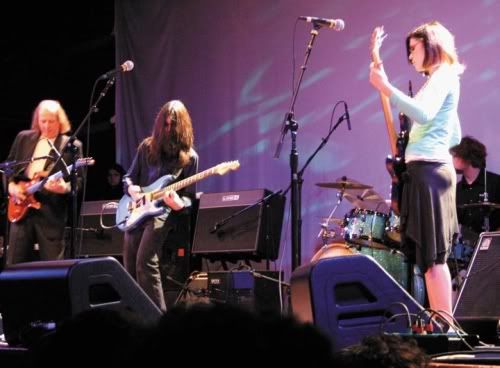 I dunno, if the Wetton shows are even half as good as the Belew shows, you are in for a hell of a treat and it's my understanding that the Troc is running a two for one special so you should check that out if you're in the Philadelphia area.
In further adventures with Google, it's hard to believe how many magazines and news agencies have picked up that crazy could-it-really-be-him Amazon blurb on my son, Eric, when he played with
Carlos Alomar
and the Rock School All-Stars at CBGBs in New York following the premier of the documentary, Rock School, and its subsequent
soundtrack
.
"This is my first on-line review and I only ventured onto the site to see if others had anything to say about this CD. I am doing it as a favour to the wonderful group I saw perform at CBGB's Wednesday night. I did not see the movie but was invited by my mates to the after party and bought the CD solely based on the music I heard. I've been a drummer with what many say is the world's greatest rock and roll band for several decades and I have to tell you, any one of those kids could fill in for my mates in the band. I understand the little lad, C.J., is the star of the movie and he is just wonderful but for me, there were three heroes that night...the singer, Maddie, the bare chested lad Jeremy, and the drummer, Eric. Maddie has the voice of an old time rocker. No stony faced, spaced out monotones for her. She roared, she was the music. Jeremy Blessing (and is that a name!) is the stuff of the Mississippi Delta combined with Jimmy Page; in fact, I'd like Jimmy to see him live the next time he's in town. I intend to write to the School of Rock for his contact information. There was soul in every note and he owned the stage. But as a drummer, for me the main attraction was Eric Slick. This is a young lad who has obviously studied the masters. He has listened to people like Buddy Rich and Max Roach I am certain, and while I am loathe to say it, I believe he has also listened to me. This kid has no peers in terms of innovation; he has a deeply personal sound and approach. He had a fixed pulse on his cymbals as well as his bass drum; and while many of the young guitar lads would falter from time to time due to what I trust was a problem with the monitors, Mr. Slick never lost a beat and was the driving force that evening. He brought tears to this old man's eyes and he is another I intend to keep my eye on for future projects. He could fill my shoes any time.

I insist you people in the States buy this CD. Don't buy it for the old geezers; buy it for the kids and learn something from them.
Yeah, that freaks me out every time I read it.
Speaking of Eric, I made a grievous error when I reported that he'd turned me on to the Arctic Monkeys. While they are the guests on Saturday Night Live tonight...and I must have heard that in the background on the television while I was typing the blogpost...they are not the band Eric and I both love, but rather, that would be
Arcade Fire
.
I'll let you know Sunday or Monday what I really think of the Arctic Monkeys after I see them "live". They're the ones who did all the internet promo and other weird related stuff to get famous in a deliberate, shrewd business plan on the order of the White Stripes, who, in my opinion, are the most overrated band of this millenium and while I normally adore Jon Stewart and Conan O'Brien, I've lost a bit o'respect for both of them because they are White Stripes groupies. Now come on. There isn't one Rock School All-Star or even one kid on the Rock School B team who can't play circles around those two; plus, their stage presence is just plain WEIRD. And their songwriting -- in the words of the late George Harrison..."it's been done". (and better)
So yeah, add the White Stripes to my U2 and Aerosmith list as bands which will be playing on the soundtrack in hell when I die. (You realize I do not believe in hell, but it's my standard line)
Anyway, I'm a wreck, I just sent something to a new potential agent; I'm waiting to hear from an editor regarding a story I revised for their magazine...arghh...and I continue to plug away at the new novel with my fingers crossed that I know what the hell I'm doing. Plus, I'd entered my Neil Gaiman essay in a contest and the judges just announced they've extended the deadline by one month. This tells me one of two things. Either they hate every single essay they've received so far (and that of course would include mine), or, only two people entered and they have a grand total of $26.00 prize money. Either/or, it doesn't look good, huh.
What the hell, I'll try and be optimistic. I mean, what other choice do I have? Well, except for the dreaded simul-subbing...
One final note on writing: Here is the absolute best list I've stumbled on yet as concerns places for writers to submit:
The Big Ass List of Pubs
.
And on a private, personal note: I love you, Dan. I've been devastated that you think otherwise. I play around a lot in this blog and sometimes joking doesn't translate well on line. I love all Rock School kids, but especially those with whom I've had the pleasure of touring and seeing in concert with my kids. I think you all are the most amazing group of human beings I've ever met. But yeah, I admit when it comes to Julie and Eric, I can be, um, a little over-sensitive and protective even though they're both bigger, smarter, and more mature than I am. But I'm working on it, I'm working on it.
Later,
xo