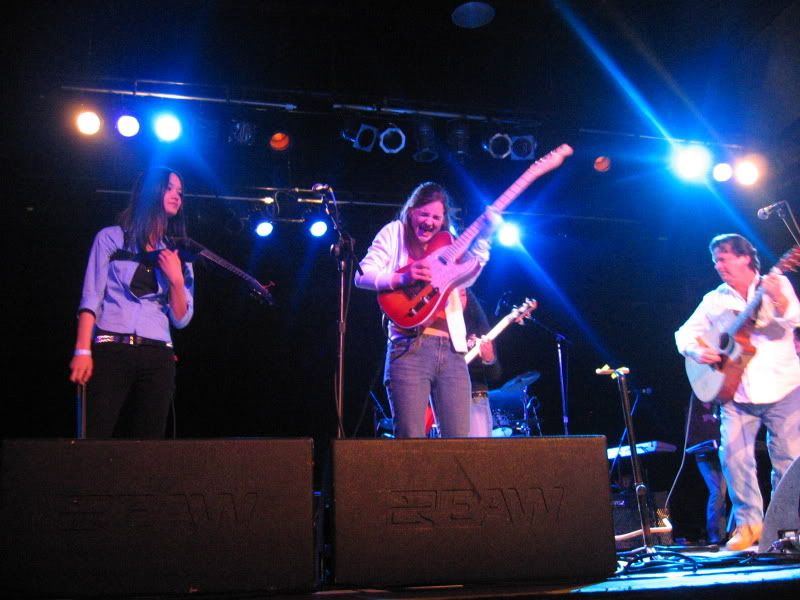 Another photo from the John Wetton gig at the Troc - Katie Jacoby on violin and Sara Zimmerman on guitar
Hey hey...
So yeah, I've been missing for a couple of days but it's all good -- I've been writing when I can and Julie is on Spring break from Drexel University until April 3 so my posting is probably going to be spotty while I hang out with her.
In case you can't get enough of me, my wonderful and generous friend
Ellen Meister
was kind enough to post a story of mine, The Lesson, on her
blog
today. The Lesson was originally published by In Posse Review and while I usually am very hard on myself, this piece is a favorite of mine and I'm really touched that Ellen chose to post it in her blog.
When I have found a moment to pop on line, I've been having fun visiting a couple of websites, one of which is
John Wetton's
because his guest book is crazy! Of course I couldn't resist playing in there and it's a lot of fun reading some of the comments from and regarding the Rock School community. There's links to articles, photos, etc.
In fact, here's a really cool review of the show I found at
Matman Comics
.
The other website I keep haunting is
Project Object's
because they have updated it to include Eric and they've added more tour dates. They have a nice little animation thing going on where Eric's head changes three times. They have not updated "the band" link yet and their former drummer still appears but Eric just furnished them with his bio so that'll probably happen shortly.
Speaking of Eric, on Tuesday night he went to the Tower Theater with his dad to see
Ray Davies
, formerly of the Kinks though I've heard that the Kinks are in fact planning a reunion. Eric and Gary had an absolute blast; they had practically front row seats, and who sits right next to Eric but infamous Philadelphia WMMR disc jockey
Pierre Robert
and Pierre was with equally infamous Philadelphia disc jockey
Michael Tearson
. Eric ended up joking back and forth with Pierre all night, and as a result, got a very nice mention on WMMR the following day. Here's what Pierre had to say:
Last night Ray Davies' show was incredible, and I had the pleasure of sitting next to citizen Eric Slick, who is a drummer and graduate of the Paul Green School of Rock Music and as my listeners know, I'm a very big fan of Rock School. Eric just came back from two mini-tours where he sat in with John Wetton and Adrian Belew and he's getting ready to go on tour with Ike Willis and Project Object with the tour kicking off in Philadelphia on April 12 at World Cafe Live. So we'll be keeping an eye on Eric and it's great to know that kids are carrying the torch. Therefore, we dedicate the following song to Eric and his dad in honor of last night...
And then he played "Lola" Live by the Kinks -- the vinyl version.
How cool is that?
Eric's insane life continues. Yesterday was spent assisting with the Zappa show in New York, today he has
Shannon Penn
rehearsal because they go into the studio on Monday, tonight he helps Dylan out at Philly Rock School with the punk rehearsals, and then somehow he squeezes in teaching and rehearsals for the Project Object tour which involves a lot of time spent on trains because they're held in North Jersey and Downingtown. I'm tired just typing that.
Actually, yesterday was crazy altogether. A link to my blog was on the
Pearl Jam Forum Board
and I heard from a lot of really interesting people as concerns my little You Tube movie with Eddie Vedder and my son and Rock School pals. Someone on the board then referred readers to my initial post back at the end of May where I described the whole event in detail. And what made me really happy was that a person on the forum board then commented about said post: "Wow. She sure can write. Thanks."
No, thank
you
, whoever you are!
And finally, in the "I Know You're Never Going To Believe This But I Swear on Both of My Kids' Lives This Wasn't Me" Department, on Neil Gaiman's blog yesterday:
Dear Neil,
I hope you will write a nice introduction to your new short stories collection like you did with Smoke and Mirrors. I loved how you explaned how you got the idea for each story, and whenever I finished a story, I would go back and see where it originated. I hope you include this in your new collection's introduction. Just providing a little feedback!

-Robin
Then Neil answered:
You know, I got an email today from my editor at Morrow, the longsuffering Jennifer Brehl, saying much the same thing. Only she pointed out it was due on her desk in February.

Yes, there will be one. I hope to finish it tomorrow. Wish me luck.
Err...if I were going to write to Neil, I probably would have used words other than "nice" when describing his introduction, though I must admit, I do agree with the sentiment and found myself doing the same thing while reading Smoke and Mirrors...i.e., going back and reading the introduction because he really did tell a little tale about each story in the book.
But I feel I must write this disclaimer because I know all of my friends probably read his blog yesterday and snickered.
No, no, no, I do not write letters to Neil Gaiman. Oh, okay, I did write once about fountain pens and was mortified because that was the time my letter crossed in the mail with his post about pens on my blog.
If I were to write to him....umm...it wouldn't be about any short story introduction.
It would be to...
Hahahahaha - oh man, look how pink he is. Sorry, Neil, didn't mean to embarrass you.
(Oh, but Happy Birthday,
Sue!
Ha! Wait. Is that today or tomorrow? Oh hell, now I'm confused. If it is tomorrow, then you just got your first gift -- Pink Neil. I mean, what else does a girl need?)
Nah, seriously, if I did write to him now, it would be to request that he start selling black t-shirts with limes in his
web store
. And if you don't get the lime reference, go read Anansi Boys. And if you don't get the black t-shirt reference, well, then you don't know Neil and you don't know me. And um, now that I think of it, I did write to him about that, too, but it was only because he asked on his blog for recommendations as to what we'd like to see in his store.
Have I mentioned lately what a mess I am?
Later,
xo