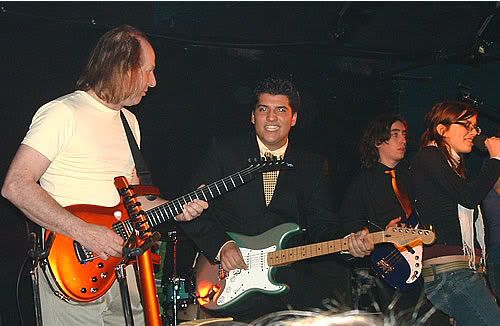 The above photo of Bosco with Adrian Belew when he realized the camera was on him makes me laugh out loud.
So sorry, sorry, things have been quiet around here...wait, that's not actually true, I've been working like a crazy on novel revisions and my brain is in total turmoil so I'm trying to focus solely on finally finishing this book so I can sleep at night again. Today needs to be a turning point...Julie goes on Spring break next week and we've hardly spent any time together this entire semester. She really had a heavy, all day class load and her remaining hours were spent in the studio, at work, and with Matt. So I'm really looking forward to our dates to the Italian market and breakfast and lunch in cool restaurants...maybe even a day trip to New York. I've been a complete shut-in lately which is kind of scarey but I'm obsessing over this book. If I can have a finished draft by Sunday, I'll feel really good about taking a week off and then going back to the manuscript with fresh eyes for edits.
Eric, on the other hand, has been running around like a maniac. I think I've seen him maybe a total of one hour since Friday. He's been rehearsing with
Project Object
for the upcoming tour (and I provided the link because there are more dates and venues added), rehearsing with
Shannon Penn
because they're going into the studio at the end of this month, getting ready for an April Fool's Day gig with
Doctor Dark
...and yesterday, after coming from one of the above rehearsals he met up with
John Wetton
and then ended up hanging out with him at Rock School and "reminding" John of a few licks...in fact, Eric is going back tonight to help out again. He said John is funny as hell and the two of them had a very interesting one on one conversation.
And while I'm talking about Eric, as I've said, he's also scheduled to do an east coast tour with
Chris Opperman
, who plays keyboard with Steve Vai and the song they did together was nominated for a Grammy this year. Chris is a character, and I'm one of his My Space friends (Yes, I know. I cannot believe I have a My Space friend, either. I agree, I'm about ninety years too old to even be anywhere near that site, but music nut that I am, I go where the music is). Anyway, I got the My Space "Your Friend Chris has posted something" email message and I clicked on it and how interesting is this:
"Today I attended the "Art of Writing" class that The Learning Annex put on with Ray Bradbury. Well, how could I possibly pass up a chance to meet someone as amazing and wonderful as Ray Bradbury? Especially considering that he inspired the song "Telepathy on Mars?" as well as the painting of the same name, which is my favorite painting of mine.

Anyway, it was an extreme treat. He told a lot of stories about his life which was very interesting and his basic message was a message of love. You can tell from the way he spoke how much in love he is with everyone and his life. It was really excellent.

He also said that everyone should just piss on their computers because they don't give out information, just factoids, and he said that he told the New York Times that he thought that we should move all of the Jews out of Israel and into Florida where they would be safe from harm, that magazines are now pathetic because they're more about the advertising than they are about the information, and that they'd better damn well build a monorail in LA soon because the freeways are going to become to congested to use at all. I thought he was a riot and he signed a book of short stories for me, and I felt very honored.

He wants Peter Jackson to direct a movie of "The Martian Chronicles" and Peter said he'd consider it in a year. Ray said he's going to do his best to hold onto his life until it's finished. I sure hope it happens, that would be awesome. And he said that it was awful that King Kong was ignored at the Oscars this year."
Okay, I'm new to SciFi and don't know the personalities of even the most famous authors in that genre so I don't quite know what to make of Ray. I'm not sure if I should be offended by the moving all the Jews out of Israel and into Florida statement or laugh my ass off. I'm not sure about his other comments, either...wonder what
Neil Gaiman
thinks of him. Maybe I'll try out that search feature on his journal and dig into the archives and see. (This coming from the person who announced at the top of this blogpost that she's focusing solely on the novel. So far I've resisted going into Neil's journal archives -- which date back to 2001 -- because I know once I start I'll have to read everything. And that will probably depress me, because I'll see how he first starts out five years ago and damn it, right as I discover him, that's when he goes Hollywood. I'm almost dreading reading his newest posts because he's on the Stardust set in Scotland and I'm not sure if I want to know about Clare Danes, Michelle Pfeiffer, Robert DeNiro, etc. But we'll see. I'm no one to talk. I'm the first one to broadcast names, photos, and stories about all of the rock stars I hang out with courtesy of Julie and Eric. Oh alright, I admit it. I'm looking forward to reading about Clare Danes, Michelle Pfeiffer, Robert DeNiro, etc. I'm just jealous it's not me who wrote a book optioned for a movie starring the above and tooling around Scotland with them. By the way, here's a fun fact. Robert DeNiro and I share the same birthday along with Mae West)
Anyway, back to Ray Bradbury...right now I'm going with Chris' opinion that he was hilarious and maybe his remarks were all tongue in cheek. Yeah, on second thought, they've got to be, right?
Okay, I choose to laugh my ass off.
And now said ass must go offline and upstairs to write.
Later,
xo