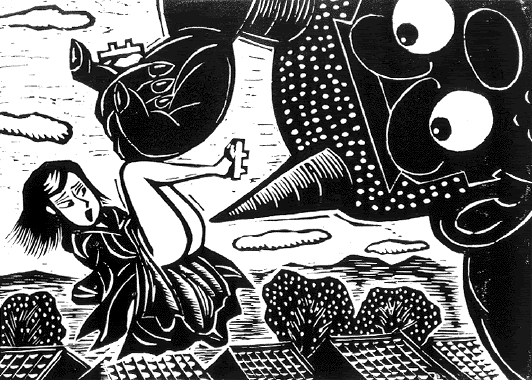 As stated yesterday, I've been tagged again but was first warned of that fact via e-mail. Ha ha - when I first saw that subject line I thought Holy crap, what did I do now? But it's all in good fun.
So here's the deal. Author
Ellen Meister
has tagged me for the below questionnaire that's making the rounds in writer circles. "Tell ten interesting facts about yourself". Most of you know everything weird there is to know about me, but I've dug deep into what's left of my brain and hopefully there are a few surprises:
1. I've played guitar since I'm eleven years old but inexplicably I have only really mastered three songs in my entire life:
The Girl from Ipanema
, Jethro Tull's version of
Bourree
, and
Arlo Guthrie's
Coming Into Los Angeles. (Ha ha – I used to scream those lyrics at the top of my lungs. Look 'em up when you visit Arlo's above provided link and it won't be too hard to figure out why)=
2. My right eye is light green and my left eye is brown
3. I used to steal Barbie accessories from my cousin Annie because she had really great stuff and I had the five and dime knock-offs but I got caught when I tried to make off with her prize possession – Barbie's pearl encrusted satin wedding dress for her marriage to Ken.
4. Speaking of Barbie, I once got in trouble for undressing her and Ken, taping them together naked, and wheeling them down the street in my (fake) Barbie car. Having just heard a rumor about how babies were born, I was hoping they'd make me a little Skipper or Midge doll.
5. I am an unbelievable cook. No, really, I am. I usually put myself down in every other area, but when it comes to cooking and baking, I rule. Therefore…
6. The Food Section is the first thing I read in the Sunday newspaper, not the book reviews or international news. You have my permission to shoot me now.
7. I have a fantasy that it's my job to choose the music/songs for professional ice skaters and I can't even watch the Olympics without picking out some obscure rock song in my head that I think would work much better with the choreography than the hokey songs they've selected.
8. And then there's that other fantasy of mine to be a real rock and roll radio disc jockey…not the knucklehead Howard Sterns out there now but someone who plays great music and talks music and gives music history lessons and yes, I know, I'd have about five listeners but who cares.
9. I cannot do
anything
without listening to music simultaneously.
10. Not counting jeans, I wear only black clothing. There are no exceptions to this rule. I don't even own a pair or shoes or coat that isn't black.
**********
Okay, now you know all there is to know about me. I tag the brilliant and hilarious
Lori Young
and the beautifully poetic/prolific
Kat Denza
!
Be sure to check on their blogs later today or tomorrow for what is sure to be a fun and interesting read.
**********
In other news, I have a new piece up today in that favorite insane magazine of mine,
Opium
, which is part of a series of interconnected stories I've been working on for the past several years. And in case you didn't know, Opium is throwing a five year anniversary gala for themselves on February 4 in New York City. You'll see it advertised on their website, along with a list of the simply stellar authors who will be in attendance. Since Eric has a gig at the New York Knitting Factory on February 7, I'm seriously considering getting a hotel in New York for three days.
Ahem. Three Days in New York City?