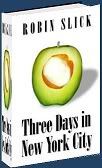 Yeah, yeah, it's crazy, but Three Days in New York City still has a chance of finishing up in a very respectable spot at Predators and Editors top small press novels of 2005 and voting ends on Sunday so please, please, please, if you haven't voted, here is the
link
.
I did ask you to vote for me earlier this month as your favorite Phaze author -- this is a totally different poll and I apologize for being such a huge bore, but it would be very cool to have Three Days finish in the top ten and would do much to help this black hole of depression swallowing me at the moment.
Yes, it's true. I've got a case of post-holiday blues and so do a lot of my friends. We've all kind of gone into hiding. One of my very best writer pals -- with several books published worldwide -- has had to take a day job which is a travesty because he's so incredibly brilliant but there you have it...we are one fucked up society right now with a skewed value system as concerns the arts and well, everything, really.
And unbelievably enough, after talking about it for weeks, I did not go to New York last night for the Neil Gaiman reading because all of a sudden, the thought of taking the train to Penn Station at rush hour and then making my way all the way up to 92nd Street just seemed so fucking unappealing -- maybe because I've been to New York at least one hundred times in the past year and I've finally decided I prefer Philadelphia because we have everything NY has except we are smaller, more accessible, and you can get a cab anytime and anywhere you want -- or, the real reason: Neil Gaiman is coming to Philadelphia in two weeks at a venue five minutes from my house so, like, it's not that I'm a crazed groupie who needs to see him twice in a month...
But I'm still a bit worried about myself. I haven't wanted to leave home at all lately...I just want to stay here and write and/or veg out alone. I suspect a lot of people go through that in January...but it's weirdly become agony for me to venture out even to do banking, etc. Though I must admit, I had a blast shopping for sushi supplies and cheesecake with Julie last week, so maybe it's just the mundane things I want to avoid right now.
And train rides to New York.
(Ha ha - if you've read Three Days, the opening chapter starts out with the female character on the train from Philly to NYC where she has a series of um, unfortunate incidents. The irony is not lost on me.)
Ah well, I do have other news including some cool stuff happening for Eric (can I trade lives with my son?) but this is just one of those posts where I need to vent and loosen up my fingers for my day's writing.
Sorry. I promise to be cheerier next time.
xo