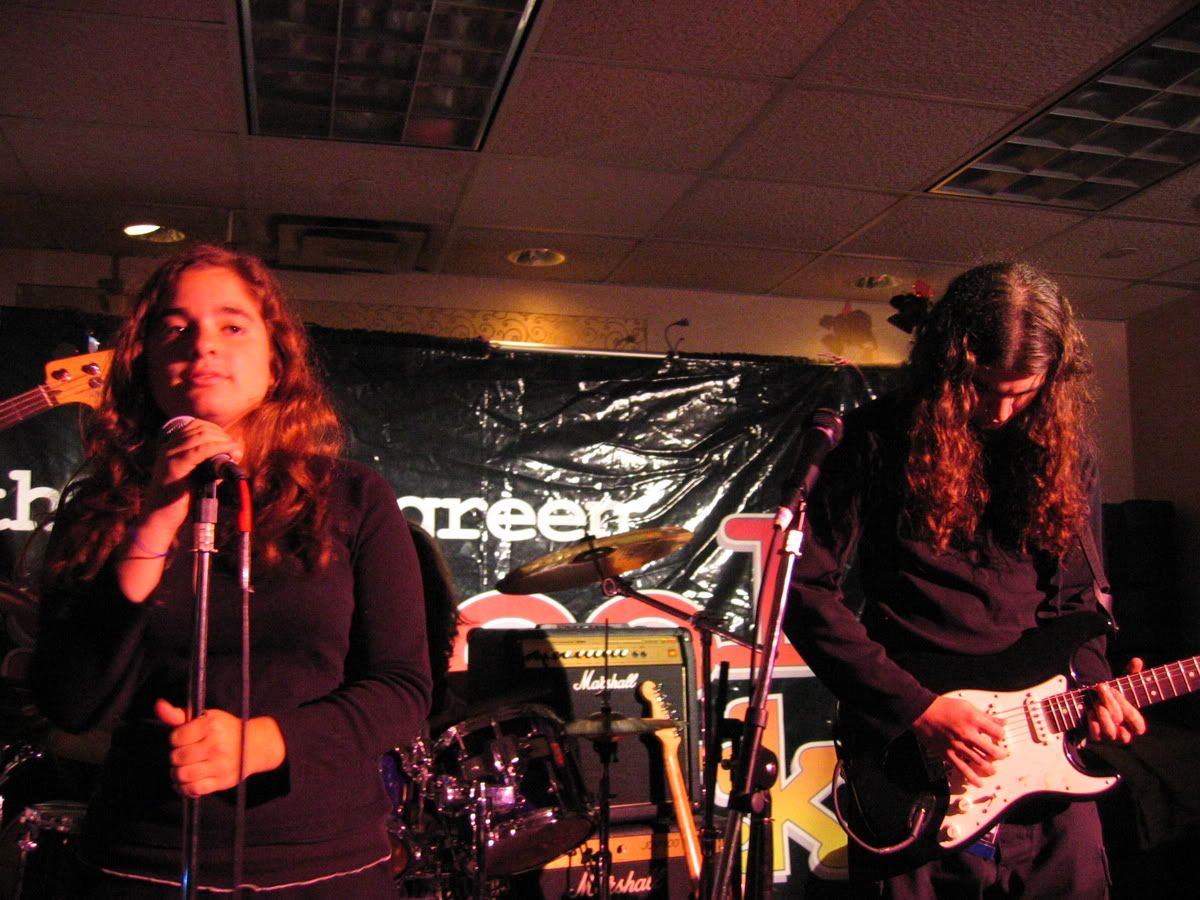 Eric's band, Flamingo, plays MPL in New York City -- October 22, 2005
So this walk down memory lane is a lot of fun for me so far -- but before I launch back into it, a couple of things.
I have an extra ticket for the Neil Gaiman thing in NYC next Monday night. Eric was going to go with me but that's the night he teaches drums at Rock School so he bailed. This is too bad because he was going to make sure I behaved. Nah, I'm just kidding, but if anyone reading this in Philly wants to hop a train with me or anyone in New York wants to meet up, drop me an email.
Eric's got a gig tomorrow night with The Shannon Penn Band at the Grape Street Pub, 4100 Main Street, Philadelphia, PA. It would be very cool to fill the place up so try and make it. They're awesome and Shannon has a new CD out which I'm sure you can pick up at the venue tomorrow as well as on her website.
On Saturday night, he was supposed to play with Flamingo at the Troc but as it turns out, that show is off because some members of the band are playing the Neil Young show at Indre Studios...something definitely worth checking out this weekend, either Friday or Saturday night or both. But getting back to Flamingo, this is all original music, a lot of it written by Eric, and you should really have a listen. In fact, why don't I provide you the link right
now
.
Julie's got a gig with McRad at the Chestnut Room, 38th and Chestnut Streets, Philadelphia, PA this Friday night.
So what you should do is see Julie play with McRad Friday night and go to the Neil Young show at Indre Saturday night.
Okay, enough. Oh yeah, one more thing - please vote for me as your favorite Phaze author -- the link is provided in the post below. I'll owe you for life.
*****
July, 2005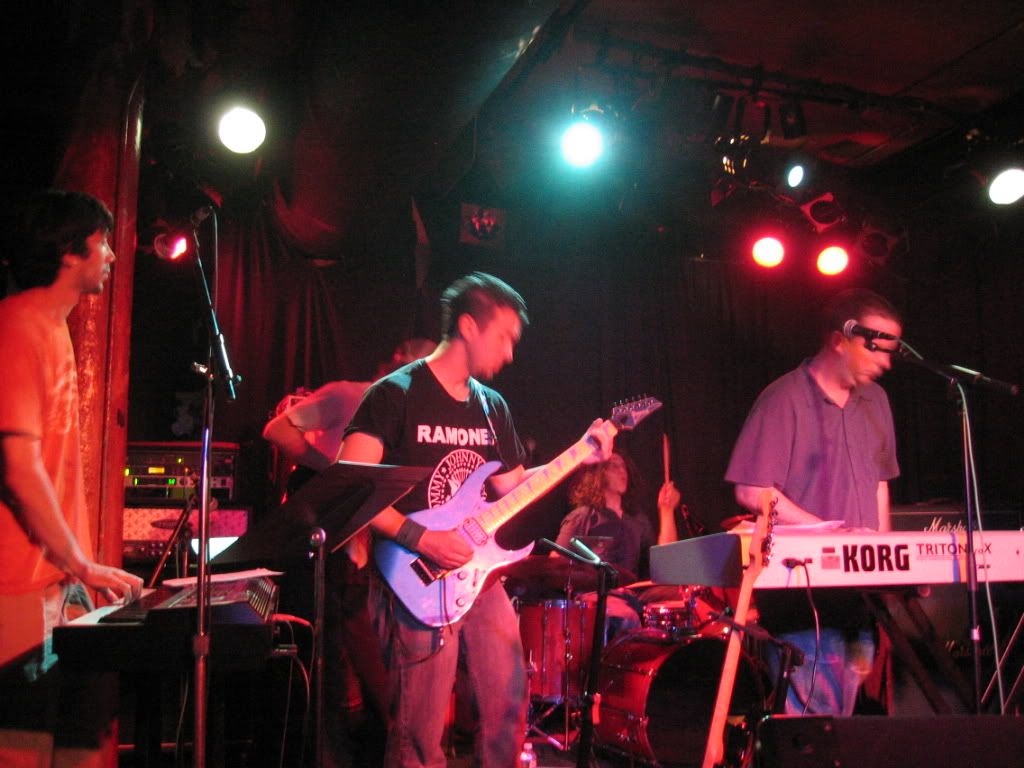 Jordan Shapiro - keys, Jeff Paitchell on guitar, Eric Slick on drums, and Chris Opperman on keyboards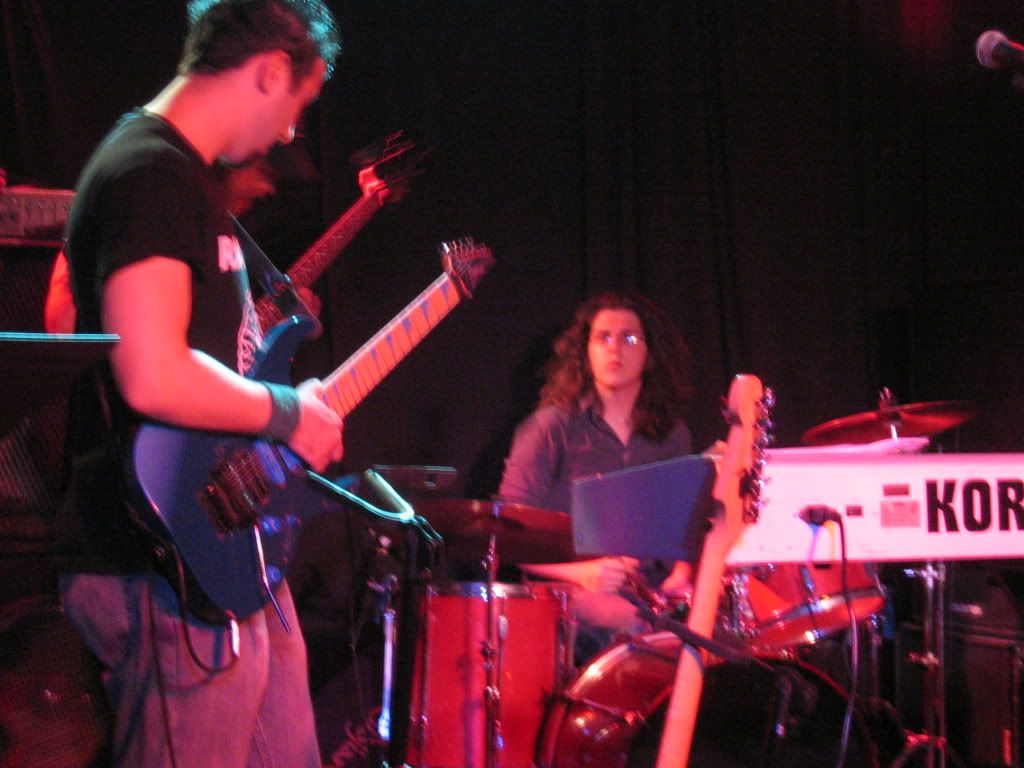 Eric looking unusually serious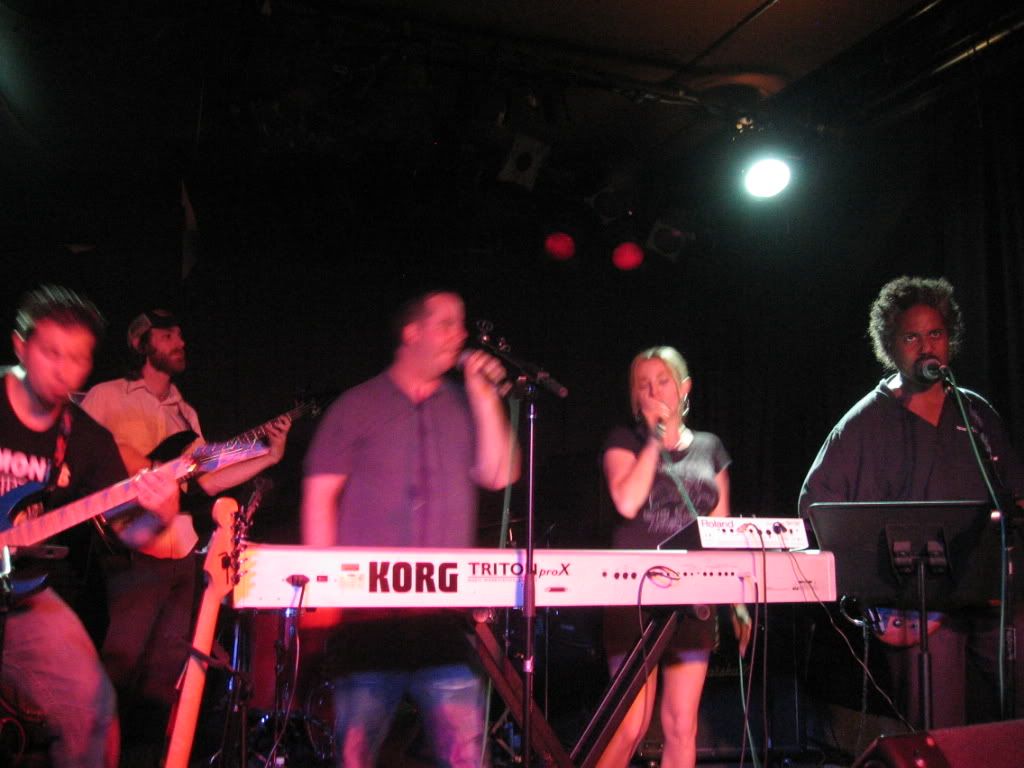 Jeff on guitar, Dave Johnsen on bass, Chris on keyboards,
Dr. Dot
doing vocals (and oh man, please go check out her website; what a character), Andre Cholmondeley on guitar, and Eric of course hidden in the back on drums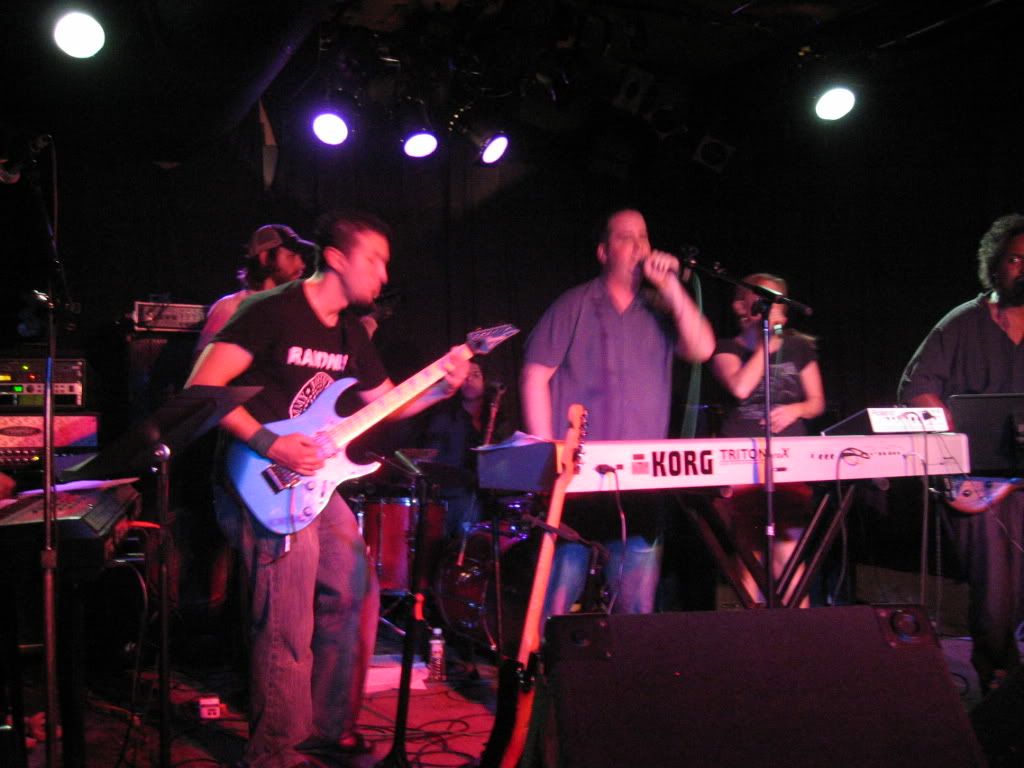 On July 9, 2005, Eric sat in with Chris Opperman and his band. Here's what I had to say about that the following morning:
So. What can I say about the show at the Lion's Den Saturday night? It was incredible; I'm on a two day high from it; the music was awesome and I saw my son reach new levels (and I didn't think it was possible for Eric to be even better than he already is); Chris Opperman is an INSANE keyboard player, which is probably why he plays with Steve Vai and was voted LA's best keyboard player EVER, 2005. Jordan Shapiro on synth was fucking amazing; Dave Johnsen on bass guitar is so good it's scary -- right up there with my daughter Julie (ha!) -- and Jeff Paitchell and Andre Cholmondeley on guitars were fucking thrilling. They were classical, they were jazz, they were pure rock and roll. I still feel a little speechless from what I saw and heard. Best news is it's going to lead to future gigs for Eric -- Chris said he's coming back to NYC in a few months and wants Eric to tour with him for a week or so. How freaking cool is that!
ETA: That tour is being planned as we speak! Yes!!!!
The following evening, Eric played the World Cafe Live with his band, Flamingo, and here's my rather proud post about the show:
The show at World Cafe Live was pretty damn impressive last night. I didn't realize it, but it was billed as Paul Green School of Rock Music Presents: Infinien, 722, and Flamingo. All three bands contain Rock School students/alumnae and/or teachers. I knew this would be happening -- it was just a matter of time. And needless to say, the place was PACKED!
On July 24, 2005, Eric would make what would be one of his last appearances with the Rock School All-Stars when they toured around New York City on a cruise boat. It was a totally awesome night -- it was a send off, sort of, to the Germany tour -- and again, a very emotional evening for me as I was well aware that it was the beginning of the end. Here's what I had to say about that: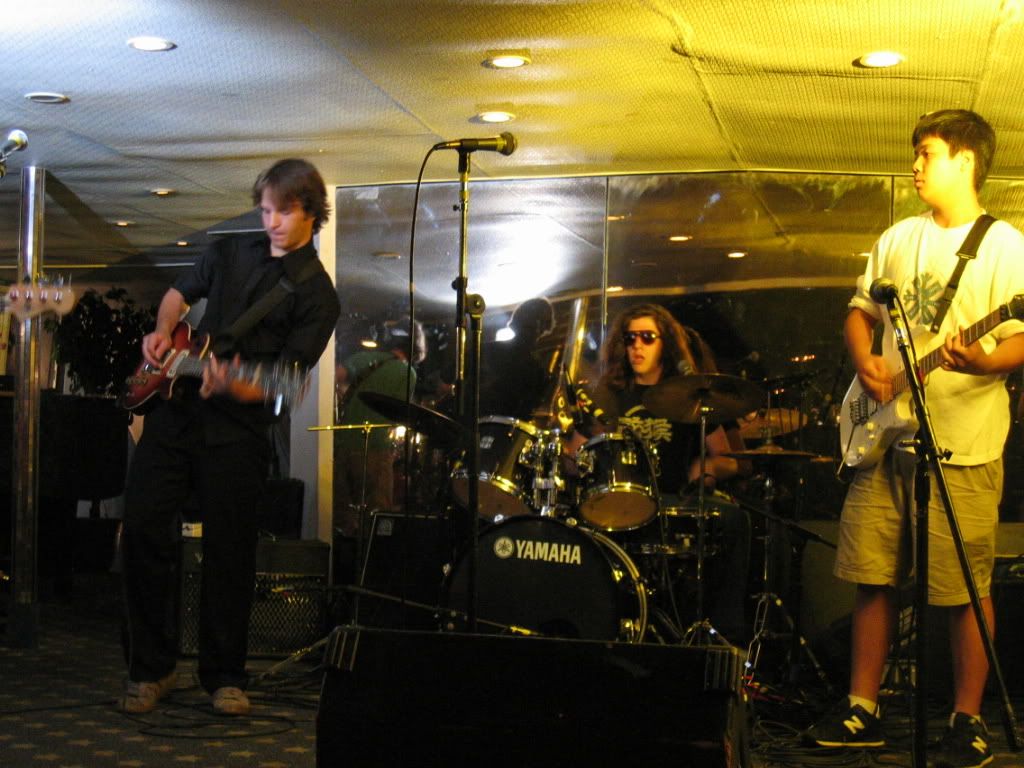 Eric Slick on drums and Fil Smith and Kenny Liu on guitars performing Part I of Approximate, a song in three parts, i.e., first they play it as a band; then they sing acapella; then they're like bizarro mimes dancing...anyway, it was very visual, very cool. Also featured in this piece are C.J. Tywoniak on guitar and Brian Purcell on bass. This was just one of the highlights of an amazing cruise around New York City courtesy of Rocks Off on Sunday night. The kids were in top form; the set list was incredible; and the audience was pretty much enthralled. At the time, I didn't realize it, but since this coming Sunday's Baltimore gig cancelled, this was the second to the last Rock School show in which I will see Eric participate and it's the end of an era for sure. He goes to Germany with his dad next week to perform with the All Stars at Zappanale (where they are headlining!) and then he has his final show with Rock School ever on August 13 when he performs with the All-Stars in a Pink Floyd tribute at World Cafe Live. So yes, the end of an era for sure; both Julie and Eric were with Paul from the very beginning in 1998 when he started out with 17 kids in his apartment. Sigh...
On July 29, 2005, I left a job I had since I was 21 years old. There's a lot I could say about it, but I think it's probably boring to anyone but myself and besides, I know how to make it exciting enough to turn it into an actual novel (muhahahahaha...the inner workings of a law office)(bleh), so I will spare you. But it was a momentous day for me. Unfortunately, five months later and I'm still celebrating, but that's it, I'm done, and now I'm on a writing tear.
As you can see.
(cough)
Actually, this is the last extended blogpost for a while in 2006 though of course being the egomaniac I am, I will still probably drop in daily with brief news blips, but I expect to have my book finished by the end of January and it's a promise I'm not breaking. Unless I have to totally rewrite Another Bite of the Apple, but if I do, I do, and I'll deal with it. That's what coffee is for. Right. Continuing on...
*****
August, 2005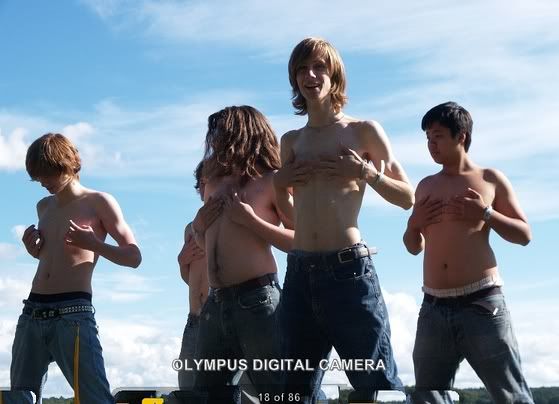 Eric Slick and other crazy Rock Star All-Stars in Bad Doberan, East Germany
So from August 3-8, 2005, the Rock Star All-Stars went to Germany to perform at Zappanale 16. Since I went with the original All-Stars in 2003 to Zappanale 14, Eric's dad, who swore he would never get on a plane in his lifetime, actually went out, got a passport, didn't even take a Valium and he's sober so no booze, either, and made it to Germany for what as I'd told him would probably be one of the greatest experiences in his life. Zappanale is Woodstock, 1969, and since Gary is still a total long haired hippie guitarist, I knew he would go nuts. The festival is dedicated to the music of Frank Zappa, and the quality of musicianship is superb. Of course no one could match the Paul Green School of Rock All-Stars, but still. One sad thing, though. When I went, it was bright and sunny and after the kids finished playing and walked through the audience, people bowed down to them. You can see it in the movie, Rock School. When Gary went, it was like forty below zero outside even though it was August and the kids went on at night in the rain. So he was cheated out of that experience but then again, he got a second night of Rock School and was treated to three hours of classic rock because the crowd would not let them off the stage.
While Eric and Gary were in Germany, I was home with Julie enjoying my first week of freedom from white collar world, exploring every freaking restaurant in Philadelphia and we ate ourselves silly.
On August 11, I fulfilled a lifelong dream...okay, a five year dream.
So how cool is this, I have a story published today in one of my all time favorite magazines, Opium. Check it out!
On August 12: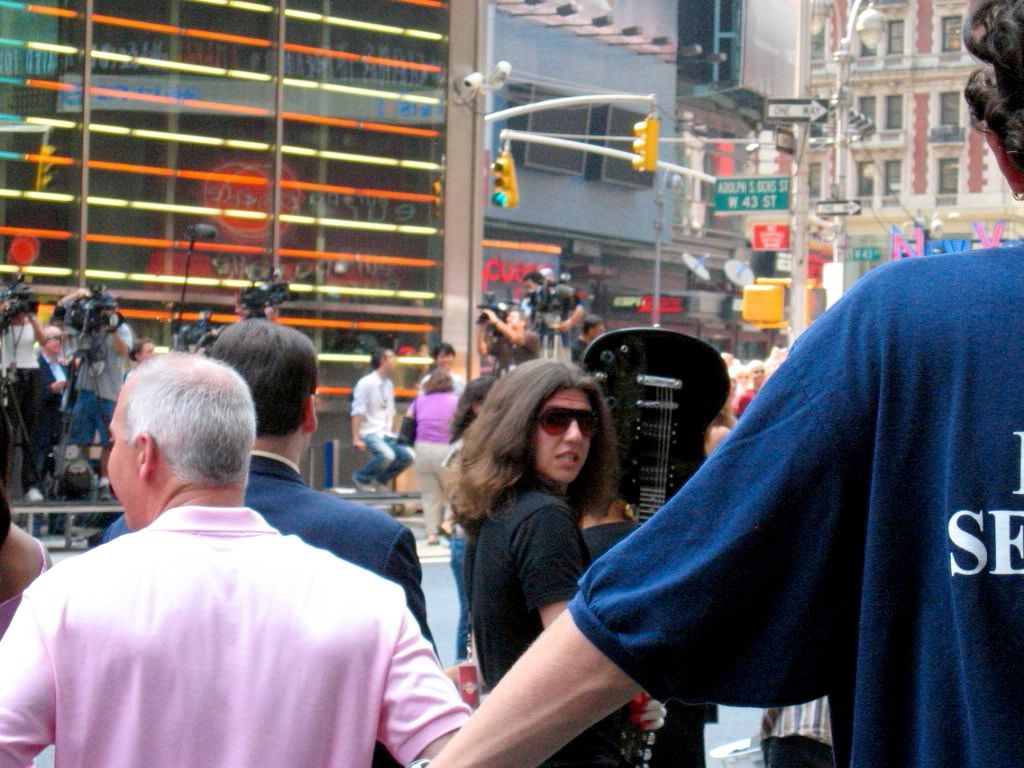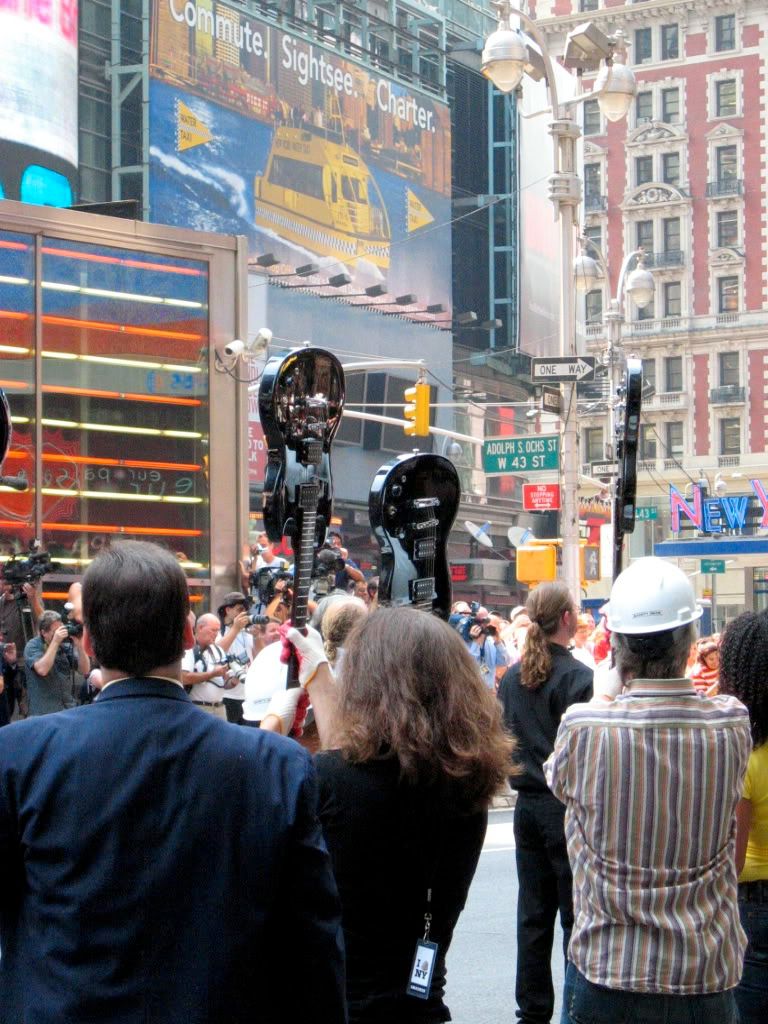 So yeah, today my son, Eric, featured front and back above, along with Paul Green and a small group of All-Stars -- Madison Flego, Lauren Pollock, C.J. Tywoniak, Jeremy Blessing, Joe Randazzo, and Sarah Zimmerman were part of group of 100 celebrities smashing guitars to celebrate the grand opening of the Hard Rock Cafe in Times Square. They got to smash axes with Brian Wilson of the Beach Boys and Little Steven of Bruce Springsteen/Soprano's fame.
Brian Wilson
Little Steven
Brian Wilson and Little Steven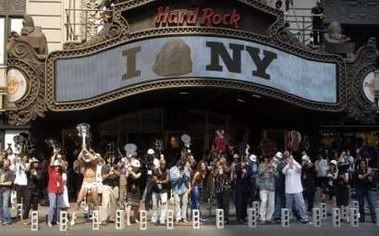 Group shot
On August 13, 2005, Eric played his final show with the Rock School All-Stars at World Cafe Live. I'm still too emotional to talk about that one...
One thing I also wanted to mention is that sometime in the summer, Eric joined the Shannon Penn band, and as I said above, that's a project he continues to enjoy. Here's a pic of Shannon at a recent performance:
*****
Okay, I admit defeat. This is hard work. I have to do this in three, maybe four parts because October alone includes everything from meeting Jack Bruce to my trip to England. Besides, the family just went out and I can actually do some work on my novel right now so I'm going to sign off and make some art!
Later
xo